As one of the biggest arenas in the United States, the FTX Arena is a multipurpose arena that hosts sports games, concerts, and other entertainment events.
The arena was built as a home for the Miami Heat and still is to this day.
The arena is one of the country's top-rated entertainment centers and has an extensive history. So, if you are planning on visiting Miami or attending some event in FTX Arena, it is a good idea to learn more about the building.
FTX Arena: Key Facts
Address
FTX Arena
Capacity
19,600
Team
Miami Heat
Working hours
For Miami Heat: Open only on event days, three hours prior.
No Miami Heat Events: Monday to Friday, 10 AM – the start of the event.
Saturday and Sunday, 12 PM – the start of the event.
Contact
Phone number: +1 786-777-1000
Ticket purchase: +1 800-745-300
Email:

[email protected]

Website
www.ftxarena.com
Where Is FTX Arena Located?
The FTX Arena is located in Downtown Miami on the waterfront of Biscayne Bay. It is in the middle of Miami's beautiful beaches and the vibrant nightlife of South Beach.
The Miami Metrorail provides direct service to Freedom Tower and Park West stations and connects immediately to the FTX Arena at Government Center station via free transfers to the Metromover Omni Loop.
By being in the center of the Miami Entertainment District, the arena plays host to the Miami Heat games and more than 80 non-basketball events annually. Among the events taking place in the FTX Arena every year are musical concerts by A-list musicians, sporting events, stage shows, musical theater, family shows, national conferences, etc.
The HEAT Group manages FTX Arena with full dedication to making it the premier sports and entertainment venue in South Florida. The HEAT Group has added state-of-the-art technology and invested in cutting-edge renovations to bring the arena to its current state.
The Best Way to Get to FTX Arena
The easiest and best way to get to the FTX Arena is by public transportation, as all the options, such as the MetroRail, MetroBus, and MetroMover, are within walking distance of the FTX Arena entrance.
If you are traveling by MetroRail to MetroMove, you should know that the trains run from 5 AM to midnight and they arrive frequently. During special events at the FTX Arena, the train service may be extended to 1 AM, so check it beforehand.
If you are arriving from West Palm Beach, Boca Raton, Aventura, or Fort Lauderdale, take a Brightline train to skip traffic and parking headaches. This express rail service will take you straight to Downtown Miami, mere steps from the arena.
Drop-off locations 
Bus drop-off – On Gate 3 on NE 8th Street on the Arena's north side, next to the Box Office windows.
RideShare drop-off – On the corner of Bayshore Drive & HEAT Blvd at Gate 6 entrance.
Taxi/Limo drop-off – Same location as bus drop-off.
Disabled drop-off
Primary location – Gate 3 on NE 8th Street on the north side of FTX Arena. Take elevator 1 or 2 to your seating level. All FTX Arena entrances are accessible to those with disabilities.
Secondary location – Gate 4 on NE 8th Street on the Arena's north side, next to the valet parking services. You can take elevators 3 and 4 to your seating level.
Parking Near FTX Arena
If you plan to park in the garage attached to the FTX Arena, you should know that the garage has valet parking and costs $40 per event. The FTX Arena features 939 parking spaces, but they fill up fast, so pre-booking your spot is always a good idea. FTX Arena, on its official site, recommends that its visitors use SpotHero to book parking spots.
Parking lots recommended by the arena
Additional parking options
The Best Restaurants Near FTX Arena
CVI.CHE 105
CVI.CHE 105 is a Peruvian restaurant in Downtown Miami, 0.5 miles from FTX Arena. It is owned by chef Juan Chipoco, a Lima native who has made his mark on the dining scene in South Florida both with his inspiring story and the delicious food he serves at the restaurant.
The award-winning CVI.CHE 105 represents Peruvian gastronomy by serving a wide selection of creative and fresh ceviches and several other traditional dishes, like aji de gallina and el seco de res de antano.
Enjoy the taste of Peru in Miami and pair it with one of the wines or cocktails available on the menu at CVI.CHE 105. Finish off your meal with one of the traditional tasty desserts the restaurant serves, such as Lucuma Mousse Cake, Suspiro Limeno, or Tonchillp Del Cielo.
Additional information
Location
CVI.CHE 105
Contact
+1 305-577-3454
Working hours
Sunday to Thursday: 12 PM – 10:30 PM
Friday and Saturday: 12 PM – 11:30 PM
Price range
$$
Website
www.ceviche105.com
Red Carpet Italian Restaurant Downtown
Italian food is a specialty of Red Carpet Italian Restaurant. The Red Carpet is a family-run restaurant with traditional and contemporary Italian cuisine made from fresh local produce. Fresh pasta, artisan cheeses, and homemade sauces are all made with locally sourced ingredients and of the highest quality, imported directly from Italy.
You will find delicious chicken parmigiana, ravioli, and parmo on the menu. Eat some excellent tiramisu and pair it with one of the restaurant's wonderful wines before leaving. The location of the Red Carpet Italian Restaurant is 0.6 miles from FTX Arena.
Additional information
Bubba Gump Shrimp Co.
If you are in the mood for some delicious seafood before heading to an event at FTX Arena, visit Bubba Gump Shrimp Co. This seafood restaurant is located 0.3 miles from the arena. It will only take you a five-minute walk to reach one destination to the other. Bubba Gump Shrimp Co. is fun for the whole family with a fishing boat-themed setting.
The restaurant is heavily inspired by the movie Forrest Gump. It was opened in 1996 after the movie's success. Here you can enjoy some delicious shrimp with one of the restaurant's signature margaritas hand-shaken at your table.
Additional information
Location
Bubba Gump Shrimp Co.
Contact
+1 305-379-8866
Working hours
Sunday to Thursday: 11 AM – 9 PM
Friday and Saturday: 11 AM – 10 PM
Happy Hour – Monday to Thursday: 5 PM – 7:30 PM
Price range
$$
Website
www.bubbagump.com
The Best Bars Near FTX Arena
Lost Boy 
The Lost Boy is an old-school bar located on the first floor of the historic Alfred I. du Pont building, 0.5 miles from FTX Arena. On the official website, the owners describe the Lost Boy bar as a combination of an English Pub with a feel of an old Captain's tavern in a Colorado miner's saloon.
You will find many classic cocktails, cold draught beer taps, tasty sandwiches, and finger foods at the Lost Boy. The bar has a pool table and darts, so enjoy a game or two while sipping on your drink.
Additional information
Mama Tried
Mama Tried is a bar located in the heart of Downtown Miami that is both a peaceful place for happy hour and a boisterous place for a late night. Mama Tried is 0.4 miles from FTX Arena.
The bar is owned and operated by bartenders, filmmakers, librarians, construction workers, DJs, teachers, snow cone peddlers, bowling enthusiasts, and water polo coaches, who all came together to fund the bar in hopes of making it the neighborhood hangout joint for the everyday person.
Weeknights feature humorous activities like a monthly full moon astrological party with fortune tellers and tarot card readings, while weekends feature a DJ.
Additional information
Jaguar Sun
Jaguar Sun is a bar located in Downtown Miami, 0.3 from FTX Arena. There is a modern, dark-wood bar with low lighting and patterned stools lining two of its sides.
The bar stands out from others in Miami mainly because of the unique drinks it serves. For this purpose, the bar's owners, Will Thompson, and Carey Hynes, use lesser-known liquor brands and cocktails. 
Consider a variety of sherries and a unique Mexican rum in moderation. Or, if you are in the mood for something familiar, order a glass of wine, kick back, and relax.
Additional information
The Best Hotels Near FTX Arena
YVE Hotel Miami 
If you want to be in the heart of Miami's action with restaurants, entertainment, and vibrant nightlife, stay at the YVE Hotel Miami. The FTX Arena is within 0.5 miles, while other attractions include Bayfront Park and Wynwood's art and design district.
Bayside Marketplace and Island Queen Cruises are both within walking distance of the YVE Hotel Miami, which puts guests in the city's center. PortMiami and the Vizcaya Museum and Gardens are close to this hotel.
YVE Hotel Miami provides rooms with an ocean view that feature air conditioning, private bathrooms, flat-screen TVs, housekeeping, room service, sofas, hair dryers, and bottled water. Plus, there is an on-site restaurant, bar, and fitness center.
Additional information
Holiday Inn Port of Miami-Downtown, an IHG Hotel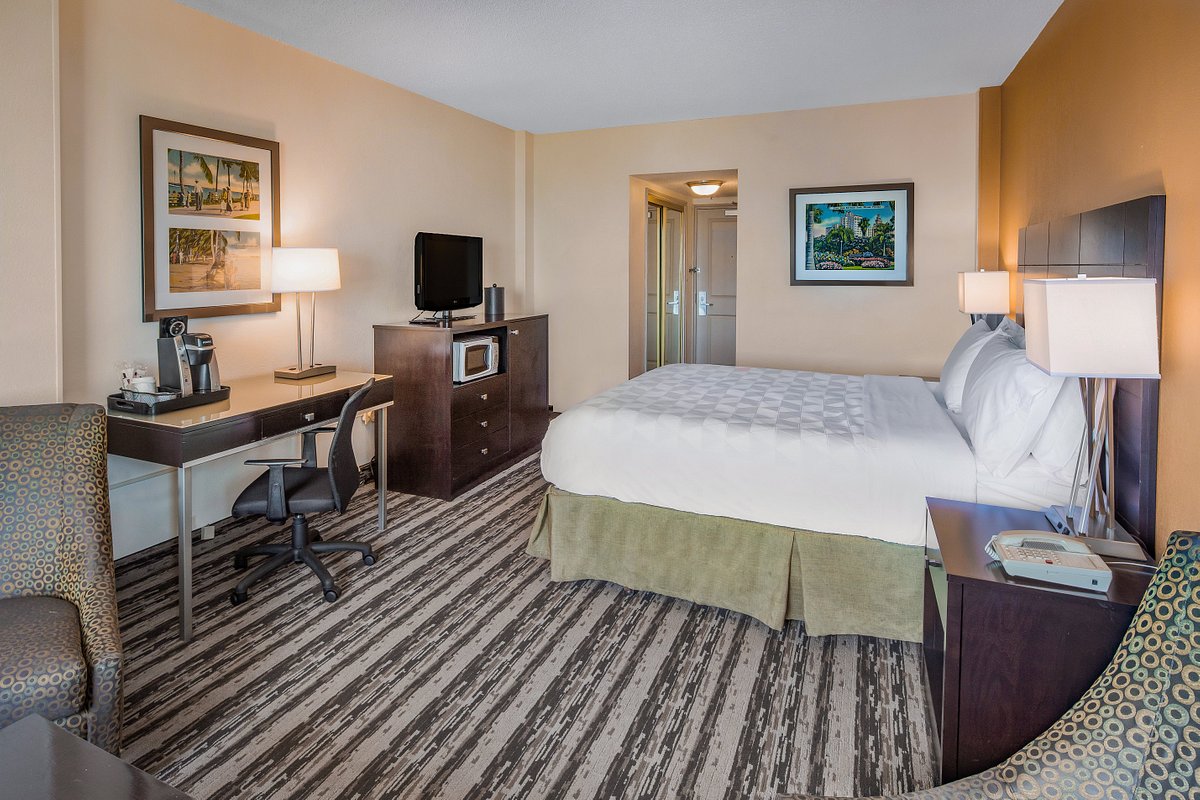 The Holiday Inn Port of Miami-Downtown is a centrally located hotel with a Marina view. It is only 0.3 miles from the FTX Arena. During your stay at the Holiday Inn, you can enjoy mouthwatering food and good drinks at its on-site restaurant – Marina's Bar & Grill.
All the rooms at the hotels have amenities such as flat-screen TVs, air conditioning, room service, housekeeping, irons, free Wi-Fi, and safes. Other services Holiday Inn provides are a breakfast buffet, pool, concierge, 24-hour security, and a 24-hour front desk.
Additional information
The Elser Hotel
The Elser Hotel Miami is 1.8 miles away from the airport and only 0.2 miles from the FTX Arena. You can indulge at the hotel's spa for a spa treatment, after which you can stop by the coffee shop for a coffee or a snack.
There are two bars and lounges in the hotel and an outdoor pool. Some of the offered amenities are kitchens, washers, dryers, flat-screen TVs, separate seating areas, sofas, coffee makers, dining areas, private bathrooms, complimentary toiletries, and housekeeping.
Additional information
The History of FTX Arena
In 1998, the arena was built for $213 million to replace the Miami Arena, and it officially opened its doors on December 31, 1999. FTX Arena, the home of the NBA's Miami Heat, was formerly known as the American Airlines Arena.
The arena's opening event was a concert by Gloria Estefan on New Year's day 1999, while on January 2, 2000, the Miami Heat had their first game in their new home. Since the venue's debut, it has co-hosted five NBA Finals, with the Miami Heat winning three of those games (2006, 2012, and 2013).
The FTX Arena offers 76 exclusive boxes, 80 opulent suites, and 2,105 club seats. The largest theater in Florida, the Waterfront Theater, which has seating for between 3,000 and 5,800, is located inside the arena.
From 1999 to 2021, the facility was known as the American Airlines Arena. The arena's name was changed from the American Airlines Arena to the FTX Arena in June 2021. Since January 2023, the FTX Arena has been renamed the Miami-Dade Arena.
FTX Arena events
As a world-class entertainment center, FTX Arena has been the host to many world-famous musicians. Some of the musical acts at the arena over the years include Gloria Estefan, The Eagles, Shakira, Lady Gaga, U2, Sam Smith, JAY Z, Mariah Carey, Cher, Britney Spears, and many more.
FTX arena was also the host to the 2004 and 2005 MTV Video Music Awards. Along with concerts, noteworthy WWE events and the first UFC event in Florida have all taken place at the FTX Arena.
Moreover, the arena was the host of family shows, including Disney on Ice, Harlem Globetrotters, and Cirque du Soleil.
Where to Get Tickets for FTX Arena
Tickets for Miami Heat basketball matches and other events the FTX Arena hosts are available for purchase in person at the FTX Arena Ticket Office, online, or by phone at www.ticketmaster.com or +1 800-745-3000.
The FTX Arena Ticket Office is only open on event days. If you are looking to buy tickets for a Miami Heat game, the Ticket Office will be open three hours before the start of the game. All tickets for Miami Heat games are now mobile-only, meaning you do not need a paper ticket to enter the arena. Instead, you will need to use the Miami Heat app on your phone.
On the other hand, for other events at the arena from Monday to Friday, the Ticket Office is open from 10 AM until the event starts. For non-Heat events on Saturday or Sunday, the Ticket Office is open from noon until the start of the event. Unlike Miami Heat games, the arena accepts paper tickets for other events.
FTX Arena advises visitors to only buy tickets online from their authorized ticket-selling agent – Ticketmaster. If you buy your tickets from an unauthorized third-party website, the arena does not accept responsibility for their authenticity.
Does FTX Arena Offer Tours?
The FTX Arena does not offer guest tours of the facility.
Conclusion 
There you have it, all that you could possibly need to know about the FTX Arena or Miami-Dade Arena prior to visiting. Now that you know where to find the best accommodation, restaurants, and parking spots, your stay in Miami will be much more relaxing.