Visiting Hard Rock Stadium in Miami Gardens, Florida, is always an exciting experience for sports fans and concert-goers alike. As home to the Miami Dolphins, this versatile venue also hosts various musical events and performances throughout the year. To ensure a seamless and enjoyable time at the stadium, it's essential to know your way around the gates and entrances.
As I approached the Hard Rock Stadium North Gate, I noticed it was a non-corner gate situated on the same side as NW 203rd Street, where the helipad is also located. One of the prominent landmarks near this entrance is the Joe Robbie statue, making it easier for visitors to locate and find their way.
Knowing the drop-off and pick-up locations at the stadium is also crucial for a smooth visit. For instance, guests can be dropped off at predetermined gate spots, which will also serve as the pick-up locations after the event. Keep in mind that if you have a special need that requires a specific type of drink, don't hesitate to reach out to the nearest gate supervisor for assistance.
Hard Rock Stadium History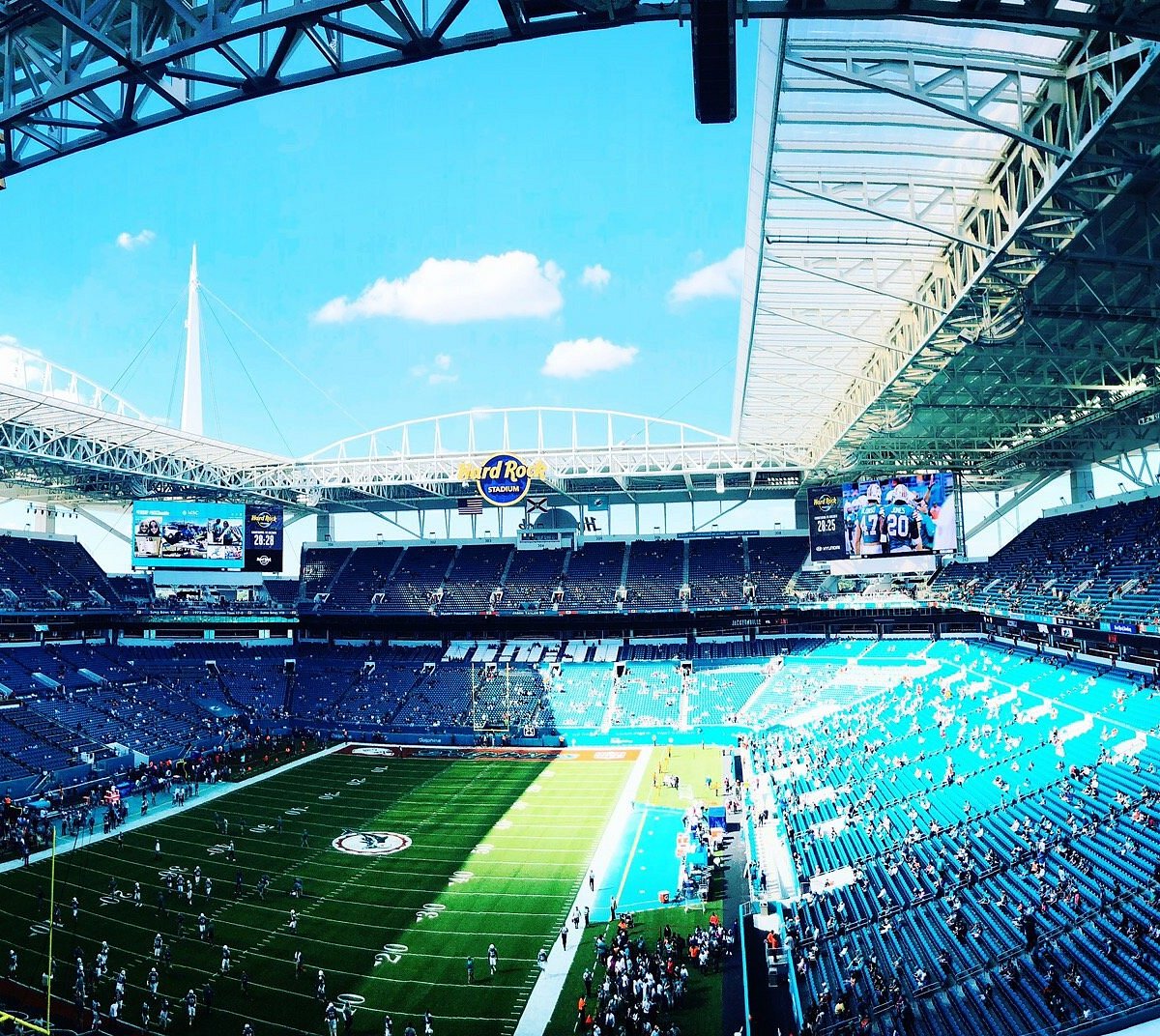 As a fan of Hard Rock Stadium, let me share some of its history. The stadium, home to the Miami Dolphins, opened in 1987 as Joe Robbie Stadium, named after the team's founder. Initially, the Dolphins played at the Orange Bowl for their first 21 seasons. In 1976, the city of Miami wanted to quadruple the rent for the Orange Bowl, which led Joe Robbie to decide to build a new stadium. The construction cost $115 million, and the facility replaced the Miami Orange Bowl as the Dolphins' permanent home.
Over the years, the stadium has gone through several name changes. It was known as Pro Player Park, Pro Player Stadium, Dolphins Stadium, Land Shark Stadium, and Sun Life Stadium, before finally being named Hard Rock Stadium.
Hard Rock Stadium has evolved since its inception, not just in name, but also in terms of facilities and infrastructure. This iconic venue hosts many other events besides football, such as concerts and major sporting competitions. Through these changes, Hard Rock Stadium has become a significant part of Miami's sports and entertainment landscape.
Next time you visit Hard Rock Stadium for a game or event, be sure to stop and appreciate its rich history and various iterations, as I always do.
General Overview of Gates and Entrances
As someone who has visited Hard Rock Stadium, I can tell you that there are multiple gates and entrances for fans to choose from when attending an event. After looking up some information, I found that there are six main gates located around the stadium.
The North Gate Entrance is your go-to option when arriving from the north side of the stadium. It offers quick access to the general seating areas and ticket office.
If you're approaching from the west, check out the Northwest Gate Entrance and West Gate Entrance. They provide convenient entry points for fans looking to access the stadium's amenities like food and restrooms.
Visitors coming from the south will want to use the Southwest Gate Entrance or the South Gate Entrance. These gates are perfect if you have seats on the southern side of the stadium or need a wheelchair escort to your seats.
Lastly, the East Gate Entrance is best for fans who are coming from the east side of the stadium. This entrance allows easy access to the team store and will get you closer to the action on the field.
Remember to download the Dolphins mobile app before you arrive at Hard Rock Stadium; it has everything you need to know, like access to your game tickets, parking, maps, and exclusive content.
I hope this overview of the gates and entrances at Hard Rock Stadium helps make your visit more enjoyable and stress-free!
A Detailed Guide to Each Gate and Entrance
As someone who frequently visits the Hard Rock Stadium, I'm happy to share my knowledge about its gates and entrances to help you have a smooth experience. In this section, I will be providing a brief yet informative guide to the North, South, East, and West gates.
North Gates
The North Gate Entrance is situated on the upper side of the stadium. This entrance is quite convenient for visitors coming from the northern parking areas and makes it easy to access specific sections in the stadium quickly. In my experience, the North Gates tend to be less crowded and allow for a smoother entrance process.
South Gates
On the opposite side, you'll find the South Gate Entrance, which is ideal for those coming from the southern parking areas. Similar to the North Gates, the South Gates have good accessibility to other parts of the stadium. Based on my visits, I have noticed that the South Gates can sometimes be a bit more crowded compared to the North Gates, but the overall entrance experience remains efficient.
East Gates
As for the East Gates, they are not mentioned in the provided search results. If there are East Gates at the Hard Rock Stadium, they may have limited accessibility or be dedicated to specific events. It is advisable to consult the stadium's official website or staff members for more information about the East Gates if necessary.
West Gates
Finally, the West Gate Entrance is another option for entering the stadium. It is ideal for visitors accessing the stadium from the western parking areas. The West Gates grant access to several sections within the Hard Rock Stadium, and from my experience, the entrance process here is typically smooth and unproblematic.
In conclusion, it is essential to know the locations and features of Hard Rock Stadium's gates and entrances to have an enjoyable event experience. With this information, I hope you can make your visit to the stadium as seamless as possible.
Accessibility at Hard Rock Stadium
ADA Parking
As a visitor at Hard Rock Stadium, I've noticed that they offer ADA parking in close proximity to the stadium entrances. They have designated parking spots that are reserved for individuals with valid disability permits, making it convenient for those with mobility challenges. Remember to arrive early, as ADA parking spaces are available on a first-come, first-served basis.
Accessible Seating
I've attended events at Hard Rock Stadium and found a wide range of accessible seating options for fans with disabilities. The stadium has seating areas designated for wheelchair users and their companions, as well as seats with removable armrests for fans who need extra space. To request accessible seating, you can contact the Hard Rock Stadium box office or Ticketmaster. They will gladly assist you to find the best seating option based on your needs.
Wheelchair Assistance
During my visits to the stadium, I've noticed they offer wheelchair assistance to fans. When you arrive at the stadium, feel free to ask one of the guest services team members for assistance. They'll provide you with a wheelchair to easily navigate throughout the venue. Keep in mind that the wheelchairs are available on a first-come, first-served basis. Once you get to your seat, the stadium staff will store the wheelchair for you and bring it back when it's time for you to leave.
I hope this information provides you with an insightful glimpse into the accessibility features at Hard Rock Stadium, ensuring everyone has the opportunity to enjoy their visit comfortably.
Entrance Policies and Procedures
Security Procedures
When I go to Hard Rock Stadium, I always make sure to comply with their security policies. They utilize a walk-through metal detector screening process for all guests entering the stadium. It's important to leave any large bags at home, as the stadium enforces a clear bag policy. Fans are only allowed to bring small bags that don't exceed 6″ x 10″ x 10″. Alongside this, they also have a clear bag policy, meaning that even small bags should be made of clear plastic to facilitate the security process. Wi-Fi is provided in the stadium, so it's relatively easy to stay connected with friends and family during events.
Restricted Items
Whenever I attend an event at Hard Rock Stadium, I make sure not to bring restricted items. Some of the items that are not allowed in the stadium include:
Backpacks, coolers, and large bags
Umbrellas
Noisemakers like air horns and whistles
Strollers and seat cushions
Laser pointers
Weapons of any kind, including pocket knives
It's crucial to leave these items at home or in your car to ensure a smooth entry into the stadium.
Accepted Forms of Identification
As a visitor at Hard Rock Stadium, I always carry a valid, government-issued photo ID. This is necessary for purchasing alcoholic beverages and may be required for other services within the stadium as well. Acceptable forms of identification include:
Driver's license
Passport
State-issued identification card
Military ID
By adhering to these entrance policies and procedures, I ensure a hassle-free and enjoyable experience at Hard Rock Stadium.
Exploring the Hard Rock Stadium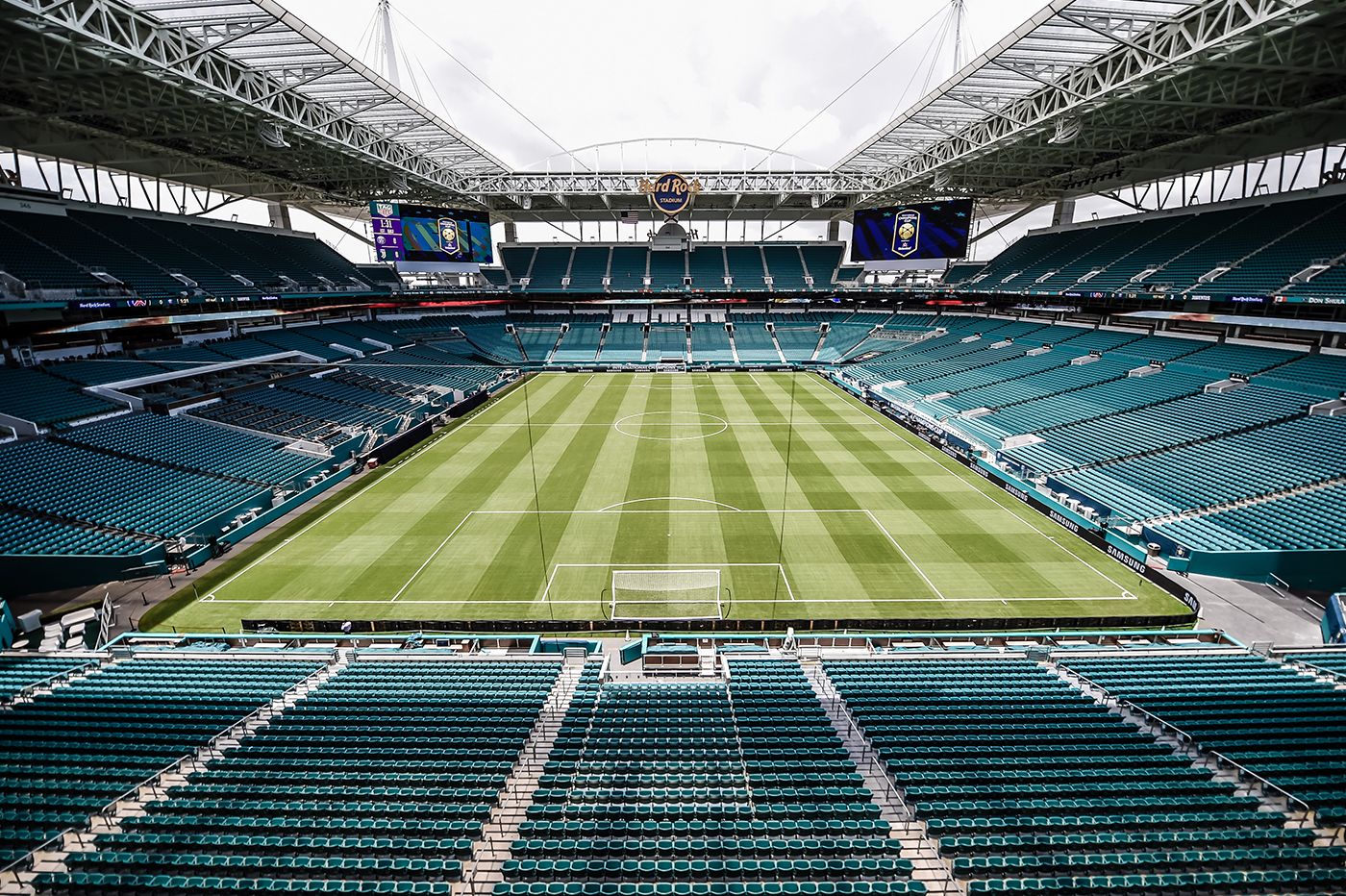 Services and Amenities
During my visit to the Hard Rock Stadium, I noticed the abundance of services and amenities available to make the experience enjoyable for all guests. The stadium is a cashless facility, so I made sure to have my card or mobile payment option handy. The clear bag policy ensures quick entry through security, so I brought a small, see-through bag to put my belongings in.
Also, I discovered that there are various food and beverage options throughout the stadium, catering to different tastes and preferences. Hard Rock Stadium also offers assistance for guests with special needs by offering specific types of drinks. In case of any specific requirements, it's always good to consult the nearest gate supervisor.
Locate Restrooms, Food, and Retail Shops
As I walked around the stadium, I could easily locate restrooms, food stands, and retail shops. Here's a rough breakdown of what I found during my exploration:
Restrooms: They are conveniently located throughout the stadium, with signages guiding guests to their nearest one. For individuals with accessibility needs, there are also wheelchair-accessible restrooms.
Food: The food concessions at the Hard Rock Stadium offer a wide variety of options. I had the chance to try some delicious local cuisine as well as more traditional game-day fare. You'll find food stands, grab-and-go spots, and even a few sit-down restaurants to suit your preference.
Retail Shops: For fans looking to take home some souvenirs, there are several retail shops located within the stadium. You can grab your favorite team's gear, general stadium merchandise, or other fun memorabilia to remember your visit. Just like the rest of the stadium, these shops also follow a cashless payment policy.
Conclusion
In my experience, visiting Hard Rock Stadium for a Miami Dolphins game or any other event is a unique and enjoyable experience. Knowing the different gate and entrance locations ahead of time can really make a difference in ensuring a smooth entry and overall positive experience at the stadium.
I have found that being aware of the bag policy at Hard Rock Stadium is essential. Remember, only clear vinyl or plastic bags of 12″ x 6″ x 12″ size or Ziploc-style bags are permitted. Having the right type of bag will make getting through security a breeze.
Parking at Hard Rock Stadium is well organized, and knowing the drop-off and pickup locations for guests with special needs makes it a more accessible venue for everyone. Keep in mind that if a guest has a special need that requires a specific type of drink, they should see the nearest gate supervisor for assistance.
Lastly, don't forget to explore the surrounding area for restaurants and activities to enhance your visit to Hard Rock Stadium. The Miami area offers a variety of options for dining and entertainment to satisfy all tastes.
I wish everyone a fantastic time at Hard Rock Stadium, whether for a Dolphins game, concert, or any other event.