Hard Rock Stadium, located in Miami Gardens, Florida, is a renowned venue hosting a wide range of events, from football games to concerts. With a seating capacity of over 60,000 spectators, it welcomes a large influx of visitors during events. Consequently, fans and visitors often wonder about the best way to get to and navigate the stadium.
Getting to the stadium can be a breeze when utilizing the available transportation options and knowing the right routes. Familiarity with parking options, alternative transportation methods, and stadium amenities can also greatly enhance your Hard Rock Stadium experience. Planning your visit is crucial to ensure a seamless and enjoyable time at the stadium.
Key Takeaways
Choose the optimal route and transportation method for a seamless journey to Hard Rock Stadium.
Familiarize yourself with parking and alternative transportation options for added convenience.
Know the stadium amenities and plan your visit for an enjoyable experience at Hard Rock Stadium.
Best Routes to the Stadium
Driving Directions
From the North:
Take Florida Turnpike South to Exit #2X
Proceed through the Hard Rock Stadium Toll Plaza to the east side of Hard Rock Stadium
From the South:
Take Florida Turnpike North to Exit #2X
Proceed through the Hard Rock Stadium Toll Plaza to the east side of Hard Rock Stadium
Parking is available at Hard Rock Stadium, but it is recommended to arrive early to secure a spot.
Public Transportation
By Bus:
Fans can use local bus routes to and from the stadium
The bus lines and routes with stops near the stadium are 99 and 297
From Miami:
Take the Line 297 bus from NW 27 Av @ NW 79 Te to NW 27 Av & 199 St
The bus ride takes approximately 50 minutes and costs $1 – $3
From Fort Lauderdale:
Take the train from Fort Lauderdale Station to Golden Glades Station
From the Golden Glades Station, take the Line 77 bus to Hard Rock Stadium
From Miami Beach:
Take the Line 150 bus from Collins Av & 17 St to Airport Station
Transfer to the Line 297 bus at Airport Station and ride to NW 27 Av & 199 St
Remember to check the latest schedules and fare information before planning your trip to Hard Rock Stadium.
Parking Information
Hard Rock Stadium, home to the Miami Dolphins and the University of Miami Hurricanes, has parking options available for your convenience. This section provides information on reserved parking and general parking for events at the stadium. We recommend purchasing parking passes in advance to secure your spot.
Reserved Parking
Reserved parking is available for visitors who purchase an "Inner Lot ADA Reserved" parking pass. These spaces are designated for guests with a valid disabled parking permit or license plate. Keep in mind to reserve your parking through Vivid Seats to get the most suitable deal.
General Parking
General parking is available in various lots around the stadium. Game day parking options include:
SunPass Parking: The cost is $35 per vehicle.
Cash Parking: The cost is $50 per vehicle.
Blue and orange parking passes allow you to park wherever you want during the first hour after parking gates open. However, to ensure a smooth traffic flow, directive parking begins one hour after the gates open for Miami Dolphins games.
For a detailed map of parking options and entry gates, you can visit the Hard Rock Stadium's website or use their official app. The app also provides access to game tickets, maps, and other useful information during your visit.
Alternative Transportation
Biking
Cycling to Hard Rock Stadium can be an eco-friendly and convenient option for those who live nearby or don't mind a bit of exercise. Bike racks are available near stadium entrances, making it easy to park and secure your bike before entering the event. Just make sure to bring a sturdy lock to protect your bicycle while you enjoy your time at the stadium. Also, it's essential to plan your route in advance, ensuring you use bike-friendly roads and paths to reach the venue safely.
Ride Sharing
Ride-sharing services like Uber and Lyft offer an alternative way to reach Hard Rock Stadium. You can easily request a ride through the respective app, and a driver will transport you to the stadium's designated ride-sharing drop-off and pick-up point. This option is particularly useful if you don't have your own vehicle or want to avoid the parking hassle and expense.
One potential downside of using ride-sharing services is the surge in demand and prices after events. To avoid high costs and long wait times, try booking a ride well in advance or waiting for the demand to subside before requesting a ride back. It may also be helpful to carpool with friends or other event attendees, both to cut costs and minimize the environmental impact of your transportation choice.
Stadium Amenities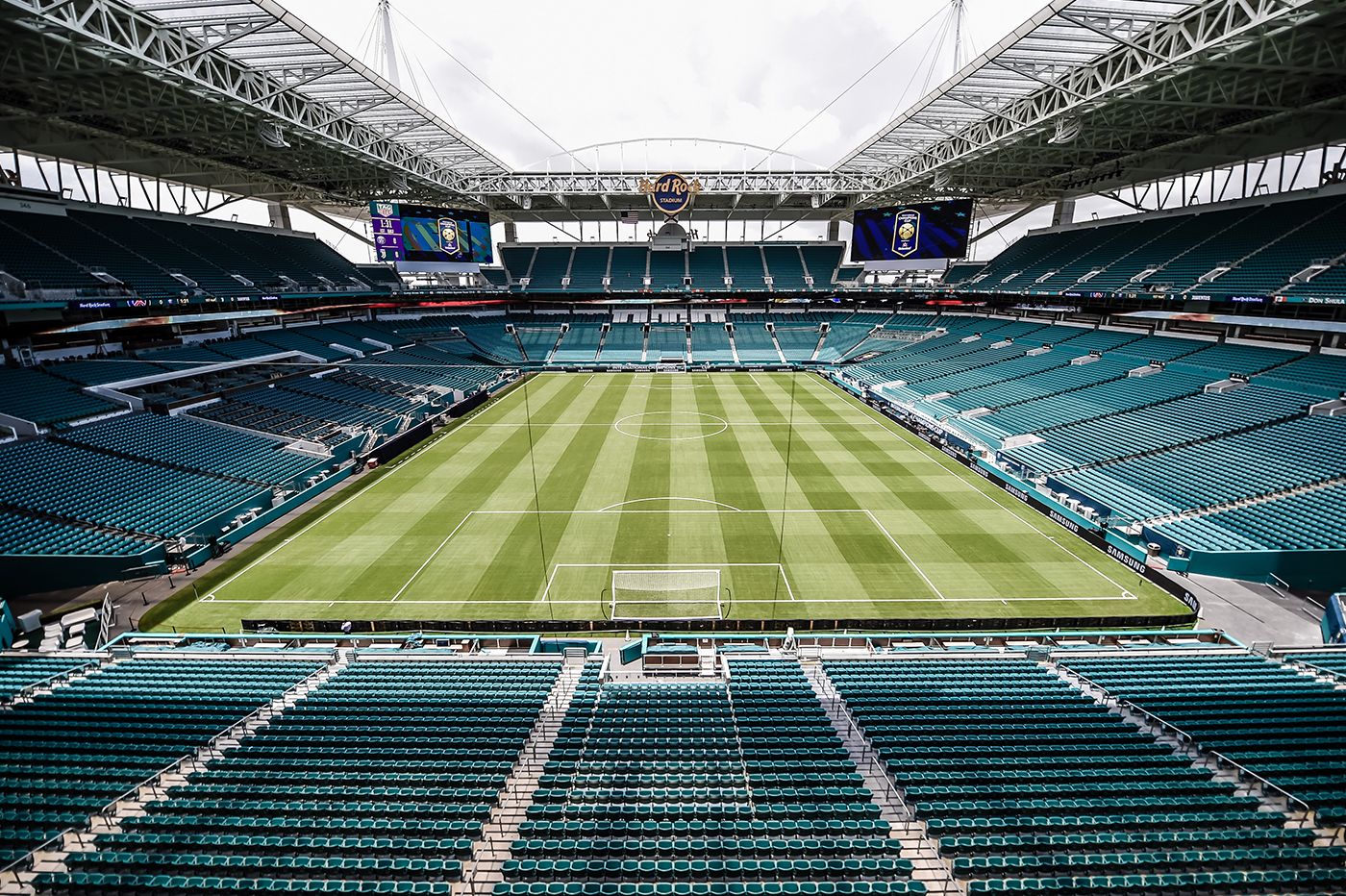 Hard Rock Stadium offers a variety of amenities to enhance your game day experience. The stadium is cashless, ensuring a smooth and secure transaction process for its guests. Concessions provide a wide range of food and drink options, catering to different tastes and dietary preferences.
To make the most of your visit, download the stadium's official app. It grants access to game tickets, parking, maps, and more, all in one convenient place. The app streamlines your experience, helping you navigate the stadium and access its amenities with ease.
In addition to the cashless payment system, Hard Rock Stadium enforces a clear bag policy to ensure the safety and security of all visitors. It is essential to familiarize yourself with this policy before attending an event. Moreover, the stadium is a non-smoking facility, further promoting a comfortable environment for all guests.
Accessibility is a priority at Hard Rock Stadium. The venue offers various seating options and accommodations for individuals with disabilities, including ADA-compliant parking spaces and wheelchair-accessible seating.
Lastly, please remember that the stadium policies mentioned above may change at any time and for any reason, as dictated by the event promoter or the nature of the event (e.g., Super Bowl, CFP Championship, Miami Open, etc.). To guarantee an optimal experience, always verify the most up-to-date policies before attending an event at Hard Rock Stadium.
Accessibility Options
Hard Rock Stadium is committed to providing a comfortable and enjoyable experience for all guests, including those with special needs. Visitors to the stadium can expect accessible accommodations that cater to a variety of requirements.
Guests requiring wheelchair accessibility will find dedicated seating areas throughout the stadium. Both general wheelchair accessible seating and ambulatory seating are available to accommodate different mobility needs. Hard Rock Stadium is designed as a fully accessible venue to ensure a seamless experience for everyone.
Parking is an essential aspect of accessibility at the stadium. There is a special lot designated for handicap parking, making it convenient for visitors who require extra assistance. Parking spaces in this lot are located at ground level, allowing for easy access to the stadium entrance.
For added convenience, Hard Rock Stadium has an official app that provides essential information for your visit, such as game tickets, parking details, maps, and other relevant information. The app is a helpful resource for guests with accessibility needs as it consolidates all the necessary details in one place.
Event Tips and Tricks
Attending an event at Hard Rock Stadium can be an exciting experience. To make your visit as seamless and enjoyable as possible, follow these tips and tricks:
1. Plan your transportation: There are various options for getting to Hard Rock Stadium, including public transportation, driving, and rideshare services. If you're taking public transit, the stadium is accessible by the Miami-Dade Transit Metrobus (line 786) and the Tri-Rail shuttle bus. The shuttle buses run two hours before kickoff and two hours after the game. For those planning to drive, remember to secure a parking spot ahead of time through SpotHero.
2. Get there early: Arrive at the stadium a few hours before the event to account for possible traffic, parking, and security checkpoint wait times.
3. Tailgate responsibly: Tailgating is a popular pre-game activity at Hard Rock Stadium. Make sure to comply with the stadium's tailgating rules, which prohibit glass bottles, kegs, open flame cooking, and tents larger than 10'x10′. And don't forget to clean up after yourself!
4. Know the stadium's prohibited items policy: Familiarize yourself with the stadium's bag policy and prohibited items to ensure a smoother entry process. Hard Rock Stadium follows the NFL's clear bag policy, which mandates that all bags must be clear plastic, vinyl, or PVC and not exceed 12″x 6″x 12″. Additionally, items like umbrellas, selfie sticks, drones, and outside food and beverages are not allowed.
5. Bring cashless payment: Hard Rock Stadium is a cashless facility, meaning you'll need a credit or debit card for all transactions, including food, drink, and merchandise purchases. If you only have cash, currency conversion machines are located throughout the stadium.
By following these tips and tricks, you're sure to have a smooth and enjoyable experience at Hard Rock Stadium. Enjoy your event!
Conclusion
In summary, attending an event at Hard Rock Stadium is an exciting experience, and navigating your way there can be a breeze with proper planning. Regardless of your method of transportation, make sure to allot sufficient time to ensure a smooth and stress-free journey.
Public transportation options are available for those who prefer not to drive. The Miami-Dade Transit System provides connections to the stadium, with the Metrobus and Metrorail options. Keep in mind that these services may be crowded on event days, so plan your trip ahead.
If driving is your preferred method, remember that Hard Rock Stadium is a cashless venue, so be prepared with electronic payment methods for parking. Knowing the parking lots and entry gates beforehand can help you save time upon arrival.
Lastly, always take note of the stadium's policies and entry requirements, such as the clear bag policy and the non-smoking environment. Familiarizing yourself with these guidelines will ensure a hassle-free experience and allow you to fully enjoy your time at Hard Rock Stadium.