As a baseball fan, I know how important it is to effortlessly navigate through a stadium and find the best spots to enjoy a game without hassle. That's why I'm here to help you with everything you need to know about LoanDepot Park, specifically gate locations and entrance details. This way, you can fully immerse yourself in the excitement of a Miami Marlins game.
LoanDepot Park is a modern and innovative ballpark that offers various entrances and amenities for guests. Knowing exactly where to go and what to expect is essential for a smooth and memorable experience. In these next paragraphs, we will cover the essential gate and entrance information, designed to make your visit as enjoyable as possible.
From gate locations and opening times to ADA accommodations and parking entrances, this guide aims to provide you with all the necessary details for an effortless and exciting outing at LoanDepot Park. By the end of this article, you'll be prepared to confidently navigate the ballpark and make the most of your time cheering on the Miami Marlins.
Getting to LoanDepot Park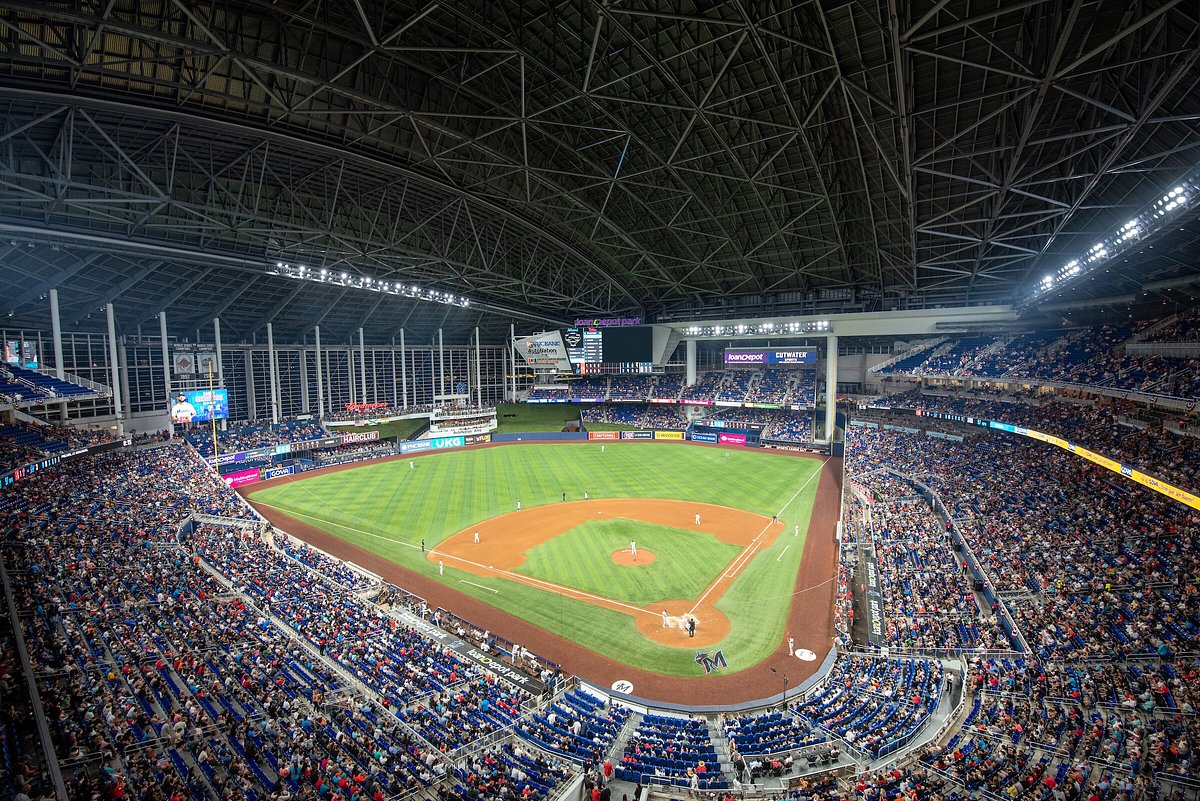 As a frequent visitor of LoanDepot Park, I'm excited to share some tips and information on how to get there. In this guide, I will cover two main options for getting to the ballpark: public transportation and driving.
Public Transportation
Miami has reliable public transportation options that can take you to LoanDepot Park. Two Miami-Dade Metrorail stops are within a mile of the ballpark: Culmer and Civic Center. Additionally, the Tri-Rail Connection via the Historic Overtown/Lyric Theatre Station is available for those coming from further away.
Besides these rail services, you can also find eight Metrobus routes and the City of Miami Trolley Route. This variety of transit options provides a convenient way to reach the stadium while avoiding traffic and parking hassles.
Driving and Parking
If you prefer to drive to LoanDepot Park, there are parking lot entrance locations to accommodate your needs. Keep in mind that on game days, traffic may be heavier, so be sure to give yourself enough time to arrive.
Once you reach the ballpark, there are various parking options nearby, including lots and garages. To make your experience smoother, consider reserving a parking spot online ahead of time or research your options beforehand to determine which parking facility suits your needs best.
In conclusion, LoanDepot Park is easily accessible through both public transportation and driving. Choose the method that works best for you, and enjoy your time at the ballpark!
Gate Information
Gate Opening Hours
I want to make sure you're aware of the gate opening hours at LoanDepot Park. Marlins Member doors open 2.5 hours before the first pitch at the Third Base Entrance, but this is only on Fridays and Saturdays. Premium doors open up 2 hours before the first pitch. For everyone else, all gates open 90 minutes prior to the first pitch. So, make sure to plan your arrival accordingly.
Entrance Policies
When it comes to entrance policies at LoanDepot Park, there are a few key things to know. Firstly, Marlins Members have an Express Entrance located at the Gate 1 Home Plate Entrance. This helps dedicated Marlins fans get into the park efficiently.
As for the general public, here's what you should keep in mind:
Re-entry is not permitted.
Bags or purses are only allowed if they follow the MLB's clear bag policy and measure no larger than 16″ x 16″ x 8″.
Items like outside food, cans, glass bottles, hard coolers, or oversized banners are not allowed.
Security Checks
To provide a safe environment for everyone attending the game, security checks are implemented at LoanDepot Park. Make sure to arrive early and allow extra time for these essential security checks. Be prepared to go through metal detectors and have your bags checked. The clear bag policy helps speed up this process, so I'd recommend following those guidelines.
By knowing the gate opening hours, entrance policies, and security checks for LoanDepot Park, I hope you can enjoy a stress-free and memorable baseball game experience.
Facilities Guide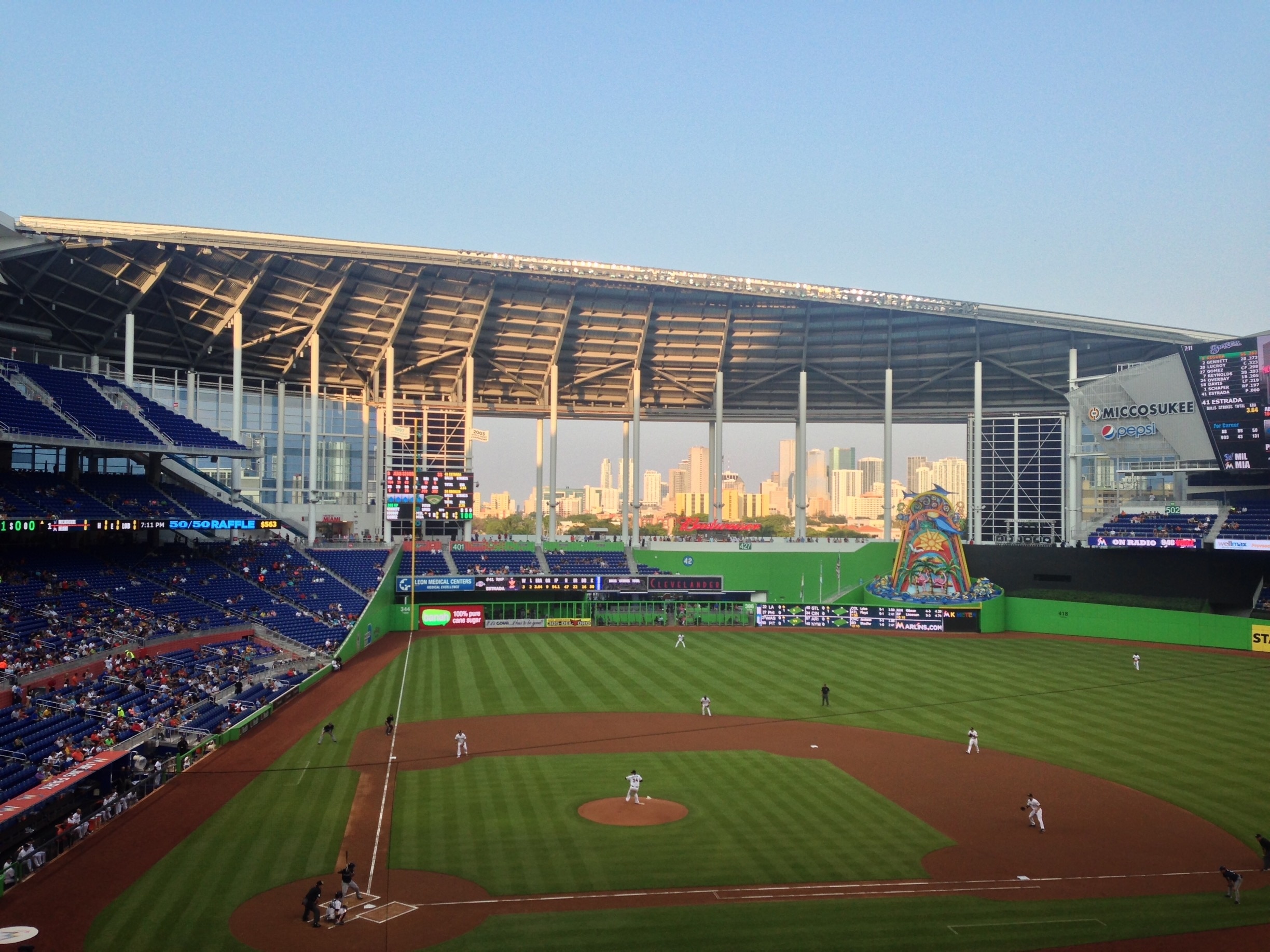 Restroom Locations
LoanDepot Park has plenty of restroom facilities located throughout the ballpark. I found them to be clean and well-maintained. Most restrooms are situated near the main concourses and seating sections, ensuring convenience for all guests. To make restroom visits even more comfortable, LoanDepot Park offers family restrooms and facilities accessible to those with disabilities.
Food and Beverage Options
I was delighted to discover a wide variety of food and beverage options to suit every taste bud at LoanDepot Park! From the classic hot dogs and nachos to Cuban sandwiches and ceviche, there's something for everyone. Not to mention, the ballpark offers a great selection of beers, wines, and cocktails, so you'll have plenty of options to quench your thirst as you cheer on the Miami Marlins.
Some of my favorite food and beverage stands are:
Burger 305: Scrumptious burgers and fries
Taste of Miami: Local favorites like ceviche, empanadas, and croquetas
Sweet Play: Indulgences like ice cream and churros
The Coop: Finger-licking good chicken tenders and sandwiches
Souvenir Shops
If you are looking to bring home a piece of LoanDepot Park experience, head over to one of the souvenir shops located throughout the ballpark. There are shops offering team jerseys, hats, t-shirts, and other Miami Marlins merchandise. I particularly enjoyed browsing through the exclusive, limited-edition items featured at select shops.
Accessibility Information
Wheelchair Access
I found that LoanDepot Park provides excellent accessibility for guests using wheelchairs. The stadium has designated accessible parking spots for guests with disabilities. When it comes to seating, there are accessible seating options along with companion seating available throughout the ballpark. Don't worry about getting around, as the park has ramps, elevators, and escalators to assist guests with mobility challenges.
Service Animal Policies
As a service animal owner, I know how important it is to have clear policies for our furry companions. Luckily, LoanDepot Park welcomes trained service animals that are needed to assist individuals with disabilities. Just make sure your service animal is under control and wearing the proper identification. Please note that emotional support animals, comfort animals, and therapy dogs are not considered service animals under the Americans with Disabilities Act (ADA) and are not permitted inside the stadium.
I hope this information helps you plan and enjoy your visit to LoanDepot Park!
Additional Tips and Tricks
As a frequent visitor to LoanDepot Park, I have learned a few handy tips and tricks that I want to share with you to make your visit as enjoyable as possible.
First, always give yourself ample time to arrive at the park and find parking. Parking options are available around the stadium, but they can fill up quickly, especially during popular events or games. Make sure to research nearby parking lots and garages beforehand so that you can head straight there and avoid any last-minute scrambling.
Another useful tip is to familiarize yourself with the stadium entrances and gates. Knowing where these are will shorten the time you take to enter the stadium and reach your seats. There are multiple entrances and gates around the stadium, so familiarize yourself with the ones closest to your ticketed section or parking area. And remember, during busy events, some gates may have longer waiting times than others; try to find out which ones might be less busy.
I have found that it's always a good idea to know the rules and guidelines for what you can bring into the stadium. Many ballparks, including LoanDepot Park, have strict guidelines on what items are allowed inside. For example, umbrellas and large bags might not be allowed. Be sure to review the stadium's specific policies on their website before you head out to avoid any disappointments.
Lastly, I recommend exploring the park's concessions and amenities. LoanDepot Park offers a fantastic selection of food and beverages, so take the time to explore some of the local and international options available. Don't limit yourself to just the classic ballpark foods, as you'll find some unique and tasty options during your visit.
I hope my tips and tricks help you make the most out of your LoanDepot Park experience. Remember to stay in the moment, enjoy the game or event, and have a fantastic time!