ThunderBug is the vibrant and energetic mascot of the Tampa Bay Lightning, an NHL team based in Florida.
This black and yellow mascot, wearing a jersey with the number 00, is designed to resemble a lightning bug and has become an indispensable part of the Lightning's in-game entertainment at Amalie Arena.
ThunderBug is known for his antics on and off the ice, interacting with fans, launching T-shirts to the crowd, and playing an essential role in bringing the thunder to any event he attends.
For over two decades, ThunderBug has been making a name for himself as a dedicated supporter of the Tampa Bay Lightning. His lovable and fun-loving nature makes him a fan favorite, especially at the Tampa Bay Times Forum, where he is often seen pounding on the glass and engaging with the crowd.
ThunderBug does more than just entertain at hockey games; he can also be booked to make appearances at birthday parties and other events, ensuring that the spirit of the Tampa Bay Lightning is present wherever he goes.
As the Tampa Bay Lightning's mascot, ThunderBug plays a pivotal role in the team's identity and embodies the excitement and enthusiasm surrounding NHL games.
While some may question the choice of a bug as a mascot, ThunderBug has proven that he is not just any bug but a symbol of the Tampa Bay Lightning's unwavering spirit and fierce competitiveness. This mascot continues to thrive as a unique and dynamic part of the Tampa Bay Lightning's legacy.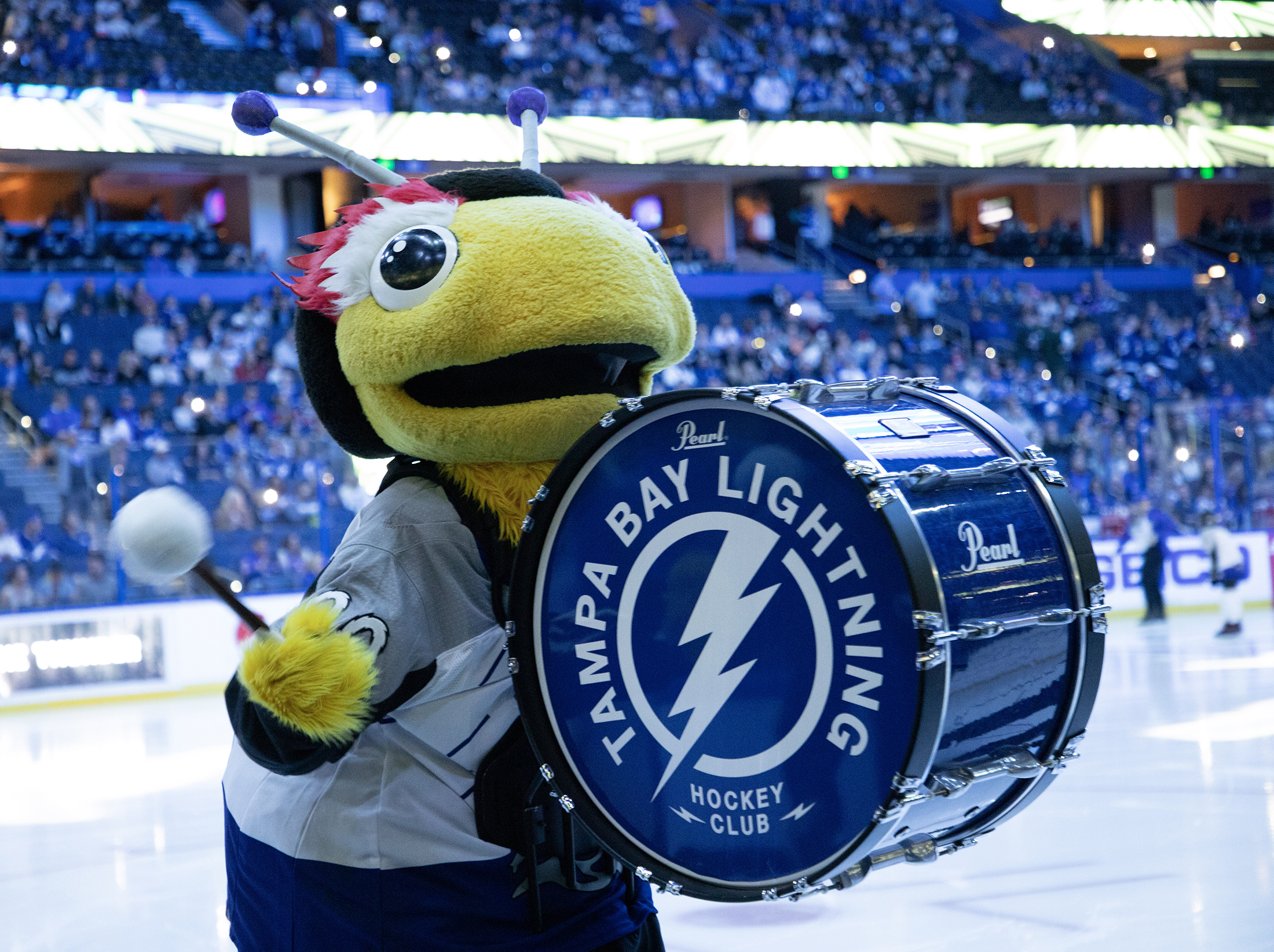 Thunderbug's Origin
Thunderbug is the official mascot of the Tampa Bay Lightning, a professional ice hockey team based in Tampa, Florida.
This fun and energetic character has been entertaining fans and bringing the team spirit to life since the early days of the franchise.
Dressed in the team's colors, blue and white, with hints of yellow, Thunderbug sports a jersey with the number 00.
As a lightning bug, its appearance features a round, bulbous body, bold, expressive eyes, and enigmatic lightning bolt markings. Often seen walking through the stands, Thunderbug is known for launching T-shirts and interacting with fans to enhance their game day experiences.
Although the exact year of Thunderbug's inception remains unclear, it has certainly become an integral part of the Tampa Bay Lightning's community outreach efforts as well as the overall game day atmosphere.
As the team's mascot, Thunderbug represents the Lightning in various events such as charity functions, school visits, and community appearances, further showcasing the team's commitment to its fan base and the broader Tampa Bay area.
In summary, Thunderbug is a beloved figure within the Tampa Bay Lightning community, embodying the excitement and energy of the sport while engaging with fans on a personal level.
Its origin and role as a mascot have solidified its place in the team's identity, playing a major part in the Lightning's overall brand and in-game entertainment experience.
Acclaim and Awards
ThunderBug, the lovable mascot of the Tampa Bay Lightning, has entertained hockey fans since its introduction.
While no specific awards are tied to the mascot, the franchise itself has experienced immense success in recent years, and it's undeniable that the antics and spirit of ThunderBug have played a role in boosting team morale and engaging with fans.
The NHL, recognizing the quality of in-game entertainment and ThunderBug's presence, has invited the mascot to participate in league events.
Notably, ThunderBug was part of the NHL Global Series in Stockholm, Sweden in 2019. This international presence indicates the confidence the league has in the mascot's capacity to engage with fans and contribute to the overall enjoyment of the game.
Additionally, ThunderBug has been involved in community outreach programs, such as the Lightning's Community Hero initiative. This program, launched in 2011, honors a local hero at each home game, presenting them with a $50,000 check to donate to a non-profit charity of their choice.
ThunderBug's active participation in this and other charitable efforts showcases its commitment to making a positive impact within the local community.
Despite an embarrassing viral incident in 2012 involving the mascot spraying a Boston Bruins fan with silly string, ThunderBug has managed to maintain a positive reputation and continuously engage with fans both on and off the ice.
This speaks to the quality of the character and the dedication of the performers bringing ThunderBug to life.
In conclusion, while there may not be specific awards related to ThunderBug, the mascot's noteworthy contributions to the hockey community, its participation in high-profile NHL events, and its presence in local charitable programs all serve as recognition and validation of its role as an important part of the Tampa Bay Lightning experience.
Role in the Community
Charity Initiatives
ThunderBug, the Tampa Bay Lightning mascot, plays a significant role in the community by participating in various charity initiatives.
Since 2011, the Lightning have honored a Community Hero at every game and presented that hero with a check for $50,000 to donate to a non-profit charity of their choice. ThunderBug actively supports these community heroes and facilitates interactions with the Tampa Bay community.
Educational Programs
Apart from charity initiatives, ThunderBug is also involved in educational programs that promote learning, creativity, and exercise for children. The mascot shares new things for kids to learn each day, provides exercise ideas, and encourages them to get creative.
This involvement fosters a sense of connection between the Tampa Bay Lightning and the local community, particularly for the younger generation who are participating in ThunderBug's Virtual Kids Club during the 2022-23 season.
Fan Interaction and Engagement
Game Day Rituals
ThunderBug is an integral part of the Tampa Bay Lightning's game day experience. This beloved mascot infuses energy and excitement into the crowd during the games.
ThunderBug is known for its drum-banging antics and ability to entertain fans of all ages with various skits and performances throughout the games. Besides drumming and dancing, ThunderBug has been known to surprise fans with swag bags, delivered right to their seats.
Social Media Presence
Having a strong presence on social media, ThunderBug engages with Tampa Bay Lightning fans who cannot attend the games in person, as well as those who want to keep up with the mascot's activities outside of the arena.
ThunderBug can be found on popular social media platforms such as Twitter, Instagram, and Facebook.
Through these platforms, fans can get a behind-the-scenes look at ThunderBug's life, making it easier for fans to connect with their favorite mascot and team. By sharing posts and interacting with fans online, ThunderBug builds a sense of community among Lightning fans.
Thunderbug Merchandise
If you are a true Tampa Bay Lightning fan, then showing off your love for their mascot, Thunderbug, is a must.
There is a variety of merchandise available that showcases this energetic mascot, perfect for wearing to games or displaying in your home.
Thunderbug Jerseys: You can show your support for the team and their mascot by wearing Thunderbug Tampa Bay Lightning jerseys. These jerseys feature the team's colors, logo, and of course, the mascot itself. Available in different sizes and styles, you can find the perfect fit just for you.
Thunderbug T-Shirts: Another great way to wear your Thunderbug pride is through t-shirts. With a wide range of designs and colors, there's sure to be a Thunderbug t-shirt suitable for any style preference. These t-shirts are not only fashionable but comfortable for game days or everyday wear.
Thunderbug Plush Figure: The Bleacher Creatures Tampa Bay Lightning Thunderbug 10″ Plush Figure is a perfect toy for fans or even as a display piece. This well-crafted plush figure brings the mascot to life, making it an ideal gift for collectors or young fans alike. Available through online retailers such as Amazon, it's never been easier to take Thunderbug home with you.
To stay up-to-date on the latest Thunderbug merchandise out there, make sure to keep an eye on the official Tampa Bay Lightning website and their Fan Shop. With new items released regularly, there's always something new and exciting featuring your favorite mascot, Thunderbug.
Behind the Scenes
Costume and Maintenance
ThunderBug, the official mascot of the Tampa Bay Lightning, dons a bug-inspired costume with the team colors.
While specific details about the costume materials and maintenance aren't readily available, it's safe to assume that regular cleaning and repairs are necessary to ensure it stays in top shape for games and events.
Mascot costumes can sometimes be heavy and hot, so proper ventilation and cooling methods might be employed to keep the performer comfortable during their energetic appearances.
Performers Over the Years
ThunderBug has been an icon for the Tampa Bay Lightning since its debut, with several individuals donning the bug costume over the years. One notable incident occurred in 2012 when a video surfaced of the mascot spraying a Boston Bruins fan with silly string.
Less than a week later, local television stations confirmed that the female performer at the time was let go, though not exclusively for this incident. The identity of the current ThunderBug performer remains private, much like most professional sports mascots.
James is a big time NBA Golden State follower, who makes sure to catch games when he's in the area. He likes to follow International Soccer, with an interest in small town soccer club, Blackburn Rovers located in the North on the UK.