Whether you are looking to catch a game of football or attend a much-anticipated concert, the TIAA Bank Field has you covered!
Home to the Jacksonville Jaguars, this stadium has plenty to offer anyone looking for some entertainment.
Read on to learn about parking, the best bars and eateries in close proximity, nearby hotels, history, and more!
TIAA Bank Field – Key Facts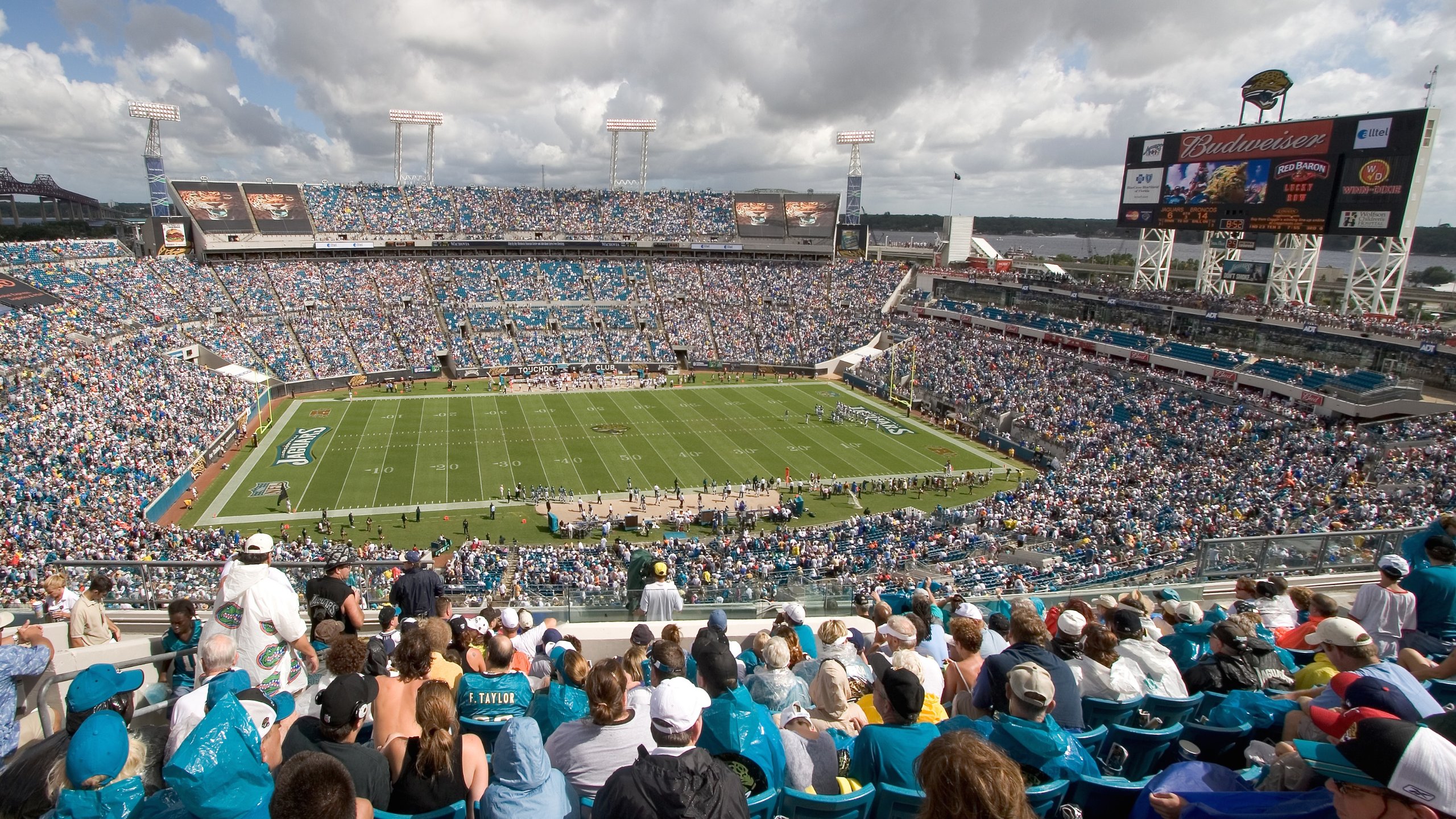 TIAA Bank Field is home to the Jacksonville Jaguars, a professional American football team. Founded in 1993, the team has not experienced great success as of late and is currently ranked in the late 20s out of all 32 teams in the NFL.
Interestingly, the TIAA Bank Field is used for a range of different events, such as college football, music events, and even for the United States national men's soccer team!
The stadium is located approximately 1.7 miles out of central Jacksonville, and 5 miles from the Jacksonville Airport (JAX).
If you were hoping to make it to the beach in the morning before the big game, you'll be pleased to hear that Jacksonville beach is only 16 miles away from the stadium.
Having the stadium in such a convenient location makes it easy for fans to get out and about during the day while they wait for the football to commence!
Tickets are mainly bought and displayed online via the Jaguars app. Be prepared to get your phone out at the gates, and don't be surprised if your printed version gets turned away.
This stadium has pieces of structure that were built along with the original 1927 Fairfield Stadium. While it is a very small portion, it's still impressive that those ramps have withstood the test of time.
Where is TIAA Bank Field located?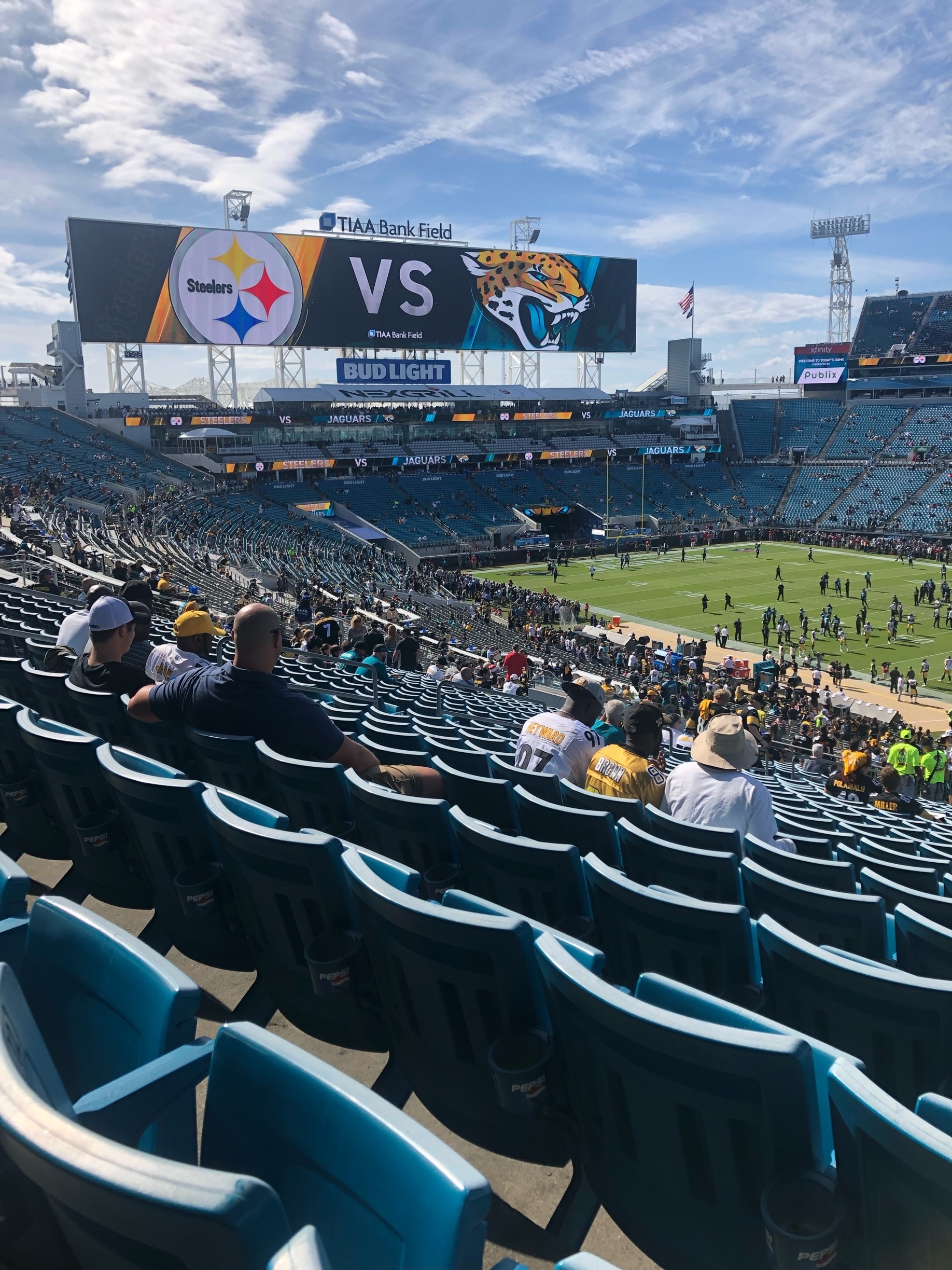 The stadium sits right next to the St. Johns River in downtown Jacksonville. The address for TIAA Bank Field is:
1 Everbank Field Dr in Jacksonville, Florida.
If you are searching for additional activities and sights to see around the stadium, you have plenty of options:
Veterans Memorial Wall (0.1 Miles from TIAA stadium)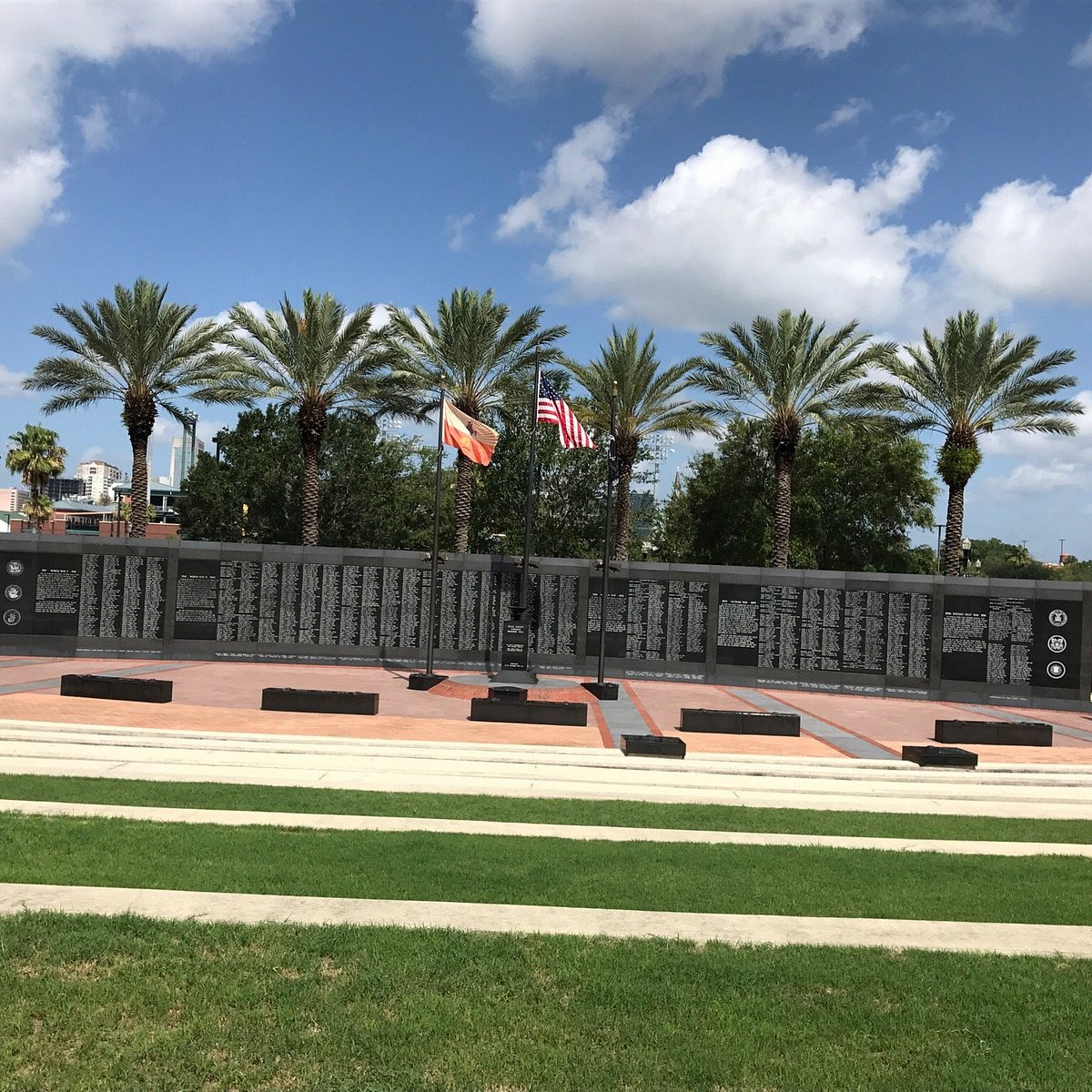 Located on East Adams Street, this memorial wall serves as a tribute to over 1,500 Jacksonville region war heroes and is a humbling sight for those looking to remember the past.
Kraken CycleBoats (0.3 Miles from Stadium)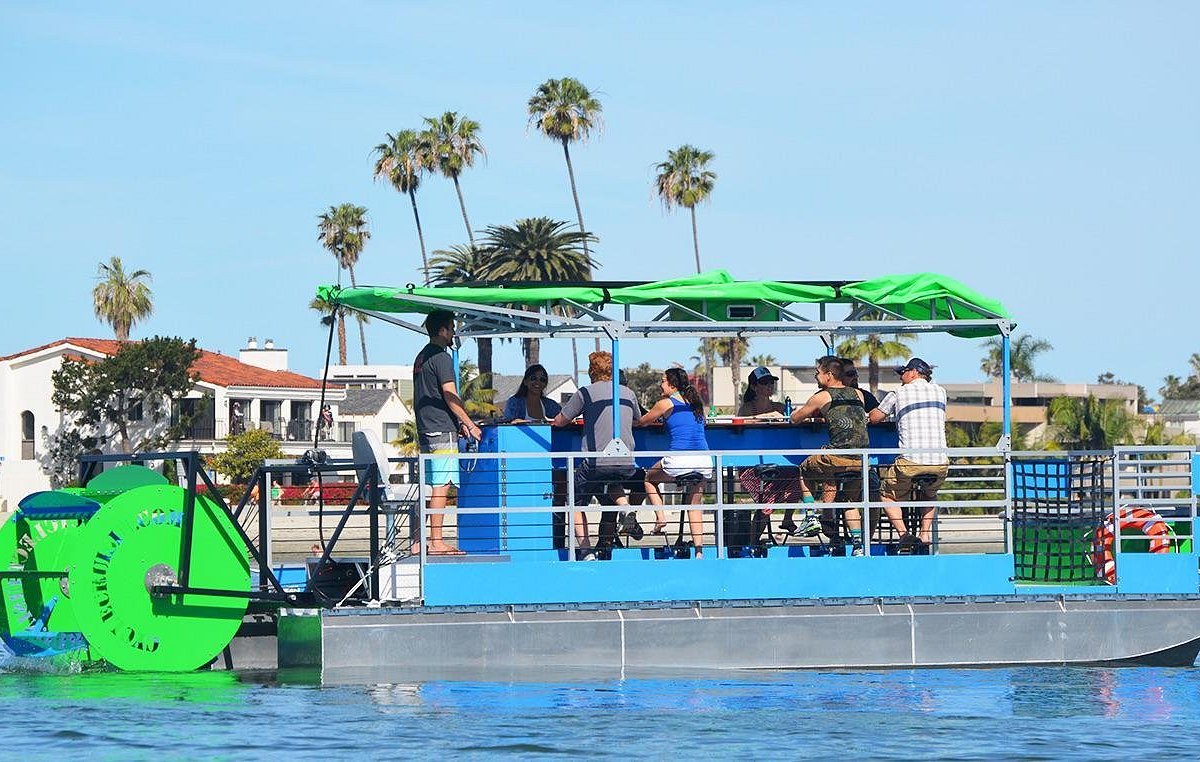 These boats are a fantastic activity for a family, couple, or group of friends! Pedal through the waterways whilst listening to some good tunes and enjoy a few laughs.
Sweet Pete's Candy (1.3 Miles from the Stadium)
This 23,000-square-foot Victorian mansion filled with candy puts the witch in Hansel and Gretel to shame!
With three floors filled with candy, an ice-cream parlor, craft sodas, and a café and a bar– you won't want to miss out on this location!
The Best Way To Get To TIAA Bank Field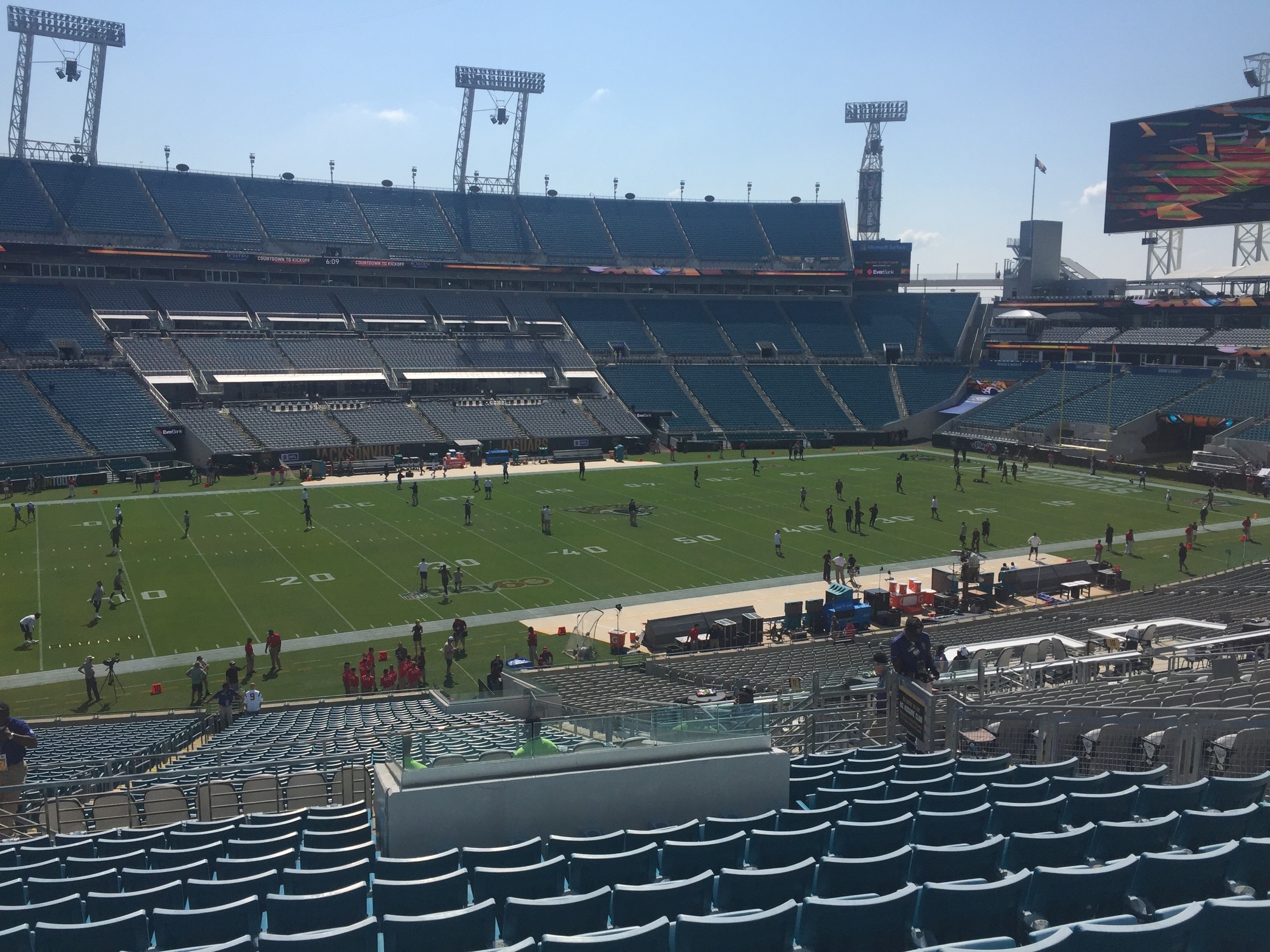 If you are planning on driving to the TIAA Bank Field, there are a few alternative ways you can go to get there, depending on where you're coming from in relation to the field:
North on the I-95
South on the I-95
East on the I-10
If driving isn't your style, you may instead choose to take a bus from somewhere else in Jacksonville to the TIAA Bank Field.
Rally is a high-end bus company that will transport you, along with other stadium-goers to the game! This is simply one of the public transport options available for getting you to the stadium.
Parking Near TIAA Bank Field
According to the official Jaguars website, parking lots will usually open 4 hours before the kickoff of an event and will close 2 hours after the end of each event.
You must pay for a parking pass to display in your vehicle during the event and show the pass as you are entering the parking lots.
There are 15 different parking lots at the venue, with a specific area for those wishing to tailgate.
It is highly recommended that you arrive at the venue a lot earlier than you think you'll need to!
Not only may you find different, new traffic patterns and a whole lot of cars everywhere, but there may be construction happening within the complex that prevents a good flow of traffic.
There is a feature on the Jaguars website that allows you to find specific directions for each and every parking lot within the complex.
You can find it here: Simply scroll down until you see the blue clickable boxes with each lot name on them.
By using this feature, you'll get specific instructions for a variety of different entry points and roads– meaning you won't be driving around aimlessly, wondering where in the world you're going!
The Best Restaurants Near TIAA Bank Field
Intuition Ale Works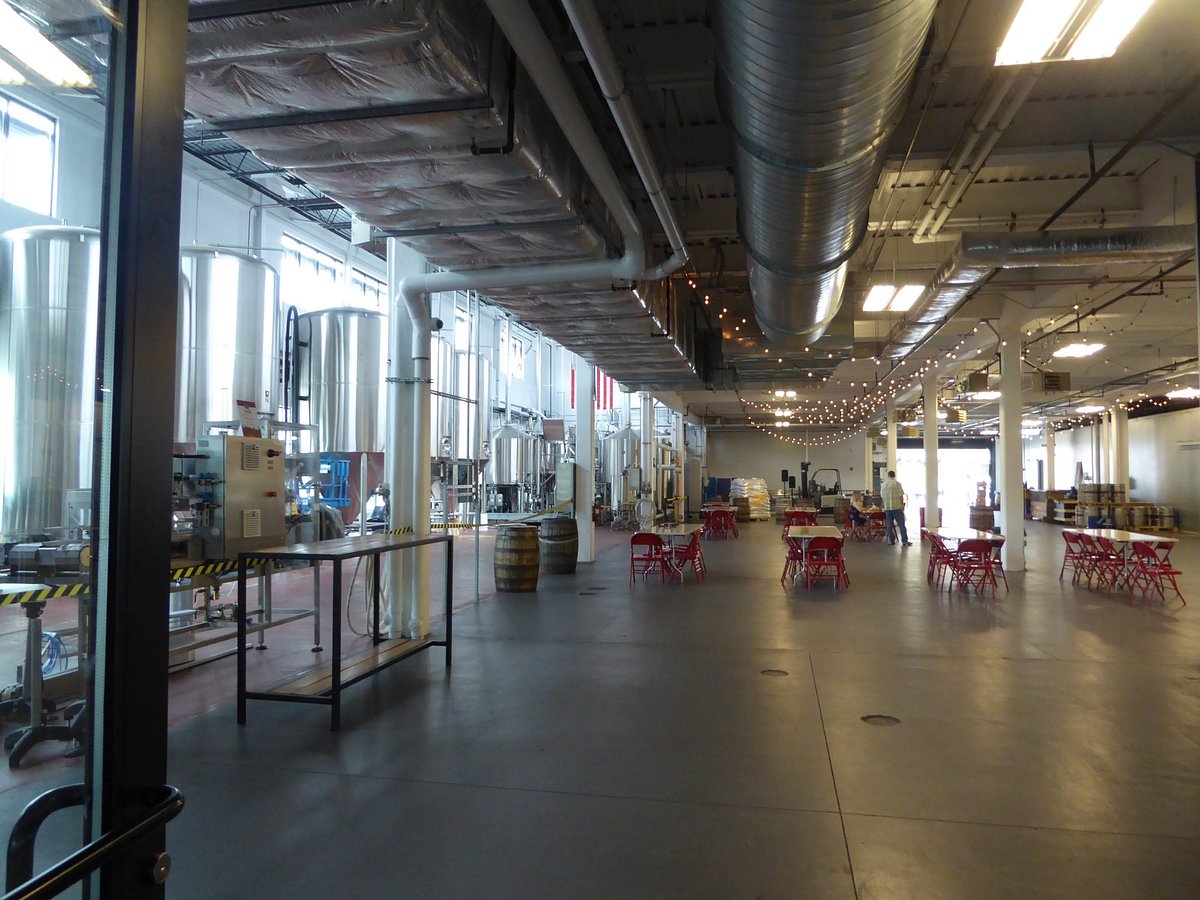 Intuition Ale Works is a pregaming dream for Jaguars fans with a 10 am opening time on every home game!
Offering live music, a full menu of pub food, and a whole lot of beer, be sure to check this venue out before the game.
There are some incredible menu items featured in Intuition Ale Works, such as their 10" pretzel served with beer cheese and beer mustard, or their very own "Jag Dog". Intuition Ale Works even serves vegan options alongside the many meat items on offer.
Located in Bay Street, Jacksonville, Intuition Ale Works has a wide range to offer not just yourself, but the rest of the family too.
Serving cider, wine, and many non-alcoholic beverages, there isn't much more you could ask for from a restaurant before watching the game.
Superfood and Brew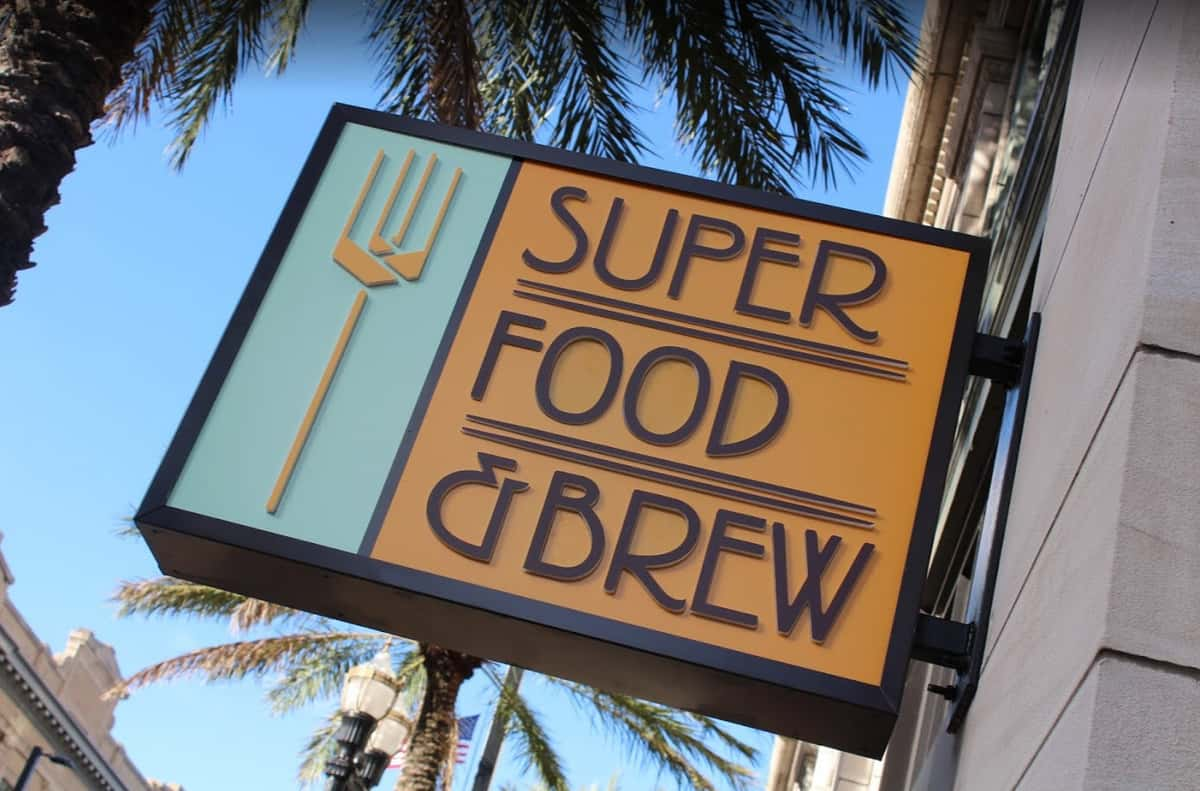 Looking for something on the fresh and healthy side?
Luckily for you, this little food truck business has made its way to a real restaurant location!
Proudly serving fresh food and beverages, Superfood and Brew is one to keep in mind when you are visiting the TIAA Bank Field.
The restaurant describes itself as "comfortable and casual", which sounds perfect before a night out at the game. An added bonus is how the menu is available for takeout as well!
If you're short on time to make the game before the traffic, this restaurant could be an excellent choice with its 'order online' option.
Superfood and Brew offer small bites, sandwiches, fresh salads, bowls of various fresh ingredients, and dessert– not to mention the impressive range of cold beverages! You're sure to find something you love on their menu.
V Pizza
If it's a delicious pizza you're craving on game day, V Pizza aims to bring the taste of old-world Italy right to Jacksonville for you to enjoy before heading to the TIAA Bank Field.
Italian meats, buffalo cheese, and more are what you can expect from V Pizza's original-Italian style pizzas.
If your mouth isn't watering yet from the thought of those perfectly cooked dough bases, perhaps thinking about the smell of a perfectly cooked pizza wafting out of the brick ovens will do the trick.
V Pizza is located on Jacksonville beach – perfect considering the Tiki bar and 'beach vibes' that come with the Flask and Cannon cocktail bar right next to the restaurant!
Get your game spirits up with a trip to this cocktail bar/authentic Italian pizza joint for some scrumptious food and beverages.
The Best Bars Near TIAA Bank Field
From classic sports bars to something a bit fancier, there are plenty of bars to choose from around the TIAA Bank Field.
Some people likely head straight home after the game ends, but you certainly don't have to if you don't want the fun to end quite yet!
Keep reading to learn about a few of the options available to you in downtown Jacksonville.
TailGate Bar and Grill
TailGate Bar and Grill is a no-brainer cocktail bar for tailgaters! RVs are absolutely welcome at this bar, offering a parking contract for the season for fans who are interested.
TailGate offers a two-story bar and an outdoor patio for those wanting to spend less than $10 for a beer during the game.
The TailGate bar has pool tables, ATMs, and great food on offer– as well as a live DJ before and after the game.
Why would you face the traffic right at the end of the game when you can keep the party going? Save yourself some money on drinks by purchasing them outside of the stadium!
The Bar at the Arena
That Bar at the Arena located on Philip Randolph BLVD, Jacksonville is a hip, indoor, vibrant bar to spend time at on game day.
With fantastic food options alongside their cold beverages, the great vibes this bar brings can be enjoyed by a large range of people.
Multiple TV's placed around the bar make it easy to keep up with the game, even if you weren't able to make it to the stadium yourself.
Finishing the night here afterward is sure to create long-lasting memories of the day out at the game!
Dos Gatos
Dos Gatos is a great bar option if you are looking for something close to the TIAA Bank Field.
Known as Jacksonville's "original cocktail lounge', you can't go wrong with a visit to this venue.
Located just across from the historic Florida Theatre, you'll have your tastebuds wowed by the talent of the cocktail artists found here.
Don't let the party finish early on the big day! Go out and celebrate, whether it's a win or loss.
There are plenty of amazing bar options close to the stadium, so you're sure to find one that matches your vibe perfectly.
The Best Hotels Near TIAA Bank Field
Understandably, not every person attending a game at the TIAA Bank Field lives locally. So, here's a list of the best hotels near the stadium:
Hyatt Regency Jacksonville Riverfront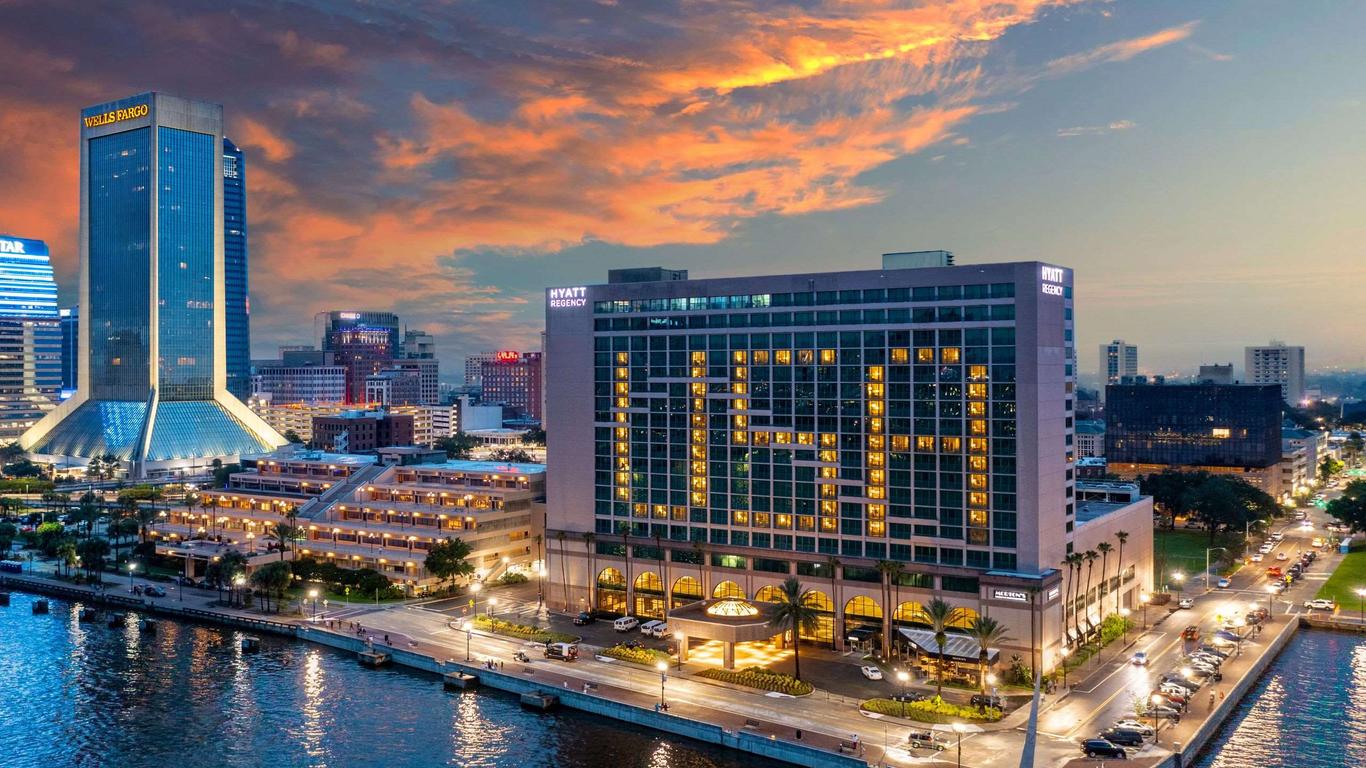 The Hyatt Regency is simply breathtaking from the outside.
Featuring a pool, fitness center, and fine dining (all while remaining pet-friendly), you'll feel like you've had the most relaxing vacation ever after staying here!
There are panoramic views on-site, and it's just a short walk away from the center of Downtown Jacksonville.
If you're looking for a convenient, spacious stay during your trip to the TIAA Bank Field, this hotel on East Coastline Drive could be it!
Marriott Jacksonville Downtown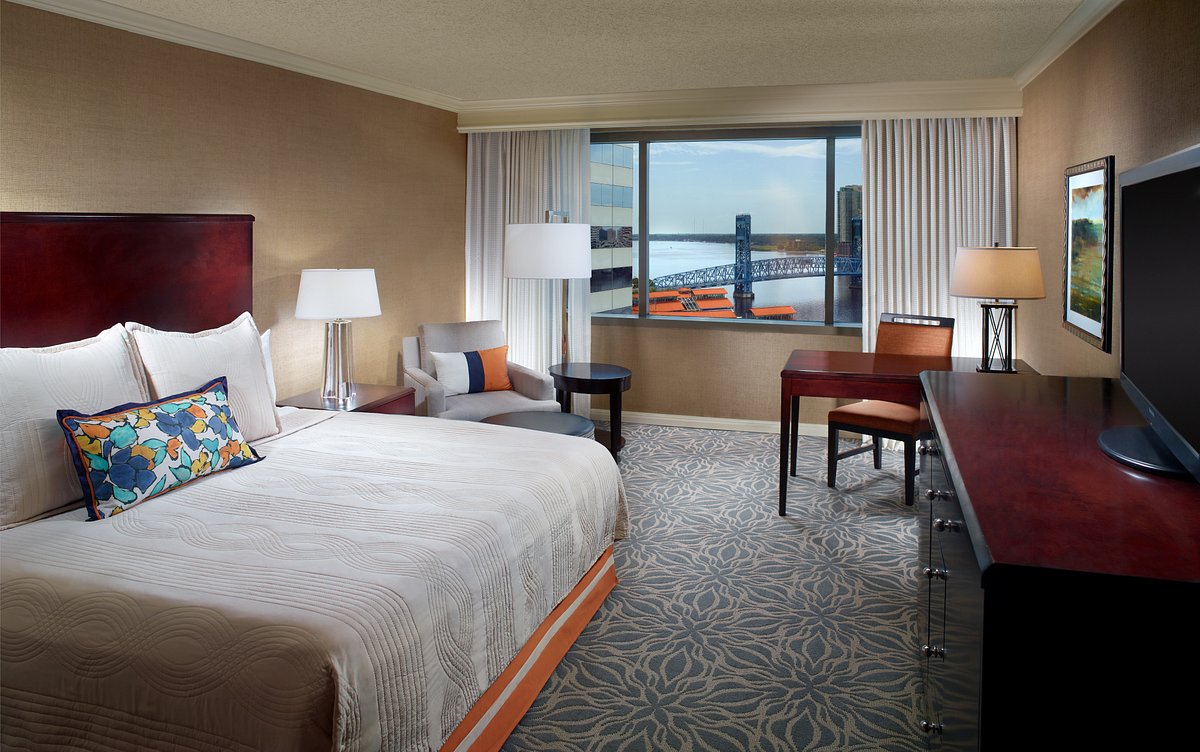 Boasting luxury and connections to Jacksonville's best cultural and business areas, Marriott Jacksonville Downtown will no doubt satisfy you during your stay.
Aside from easy access to the TIAA Bank Field, you will be in close proximity to Times Union Center, Memorial Arena, and other great attractions.
Located directly on the river, relaxing water views are inevitable during your time at this hotel.
There is a focus on sustainability with the Marriott, which also features a restaurant and an outdoor pool.
This hotel is also pet-friendly, so you won't have to say goodbye to your furry friend if you don't want to!
Hilton Garden Inn
From the outside, this hotel looks like a castle in the best way!
Upon check-in, you'll receive a digital room key for your room at the Hilton Garden Inn, so you won't ever have to worry about locking yourself out or losing access.
Enjoy the restaurant within the hotel as well as the outdoor pool– or perhaps you'll want to take advantage of the meeting rooms available for guests to use for work purposes.
With breakfast served daily, you'll rarely go hungry during your time here– even if you are breaking a sweat in the fitness center beforehand.
Getting around to places while at the Hilton is simple due to the Skyway Express Monorail which is located a few minutes walk away from the hotel.
Hampton Inn Jacksonville-Downtown-1-95
Just a hop, skip and jump across the river from the TIAA Bank Field, the Hampton Inn is in the perfect location if you are wanting a quick drive home after the game.
Not many things in life are free these days, yet this hotel still offers a complimentary hot breakfast to its guests!
If that isn't enough to tempt you, you may be interested in the outdoor pool, pet-friendly policy, business, and fitness centers (and so much more).
With spacious rooms of all sizes to fit your needs, consider staying in this hotel if you want to be especially close to the stadium.
Other than TIAA Bank Field, this hotel is in very close range to restaurants, offices, the Veteran Memorial Arena, and more.
The Hampton Inn is also ideal for any business person seeking a suitable place to work on the road, whilst enjoying whatever event is on at the stadium.
The History Of TIAA Bank Field
The stadium as we know it today was originally opened in 1995, going by the name of the "Jacksonville Municipal Stadium".
This stadium was built upon a different stadium called the Fairfield Stadium, which was built in 1927– 68 years prior!
In 1997, Alltel purchased the naming rights for the stadium, so from 1997-2006 it was known as Alltel Stadium after the communications company.
After 2006, there was a 5-year naming ordeal between the financial services company Everbank. Finally, in 2010, Everbank managed to acquire the naming rights which led to the title, 'Everbank Stadium'.
In 2014, the naming deal was extended for another whole decade. So, when Everbank changed names to the TIAA Bank, the stadium also changed to become the TIAA Bank Field!
The TIAA Bank Field stadium still contains parts of the original Fairfield stadium to this day. Small sections of pedestrian ramps and the western upper deck have Fairfield incorporated into them.
Originally in 1995, the stadium could hold up to 73,000 fans. However, that number has changed over time.
With college football events held at the TIAA stadium, 84,000 fans can fit into the stands to support the teams. For NFL games, however, the number drops below the original capacity at just over 67,000 people.
Where To Get Tickets For TIAA Bank Field:
Tickets for TIAA Bank Field can be bought in a few different ways.
Firstly, there is a ticket booth at the stadium which is open 4 hours before kickoff and closes after the first quarter finishes.
Secondly, tickets for the stadium can be purchased online.
Tickets bought online must be presented as 'mobile tickets' through the Jacksonville Jaguars app, as they have phased out printable PDF versions of the tickets in an attempt to prevent counterfeiting.
Does TIAA Bank Field Offer Tours?
Yes! Luckily, you are able to experience TIAA Bank Field in a completely different way with a guided, behind-the-scenes tour of the infamous Jaguars home stadium.
Unfortunately, for the time being, tours are suspended– though they are set to resume in the future!
Keep an eye on the DownTown Jacksonville website for updates so that you don't miss out on this amazing experience!