Whether you're on a business trip, holiday, or on a short-event visit to Atlanta, you're in luck. The capital of Georgia has so much to offer that we're sure you'll want to prolong your stay.
Whether you're there for an Atlanta Falcons match or to enjoy some of the many family attractions in downtown Atlanta, there are many dining options you can choose from.
So, here's a list of restaurants near Mercedes-Benz Stadium, along with useful information to help you find the restaurant according to your preferences.
No Mas! Cantina
When in downtown Atlanta, No Mas! Cantina is a must-visit restaurant for all those who enjoy Mexican food and the famous margaritas. The beauty of this restaurant is that it can transport you to Mexico with its delicious food while you're sitting about 0.5 miles away from Mercedes-Benz Stadium.
The cantina offers traditional Mexican appetizers, such as guacamole, queso, calamari, quesadilla de la casa, queso loco, nachos, los tres amigos (three appetizers served with crispy tortilla chips), etc. Of course, it has soups, salads, tacos, burritos, and enchiladas.
We recommend you try one of the specialties of the house. Moreover, you must try one of the desserts for a perfect end of a perfect dining experience.
Key information
| | |
| --- | --- |
| Location | No Mas! Cantina |
| Reservations | +14045745678 |
| Working Hours | Monday-Sunday: 8 AM to 10 PM |
Old Lady Gang Southern Cuisine
The Old Lady Gang is a cozy Southern restaurant that offers soul food dishes for a unique dining experience. The restaurant is located about 11 minutes on foot from the stadium, and it's one of the best places to go if you like a relaxing atmosphere and homemade meals.
Old Lady Gang is a restaurant with a comprehensive menu. It offers various delicious starters and entrees. After you finish your meal, we recommend you order one of the offered sweet finishes as they taste like those fantastic grandma's dessert recipes.
Key information
Thrive
Here we have a restaurant with an interesting interior and a fantastic menu. Thrive offers delicious American food, sushi, a comprehensive cocktail menu, and modern decor. Therefore, it will provide an excellent customer experience.
This restaurant's beauty is that it can meet everybody's requirements. Thrive can serve you regardless of whether you want to try some cocktails, eat sushi, or you're in for a quick lunch.
The main course menu includes bourbon-glazed salmon but also a grilled chicken sandwich. If you're in for dinner, you can have pan-seared salmon, shrimp, and grits, sesame tuna burgers, etc.
Overall, the place offers dishes for everyone's taste, and it's one of the best restaurants near Mercedes-Benz Stadium.
Key information
Location
Thrive
Reservations
+14043891000
Working Hours
Monday-Wednesday: Lunch 11:30 AM to 4 PM, and Dinner 5 PM to 9 PM
Thursday-Friday: Lunch 11:30 AM to 4 PM, and Dinner 5 PM to 10 PM
Saturday: 5:30 PM to 10 PM
Glenn's Kitchen
Glenn's Kitchen is a cozy restaurant with a casual and relaxing atmosphere, which complements the restaurant's comfort-food menu.
You can order one of the offered sandwiches with chicken, braised short rib, cheese, or pastrami at this place. Or, you can start the meal course with hummus, chicken wings, kale caesar salad, chorizo flatbread, or Bavarian soft pretzels.
Glenn's Kitchen's entree menu includes shrimp and grits, grilled salmon, and pork chops that you can have with french fries, cheddar grits, brussels sprouts, or seasonal vegetables.
Since Glenn's Kitchen is a part of the Glenn Hotel, the restaurant serves a delicious breakfast for hotel guests. If you're staying at the hotel, you can have breakfast every day from 6 to 11:30 AM.
Key information
Location
Glenn's Kitchen
Reservations
+14044690700
Working Hours
Wednesday-Sunday: 4 PM to 9 PM
Mondays and Tuesdays: Closed
Ted's Montana Grill
This restaurant is a bit farther away (0.7 miles) from the stadium compared to the other restaurants we have listed in this article.
However, Ted's Montana Grill is an excellent place if you want to dine in an old-fashioned West-style steakhouse. It offers a unique dining experience, and most importantly, it's the best place for dishes with ranch-raised, grass-fed bison meat.
Besides bison brisket, ribs, bison nachos, and meatloaf, you can also order chicken, crab, salmon, or a burger. Ted's Montana Grill offers tasty sides, such as onion rings, fries, garlic mashed potatoes, roasted asparagus, etc.
After the entree, we recommend you order one of the offered desserts, as, at this restaurant, they're all homemade.
We think it's important to add that Ted's Montana Grill has a nutrition calculator on the website, where you can calculate the nutrition value of the selected dishes.
Key information
Der Biergarten
You have to visit Der Biergarten if you want to try some of the best traditional dishes of German cuisine. After leaving the stadium, walk through Andrew Young International Boulevard and turn left to Marietta Street. Der Biergarten is located about a ten-minute walk from the stadium.
Der Biergarten is an authentic German beer garden offering a comprehensive selection of beers and other drinks. The menu includes various traditional German dishes, from delicious appetizers and salads, such as Wurstplatte, Reibekuchen, Riesenbrezel, and Reuben rolls.
You should taste some of the fantastic entrees, including the popular Gulasch Suppe, Wiener Schnitzel, Kassler Rippchen, and Sauerbraten. Der Biergarten also offers tasteful sides, such as french fries, cured white cabbage, and potato salad.
Did we say that the place looks amazing? Take this virtual tour to get familiar with the place.
Key information
Location
Der Biergarten
Reservations
+14045212728
Working Hours
Monday-Tuesday: Closed
Wednesday-Friday: 4 PM to 9 PM
Saturday-Sunday: 12 PM to 9 PM
Twin Smokers BBQ
Twin Smokers BBQ is located right across from Der Biergarten, about 0.6 miles from Mercedes-Benz stadium.
This counter-serve restaurant specializes in smoked pulled pork, chicken, and Texas-style brisket and ribs. So, we recommend you visit Twin Smokers anytime you want to eat house-smoked meat at a good price.
Besides the delicious barbeque, you can have excellent appetizers, such as smoked wings and cheese dips, or order some sides, such as collards, potato salad, mac & cheese, etc.
Key information
Location
Twin Smokers BBQ
Reservations
+14046984707
Working Hours
Monday: Closed
Thursday-Saturday: 11 AM to 8 PM
Sunday: 11 AM to 4 PM
McCormick & Schmick's Seafood & Steaks
On Marietta Street, about nine minutes' walking distance from the stadium, you'll find McCormick & Schmick's Seafood & Steaks. This is an upscale restaurant known for its clubby atmosphere and extravagant interior.
However, the restaurant interior is nothing compared to the food quality McCormick & Schmick's restaurant offers. The place has a fantastic menu. You can have one of the delicious offers for lunch, including but not limited to tacos, cheeseburgers, fish and chips, sandwiches, fried shrimp, and pesto.
However, if you like something more specific, you can order one of the oyster or signature fish dishes. The restaurant also has a seafood specialties menu, steaks, and specialty meats.
Moreover, you can check the operating hours below. However, keep in mind that the restaurant offers a fantastic happy hour from 3:30 PM to 6:30 PM, Monday through Friday.
Key information
Bottle Rocket Fine Food and Beverage
Now, here's a place you can go if you have not decided on what you want to eat yet. Bottle Rocket is one of the best restaurants near Mercedes-Benz stadium, with something unique.
Incidentally, the Bottle Rocket menu is composed of Japanese-American fusion dishes, so you have many options.
To give you an idea, Bottle Rocket offers multiple appetizers, such as veggie dumplings, calamari, and tuna tataki, to name a few. You can have a tuna, chicken, or steak burger. Also, check out the specialty rolls or some of the makimono or nigiri dishes.
Key information
Location
Bottle Rocket Fine Food and Beverage
Reservations
+14045745680
Working Hours
Tuesday-Thursday: 5 PM to 10 PM (Kitchen; Drinks later)
Friday-Saturday: 5 PM to 11 PM (Kitchen; Drinks later)
Sunday: 5 PM to 10 PM (Kitchen; Drinks later)
Baja Fresh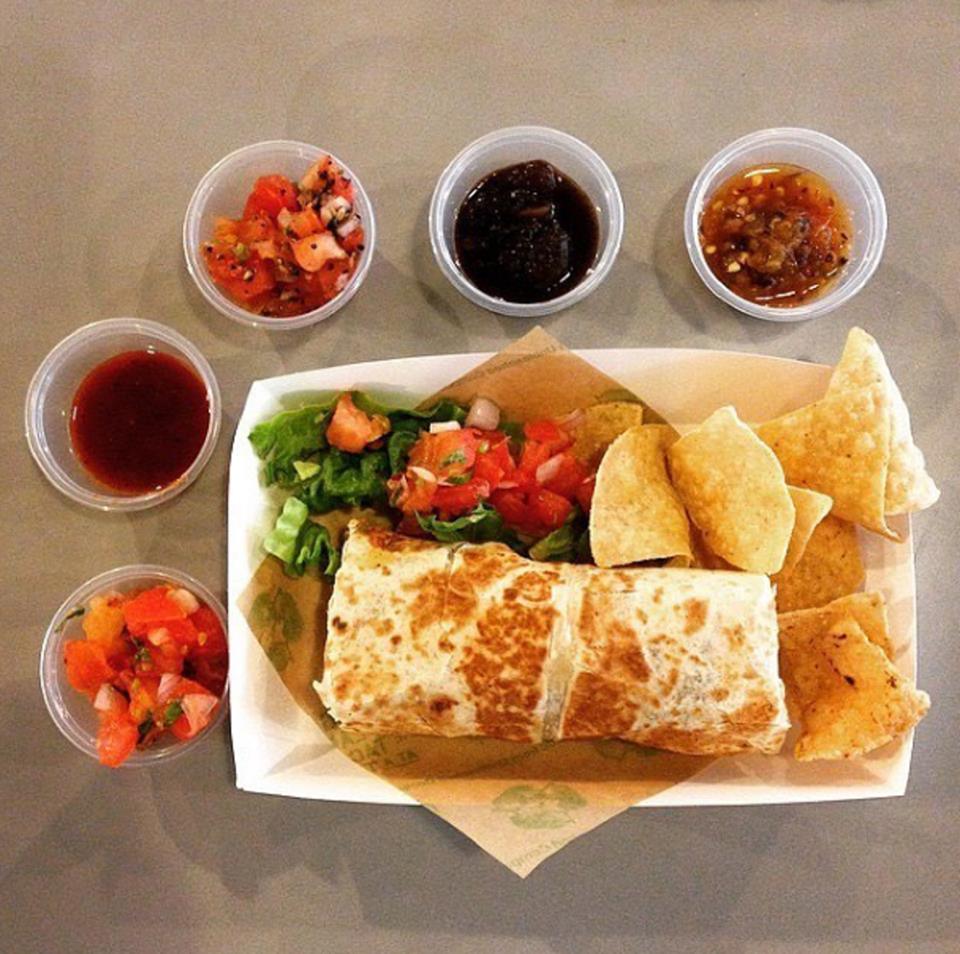 This Mexican food restaurant is located in Central Park West Condos, about a 12-minute walk from Mercedes-Benz Stadium. The place has a family-friendly atmosphere and a cozy interior, where customers can enjoy various meals from Mexican cuisine prepared with fresh ingredients.
Baja Fresh has an excellent rating on Google. The customer reviews praise Baja's staff, saying the service is quick and friendly. However, people loved the food the most, which is not surprising, as Baja Fresh doesn't use microwaves to defrost meals, and there are no processed ingredients on its menu.
Speaking of the menu, the restaurant prepares fantastic burritos, tacos, sides, and salads. You can also have quesadillas, fajitas, or nachos. Moreover, Baja has a salsa bar where you can compose your salsa.
Key information
Location
Baja Fresh
Reservations
+14046812252
Working Hours
Monday-Friday: 10:30 AM to 3 PM
Saturday-Sunday: 10:30 AM to 5 PM