Mercedes-Benz Stadium is a modern, multi-functional stadium. It is located in Atlanta, Georgia, and is home to the Atlanta Falcons NFL team. The stadium has a retractable roof and hosts extraordinary concerts, sports events, football games, and many other entertainment events.
But let's talk about not only the stadium but also its food. The food at Mercedes-Benz Stadium is top-notch and has some of the best stadium food. Their food items are from famous chefs and popular restaurants, giving you a fine dining experience.
The stadium has classic food items, which have a homey vibe, and excellent food and drinks that will spark the joy of the game day. So, for whatever reason you visit the Benz, you are in for a treat!
What Are the Classic Foods of Mercedes-Benz Stadium?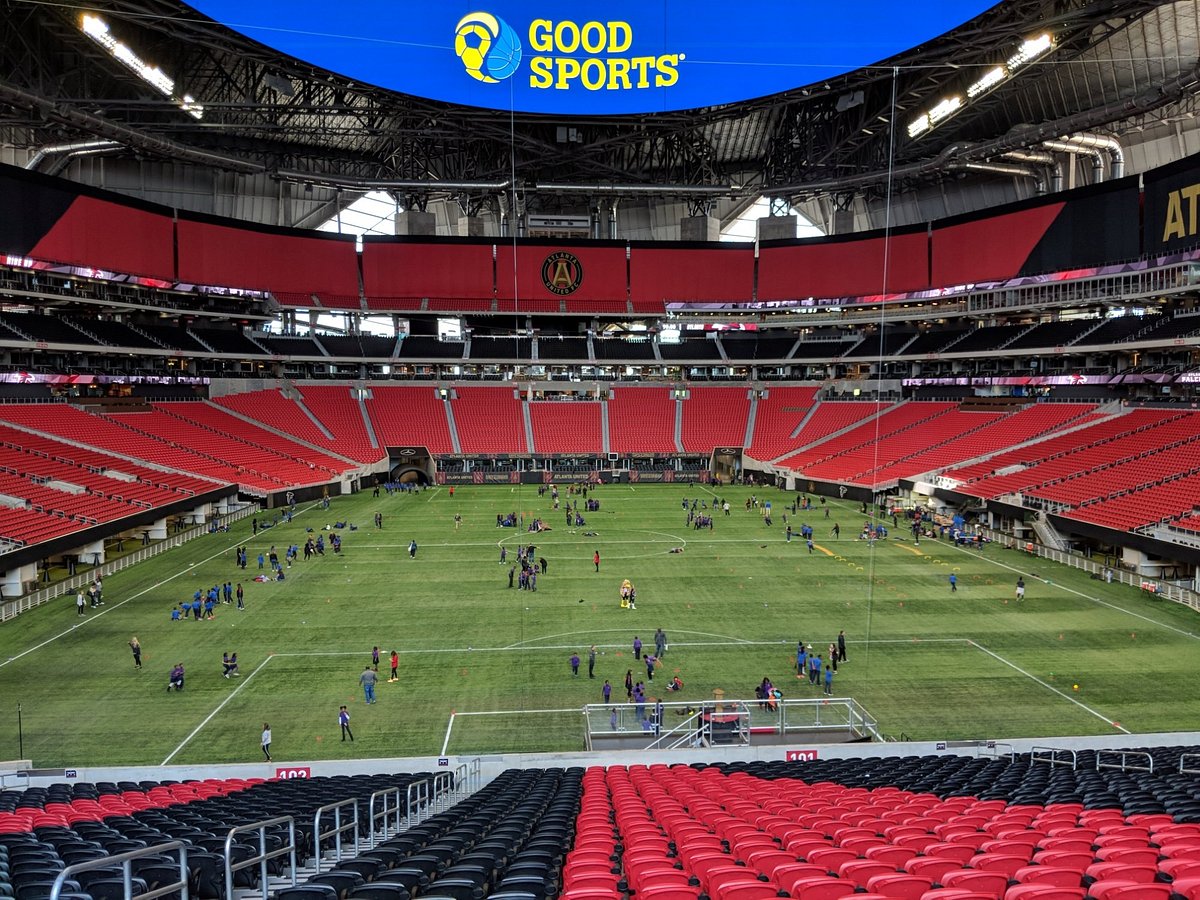 At Mercedes-Benz Stadium, you can get food from top chef Kevin Gillespie, the Fox Brothers' BBQ, and Delia Champions' popular chicken sausages. However, you can also try the local restaurants' foods that are just as delicious as the famous meals. If you want something classic, we also have it listed in this section. So, let's go through them!
ATL Fan Fare
If you are searching for some classic food items, ATL Fan Fare, in sections 105, 113, and 205, has what you want. They offer nachos, hot dogs, popcorn, cheese dogs, candy, pretzels, soda, and many other items. So, for a simple snack, head over to ATL Fan Fare.
Chick-Fil-A
Who doesn't love a Chick-Fil-A sandwich? Fans at Mercedes-Benz Stadium love having the classic chicken sandwich from Chick-Fil-A in section 123. So, if you are also a fan of the restaurant chain, you can grab something from there.
ATL Pretzel Co.
ATL Pretzel Co. offers many classic pretzel flavors. They also have candy, pretzel bites, and sublime donuts. So, if you have a sweet tooth, visit section 120 to grab some pretzels.
Bud & burgers
If you are looking for an affordable yet satisfying meal, Bud & Burgers is the place to go. They serve hot dogs, soda, burgers, water, and other food items. They are located in section 118.
Shock Top Brat
Shock Top Brat has a variety of beers you can choose to get to enjoy during the game. You can find them in sections 121, 202, and 344.
What Are the Most Popular Foods & Beverages at Mercedes-Benz Stadium?
The most popular food items in Mercedez-Benz Stadium are Kevin Gillespie's cheesesteaks and pork sandwiches, Home Park shop's sublime donuts, Delia Champion's chicken sausages, and many more delicious food items.
Moreover, there is also a food truck outside the stadium, bringing a lot of crowds to the stadium. So, if you want delicious and unique food items on the Atlanta Falcons game day, you are in luck because there are many!
King of Pops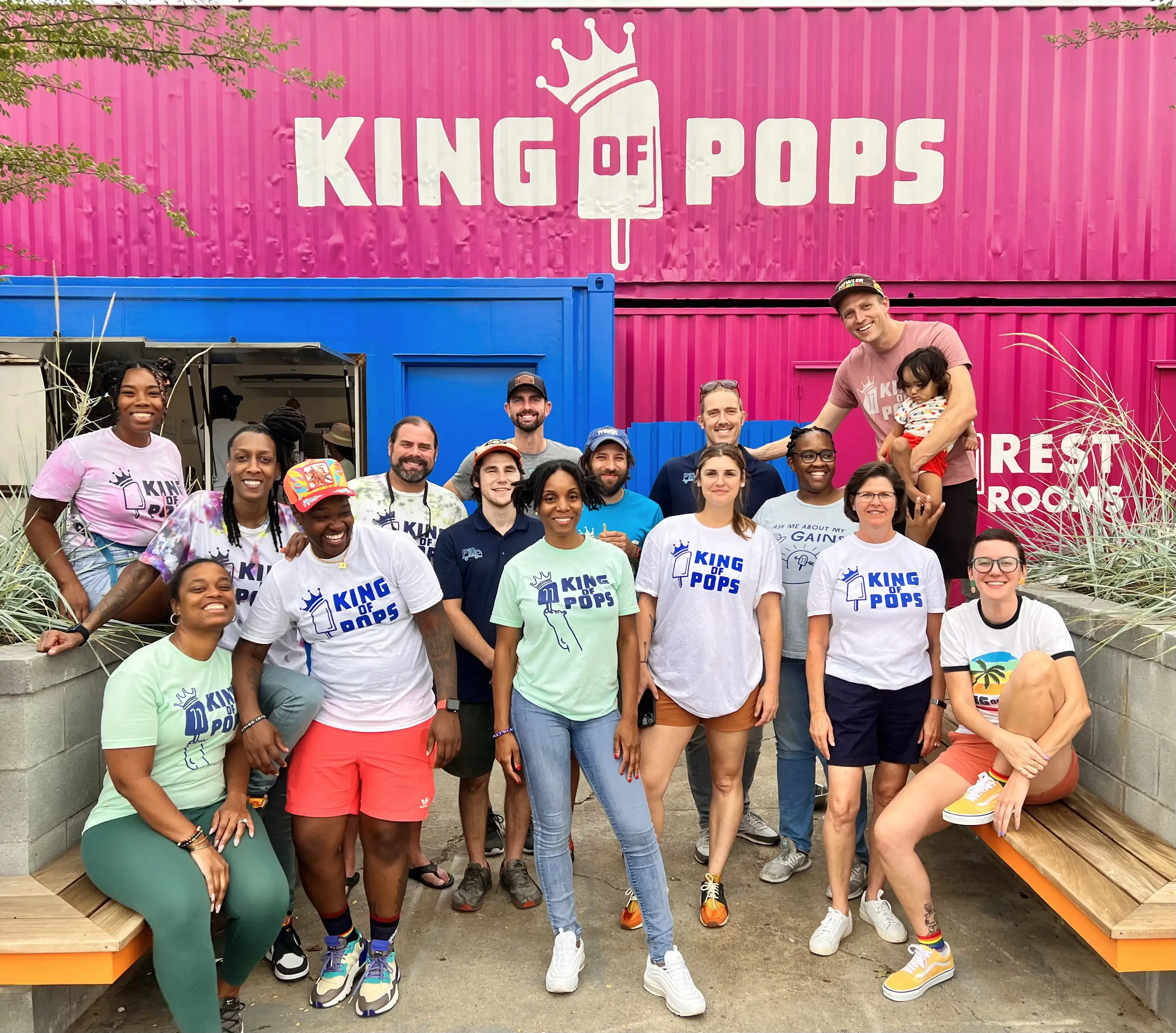 If you want something to cool you down on a hot game day at the stadium, come over to King of Pops in section 218. They have different flavored popsicles, ice creams, and even slushies to enjoy at the stadium.
H & F Burger and Hop's Chicken
H & F Burger is Chef Linton Hopkins' restaurant where you can get his fried chicken sandwiches and double-stack cheeseburgers. These burgers are made with juicy patties, pickles, onions, and American cheese. The best part is they come with delicious fries.
Moreover, you can also get Hop's Chicken, served in boxes, buckets, and sandwiches. The chicken is fried until it becomes crispy and golden. You can get them in Mercedes-Benz Club and Delta Sky360 Club.
Terrapin Brewing Neighborhood Bar
Craft beer is one of the primary beverages in Mercedes-Benz Stadium. You can easily go to Terrapin Brewing Neighborhood Bar in section 106 to get one.
ATL BBQ
ATL is all over the Mercedes-Benz Stadium. The ATL BBQ offers BBQ chicken nachos, pulled pork sandwiches, brisket sandwiches, and many more BBQ items in section 116.
Farm Burger
Farm Burger is a local chain serving organic fries, burgers, and condiments. You can also get freshly brewed tea, beer, etc., from them in section 245.
The Mac Shack
The Mack Shack in sections 122 and 238 have various mac n cheese options. You can get mac-n-cheese with pork, chicken, short ribs, and even totally vegan.
Meatless Grill
If you are a vegan and want something delicious to eat at the stadium besides salad, Meatless Grill is the place to go. They offer mouth-watering Beyond sausages, Beyond burgers, vegan chips, and other vegan food items. They are located in section 107.
Delia's Chicken Sausage Stand
Local restaurateur Delia Champion serves the most delicious sausages in the stadium. So, if you want a hearty meal go to Delia's Chicken Sausage Stand in sections 121, 124, 221, and 330. They serve sausages with onions, cheese, mayo, peppers, and a hoagie roll. But you must try their Hot Mess, which contains chicken sausage, chili, cheddar cheese, pickled jalapenos, and her famous comeback sauce.
Capital Crust Pizza
If pizza is your soul food on a game day, visit Capital Crust Pizza in sections 115 and 131. They offer authentic Italian pizzas at the stadium.
Kevin Gillespie's Gamechanger
Kevin Gillespie is a top chef alum and a Falcons fan. If you want a hearty and messy meal during the game, Gamechanger in section 223 will fulfill your wish. Their "Closed on Sunday" chicken sandwich is a popular item on their menu. It is made with perfectly-seasoned fried chicken breast, pickled mayo, and hot sauce, assembled on a honey butter sweet roll.
Molly B's Kitchen
Molly B's Kitchen, in sections 133 and 138, has a wide view of the stadium playing field, so you won't miss any game. They serve New England lobster rolls, Molly B's burgers, shrimp po'boy, and other delicious items. However, you must try Molly B's burger, made with short rib patties, gruyere, French onion soup mayo, pickles, caramelized onions, and dijon, assembled on a soft Brioche bun.
Moe's Southwest Grill
Moe's Southwest Grill in section 116 will make you crave burritos. They also serve salads, tacos, nachos, and beverages at their stand.
Fresh Mex
In Fresh Mex (section 125), you can easily eat big nachos from their stand and be full on a game day. They also offer dos tacos, pretzels, jalapeno bacon wraps, water, soda, domestic beer, and many other delicious items.
Georgia Local Craft Beer
If you are looking for local craft beer, visit Georgia Local Craft Beer in section 110.
West Nest by Westside Works
West Nest by Westside Works in sections 115 and 324 has the best buffalo chicken wings at the stadium. The wings are seasoned with lemon pepper and covered with West Nest Wings' maple buffalo sauce.
Conclusion
Mercedes-Benz Stadium doesn't compromise with the quality of food they serve to the Falcon fans. So, if you are a regular fan of the Atlanta Falcons, check out the stands we mentioned. Moreover, if you plan to visit the stadium for the first time, try out the popular food items first.