When I first visited the Mercedes-Benz Stadium in Atlanta, I was amazed by its architectural design and modern facilities. It's home to the Atlanta Falcons and Atlanta United FC, as well as hosting numerous concerts and other large-scale events. To make the most of your visit to this state-of-the-art venue, it's essential to know about the different entrance gates and other important details. So, I've gathered everything you need to know in this handy guide.
As I walked around the stadium, I learned that there are various entrance gates, each with their own unique features and specific access points. Understanding these entrances can help you save time and avoid confusion when attending an event at Mercedes-Benz Stadium. In this guide, I will be sharing crucial information about these gates and what to expect from each one.
Before diving into the specifics, let's also keep in mind that the stadium has certain policies and safety protocols, such as a clear bag policy and available services for emergencies. As we explore the gates and entrances, I will be sure to cover these aspects as well, so you have a complete understanding of what to expect during your visit.
Stadium Basics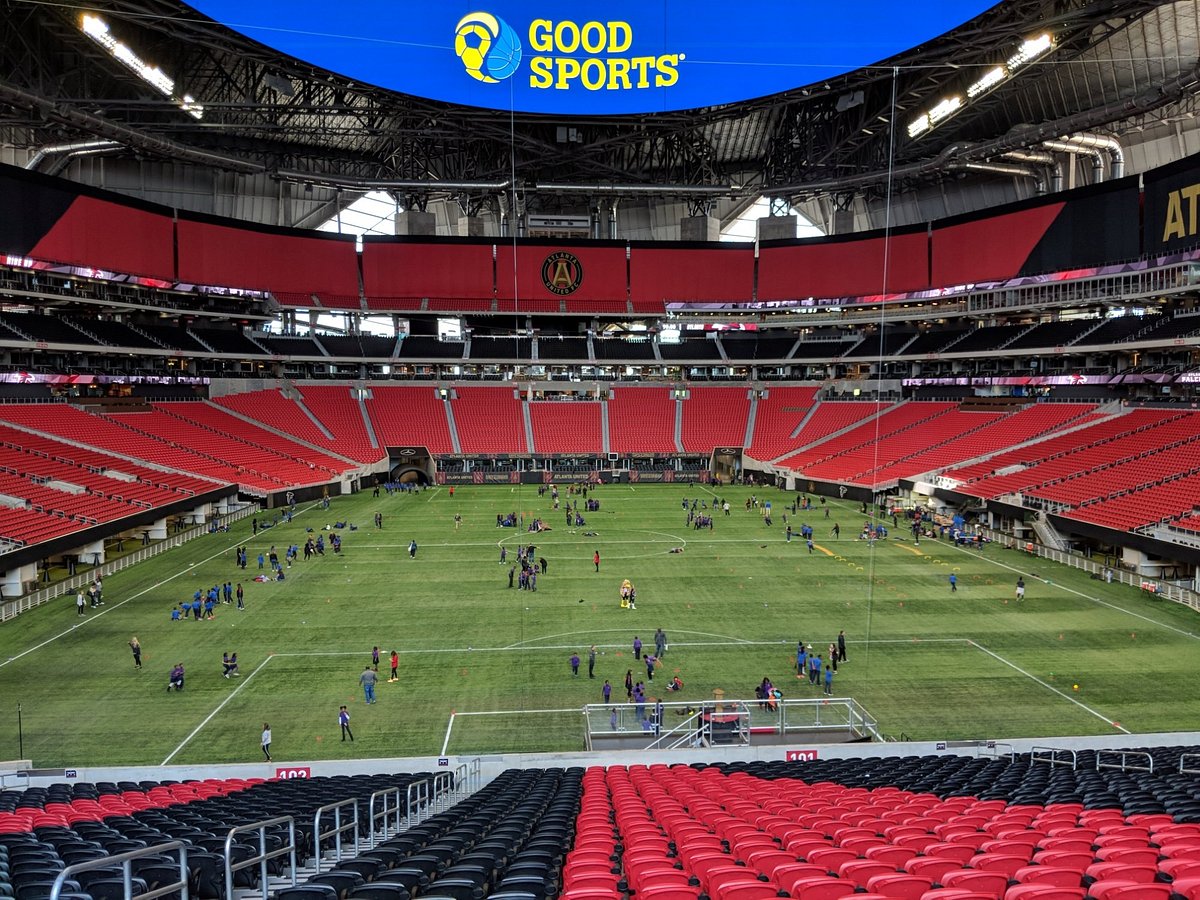 Stadium Capacity
Mercedes-Benz Stadium has a seating capacity of 71,000 people, which can be expanded to 75,000 for select events such as the Super Bowl. The stadium's seating is adaptable, accommodating soccer, concerts, and other events. The large capacity means that the stadium offers a variety of seating options, including suites, club seats, and general seating.
Venue Accessibility
As someone who values accessibility, I appreciate that Mercedes-Benz Stadium prioritizes making their venue accessible to all guests. The stadium provides wheelchair-accessible seating, along with companion seating, in various locations and price levels throughout the venue.
To help guests with mobility concerns, there are accessible entrances at all gates of the stadium. Additionally, the venue offers parking spaces for patrons with disabilities in their parking lots, available on a first-come, first-served basis. It's also worth mentioning that Mercedes-Benz Stadium partners with Park Mobile, allowing guests to book parking spaces in advance online.
Inside the stadium, there are accessible restrooms, concession stands, and elevators for guests with disabilities. If you require assistance or additional information, you can reach out to the stadium's Guest Services team for the most up-to-date event information.
Getting to the Stadium
As a frequent visitor to the Mercedes-Benz Stadium, I've gathered some useful information for you to have a smooth and enjoyable experience. Here are a few ways to get to the stadium and information about parking.
Public Transit Options
Mercedes-Benz Stadium is located in the heart of Atlanta, making it easily accessible via public transit options. I often use the Metropolitan Atlanta Rapid Transit Authority (MARTA) trains and buses when heading to the stadium. The Dome/GWCC/Philips Arena/CNN Center Station (Blue/Green lines) and the Vine City Station (Blue line) are the closest MARTA stations to the stadium. Just a short walk from the station, and you'll be right at the entrance.
Parking Information
If you prefer to drive, there are plenty of parking options around the stadium. Remember to reserve a parking spot in advance to avoid last-minute hassle. Here are some parking lots to consider:
Lot A: This lot is located directly north of the stadium. It has easy access to Gate 2.
Lot B: Situated to the east of the stadium, Lot B is accessible via Northside Drive. It's a convenient choice for those entering through Gate 3.
Lot C: You'll find Lot C on the south side of the stadium. It's your best bet if you plan to use Gate 1 or Gate 4 entrances.
Make sure to check the parking lot's official website for current rates and availability. Now you're well-equipped to get to the Mercedes-Benz Stadium and enjoy your event. Have a great time!
Stadium Entrances
Gate Locations
There are several entrance gates located around the Mercedes-Benz Stadium, catering to all event-goers. To make finding your gate easier, I suggest looking at the stadium map to locate your desired entrance and section.
Security & Screening Procedures
As someone who cares about safety, I appreciate that Mercedes-Benz Stadium follows strict security and screening procedures. Upon arrival, expect to pass through metal detectors and have your bags checked by security personnel. To make this process smoother and faster, I recommend familiarizing yourself with the stadium's prohibited items list and leaving any banned items at home.
Special Access Entrances
Mercedes-Benz Stadium is committed to providing a comfortable and accessible experience for all guests, including those with special needs. There are dedicated ADA (Americans with Disabilities Act) entrances equipped with ramps, elevators, and assistance from venue staff. Additionally, there's an ADA drop-off and pick-up zone near Gate 1 to make transportation more accessible. Remember to carry your ADA credentials, as they might be required to access these services.
Inside the Stadium
Food & Beverage Options
During my visit to the Mercedes-Benz Stadium, I discovered a wide variety of food and beverage options available to satisfy everyone's taste buds. From classic stadium favorites like hot dogs, nachos, and popcorn to more diverse offerings such as sushi, BBQ, and even vegan options, there's something for everyone.
Customizable food stations are also available where you can create your own mouth-watering combinations. For those who are 21 and over, the stadium offers a diverse selection of alcoholic beverages, including craft beers, wine, and cocktails.
Merchandise Shops
I noticed that Mercedes-Benz Stadium has several merchandise shops throughout the premises, offering a variety of items that cater to both the Atlanta Falcons and Atlanta United fans. From official jerseys and apparel to fan novelties and collectibles, you can find the perfect souvenir to take home. They even offer a customized jersey station where you can personalize your own shirt with your favorite player's name and number!
Stadium Facilities
During my time at the stadium, I appreciated how clean and well-maintained the facilities were. The stadium is designed with a wide array of seating options, offering an excellent view of the game from all angles. Each level is equipped with accessible restrooms, ramps, and elevators to cater to fans with disabilities.
Mercedes-Benz Stadium also provides certified, leashed service animals entrance in accordance with the ADA title II and III Law. If you need assistance, you can call (470) 341-5000 and choose Option #3 to speak with the Guest Services team.
Other Important Information
Stadium Rules & Policies
As a visitor to the Mercedes-Benz Stadium, it's essential to be aware of their rules and policies. A detailed guide can be found at the A-Z Guide on their website, but here are some important points I'd like to highlight:
The stadium enforces a clear bag policy, meaning bags larger than 4.5″ x 6.5″ should be clear plastic, vinyl or PVC. Prohibited items include weapons, noisemakers, and outside food or beverages.
Mercedes-Benz Stadium is a cashless facility. Credit cards, debit cards, and mobile payments are accepted methods of payment.
Be aware of the stadium's code of conduct, which emphasizes treating other guests with respect and refraining from obscene language or offensive behavior.
Events & Concerts
Besides being home to the Atlanta Falcons and Atlanta United FC, Mercedes-Benz Stadium hosts a variety of events and concerts. Large-scale sporting events and several big-name music artists have performed at the stadium since its opening in 2017. For detailed seating charts and information on upcoming events, I recommend checking their website or social media channels.
Stadium Tours
If you are interested in exploring behind-the-scenes at the Mercedes-Benz Stadium, guided stadium tours are available. These tours offer a unique opportunity to see the state-of-the-art facilities, learn about the stadium's sustainability efforts, and even step onto the field. Tours can vary so it's best to check the stadium website for the latest information on available options and pricing.