Atlanta's best and most popular sporting attraction is the State Farm Arena, a stadium that has been hosting sporting events for 23 years, with a particular popularity amongst NBA fans.
Apart from hosting basketball games, the arena is also be used for hosting concerts and other events.
The NBA's Atlanta Hawks have been playing in the arena for two decades, a home that has a 16,000 seating capacity, making makes it suitable for welcoming basketball fans from all over the United States.
In this article, we will list the key facts, nearby attractions, nearby restaurants, bars, hotels, parking options, and all the roads that can bring you to the arena.
So, let's discover more about the arena!
State Farm Arena Key Facts
The doors of State Farm Arena opened in 1999
Currently home to the Atlanta Hawks
Capacity for Basketball games – 16,000+
Capacity for Musical events – 15,000+
Where Is State Farm Arena Located?
The arena is located in Atlanta, Georgia, on 1 State Farm Drive. The arena is easily visible because it occupies the center of downtown Atlanta, an area that is visited frequently by tourists, so it is very unlikely that you will miss it.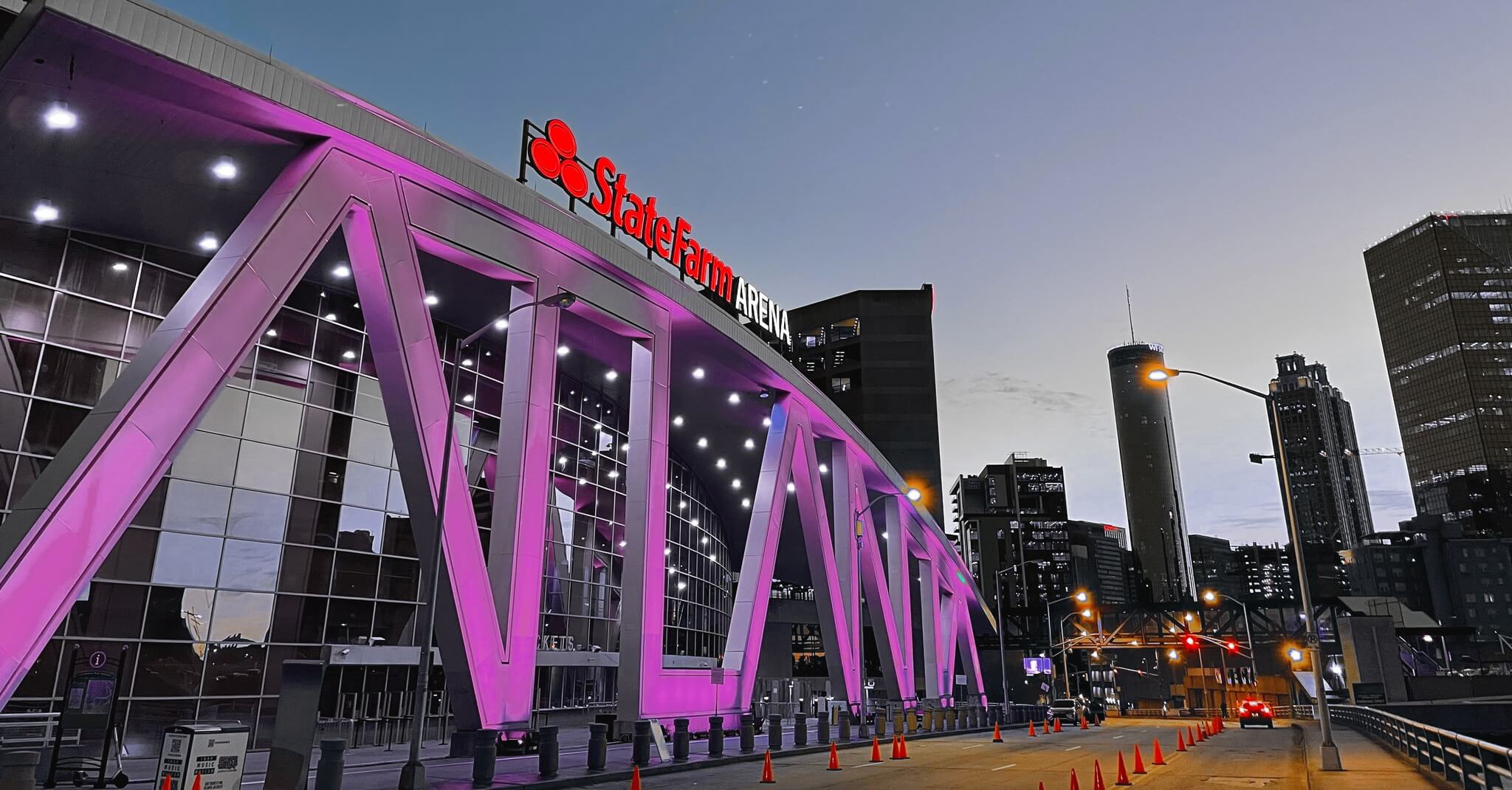 The Best Way to Get to State Farm Arena
How and from where you are planning to arrive at the State Farm Arena depends on your form of transportation. You can use public transportation such as a bus or train, or you can drive your car.
There are many bus stops that are located near the arena, and the closest one is Marietta St Centennial Olympic Park Dr. You can also take a subway from Lenox Square to get to the State Farm Arena.
If your choice is to travel by car to the arena, it is best to use Google Maps. If you are traveling from the north and south side, follow the signs on I-75. From all other sides of Atlanta, the most convenient and fastest route is to take the I-20.
Parking Near State Farm Arena
There are many parking spots located near this arena. We found the closest parking options that you can visit if you are planning your trip beforehand.
State Farm Drive Parking
Reserving a parking space at this parking lot is costly. The average rate is $47. You can pay only with a card or with your phone. This parking lot operates only during event season at State Farm Arena.
Additional information
123 Marietta Street Parking Lot
This is a parking space that is accessible 24/7. The paying rate is hourly, and parking on the weekends can be more expensive, up to 20$. However, if you make a reservation beforehand, you will be required to pay only 6$.
Additional information
Gold Deck Parking Lot
A parking lot known as the Gold Deck is located at 170 Luckie Street NW. The pay rate is calculated on an hourly basis, and the price for parking during events can be accumulated around 15 or 20$.
Additional information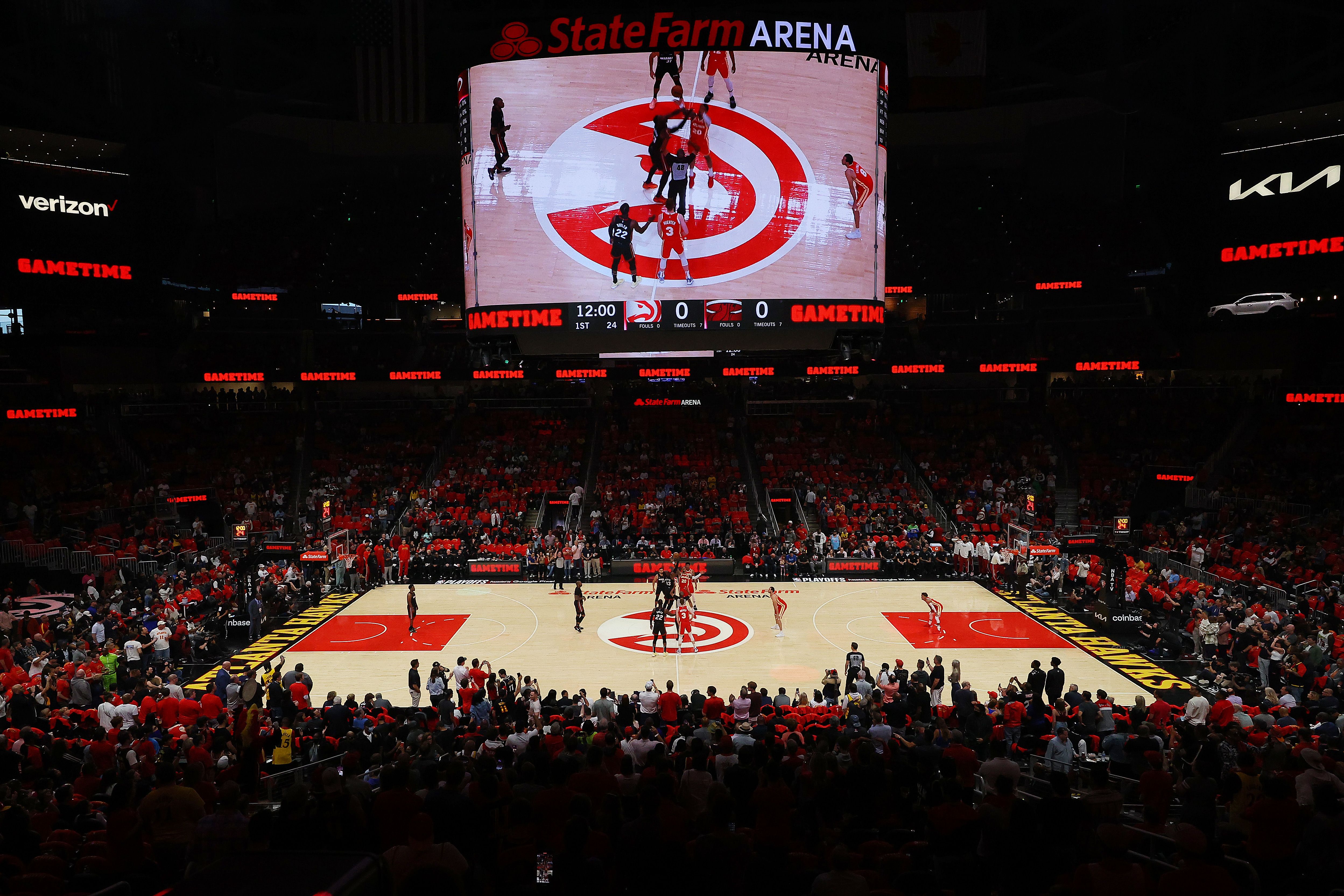 The Best Restaurants Near State Farm Arena
This restaurant has gained its reputation by serving classic meals that are favorable to all Americans. It is located near the arena and is one of the best restaurants serving burgers.
The menu
From seafood to dishes with chicken, this restaurant offers an option for everyone. Regardless of what your taste in food is, Ted's Montana Grill can satisfy your appetite.
After attending an event at State Farm Arena, you can get yourself a big steak portion, or the famous burger served at this restaurant.
Hungry vegetarian diners are also not excluded from the Ted's Montana grill menu. There are various menu items that do not contain meat and are available for purchase here.
Additional information
| | |
| --- | --- |
| Location | Ted's Montana Grill |
| Phone Number | 404-521-9796 |
| Working Hours | Monday – Sunday: 11 am – 10 pm |
| Customer Rating | Very Good 4.3 |
| Distance from the Arena | 0.5 miles / 11 minutes of walking |
Dive into the essence of Mexican cuisine while you are in Atlanta, Georgia. Visiting the arena can become more pleasant if you try some of the best salsa in town.
The menu
The menu items at this restaurant are carefully chosen to suit most people's needs. Salads, tacos, and quesadillas are only some of the items that are popular on their menu.
If your choice is to eat at Taqueria on Broad and receive the best dining experience, you can choose one of their special items. These meals include Carne Asada with pork and Pollo Asado with chicken. Their bread bowls with cheese and potatoes are a classic State Farm meal in Atlanta.
Additional information
| | |
| --- | --- |
| Location | Taqueria on Broad |
| Phone Number | (678) 732-0693 |
| Working Hours | Monday-Friday: 11 am – 5:30 pm; Saturday: 11 am – 4 pm; Sunday – Closed. |
| Customer Rating | Excellent 4.6 |
| Distance from the Arena | 0.6 miles / 13 minutes of walking |
Homey and "soulfood-like" dishes can be served at one of the restaurants located near the arena. This restaurant is called Brickstone.
The menu
The Brickstone Cafe & Restaurant always serves dishes that contain fresh ingredients, and they stay away from processed foods.
Here, you can order a pizza with toppings of your choice or a pasta dish made with a delicious sauce. Their menu items are versatile and suitable for a lot of different people.
The cuisine at this restaurant is inspired by many different cultures. That is the reason why they have many french-inspired dishes by adding fragrant dips and a baguette to these meals.
Additional information
| | |
| --- | --- |
| Location | BrickStone Cafe & Restaurant |
| Phone Number | (470) 699-0181 |
| Working Hours | Monday-Thursday: 10 am – 4:30 pm; Friday: 10 am – 3:30 pm; Saturday-Sunday: Closed. |
| Customer Rating | Very Good 4.3 |
| Distance from the Arena | 0.6 miles / 13 minutes of walking |

The Best Bars Near State Farm Arena
Park Bar
Watching the Atlanta Hawks play at State Farm Arena can be further enjoyed by having a drink at one of the most popular bars in the city.
Park Bar serves beer for passionate basketball fans. In addition, they have a fine selection of liquor that you can try at this bar.
If you want to skip a fine dining experience, this bar also serves shareable meals as well as deliciously prepared burgers.
Additional information
| | |
| --- | --- |
| Location | Park Bar |
| Phone Number | +1 404-524-0444 |
| Working Hours | Monday-Sunday: 11:30 am – 12 am |
| Customer Rating | Very Good 4.3 |
| Distance from the Arena | 0.3 miles / 7 minutes of walking |
Having a casual drink in Atlanta doesn't have to be simple. Visit the bar at Omni Hotels & Resorts in the downtown area.
At the Top Draft bar, you can enjoy some seasonal appetizers with a glass of wine or beer, depending on your personal preference.
There is nothing better than having a drink and a bite to eat while you are relaxing at a luxurious bar that offers a view toward State Farm Arena.
Additional information
| | |
| --- | --- |
| Location | Top Draft |
| Phone Number | (404) 818-4253 |
| Working Hours | Sunday-Thursday: 4 pm – 12 am;Friday-Saturday: 4 pm – 1 am. |
| Customer Rating | Good 3.5 |
| Distance from the Arena | 400 ft / 1 minute of walking |
The Best Hotels Near State Farm Arena
Amenities
Pet-friendly
Wi-Fi
Gym
Cleaning service
Valet parking
Rooms
With more than 1,000 rooms and suites available, this is one of the best hotels located near State Farm Arena in Atlanta, Georgia.
Located in the downtown area of this city, the Omni Hotel provides luxury and comfortable accommodations.
There are many spacious guest rooms that are available for booking, as well as big suites offering the best possible features, such as coffee machines, comfortable bedding, and large-screen TVs.
Dining
Apart from the Top Draft bar at this hotel, you can also order room service. Most of the menu items are available for this type of in-room dining.
Of course, a luxury hotel like Omni also has a restaurant within it. This restaurant is called New South Kitchen. Here you can enjoy classic American dishes emphasizing the taste of Atlanta.
Some of the menu items at this restaurant include pork chops, fried chicken, and the classic breakfast option – French Toast.
Additional information
Amenities
Free breakfast
Free internet access
Parking options
Laundry service
Non-smoking area
Rooms
The welcoming and cozy environment of the accommodation options at this hotel will make your stay very enjoyable.
Every room contains a work desk, coffee maker, and soft bedding. The rooms have a modern design which is very inviting for guests who choose to stay at this hotel.
Apart from booking a room, you can also reserve your space in one of their suites. These luxurious accommodation options come with a TV and available room service.
Dining
The dining room of this hotel is a place reserved for coffee and breakfast. They offer the possibility of getting free breakfast included in the price you pay for a room or suite.
If you want to experience true fine dining in Atlanta, head down to Glenn's Kitchen. This restaurant is located in the Glenn Hotel.
Inspired by the south, the chefs at Glenn's Kitchen are known for preparing authentic meals. Some of the items are very popular such as grilled New York Strip Steaks and spicy fried chicken.
Additional information
| | |
| --- | --- |
| Location | The Glenn Hotel |
| Phone Number | 404-521-2250 |
| Stars | 4* |
| Distance from the Arena | 0.3 miles / 7 minutes of walking |
Amenities
Free Wi-Fi
Pet-friendly
Business center
Coffee bar & restaurant
Advanced technology system
Rooms
The Reverb Hotel in Atlanta is all about using the space in their rooms in the best way possible. That is why the room is arranged thoughtfully and provides enough comfortable space.
Traveling with your partner or your family will require you to book one of their standard rooms. These accommodation options either have one big bed or two big beds.
If you are traveling to Atlanta with your colleagues, The Reverb Hotel offers an accommodation option called Roadie. It contains bunk beds and work desks.
Dining
Relaxing in this hotel during the game season can be improved by visiting the RT60. This is a bar in the Reverb Hotel that serves refreshing drinks and shareable plates for you and your friends.
A full dining experience can be enjoyed at the Constant Grind Restaurant. This restaurant is open during breakfast, lunch, and dinner.
Apart from serving classic meals such as sandwiches and breakfast bagels, you can also order some of their famous chicken and veggie bowls.
Additional information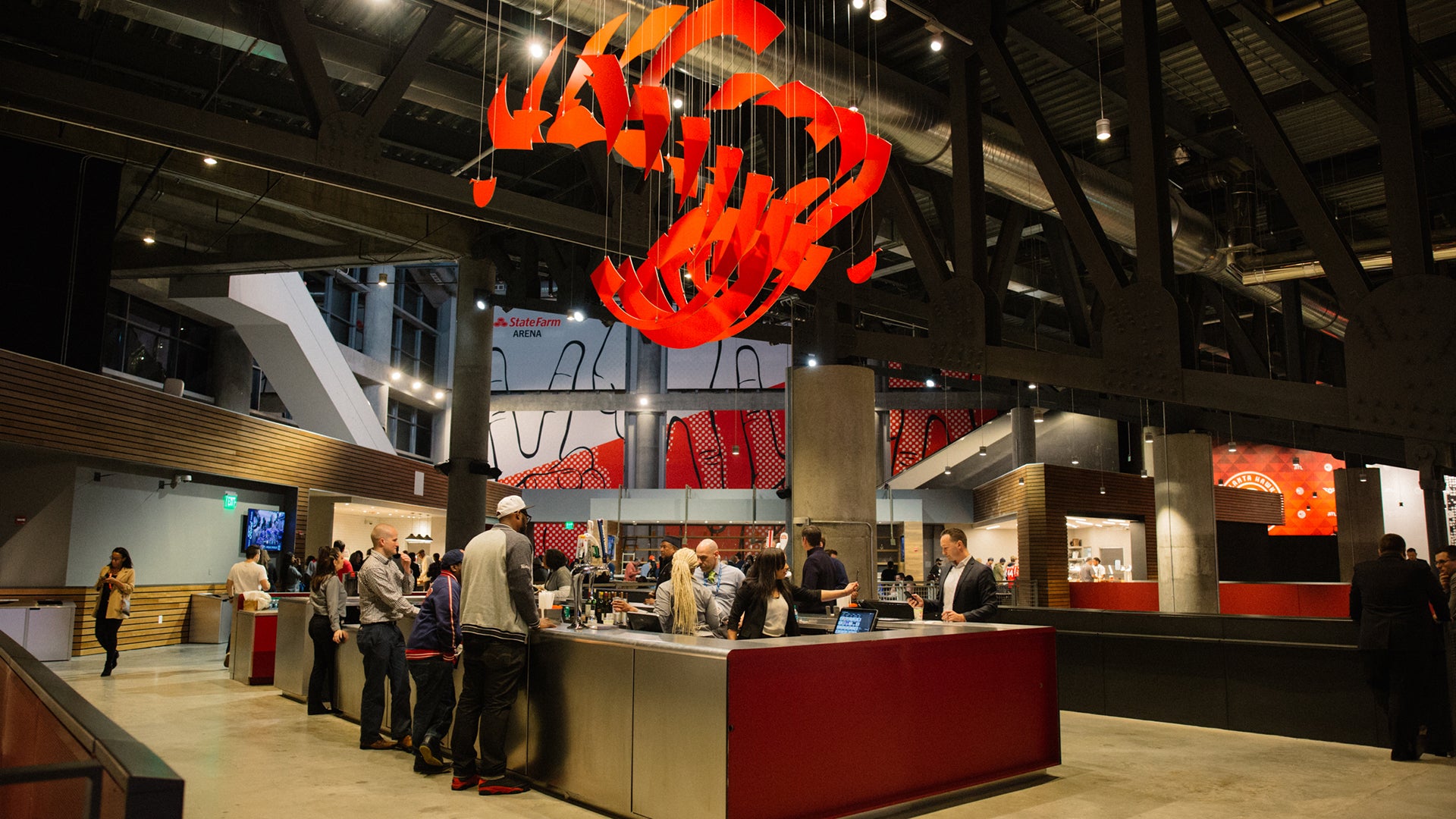 The History of State Farm Arena
Before it became known as the famous State Farm Arena that we know today, this stadium was called Phillips Arena. This venue was used for hosting hockey games before it became popular for basketball matches.
It was opened in 1999, and it operated for the purpose of welcoming hockey fans until 2018. At this time, the arena could fit up to 18,000 fans. This is also one of the reasons why the Phillips Arena was used for hosting musical events.
The owner sold his arena to a couple of investors who renamed the stadium State Farm Arena. They renovated the entire venue and brought a modern twist to the traditional look now known to be the home of the Atlanta Hawks basketball team.
Where to Get Tickets for State Farm Arena
Getting tickets for a special event held at the State Farm Arena can be stressful. Although the seating capacity has never been a problem at this arena, reserving a ticket beforehand is always recommended. This ensures that other visitors will not occupy your seat.
Ticketmaster
There is an online marketplace called Ticketmaster on which you can reserve and purchase tickets for any event across the United States. Luckily, this page also offers you the possibility of tracking new events and getting a ticket as soon as possible.
The price for a seat in the first two rows can be reserved on Ticketmaster for around $40. The upper seats usually cost a bit more, and you may be required to pay more than $50 to reserve your seat. Everyone wants to see the Atlanta Hawks perform, so you have to act fast.
Purchasing tickets on platforms such as Ticketmaster cannot get any easier. All you have to do is find a game you wish to attend and open the details to see prices and available seats. Then, add your card information, and your payment will be completed in a matter of seconds.
In-person
If buying tickets online is a risky move for you, there is also an option to visit the State Farm Arena and get your tickets from there. It is recommended that you arrive at least an hour before the game starts in order to purchase your ticket on time.
The location from which you can get tickets to the arena is near the second gate of the stadium. There is a Box Office nearby that starts operating an hour before an event at the State Arena is scheduled to start.
Once every visitor is seated and comfortable, the Box Office will close its doors. You will not be able to enter the gate if you arrive late.
Therefore, always plan your trip to Atlanta, Georgia, in advance so that you don't miss your favorite team playing at State Farm Arena.
Does State Farm Arena Offer Tours?
The easiest and least chaotic way of touring around the arena is accessing the Virtual Tour on their website. Here, you can clearly see every aspect of the arena, and you will have a clear view of where you are headed as soon as you arrive at the venue.
There is no record of an in-person tour at State Farm Arena. The reason for this is probably connected to the number of people visiting this venue. It would be difficult to schedule a tour with thousands of people present.
However, you can join several different artists and comedians on their own personal tours. The State Farm Arena hosts comedy and musical tours of famous singers and performers. Such exciting tours can be even better than taking a tour around this enormous arena.
James is a big time NBA Golden State follower, who makes sure to catch games when he's in the area. He likes to follow International Soccer, with an interest in small town soccer club, Blackburn Rovers located in the North on the UK.