Are you a die-hard fan of the Chicago Bears and looking for the best place to buy tickets for their games? With numerous ticket-selling platforms available, it might be confusing to decide where to purchase those long-awaited seats. Don't worry; we're here to help you navigate through some of the best options available in the market.
One of the top choices for purchasing Chicago Bears tickets is the official website of the team. Here, you can find reliable and accurate information about the game schedules and any special offers available. Another popular option is Ticketmaster, which is a well-respected platform for buying tickets safely and securely, catering to various events and sports teams, including the Bears.
Besides these official sources, several third-party platforms such as SeatGeek and StubHub provide an extensive range of tickets for Chicago Bears games. These platforms offer a user-friendly experience, allowing you to compare prices, check seat availability, and even explore VIP and suite options. As you embark on your journey to cheer on the Bears, remember to research, compare, and choose the best platform that meets your preferences and budget.
Why Buy Chicago Bears Tickets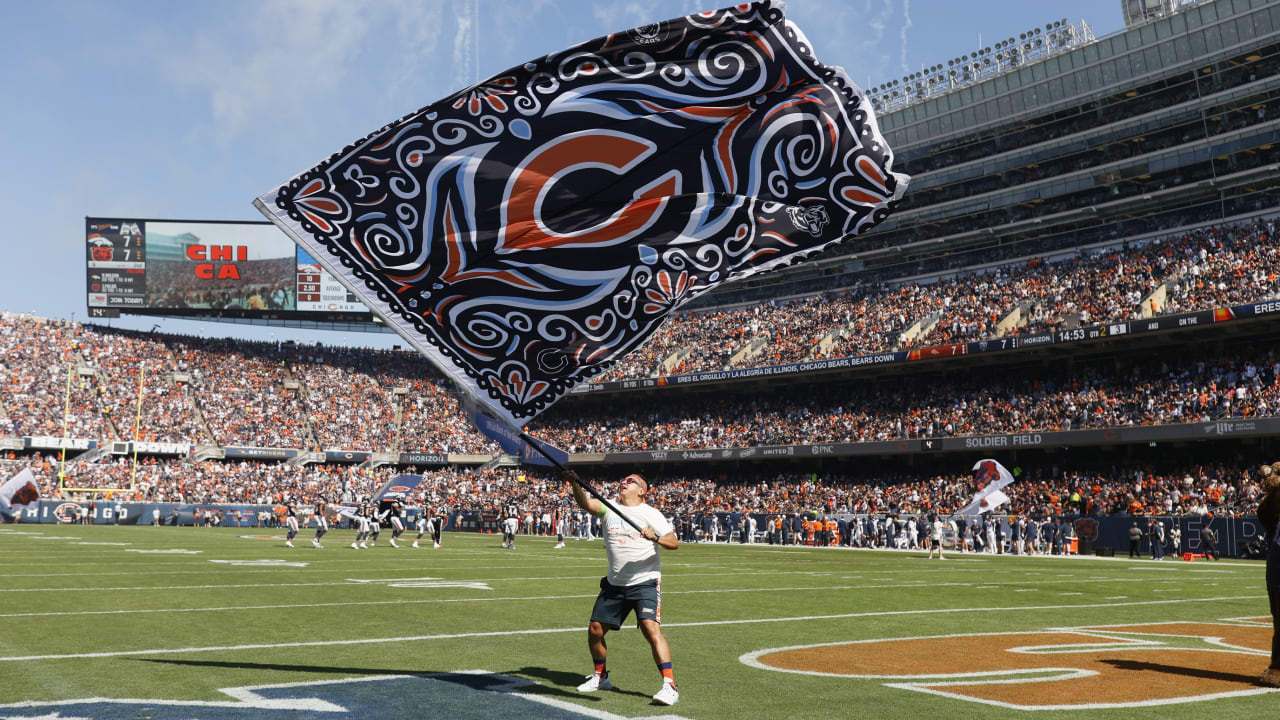 Chicago Bears fans are passionate about their team and always eager to attend games in person. Buying tickets for the games is an exciting experience, allowing fans to cheer on their favorite players and enjoy the lively atmosphere at the stadium. In this section, we will discuss the reasons to buy Chicago Bears tickets and some best places to purchase them.
Firstly, attending a Chicago Bears game at Soldier Field is an unforgettable experience. From the electric atmosphere to the thrilling on-field action, there is nothing quite like being a part of the live game. Fans can join thousands of other dedicated supporters, making memories that will last a lifetime. Plus, football enthusiasts can experience the rich history and tradition of the team, which has been an essential part of Chicago's sports culture since 1920.
In addition to the excitement and camaraderie of attending a game, purchasing Chicago Bears tickets helps support the team financially. Ticket sales are a primary source of revenue for the franchise, enabling them to invest in player development, coaching staff, and various resources required to continue competing at the highest level in the NFL.
When looking to buy Chicago Bears tickets, there are several reputable sources to consider. The team's official website is an excellent place to start, offering single-game tickets and suite options for fans to choose from. Ticketmaster is the Bears' preferred partner, ensuring that fans can safely purchase tickets and avoid potential scams or counterfeit tickets. Fans can also visit SeatGeek and Gametime for affordable options, with prices varying depending on factors such as demand and seat location.
In conclusion, buying Chicago Bears tickets is a great way to show support for the team, enjoy an exciting day at the stadium, and create unforgettable memories with fellow fans. And by purchasing tickets using reputable sources, like the team's official website or Ticketmaster, you can ensure a safe and hassle-free buying experience.
Physical Ticket Outlets
Chicago Box Office
For those who prefer to purchase Chicago Bears tickets in person, the Chicago Box Office at Soldier Field is a great option. Fans can visit the box office during regular business hours to buy tickets directly. This allows for the opportunity to ask questions and get assistance from staff, ensuring a smooth ticket-purchasing experience.
Another advantage of purchasing tickets at the box office is that fans can sometimes avoid additional fees associated with buying tickets online. Keep in mind, however, that ticket availability at the box office may be limited, especially for high-demand games. It's always a good idea to call ahead and check on ticket availability before making a trip to the box office.
Retail Outlets
In addition to the Chicago Box Office, fans can also buy Chicago Bears tickets at select Retail Outlets throughout the city. These outlets often have a limited number of tickets for sale, but they can be a convenient option for fans who are already out shopping or running errands. Some popular retail outlets that may sell Bears tickets include:
Major supermarkets
Department stores
Local sporting goods stores
When purchasing tickets from a retail outlet, be sure to double-check the game date and seat location to ensure you're getting the tickets you want. As with the box office, ticket availability at retail outlets may be limited, so calling ahead is recommended to ensure the desired tickets are in stock.
Online Marketplace
TicketMaster
TicketMaster is a popular platform to purchase Chicago Bears tickets. They offer a user-friendly website with a vast selection of tickets for all upcoming games. To find tickets on TicketMaster, simply search for the Chicago Bears and their schedule will appear. From there, click on the specific game you are interested in and explore the available tickets. TicketMaster provides a reliable, secure way to buy tickets and often features promotions and presale opportunities for registered users.
StubHub
StubHub is another great option for purchasing Chicago Bears tickets. As a well-known online marketplace, StubHub connects buyers and sellers for various events, including NFL games. To find Chicago Bears tickets on StubHub, search for the team's name and their schedule will appear. The platform allows users to filter by date, location, and price range. After selecting a game, users can view available tickets and seating options. StubHub ensures secure transactions and even offers a FanProtect Guarantee, giving buyers peace of mind when making a purchase.
Vivid Seats
Vivid Seats is a reputable online ticket marketplace that offers a wide selection of tickets for sports, concerts, and other events. Their user-friendly website makes it easy to find and purchase Chicago Bears tickets. Search for the Chicago Bears, and their schedule will appear with options to filter by date, location, and price range. Once a game is selected, users can view available tickets and seating options, complete with an interactive seating chart to help make the best decision. Vivid Seats offers a 100% Buyer Guarantee, ensuring a safe and secure purchasing experience.
Direct from the Club
As a friendly reminder, the best way to buy Chicago Bears tickets directly is through their official website. Fans can access various games and dates to suit their preferences. Shopping for tickets on their website allows you to find according to date, opponent, and time. In addition, you can safely purchase tickets, as the site is secure and trustworthy.
The Chicago Bears Official Website is the go-to place for purchasing your tickets directly, without the worry of buying from third parties or dealing with markups. The prices and ticket limits might vary depending on the game, and the team uses demand-based pricing for all single-game tickets to better accommodate fans' budgets. To pay for your tickets, simply use a debit or credit card, with Visa being the Bears' preferred payment method.
When purchasing tickets from the club's website, fans can also find useful information on team news, schedules, and other events connected to the Chicago Bears. This makes the official website the ideal place to not only buy tickets but also stay up-to-date with the latest happenings in and around the team.
In summary, to buy Chicago Bears tickets directly from the team, make sure to visit their official website. This way, you will ensure the authenticity of the tickets, get accurate information about the games, and support the team directly. Happy shopping!
Season Tickets
The Chicago Bears offer a rewarding experience for their season ticket holders with a unique system called STH Experiences. Fans can accumulate points based on how long they've been a season ticket holder, as well as earning points for owning the season tickets themselves. These points can lead to exclusive perks and benefits throughout the season, making it a great option for dedicated Bears fans.
Purchasing season tickets for the Chicago Bears can be done through the team's official website or via authorized ticket partners like Ticketmaster. When purchasing season tickets, fans can expect varying ticket limits and prices depending on the game and demand-based pricing. Payments can be made using a debit or credit card, with Visa being the preferred option.
Single-game tickets are also available for those who want to attend specific matches. These can be purchased through Ticketmaster, which is considered the best and safest destination for fans to buy tickets to Bears games at Soldier Field. As with season tickets, single-game tickets pricing can vary based on demand and game popularity.
Here's a brief overview of what to expect when buying Chicago Bears tickets:
Season ticket holders enjoy unique perks through the STH Experiences program
Tickets can be purchased through the official Bears website or authorized ticket partners
Visa is the preferred payment method for season tickets and single-game tickets
Pricing varies based on demand and game popularity
Overall, the best place to buy Chicago Bears tickets is either through the team's official website or via authorized ticket sellers like Ticketmaster. With season tickets, fans can take advantage of the exclusive STH Experiences program, while single-game ticket buyers can enjoy the flexibility of choosing specific games to attend.
Scalping: Pros and Cons
Scalping, or buying tickets from unauthorized sellers outside the event, is a method people sometimes use to acquire last-minute tickets to games, such as Chicago Bears matches. Let's explore the pros and cons of scalping for Bears tickets.
Pros:
Availability: If a game is sold out, or you want to attend a match at the last minute, scalping can offer a chance to secure tickets that may not be available through official channels.
Negotiable pricing: Unlike buying tickets through primary market sources, the prices of scalped tickets can sometimes be negotiated, which can work in your favour if you're skilled at bargaining.
Last-minute purchases: Scalping may be a suitable option for those who haven't planned in advance and want to attend a Bears game without a pre-booked ticket. It can be a convenient way to get tickets on game day.
Cons:
Legitimacy: Scalping tickets has a risk of purchasing counterfeit or invalid tickets, which may result in you being denied entry to the stadium.
Pricing: While the price of scalped tickets can be negotiated, it's often inflated compared to the original cost because of high demand or limited supply.
Illegality: Scalping can be illegal in some jurisdictions, which could result in penalties or fines if you're caught buying or selling such tickets.
Limited options: When buying from a scalper, your seating choices may be less than ideal or limited compared to purchasing tickets through authorized sellers.
No guarantees: Unlike buying from an authorized seller, there are no refund policies or purchase protection when buying scalped tickets. If the event is cancelled or you're unable to attend the game, you may not be able to recoup your expenses.
In summary, scalping offers a last-minute option to secure Chicago Bears tickets, but it carries certain risks and potential drawbacks. It's important to weigh these pros and cons before deciding to buy scalped tickets for a Bears game.
How to Avoid Scams
When you're searching for Chicago Bears tickets, it's crucial to be aware of potential scams and fraudulent sellers. To ensure you're purchasing legitimate tickets, follow these simple and friendly tips:
Firstly, consider purchasing tickets from official primary ticketers such as Ticketmaster. This platform is widely recognized as a safe and secure marketplace to buy tickets, including resale tickets, for various events, like Chicago Bears games.
When buying tickets online, make sure to double-check the URL. Always ensure you're visiting the official website or using the official mobile app of reputable ticketing platforms.
One of the best practices is to avoid clicking through emails or online ads from unknown sources. Instead, type the website name directly into your browser to eliminate the risk of potential phishing scams.
Be cautious of sellers who:
Ask you to buy gift cards, like Amazon Gift Card or iTunes Gift Card, as a form of payment in exchange for tickets.
Request that you wire funds as a form of payment for tickets.
Pressure you with limited-time offers or create a sense of urgency to make the purchase.
Remember to look for the lock symbol in the web address, indicating a secure purchasing system. When you see the lock symbol, it ensures your personal and payment information remains protected during the transaction.
Finally, don't hesitate to research the sellers before making a purchase. Verify their legitimacy through customer reviews or by checking the Better Business Bureau (BBB) website for any complaints or scam reports.
By following these friendly tips, you can confidently enjoy the experience of watching the Chicago Bears without falling victim to scams. Happy ticket shopping!
Conclusion
In summary, the best place to purchase Chicago Bears football tickets is through Ticketmaster, the official vendor for the team. Ticket prices vary based on the game, with demand-based pricing being used for all single-game tickets. Payments can be made using a debit or credit card, with the team preferring Visa.
Purchasing tickets through the official vendor enhances the experience, ensuring that fans can securely buy tickets and avoid potential scams. Furthermore, using Ticketmaster allows fans to receive notifications about exclusive access to presales, providing an opportunity to secure tickets for popular matches early.
So, for a friendly and reliable way to secure Chicago Bears tickets, turn to Ticketmaster as your go-to source. Enjoy the excitement of cheering on your favourite team while knowing that your purchase is both safe and authentic.