Guaranteed Rate Field, home to the Chicago White Sox, is an iconic destination for baseball fans. Conveniently located in the heart of Chicago, it offers a variety of transportation options for visitors. Whether you prefer driving, public transportation, or biking, this quick guide will help you navigate your way to the ballpark with ease.
Public transportation is a popular and cost-effective choice for reaching Guaranteed Rate Field, with access to CTA's Red and Green Lines, Metra/Rock Island stop, and numerous bus routes. Alternatively, driving to the stadium is an option, with ample parking facilities and ridesharing lots available for those who prefer a more personal mode of transport. For the environmentally conscious or fitness-minded individuals, biking to the ballpark is an enjoyable and feasible choice.
Key Takeaways
Public transportation offers cost-effective and convenient access to Guaranteed Rate Field.
Ample parking and ridesharing options cater to visitors who prefer driving to the stadium.
Biking is an environmentally-friendly and enjoyable mode of transport for baseball fans.
Public Transportation Options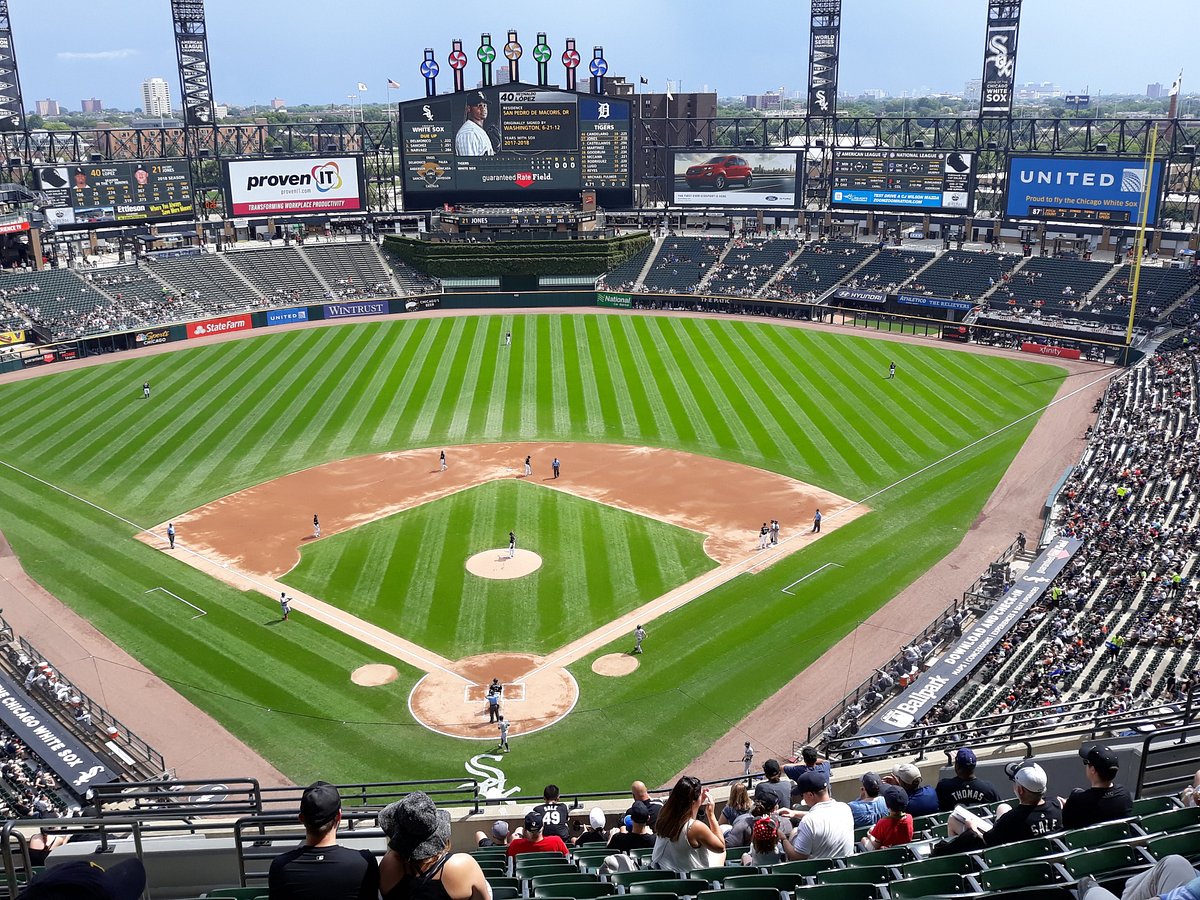 Metra Train
Metra trains offer a convenient option to reach Guaranteed Rate Field from different parts of Chicago. The Rock Island District Line takes you to the 35th St. – Lou Jones station, which is just a short walk from the ballpark. Train schedules and fare information can be found on the Metra website.
CTA 'L' Trains
The Chicago Transit Authority (CTA) operates 'L' train service, providing another efficient way to reach Guaranteed Rate Field. The Red Line stops at Sox-35th station, just a few blocks away from the stadium. Alternatively, the Green Line drops you off at 35th-Bronzeville-IIT station, approximately half a mile away from the ballpark. For up-to-date schedule and fare information, visit the CTA website.
CTA Buses
CTA buses offer several options for fans heading to Guaranteed Rate Field. Some of these routes include:
#35: Runs along 35th Street, connecting with the Red, Green, and Orange Lines
#24 Wentworth: Links to the Red Line at Cermak-Chinatown station
#29 State: Connects with the Red Line at Roosevelt station
Check the CTA website for bus schedules and fare information.
Driving and Parking
Directions from Major Highways
To reach Guaranteed Rate Field by car, you can access it from several major highways:
From I-90/94 (Dan Ryan Expressway): Take exit 55A-B for 35th Street, then head west on 35th Street to reach the ballpark.
From I-55 (Stevenson Expressway): Exit at Martin Luther King Jr. Drive (Exit 293C), then head north to 35th Street, and finally turn east onto 35th Street to reach the ballpark.
From I-290 (Eisenhower Expressway): Take I-90/94 east (Exit 15B) to 35th Street, exit at 55A-B and head west on 35th Street to reach the ballpark.
Parking Options
Parking is available at Guaranteed Rate Field in designated lots. Here are the main options for parking:
Lots A-F: These lots permit tailgating and open two hours prior to every home game. Tailgating ends once the game begins.
Remember, arriving early and using public transportation or rideshare services are highly recommended to avoid delays and keep your experience stress-free. For the fastest route to Guaranteed Rate Field, consider using tools like Google Maps to receive accurate directions and traffic updates.
Ridesharing and Taxis
Ridesharing services such as Uber and Lyft are encouraged for fans traveling to Guaranteed Rate Field. The designated Rideshare Lot for these services is located in Lot A, near Wentworth Ave. When arriving at the ballpark using a rideshare service, passengers will be dropped off in Lot A and can proceed to Gate 5 to enter the stadium.
The Rideshare Lot is also the official pick-up location for those leaving the ballpark after the game. It's worth noting that the lot remains open until one hour after the conclusion of home games. This ensures fans have ample time to make their way to the lot and request a ride without being rushed.
Traditional taxi services are also available for getting to and from the stadium. While there isn't a specific taxi lot, fans can arrange with their driver to be picked up or dropped off as close to the stadium as possible. Keep in mind the surrounding traffic and possible road closures during game days.
In summary, relying on ridesharing services and taxis is a convenient and efficient way to get to Guaranteed Rate Field. Make use of the designated Rideshare Lot in Lot A and ensure a stress-free experience at the ballpark.
Biking to Guaranteed Rate Field
Guaranteed Rate Field, home of the Chicago White Sox, is a popular destination for fans coming from various parts of the city. Biking can be a convenient and eco-friendly option for reaching the ballpark, especially for those looking to avoid traffic and parking hassles.
There are several bike-friendly routes leading up to Guaranteed Rate Field. Utilize the city's extensive network of bike lanes and paths, while also checking for any updates or detours due to construction work or special events. The Chicago Department of Transportation's bike map is a useful resource to plan your cycling route.
Once you arrive at the ballpark, there are bike racks available for stadium visitors on a first-come, first-served basis. These racks are usually located near Gates 2, 4, 5, and 6. Remember to bring your own lock to secure your bike while you enjoy the game. It's also a good idea to take note of the rack's location and nearby landmarks to easily find your bicycle when it's time to head home.
Cyclists are encouraged to follow proper safety measures, such as wearing helmets, using lights and reflective gear during low visibility conditions, and obeying traffic signals and signs. Additionally, be considerate of others on the road – pedestrians, drivers, and fellow cyclists alike – to ensure a smooth and enjoyable ride to Guaranteed Rate Field.
Accessibility and Special Needs
Guaranteed Rate Field, home of the Chicago White Sox, prides itself on providing a welcoming experience for all guests, including those with disabilities and special needs. The ballpark offers a range of accessible features and facilities to ensure a comfortable and enjoyable visit.
Accessible parking is available for guests with disabilities. There are designated spaces in parking lots near the ballpark, making it easier for those with mobility challenges to reach the stadium entrance. For more information on accessible parking spaces, refer to the official website.
Inside the ballpark, guests with disabilities will find accessible seating areas dispersed throughout the stadium. These areas provide ample space and offer wheelchair access, making it easy for guests to enjoy the game without feeling cramped or uncomfortable. Additionally, companion seating is available for friends and family members accompanying a guest with special needs.
Guaranteed Rate Field also features various amenities to accommodate guests with disabilities, including accessible restrooms and elevators. The ballpark's staff is dedicated to providing exceptional service to all guests and is always available to assist or provide guidance when needed.
For those who may require assistance with communication, there are assistive listening devices and captioning services available upon request. If you plan on attending a game and require these services, be sure to contact the ballpark staff in advance to ensure a smooth experience.
Remember to review the Access Guide for Guests with Disabilities on the Chicago White Sox official website for more detailed information on available services, and to address any additional questions or concerns you may have regarding accessibility and special needs at Guaranteed Rate Field.
Additional Tips and Information
Guaranteed Rate Field is the home of the Chicago White Sox and getting there can be a breeze if you follow these tips. Familiarize yourself with parking options, rely on public transportation or use rideshare services to make your game day experience more enjoyable.
Parking: There are multiple parking lots around Guaranteed Rate Field offering a range of prices and distances from the stadium. Arriving early is a good way to find a convenient spot and avoid the rush. Remember to check the parking policies and follow the signs in the area.
Public Transportation: The Chicago Transit Authority (CTA) operates several bus and train routes that provide easy and affordable access to Guaranteed Rate Field. The Red Line directly serves the stadium with a stop at Sox-35th, while the Green Line has a stop at 35th-Bronzeville-IIT within walking distance. For those coming from suburbs, Metra trains offer additional options for getting to the game.
Rideshare: Designated rideshare pick-up and drop-off points are available near Guaranteed Rate Field. Make sure to check the app for your preferred rideshare service to find the exact locations.
For fans looking for official White Sox merchandise, the Chicago Sports Depot is located at Gate 5 of Guaranteed Rate Field on the north side of 35th Street. The store consists of nearly 12,000 square feet of sales space, offering a wide variety of items.
Finally, it's always a good idea to check the Chicago White Sox website for any updates on game day policies, procedures or special events. This will ensure you have the most up-to-date information to help plan your visit to Guaranteed Rate Field.