Visiting Soldier Field, home of the Chicago Bears, is an exciting experience for any sports enthusiast. As a historic and iconic stadium located along Chicago's lakefront, it offers fans a unique atmosphere to enjoy football. However, finding your way around Soldier Field can be a bit challenging if you're not familiar with the various entrances and gates.
That's where this guide comes in handy. I will walk you through everything you need to know about getting in and out of Soldier Field. From identifying the proper entrances for your seating area to understanding the layout of the stadium, this guide is designed to make your visit as smooth and enjoyable as possible. So let's dive in and get started on navigating Soldier Field, so you can focus on cheering for the Bears!
History of Soldier Field
Architectural Facts
I came across some interesting architectural facts about Soldier Field, the home of the Chicago Bears. Built in 1924, it's one of the oldest arenas in the NFL. The stadium was originally named Grant Park Municipal Stadium, but its name was changed to Soldier Field in 1925 to honor the American soldiers who had served in World War I.
Soldier Field is located along the beautiful Chicago lakefront, providing fans with a stunning view of the city while attending games. The design of the stadium has undergone several changes, but the most significant renovation took place in 2003. This renovation helped modernize the stadium while preserving its iconic columns and historical façade.
Important Milestones
Over the years, Soldier Field has hosted many important milestones and events. Here are a few notable ones:
In 1926, Soldier Field played host to the infamous Dempsey-Tunney heavyweight boxing match, known for the "long count" controversy.
In 1968, Soldier Field was the starting point for the Special Olympics, an inspiring event that promotes inclusion and acceptance of people with intellectual disabilities.
The stadium has also been the site of numerous historic concerts, such as Pink Floyd in 1977 and the Rolling Stones in 1981.
Soldier Field has also welcomed numerous other sports, such as the Major League Soccer club Chicago Fire FC, expanding its use beyond football.
I hope you find this information about Soldier Field's history both intriguing and informative.
Gate Guide
Gate Locations
I found that Soldier Field has various entrance gates for Chicago Bears games and other events. It's essential for fans to know which gate is best for them considering their seating location. Here's a list of some main gates I came across:
Gate 0: Located in the South Courtyard. Great for accessing the Dr Pepper Patio.
Gate 10: Good for picking up tickets from the Will Call Booth.
Gate 14: Offers an accessible drop-off spot for disabled fans.
Gate Timing
Each gate at Soldier Field has specific opening timings, so make sure you plan your arrival accordingly to avoid unnecessary waiting. Generally, gates open 90 minutes prior to kickoff for a Chicago Bears game. Keep in mind that the timings might differ for other events hosted at Soldier Field.
Accessibility Details
Soldier Field is committed to providing accessibility for all its guests, including those with disabilities. Disabled fans can be dropped off on the circle drive on Museum Campus Drive outside Gate 14. Please ensure that your ADA placard or license plate is visible to the police and parking attendants. Also, remember that the person to whom the placard or license plate is registered must be an occupant of the vehicle, so you can access the drop-off.
The stadium also has ATMs for your convenience. PNC ATMs can be found in the following locations: Dr Pepper Patio, Sections 128, 350, North Garage near the Bears Pro Shop, and outside Gate 10. Soldier Field ATMs are available at Sections 101, 117, 138, 342.
Entry Protocols
Security Measures
I've noticed that Soldier Field takes security seriously to ensure the safety of all fans attending events. Upon entering the stadium, fans are usually required to pass through security checkpoints, which may include metal detectors and bag checks. Also, they typically deploy security personnel throughout the venue to maintain order.
Prohibited Items
It's essential to know what items you can't bring inside Soldier Field. From what I've seen, some common prohibited items include:
Firearms or weapons
Fireworks
Food and beverages from outside the venue
Large bags or backpacks (restrictions on size may apply)
Professional cameras or recording devices
Drones or remote-controlled aircraft
Noisemakers or air horns
Signs or banners that obstruct other fans' views
It's always a good idea to check the Soldier Field website before attending a game since these guidelines may change or be updated. This will ensure you're fully prepared and can avoid any issues when entering the venue.
Guest Services
Facilities
As a visitor of Soldier Field, I can say that various facilities are available to make your experience enjoyable. There are plenty of restrooms throughout the stadium, ensuring a quick and convenient stop when needed. Food and beverages can also be easily accessed with numerous concession stands in the stadium. If you need cash, ATMs can be found in several locations such as the Dr Pepper Patio near Gate 0, Sections 128, 350, and North Garage near the Bears Pro Shop, and outside Gate 10 next to the Will Call Booth. More ATMs are situated at Sections 101, 117, 138, and 342.
For families, there's a designated area for baby changing stations and nursing mothers, making it easier for you to tend to your little ones. For those in need of disability assistance, Soldier Field provides accessible parking spaces, seating, and ramps throughout the stadium, ensuring a comfortable and enjoyable visit for everyone.
Lost and Found
In my experience, there's always a possibility of losing belongings during an event. Thankfully, Soldier Field has a lost and found service to help you retrieve misplaced or lost items. If you happen to lose something during your visit, I suggest contacting the Soldier Field Guest Services team at (312) 235-7000. They'll be able to provide information on submitting a claim and checking for any items that match your description. Remember, it's essential to report your lost belongings in a timely manner to increase the likelihood of finding them.
Tips for Visiting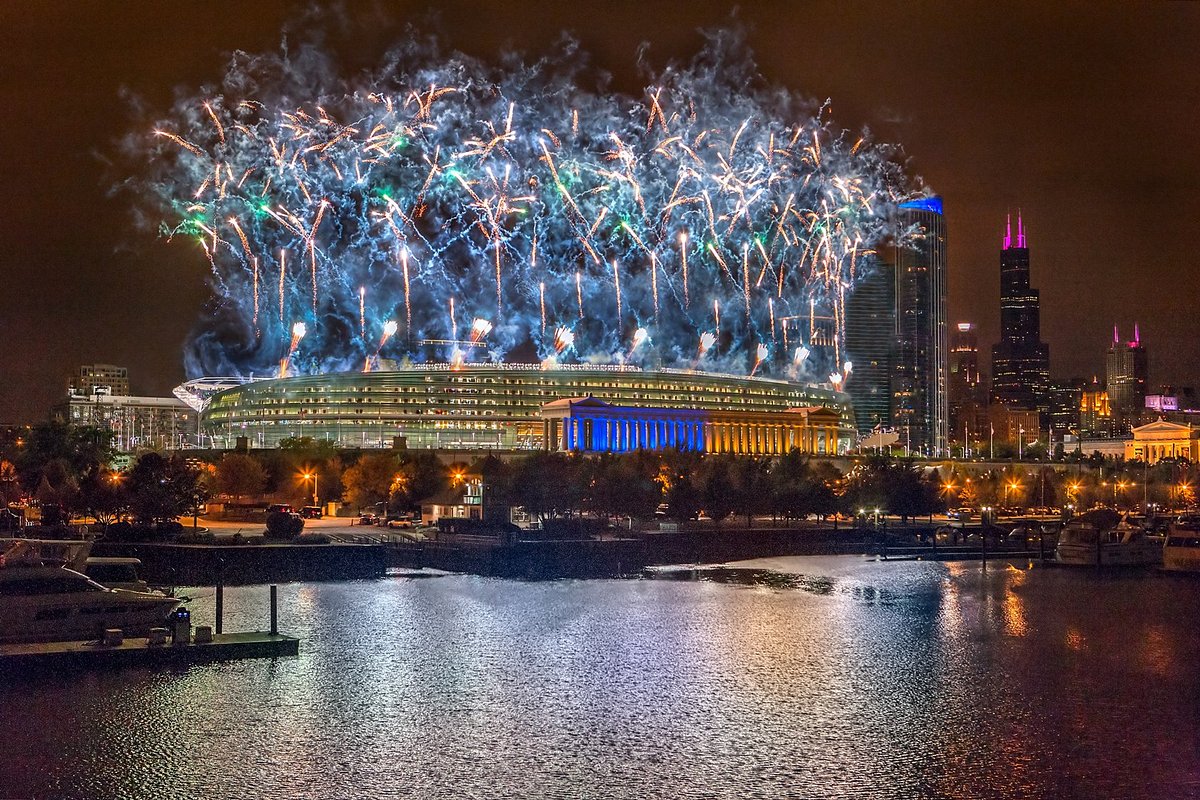 Best Time to Arrive
From my experience, arriving at least 1-1.5 hours before the scheduled event at Soldier Field gives you enough time to navigate through the crowd and grab some snacks before enjoying the game or concert. Remember, the earlier you arrive, the better spot you'll find for parking.
Parking Information
Park your vehicle at any of the following locations I found for you:
CTA Green 21st to Cermak – $15
CTA Green 23rd to 24th – $15
CTA Green Line Cullerton – $20
CTA Green 13th St to 14th Pl – $20
CTA Green 18th to Cullerton – $20
Grant Park South – $20
The Maxwell – $25
LaSalle – Prices may vary
You can reserve these parking spots on Soldier Field's website. Keep in mind that walking or taking public transportation is always a good option if you want to avoid traffic and parking fees.