Welcome to Soldier Field, the iconic home of the Chicago Bears! Located in the heart of Chicago, Soldier Field is one of the most historic and recognizable stadiums in the United States.
The venue was the site of countless memorable moments in sports, entertainment, and world history, and wrapping everything in a couple of words is impossible. But we tried our best! Whether you're a die-hard football fan or appreciate this stunning venue's rich history and architectural beauty, this article is for you.
We made an overview of the Soldier Field stadium in terms of history, key features, nearby places, parking, and tickets.
So come along and join us for a journey through one of the most iconic stadiums in American sports.
Soldier Field: Key Facts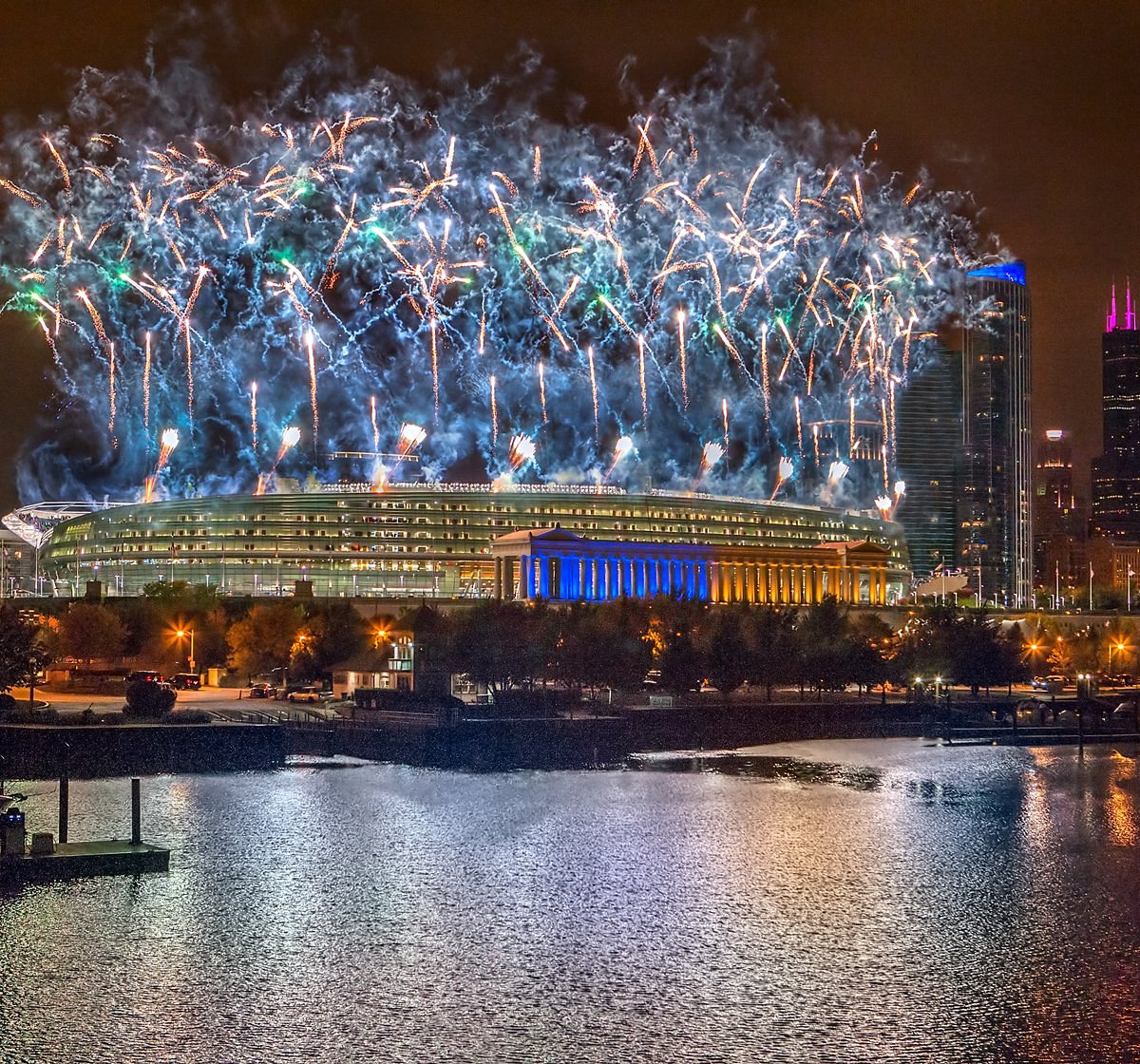 Soldier Field, located in the heart of Chicago, is one of the most iconic stadiums in the United States. It is the home of the Chicago Bears of the National Football League (NFL) and has a rich history dating back to its opening in 1924. Here are some key facts about Soldier Field:
Capacity
The current seating capacity of Soldier Field is 63,500, but it can be expanded to accommodate up to 72,000 spectators for special events such as concerts or soccer matches. Back in the day, the Soldier Field had a capacity of more than 100,000. With the recent renovations, the venue's plank seating was replaced with individual seats with back support and armrest features, and the seating capacity was significantly reduced.
Architecture
Soldier Field is famous for its distinctive architecture, which combines classical elements with modern design. The idea of the architects William Holabird and Martin Roche was to implement the Greek revival, an architectural style inspired by Greek temples.
The most recognizable feature of the stadium is its colonnades, a series of massive concrete pillars supporting the upper deck. The arcades are decorated with eagles and other military motifs, giving the stadium a grand, imposing appearance.
Events 
Soldier Field has hosted various events throughout its history, including NFL games, college football games, concerts, political rallies, religious speeches, and cultural festivals.
It has hosted concerts by artists such as U2, The Rolling Stones, and Taylor Swift, as well as cultural events like the wartime visit by President Franklin Roosevelt, the Chicago Gospel Music Festival, and the Chicago Auto Show.
Regarding sporting events, some of the most notable dates for Soldier Field include the 1994 World Cup soccer tournament, the 2006 FIFA World Cup, and the legendary Jack Dempsey/Gene Tunney heavyweight rematch.
Chicago Bears
Soldier Field is primarily known as the home of the Chicago Bears, one of the NFL's oldest and most storied franchises. The team has played at Soldier Field since 1971 and won one Super Bowl championship. The Bears have a loyal and passionate fan base, and game days at Soldier Field are a major event in Chicago.
Accessibility 
Soldier Field is committed to making the stadium accessible to all fans. The stadium features accessible seating, restrooms, parking, elevators, and ramps for easy access to all levels. Additionally, the stadium offers sensory-friendly accommodations for fans with autism or other sensory sensitivities and organized ADA drop-off and parking.
Sustainability
The stadium's 2003 renovation included several environmentally friendly initiatives, such as green cleaning products, energy-efficient lighting, and electric vehicle charging stations. Consequently, Soldier Field achieved the status of LEED-EB from the US Green Building Council and is the first stadium in North America to receive such a prestigious award.
Amenities
Soldier Field offers a variety of seating options to accommodate all types of fans. From traditional stadium seating to luxury suites and club seats, there's something for every taste and budget. Also, the unique bowl shape design of the venue offers excellent sightlines from every angle.
Regarding food and beverage, no trip to Soldier Field is complete without sampling some of the stadium's delicious concessions. You can try the classic Chicago-style hot dogs and Italian beef sandwiches and top it with their craft beer. The stadium also offers vegetarian and gluten-free options.
Moreover, Soldier Field boasts a cutting-edge audio and video system, ensuring that every fan can see and hear the action no matter where they are seated.
Where Is Soldier Field Located?
Soldier Field is a football stadium in Chicago, Illinois, United States. It is situated on the Lake Michigan shoreline in Chicago's Near South Side community.
Additional information
The Best Way to Get to Soldier Field
Depending on your location and transportation preferences, here are some of the common ways to get to Soldier Field:
Public transportation
The Chicago Transit Authority (CTA) operates several buses and trains that stop near Soldier Field. The Green and Orange Lines of the "L" train system stop at the Roosevelt Station, about a 15-17 minute walk from the stadium.
Several CTA bus routes also stop near the stadium. You can use the CTA's Trip Planner tool to plan your route. If you are coming from the south, consider taking the Metra Electric train to 18th Street Station.
Driving
If you plan to drive to Soldier Field, several parking lots are available around the stadium. However, parking can be limited, and prices can be high. Purchase parking in advance if possible. In the text below, we'll list some of the best parking options available, so you don't have to worry about that.
Ride-sharing services
You can use ride-sharing services like Uber or Lyft to get to Soldier Field. There are designated ride-sharing drop-off and pick-up points around the stadium.
Walking/biking
If you stay downtown, you can bike to Soldier Field. The stadium is located near several parks and bike paths, making it easy to access.
It's important to plan your transportation to ensure you arrive at Soldier Field on time. You can also check the Soldier Field website for more transportation and parking options information.
Parking Near Soldier Field
If you're looking for parking near Soldier Field in Chicago, there are a few options available to you:
The Waldron Parking Deck
The Waldron Parking Deck Garage is at E 18th Drive in Chicago, Illinois, and is located in Soldier Field. The opening hours of this public parking garage vary depending on Special events at Soldier Field and surrounding areas. The Waldron Deck Parking Garage only accepts cash and features 1500 ample parking spaces.
Additional information
The North Garage
You can access The North Garage of Soldier Field from the 1356 South Museum Campus Drive in Chicago, Illinois. This indoor parking lot features electric car charging, vehicle escort service, and ADA parking spots. The payment method is cash or credit card; the permitted height restrictions are 8.2 feet.
Additional information
LAZ Parking
LAZ Parking is a leading parking management company that offers many parking solutions, including self-parking, valet parking, and parking management services. Their self-park option near Soldier Field is great for drivers looking for an easily accessible and affordable parking lot. The price range is between $8 and $45 for an overnight stay. This is a well-lit lot and has over 7 feet of clearance.
Additional information
Please note that parking in downtown Chicago can be expensive and difficult to find, especially during events. You can pre-purchase a parking spot at their official soldier field parking site, where you can find all the information about upcoming events and available parking options. Also, you can check their parking map to get a closer picture of the possibilities.
The Best Restaurants Near Soldier Field
Visiting Soldier Field, it is good to know the best restaurants nearby. Here are some of the top restaurants located within a few miles of Soldier Field:
Burger Bar Chicago
Burger Bar Chicago is a burger joint just a few blocks from Soldier Field. The restaurant offers a variety of burgers, including beef, turkey, and veggie options. The atmosphere is casual and laid-back, and their menu focuses on burgers and beers.
Additional information 
Giordano's
Giordano's is a beloved restaurant chain in Chicago specializing in deep-dish pizza. Established in 1974, the restaurant has become a must-visit destination for locals and tourists alike. Giordano prides itself on using fresh ingredients and a secret recipe for its flaky, buttery crust. Plus, they have a variety of toppings to satisfy all tastes, but their classic cheese pizza is a fan favorite.
Additional information
The Chicago Firehouse Restaurant
The Chicago Firehouse Restaurant, located in the historic South Loop district of Chicago, is a must-visit dining destination for all the foodies. The restaurant's atmosphere blends classic elegance with a modern flair, and the menu features contemporary American cuisine. The knowledgeable staff provides exceptional service, making every visit memorable.
Additional information
There you have it! A list of the best restaurants near Soldier Field stadium where every meal is a different experience and pure joy for the taste buds.
The Best Bars Near Soldier Field
As a major sports and event venue in Chicago, Soldier Field has many great bars and restaurants to visit before or after a game or event. We're talking about:
Kroll's South Loop
Kroll's South Loop is a popular spot for pre-game drinks and food located just a few blocks south of Soldier Field. This sports bar features a wide selection of beers on tap and a menu full of classic bar favorites like burgers, wings, and nachos. They also have many TVs, and it's a great place to catch all the latest sports action.
Additional information
Reggie's
Reggie's is the spot for you if you're looking for live music. But even with no live music, Reggie's is a great place to grab a drink and some food. The bar features a large selection of craft beer and whiskey, and the menu includes creative bar bites for every taste and budget.
Additional information
Fatpour Tap Works – McCormick
Whether grabbing a drink before a Bears game or looking for a casual spot to hang out with friends, Fatpour Tap Works – McCormick bar is worth checking out. This spacious Chicago bar offers a vast selection of craft beers and delicious American pub food. The interior is industrial-chic, with high ceilings and many TVs for sports enthusiasts.
These bars are one of the fun options to spend a good evening after a game or concert at Soldier Field.
Additional information
The Best Hotels Near Soldier Field
Let's take a look at some of the best hotels near Soldier Field, where you can book a stay during your visit to Chicago.
Hyatt Regency McCormick Place
Located just a short walk from Soldier Field, the Hyatt Regency McCormick Place is popular and hosts many visitors. This hotel offers spacious and comfortable rooms with views of the city skyline or Lake Michigan. Amenities include an indoor pool, fitness center, and several dining options, including a rooftop restaurant with stunning views.
Additional information
Hilton Garden Inn Chicago Downtown South Loop
The Hilton Garden Inn Chicago Downtown South Loop is another great option for those looking for a hotel near Soldier Field. This hotel is located just a few blocks from the stadium and offers clean, modern rooms with all the amenities you need for a comfortable stay. Guests can enjoy a fitness center, an on-site restaurant, and a 24-hour business center.
Additional information
Marriott Marquis Chicago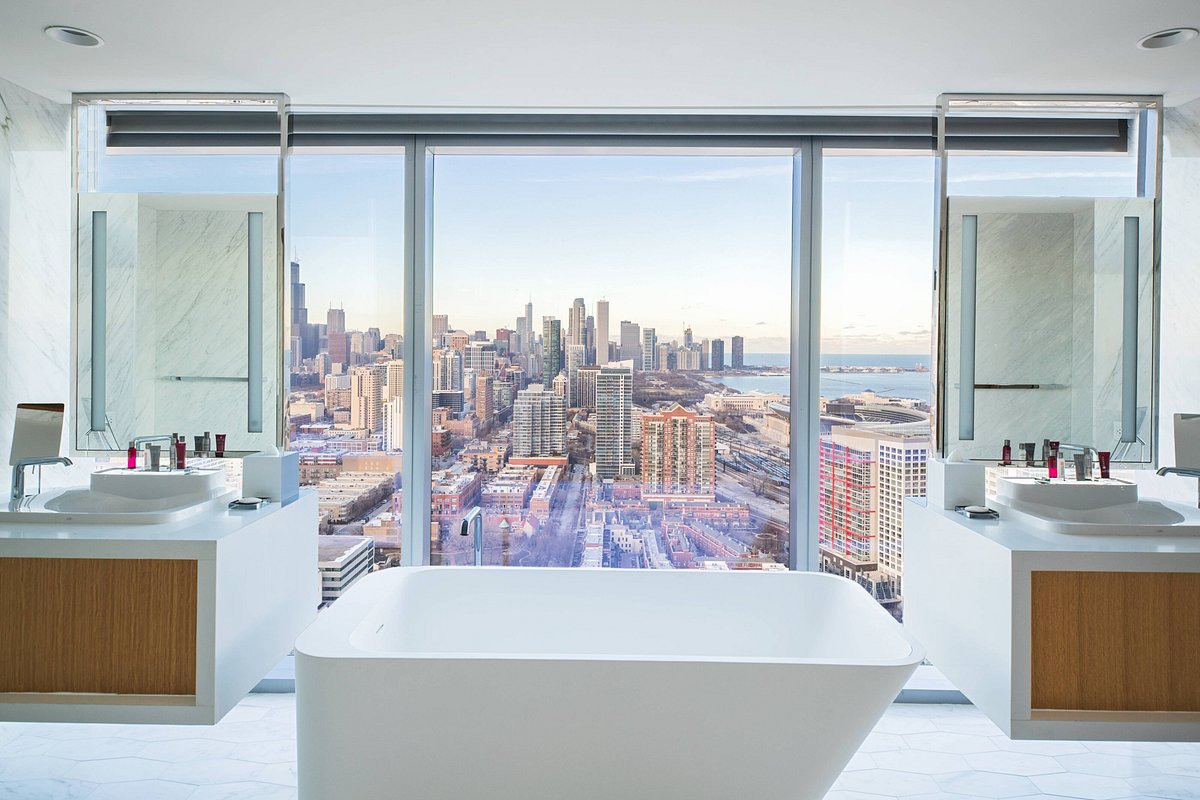 The Marriott Marquis Chicago is a luxurious hotel in the heart of the city's South Loop neighborhood. This hotel has the best views of the city skyline or Lake Michigan. Also, hotel guests have a fully-equipped fitness center, indoor pool, shuttle bus service, a bar, and several on-site dining options on their service.
Additional information
The History of Soldier Field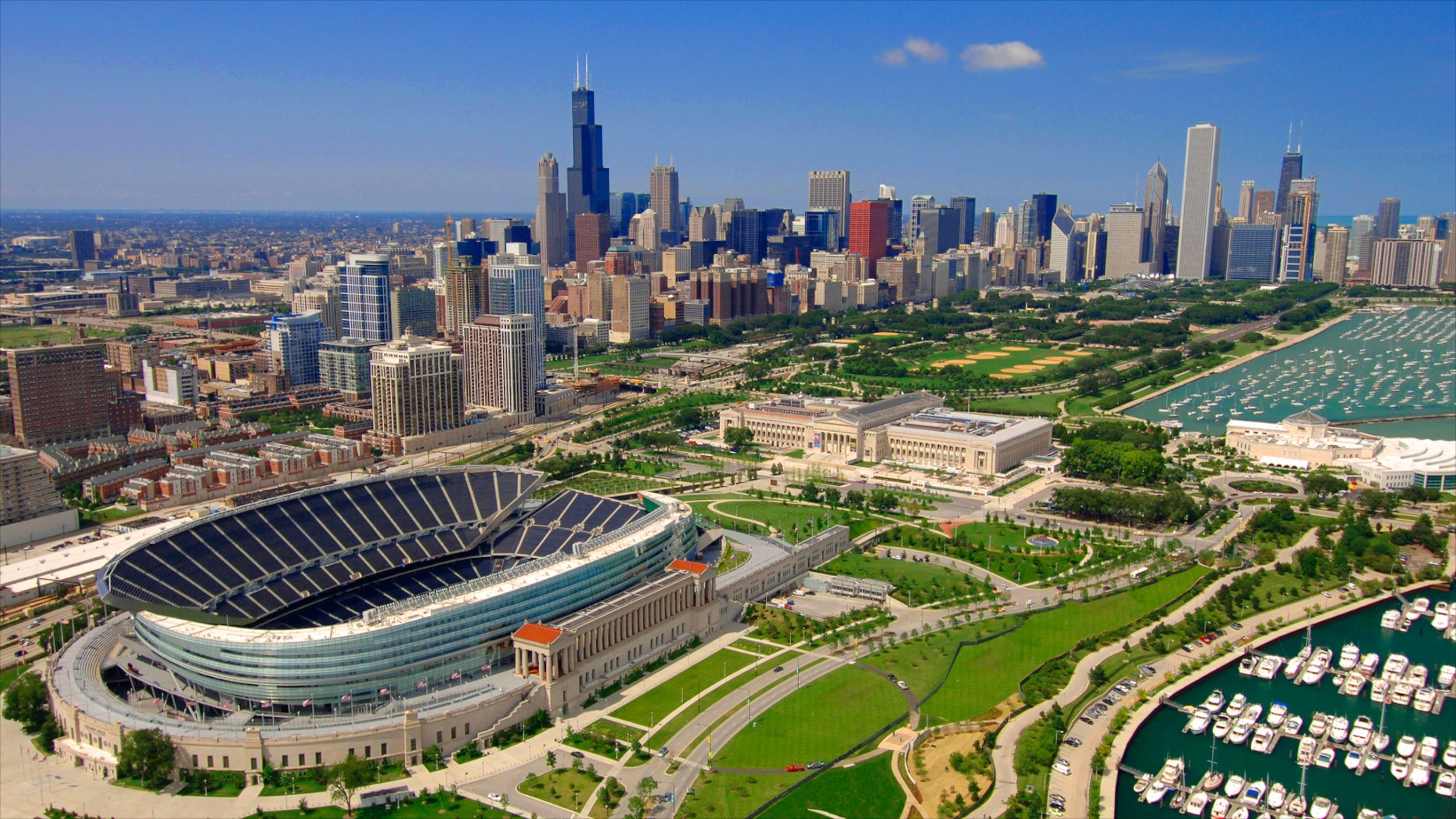 Originally built as a memorial to the soldiers who fought and died in World War I, the stadium has undergone several renovations and upgrades since its inception in 1924. Let's break down several historical moments related to the Soldier Field.
The beginning
The idea for Soldier Field came about in the early 1920s when Chicago Mayor William Hale Thompson proposed building a memorial stadium to honor the soldiers who fought in World War I. The architectural firm Holabird & Roche designed the stadium, and construction began in 1922. The stadium was completed in 1924 and was named Soldier Field.
The stadium's original design was a U-shaped bowl with a capacity of 45,000 spectators. It was primarily used for college football games and hosted its first game on October 9, 1924, between the University of Illinois and the University of Chicago. The game ended in a scoreless tie.
During the 1930s, Soldier Field became the home of the Chicago Bears, a professional football team founded in 1920. The Bears played their first game at Soldier Field on November 11, 1926, and the stadium quickly became a beloved venue for Chicago football fans.
Renovations
Over the years, Soldier Field underwent several renovations and upgrades to keep up with changing times and trends. In 1971, the stadium was expanded to seat 57,000 spectators, and in 1988, it was further expanded to seat 66,946.
In the late 1990s, there were plans to modernize Soldier Field, and in 2001, construction began on a major renovation project. The project was controversial, as it involved tearing down the stadium's historic colonnades and expanding the seating capacity, which didn't happen.
The renovated stadium opened in 2003 with a modern and sleek design. The new Soldier Field featured a unique, spaceship-like structure covering the seating bowl and strikingly contrasted the stadium's historic columns.
Despite some initial criticism of the new design, Soldier Field's modernization has been widely regarded as a success, and the stadium remains an iconic part of Chicago's skyline.
Present-day use
Today, Soldier Field is primarily used for football games and concerts. In addition to being the home of the Chicago Bears, the stadium has hosted various other events over the years, including soccer matches, music festivals, and political rallies.
Soldier Field is also home to the Soldier Field 10 Mile, a popular annual race that attracts thousands of runners nationwide. The race takes participants on a scenic tour of Chicago's lakefront and offers a unique opportunity to experience the stadium's historic architecture up close.
Where to Get Tickets for Soldier Field?
Here are some places where you can get tickets for events at Soldier Field:
Ticketmaster: Ticketmaster is the official ticketing partner of Soldier Field. You can visit the Ticketmaster website or app to purchase event tickets at Soldier Field.
Soldier Field Box Office: The Soldier Field Box Office is located at Gate 10 of the stadium. You can purchase tickets in person at the box office during business hours.
Third-party resellers: You can also purchase tickets from third-party resellers such as StubHub, Vivid Seats, and SeatGeek. However, these resellers may charge higher prices and fees.
Event organizers: If a specific company or organization organizes the event you're interested in attending, you can purchase tickets directly from them.
Ticket brokers: Ticket brokers are licensed resellers who buy and sell tickets to various events. However, like third-party resellers, ticket brokers may charge higher prices.
It's always a good idea to compare prices and fees from different ticketing sources before purchasing to ensure you get the best deal.
Does Soldier Field Offer Tours?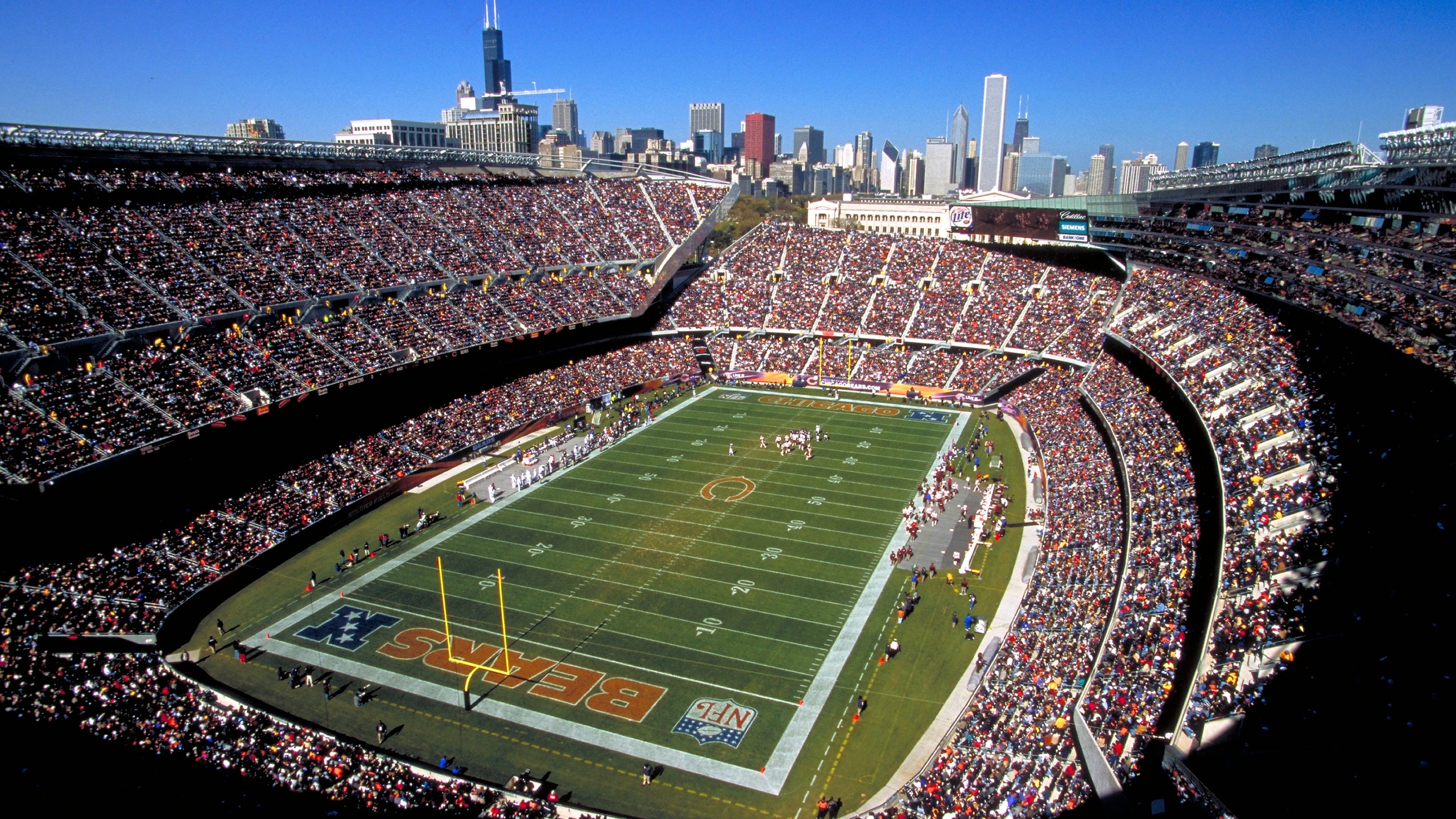 Yes, Soldier Field offers tours to the public. The tour takes you on a journey through the stadium's history and its transformation over the years. You can see behind-the-scenes areas like locker rooms, skyboxes, and media.
They offer three types of tours, with differences in duration, routes, and insights. You get to choose between:
Classic Soldier Field Tour
Vip Soldier Field Tour
Public Soldier Field Tour
It's important to note that tour schedules and availability may vary due to events and games at the stadium, so it's recommended to check the Soldier Field website or call ahead to confirm tour times and availability.
Conclusion
In conclusion, Soldier Field is a remarkable venue and an iconic piece of Chicago's history. As the Chicago Bears home, it has become a beloved landmark for football fans nationwide. The stadium's distinctive design, which incorporates classical columns and modernist elements, has earned recognition as one of the world's most beautiful and innovative sports facilities.
Beyond its aesthetics, Soldier Field has also played a significant role in the city's cultural and civic life. It has hosted numerous major events, including political conventions, concerts, and international soccer matches.
Overall, Soldier Field is more than just a football stadium; it is a cultural institution that became an integral part of Chicago's identity. Its history, design, and significance continue to attract visitors from all over the world.