The United Center, home of the Chicago Bulls and Blackhawks, offers a wide variety of dining options for sports fans and event attendees alike.
With choices ranging from the classics like hot dogs, pizza, and popcorn to more unique offerings such as lobster rolls and wagyu hot dogs, there's something to satisfy every palate.
Visitors can look forward to regional favorites such as Chicago-style sausage and polish sausages, as well as more modern options like spicy pork nachos and crispy chicken sandwiches.
The venue's food options are thoughtfully designed to cater to different preferences, ensuring that everyone can find something they enjoy while taking in the excitement of a game or event at the United Center.
Popular Food Options
The United Center offers a variety of food options to cater to different tastes and preferences. This section provides an overview of popular food choices available at the stadium, with a focus on signature dishes, quick bites, and vegetarian and vegan options.
Signature Dishes
Some of the unique and popular dishes offered at the United Center include:
Big Star Taco, found at Sections 114 & 230,
Leghorn Chicken, served at Section 115,
And the Chicago-style classics, like the pizza from Giordano's and the infamous Vienna Beef hot dogs.
Quick Bites
For guests looking for quick and easy food options, numerous stands and kiosks offer classic stadium fare. Some popular choices include:
Chicago Sausage Shop, in Section 223, offering hot dogs, French fries, nachos with cheese, popcorn, and more,
Madison Street Eats, featuring jumbo pretzels, Garrett Mix popcorn, and nachos,
Vegetarian and Vegan Choices
United Center also caters to vegetarian and vegan fans by providing a range of plant-based options. Some noteworthy selections include:
Vegan burgers and plant-based alternatives,
Fully loaded nachos with dairy-free cheese,
And a variety of custom salads and wraps.
Overall, the United Center provides an extensive range of food choices to satisfy diverse appetites and dietary preferences of all visitors.
United Center Concessions
Concession Stands
The United Center offers various concession stands throughout the arena to cater to the tastes of its visitors. These stands provide a range of food options, such as Wagyu hot dogs and spicy pork nachos, both of which have received positive reviews from visitors. Additionally, fans can enjoy classics like crispy chicken sandwiches and house-made chips.
Balcony and Club Level Dining
For a more elevated dining experience, visitors on the balcony and club levels have access to more exclusive options.
These areas provide a mix of both traditional stadium fare and unique culinary creations.
For instance, a delicious Lobster BLT Roll can be enjoyed at Levy Restaurants.
Refreshment Stations
Fans attending games or events at the United Center can also find refreshment stations throughout the arena offering snacks and beverages.
Options at these stations include Garrett's Popcorn, Kettle Chips, ice cream novelties, and various canned beers like Bud Light and Goose Island.
Notable Restaurants and Eateries
American Classics
When visiting the United Center area, there are plenty of American classics to be enjoyed. Some highly recommended options include the Priscilla's Ultimate Soulfood Cafeteria for comfort food and homemade dishes like fried chicken and mac 'n cheese, and The Ogden, which offers a contemporary sports bar ambiance with delicious pub fare like burgers and craft beers.
Ethnic Cuisine
If you're in the mood for something more exotic, the United Center area has a diverse selection of ethnic cuisine.
You may want to try the Mediterranean flavors at Eden, where you can savor dishes like fresh salads and savory kebabs. For fans of Mexican food, don't miss out on Cruz Blanca, which serves mouth-watering tacos and crafted brews.
Finally, for a taste of the East, the United Center area also boasts the popular Vietnamese-American fusion spot, District Kitchen & Tap, offering an enticing range of dishes, including Bahn Mi and Pho.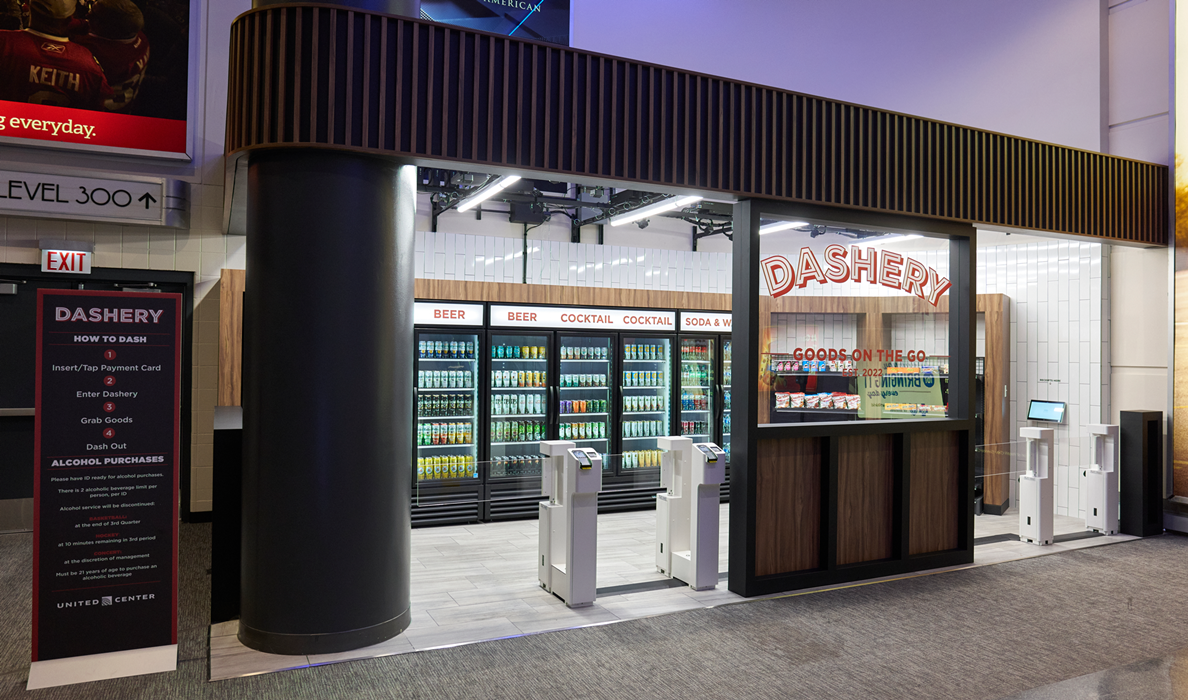 Upscale Dining
For those seeking an upscale dining experience near the United Center, a visit to Smyth & The Loyalist is a must. This dual-concept location features an innovative tasting menu at Smyth, while The Loyalist offers an elevated gastropub experience with delicious cocktails, charcuterie boards, and a variety of culinary delights. Additionally, Levy Restaurants provide a commitment to superior quality and service, making the United Center and its dining options one of the world's top venues for upscale cuisine.
Food and Beverage Policies
Outside Food and Drinks
The United Center enforces a strict policy regarding outside food and beverages. Guests are generally not allowed to bring any food or beverages from outside into the arena. This measure helps to maintain a safe and enjoyable environment for all attendees.
Alcohol Sales Constraints
Alcohol sales at the United Center are closely regulated in order to promote responsible consumption. There are specific rules in place for alcohol sales during events:
Alcohol sales typically end at the beginning of the third period for NHL games, and near the end of the third quarter for NBA games
Management reserves the right to discontinue alcohol sales at any time based on the behavior of guests or other circumstances
Valid photo identification is required for all alcohol purchases
Guests are limited to purchasing no more than two alcoholic beverages per transaction
Allergen Information
The United Center takes the well-being of its patrons seriously and strives to provide a variety of food options for those with food allergies or special dietary requirements. Many concession stands, as well as the venue's Classic Menu Package, accommodate such needs. However, it is important for guests to be aware that the United Center cannot guarantee a completely allergen-free environment. Guests with severe allergies are encouraged to carry necessary medication, such as an EpiPen, and inform United Center staff of their condition.
Payment and Pricing
Accepted Payment Methods
The United Center has transitioned to a fully cashless arena to ensure contactless options for all food, beverage, and merchandise purchases. Cash will not be accepted at the venue, providing a seamless and efficient experience for guests. The accepted payment methods include credit and debit cards, as well as mobile payment options such as Apple Pay, Google Pay, and more.
Approximate Price Ranges
While the specific food pricing at the United Center may vary depending on the event and the menu options available, we can gather an approximate price range by examining some examples from the venue's catering options. The United Center's suite menu features a variety of packages catering to different budgets and dining experiences.
Here are some examples of pricing for various food options:
Appetizers: $19 – $29 per person
Salads: $14 – $18 per person
Entrees: $25 – $45 per person
Desserts: $9 – $15 per person
Please note that these prices are only approximate and may not apply to all dining options at the United Center. It is recommended to check the specific event or dining facility for accurate pricing information.
Additional Amenities
The United Center not only offers a wide variety of food options but also provides additional amenities that enhance the dining experience for visitors.
Mobile Ordering and Pickup
One of the convenient features available at the United Center is the ability to order food from your seat using their mobile app. This app allows guests to place orders without having to wait in long lines, enabling them to enjoy more of the event.
With mobile ordering, visitors can browse through various food options, place an order, and make a payment all from their smartphones. Once the order is ready, guests will receive a notification and can head to the designated pickup area to collect their meal, making the process efficient and timesaving.
By offering mobile ordering and pickup, the United Center ensures a smooth and convenient dining experience for its guests while they enjoy the exciting events hosted at the venue.
James is a big time NBA Golden State follower, who makes sure to catch games when he's in the area. He likes to follow International Soccer, with an interest in small town soccer club, Blackburn Rovers located in the North on the UK.