As a regular visitor to Wrigley Field, I know firsthand the excitement and anticipation that builds as you approach this iconic ballpark, home to the Chicago Cubs. Before you make your way into the stadium, it's essential to familiarize yourself with the gate and entrance details to make your experience as smooth and enjoyable as possible. In this guide, I'll be sharing everything you need to know about Wrigley Field's gates and entrances, ensuring you're well-prepared for your visit.
Wrigley Field has a rich history and is packed with unforgettable moments and thrilling baseball games. To make the most of your time at the stadium, it's important to know the best gate entrances to use. With multiple gates catering to various sections of the ballpark, knowing your gate locations will help you save time and prevent any confusion on game day.
Moreover, understanding Wrigley Field's policies, such as bag restrictions, ensures that you can enter the stadium without any hassle. Following the guidelines outlined in this guide will make your Wrigley Field experience unforgettable and stress-free, leaving you to focus on the game and absorb the incredible atmosphere that this iconic venue has to offer.
History of Wrigley Field
As a big fan of baseball and the Chicago Cubs, I am excited to share some amazing history about the iconic Wrigley Field! Built on the grounds once occupied by a seminary, the stadium was originally known as Weeghman Park. It was the home of Chicago's entry in the Federal League and was the property of Charles H. Weeghman. The club was known as both the Federals and the Whales.
When I first started following baseball, I learned that Wrigley Field was the first Major League ballpark to play organ music. Organ music debuted there on April 26, 1941. It's just one of the many unique features that make this ballpark so special.
The gate names and locations also have interesting stories. Marquee Gate, formerly known as Gate F, is located at the intersection of Addison and Clark streets. Meanwhile, Gallagher Way Gate, formerly known as Gate H, is located on Clark Street on the western side of the ballpark.
Over the years, Wrigley Field has come to be known as the Friendly Confines, a nickname that accurately describes the warm atmosphere you find when attending a game. It has seen a variety of memorable events, which is why I think it is the epitome of a fantastic sports venue.
Locations of Gates and Entrances
At Wrigley Field, there are multiple gates to help baseball fans and visitors enter the famous ballpark. I'm excited to share key details about the major gates and their locations, so you'll be prepared for your next visit.
The Marquee Gate, formerly known as Gate F, is located at the intersection of Addison and Clark streets. This iconic gate is easy to spot, thanks to the classic Wrigley Field signage featuring the trademark marquee. If you're looking to snap a few memorable photos before entering the stadium, this gate is definitely the place to be.
Another entrance you should know about is the Gallagher Way Gate. Previously known as Gate H, you can find this entrance on Clark Street on the western side of the ballpark. When you enter through here, you'll be treated to a view of the friendly atmosphere and great neighborhood surrounding Wrigley Field.
In addition to these main gates, there are others around the stadium. The Right Field Gate and the Budweiser Bleacher Gate provide entrances to different seating areas. By knowing the various gates and their locations, you can plan ahead and make sure you enter through the most convenient entrance for your seats.
No matter which entrance you choose, arriving at Wrigley Field is always a thrilling experience. As a friendly reminder, make sure to arrive early to enjoy all of the pre-game excitement and soak in the rich history of this iconic ballpark.
Gate K: Detailed Guide
I have to tell you about Gate K at Wrigley Field, which is one of the entrance gates to this iconic ballpark. Located on the northwest corner of the stadium, near Waveland Avenue and Clark Street, Gate K is known for its convenience in accessing the stadium.
The best part of using Gate K is it allows easy passage to and from the nearby public transportation stations, such as the CTA Red Line Addison station. This makes it an ideal choice for fans arriving by train, which means less time spent walking and more time spent at Wrigley enjoying the game.
When you arrive at Gate K, you'll find the entrance to be efficiently designed, with multiple entry points and helpful staff on hand to assist you with any questions or concerns. It's important to remember to have your ticket ready for scanning, as well as any bags that may be subject to inspection. Wrigley Field has a clear bag policy, so make sure your bag meets their requirements before arriving at the gate.
Some of the nearby features that you can access from Gate K once inside the ballpark include:
The Upper Deck seating areas, providing a fantastic view of the game
Restrooms located nearby for your convenience
Concession stands offering delicious food and beverages
Keep these points in mind when planning your visit to Wrigley Field. Choosing Gate K for entry means you're in for a smooth and efficient experience, leaving you with more time to focus on the main attraction – cheering on the Chicago Cubs!
Gate F: Detailed Guide
As I approached Wrigley Field, I found that Gate F, also known as the Marquee Gate, is conveniently located at the intersection of Addison and Clark streets. This makes it easily accessible for fans arriving from various directions. The gate itself is quite eye-catching, with the iconic Wrigley Field marquee sign welcoming fans as they enter.
When I entered through Gate F, I noticed that there were multiple entry points, making it easier for fans to get into the ballpark quickly. Additionally, the staff stationed at the gate were friendly and helpful, ensuring that everyone's entry process was smooth and efficient.
If you're planning to catch a game at Wrigley Field and are wondering about food options, rest assured that there are plenty of dining choices available. The area surrounding Gate F has numerous food stands and eateries where you can grab a bite or a drink before or after the game. Having these options within walking distance adds to the convenience and enjoyment of visiting Wrigley Field.
In terms of accessibility, Gate F is quite accommodating. If you need any assistance when navigating your way around Wrigley Field, the staff at the gate are more than willing to help or direct you to someone who is able to assist. This makes attending a game at Wrigley Field a pleasant experience for all fans, regardless of their needs and preferences.
Lastly, Gate F is within close proximity to public transportation options, such as bus and train stations. This makes it easy for fans to arrive at and depart Wrigley Field without having to worry about the hassle of parking or navigating through traffic.
Overall, my experience with Gate F at Wrigley Field was positive and enjoyable. I found the gate to be easily accessible, well-staffed, and convenient for all attendees. If you're planning a visit to Wrigley Field, consider using Gate F for a smooth and enjoyable entry experience.
Gate D: Detailed Guide
As someone who visits Wrigley Field quite often, I am excited to share my knowledge about the Wintrust Right Field Gate, which is also known as Gate D. It's located on Addison Street on the southeastern side of the ballpark.
When I first started visiting Wrigley Field, I noticed that Gate D gets quite busy during game days. So, if you plan to enter through this gate, I would suggest arriving a bit earlier to avoid long waiting times. In my experience, the lines here can move relatively quickly, but it's always in your best interest to allow some extra time for a hassle-free entry.
One thing I appreciate about Gate D is the friendly staff members. They always do their best to ensure a smooth entry process for fans. However, it's important to remember that security checks are being performed at every entrance, so be prepared to have your bags inspected and possibly go through a metal detector.
In terms of accessibility, Gate D is pretty good. It has ramps for wheelchair users, making it easier for everyone to enter the ballpark. Additionally, if you have any questions or concerns, the staff members are more than happy to assist you.
In conclusion, Gate D at Wrigley Field is one of the popular entrances for fans attending a game. It can get crowded at times, but arriving early can help avoid any unnecessary stress. Don't forget to prepare for security checks, and rest assured that the friendly staff will be there to help you with any concerns or questions. Happy game day!
Gate H: Detailed Guide
As I approached Wrigley Field, I was happy to find that Gate H, also known as Gallagher Way Gate, is conveniently located on Clark Street on the western side of the ballpark. This gate provides easy access for fans coming from the nearby public parking lots and offers a quick entry point into the stadium.
Once I arrived at Gate H, I was pleased by its welcoming atmosphere. Friendly staff members were present, ready to assist me with any questions or concerns I had. As with all gates at Wrigley Field, it's important that I carried my ticket with me to ensure a smooth entry process.
While waiting in line, I took note of a few important aspects of Gate H. First, there are designated express lanes for fans without bags, making entry even faster for those who pack light. Additionally, I noticed ADA accessible entrances and accommodations at this gate. It was nice to see that Wrigley Field goes the extra mile to make its facilities accessible for all fans.
One thing I found particularly convenient was the proximity of Gate H to some of the stadium's popular attractions. The famous Wrigley Field Marquee and the Park at Wrigley are just a short walk away, making it easy for me to plan my pre- and post-game activities.
Here's a quick recap of the key information about Gate H:
Location: Clark Street, western side of Wrigley Field
Also known as: Gallagher Way Gate
Accessibility: ADA accessible entrances and accommodations
Express lanes: Available for fans without bags
Nearby attractions: Wrigley Field Marquee, Park at Wrigley
Now that I've shared my experience, I hope this detailed guide helps you plan your visit to Wrigley Field through Gate H. Enjoy the game, and go Cubs!
Gate J: Detailed Guide
I had a chance to explore Wrigley Field and its gates, and in this section, I will be sharing my friendly, first-hand insights about Gate J.
Gate J, also known as the Premier Entrance, is a special entrance designed for premium ticket holders. This gate grants quick access to the upscale, exclusive areas within Wrigley Field, such as the club boxes and premier seating sections. Upon entering this gate, I observed a more sophisticated ambiance, enhanced by impeccable customer service and attention to detail.
Getting to Gate J is relatively easy. It is located on the east side of the ballpark, near the iconic marquee at the intersection of Addison and Clark streets. Those arriving via public transportation will find the gate in close proximity to the CTA Red Line's Addison station. Additionally, several bus routes stop near this entrance, making it highly accessible through various means of transport.
As a friendly reminder, you should remember that Gate J is exclusively for premium ticket holders. Therefore, if you hold a regular ticket, you won't be able to access this entrance. Instead, you will need to head to one of the other gates, such as Gallagher Way Gate (formerly Gate H) or Horizon Left Field Gate (formerly Gate K), which both welcome the general public.
Overall, Gate J offers a premier experience for those lucky enough to have premium tickets at Wrigley Field. With its convenient location and quick access to exclusive areas within the ballpark, this entrance is definitely worth considering when you plan your visit to Wrigley Field.
Handicap Accessible Entrances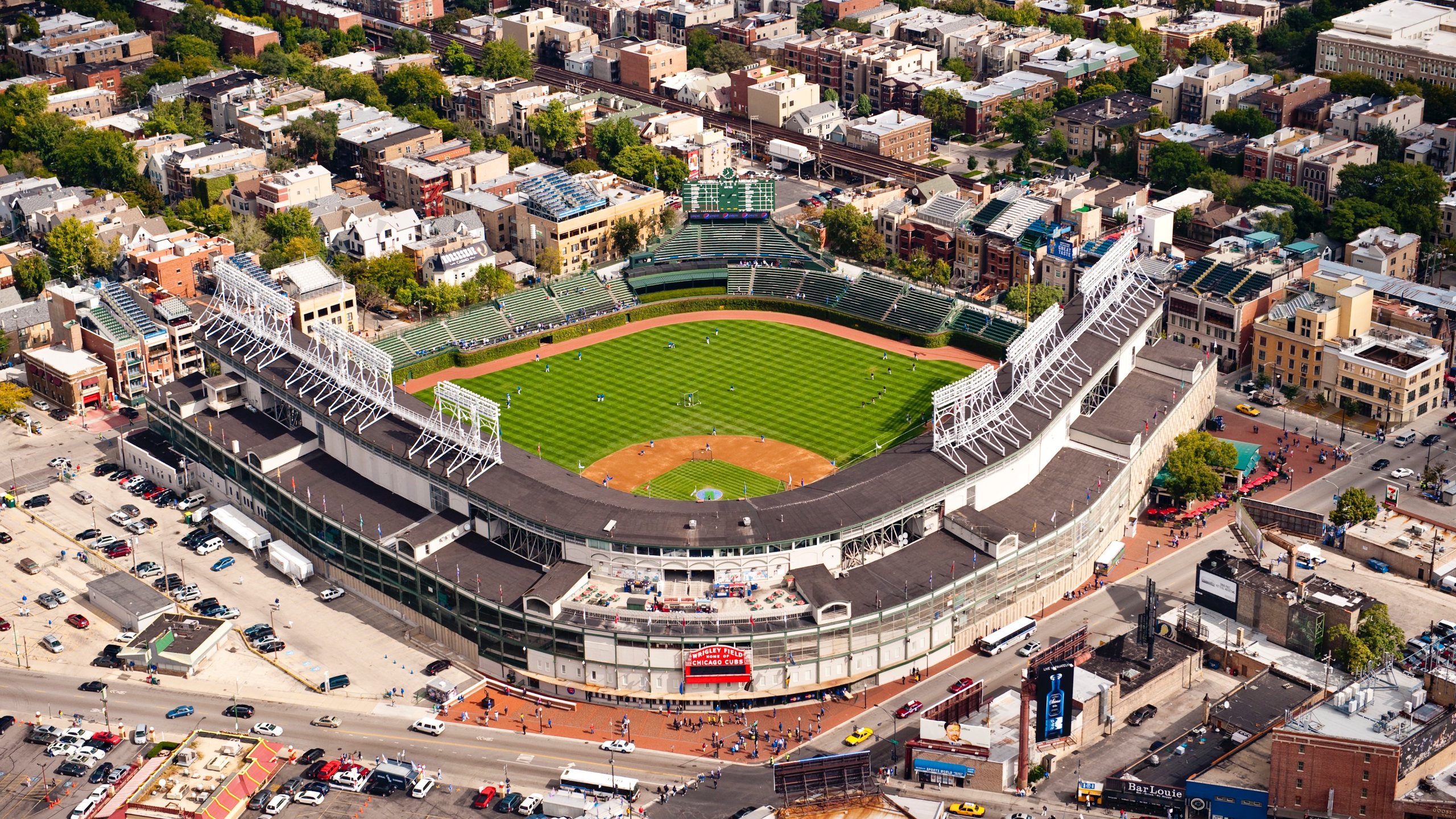 Gate K Handicap Accessibility
I noticed that Gate K at Wrigley Field provides an accessible entrance for guests with mobility disabilities. It's crucial to know that there are lifts and ramps in this area, which make it more comfortable for individuals with special needs to access the stadium. The accessibility feature allows guests with mobility disabilities and up to three companions to enjoy the game together.
Gate H Handicap Accessibility
Similarly, Gate H at Wrigley Field also offers accessible accommodations for visitors with mobility disabilities. This entrance, known as the Gallagher Way Gate, is located on Clark Street on the western side of the ballpark. Like Gate K, accessible seating sections can be found throughout the ballpark close to an elevator, lift, and/or ramp. It's encouraged to purchase tickets in advance to ensure the best possible experience for everyone involved.
Wrigley Field's Prohibited Items List
As a friendly reminder, there are certain items that you won't be allowed to bring into Wrigley Field during Cubs games or other events like concerts. Bear in mind that there isn't any storage available for prohibited items at the stadium, so I recommend that you leave them at home or in your car.
Some common items that are forbidden at Wrigley Field include:
Bags: Bags larger than 16″ x 16″ x 8″ are not allowed. Make sure you have a bag that fits these dimensions or consider leaving it behind!
Food and beverages: Although you might want to bring your own snacks and drinks, only sealed plastic water bottles and a single serving of food in a clear plastic bag are permitted.
Alcohol: Remember that the sale of alcohol inside the stadium will only be served until the last out of the 8th inning during day games or the last out of the 7th inning or 10:30 p.m. for night games.
Weapons and fireworks: Anything that could be dangerous or cause harm to others is strictly prohibited.
Umbrellas: For the safety and view of other fans, you can't bring an umbrella to the ballpark. Make sure to dress appropriately for the weather instead.
If you have any questions about other items that might be banned or if you need more information, you can contact Cubs Fan Services at 800-THE-CUBS. They'll be happy to assist you with your inquiries and make sure you have a great time at Wrigley Field!
Tips for Smooth Entry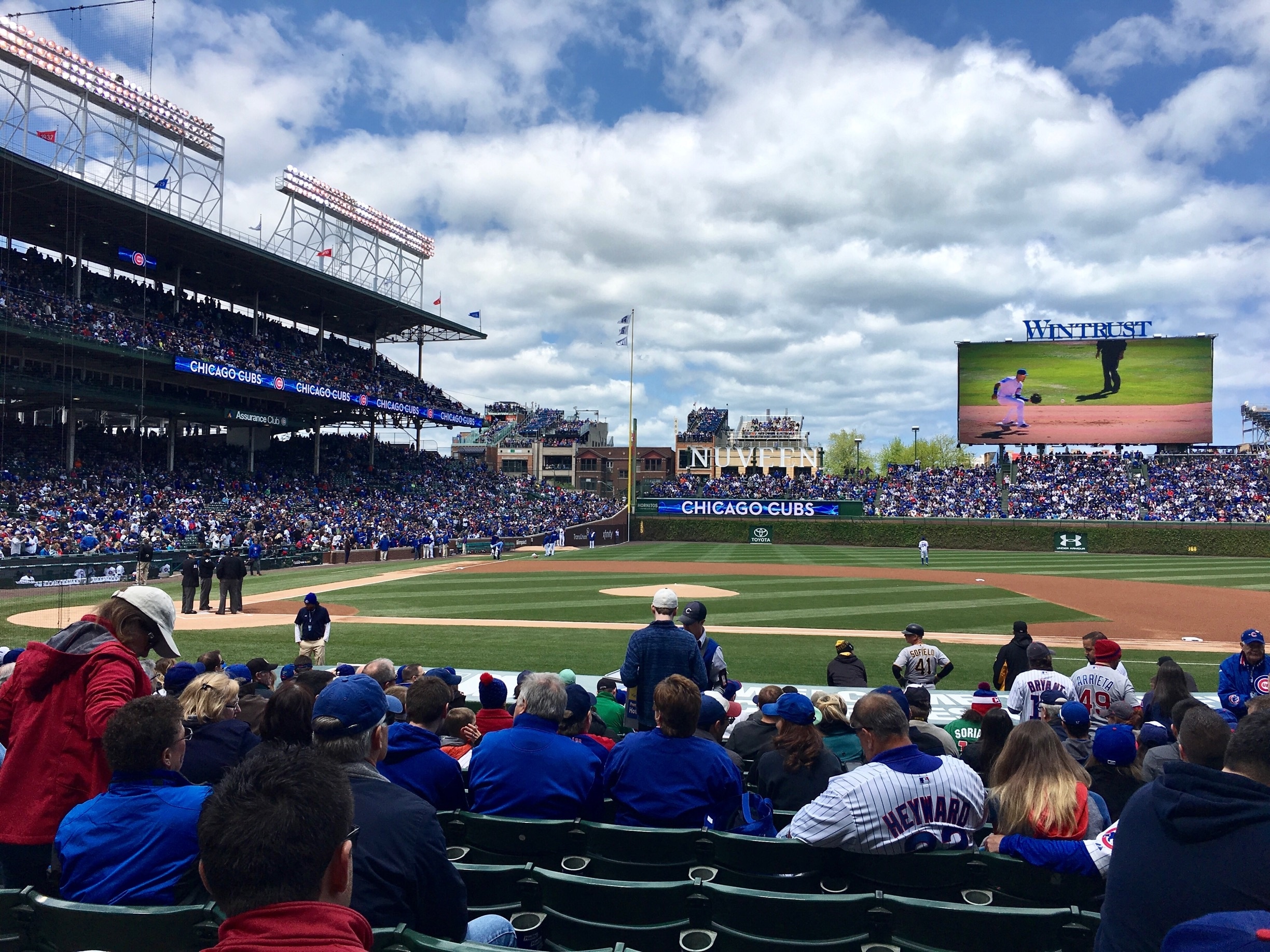 I find it helpful to arrive early when going to Wrigley Field. The gates typically open two hours before the game, but wait times can vary, so be sure to allow for any unexpected delays. Also, it's a good idea to familiarize yourself with gate locations before you arrive.
One important tip is to double-check the entrance requirements and policies. Since 2021, Wrigley Field has earned the Global Biorisk Advisory Council (GBAC) STAR™ Facility Accreditation, which means they have established practices and protocols for responding to outbreaks and pandemics. So, make sure you're informed about any updated guidelines, such as wearing masks or providing proof of vaccination.
Another way to ensure a smooth entry is to pack light. Bringing a small or clear bag can help you get through security more quickly. Plus, it's easier to navigate the stadium with fewer items. Just be aware of prohibited items like large bags or coolers, and leave those at home or in your car.
Lastly, don't forget to review the seating and gate map before heading out. Wrigley Field has multiple entrances: the Budweiser Bleacher Gate, the Wintrust Right Field Gate, and the C.D. Peacock Premier Entrance. Knowing which gate is closest to your seat can save you time and make your entrance experience much more pleasant.
By following these tips, I'm confident you'll have a smooth entry into Wrigley Field and be able to fully enjoy the atmosphere, the game, and everything else this historic ballpark has to offer.
Security Measures at Entrances
When I visited Wrigley Field, I noticed that they take security measures seriously to ensure the safety of fans and patrons. As a result, all visitors are required to go through a security screening process upon entry. I appreciated the efficiency and kindness of the security team, which made the process smooth and seamless.
At the entrance gates, metal detectors or hand-held wands are used for security screenings. To expedite the process, I made sure to have my mobile ticket ready and any items available for inspection by security staff. Bags are subject to inspection, and it's important to note that Wrigley Field has a bag policy in place. Clear bags are highly recommended, as they facilitate faster security checks and entry.
In accordance with MLB guidelines, Wrigley Field also enforces a no-fly zone for unmanned aircraft systems (drones) within a three nautical mile radius. This measure underscores the commitment to safety and adds an additional layer of security for everyone at the stadium.
Finally, Wrigley Field works closely with the Chicago Police Department and other law enforcement agencies to keep fans safe. By having these partnerships, the security team can proactively monitor and respond to any incidents that may arise.
Overall, I found my experience at Wrigley Field to be secure and enjoyable, thanks to the comprehensive security measures in place. As a fan, I felt safe and could focus on enjoying the game and the atmosphere.
Special Events & Tours Access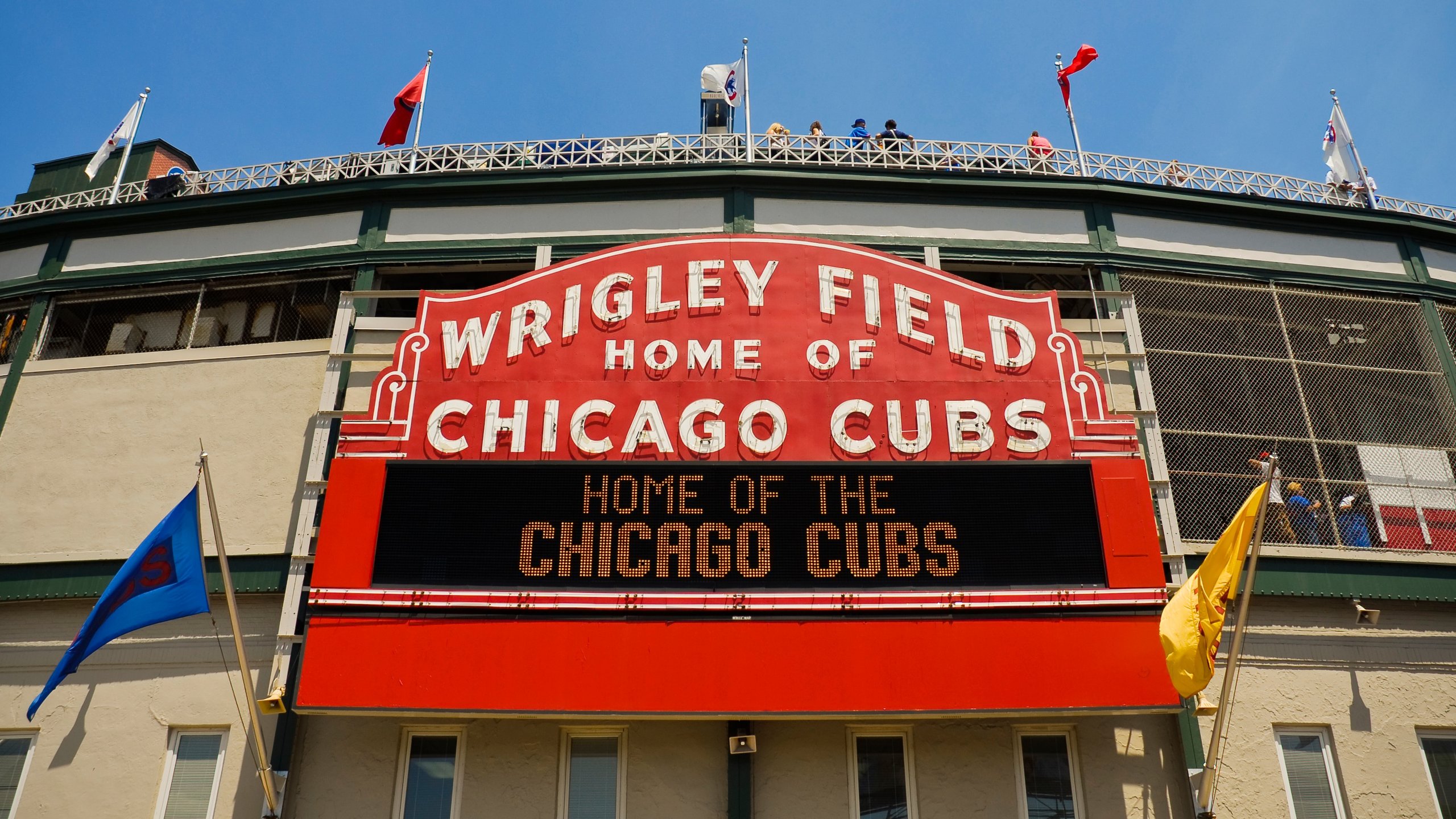 I recently had the chance to visit Wrigley Field and found the special events and tours to be an amazing way to explore the ballpark. Here's what you need to know about accessing these events and tours at Wrigley Field.
The guided tours at Wrigley Field typically last 75-90 minutes and include outdoor stops. They are conducted in rain or shine, so it's important to dress accordingly. For individuals, the tour pricing is $30 (plus tax), while children under 2 years old can join for free. Stops on the tour often include the visiting clubhouse, dugout, and other areas of the legendary stadium.
When it comes to accessibility, Wrigley Field is committed to making their Major League Baseball games and tours available to all fans. The venue offers various accessibility services and has several entrance gates to accommodate all guests.
Some of the main entrance gates include the Budweiser Bleacher Gate located at the intersection of Sheffield and Waveland avenues. Another option is the Wintrust Right Field Gate, which can be found on Addison Street on the southeast side of the ballpark. Lastly, the C.D. Peacock Premier Entrance is located on Clark Street on the western side of the venue.
Attending special events at Wrigley Field is a delightful experience for any baseball fan. Offering unique behind-the-scenes access to the iconic stadium, these tours give fans the chance to learn about its storied history and enjoy some of the best views in the house.
Conclusion
As a big fan of the Chicago Cubs, I'm always thrilled to share some insights about Wrigley Field. Whether you're a first-time visitor or a seasoned Cubs fan, navigating your way through the Friendly Confines can be a breeze if you know a few important aspects.
Keeping in mind that Wrigley Field has several entry gates, it's essential to locate them beforehand to make your entrance smoother. Some key gates include the Marquee Gate at the intersection of Addison and Clark streets, the Gallagher Way Gate on Clark Street, and the Horizon Left Field Gate on Waveland Avenue. Knowing these gates' locations ensures that you won't get lost while arriving for a game.
Additionally, it's crucial to familiarize yourself with the ballpark's seating and gate map. This will enable you to find your specific seats or important facilities such as restrooms and food concessions easily. Remember that Wrigley Field also offers accessibility services for fans with disabilities, so don't be afraid to inquire about those if required.
Lastly, with the stadium hosting memorable events and an incredible history, make sure to take time to appreciate the Wrigley Field atmosphere. I always enjoy soaking in the excitement while surrounded by fellow Cubs fans in this iconic ballpark.