Wrigley Field, the iconic home of the Chicago Cubs, has a history and charm that endures to this day.
Built in 1914, this historic ballpark is located on the North Side of Chicago, Illinois, and holds a special place in the hearts of baseball fans and enthusiasts.
With more than a century of memorable events under its belt, Wrigley Field is the second oldest Major League Baseball stadium, surpassed only by Fenway Park in terms of longevity.
Originally constructed as Weeghman Park for Charles Weeghman's Chicago Whales of the Federal League, Wrigley Field has become synonymous with the Chicago Cubs since its acquisition by the team in 1916.
Over the years, the venue has undergone various enhancements and updates, but its unique traditions have remained intact, including the ivy-covered brick outfield wall and the iconic manual scoreboard.
As a result, Wrigley Field is not only known for its historical significance but also for the enjoyable experience it provides for fans visiting the Friendly Confines.
History of Wrigley Field
Founding and Early Years
Wrigley Field, originally known as Weeghman Park, was constructed on the grounds of a former seminary in 1914. It was first the home of Chicago's Federal League team, and Charles H. Weeghman was the owner of the park. In 1916, it became home to the Chicago Cubs, who are part of Major League Baseball's National League. The stadium was renamed Cubs Park in 1920, and it finally gained its current name, Wrigley Field, in 1926. The iconic ballpark is now the oldest standing National League park.
Wrigley Field has hosted notable baseball events throughout its history, such as the 1947, 1962, and 1990 All-Star Games. Besides baseball, it was also the home of the Chicago Bears of the National Football League between 1921 and 1970, and the Chicago Cardinals (now the Arizona Cardinals) from 1931 to 1938.
Renovations and Expansions
Wrigley Field has undergone several renovations and expansions over the years, which helped to maintain its status as an iconic ballpark. Notable improvements include:
1927-1937: The bleachers and scoreboard were constructed, and the famous ivy on the outfield walls was planted.
1988: Lights were installed, allowing for night games to be played for the first time.
2014-2019: The 1060 Project, a $575 million renovation plan, was carried out, updating the ballpark with modern amenities and improved facilities while preserving its historical charm.
These renovations have ensured that Wrigley Field remains a beloved and vital part of Chicago's sports landscape.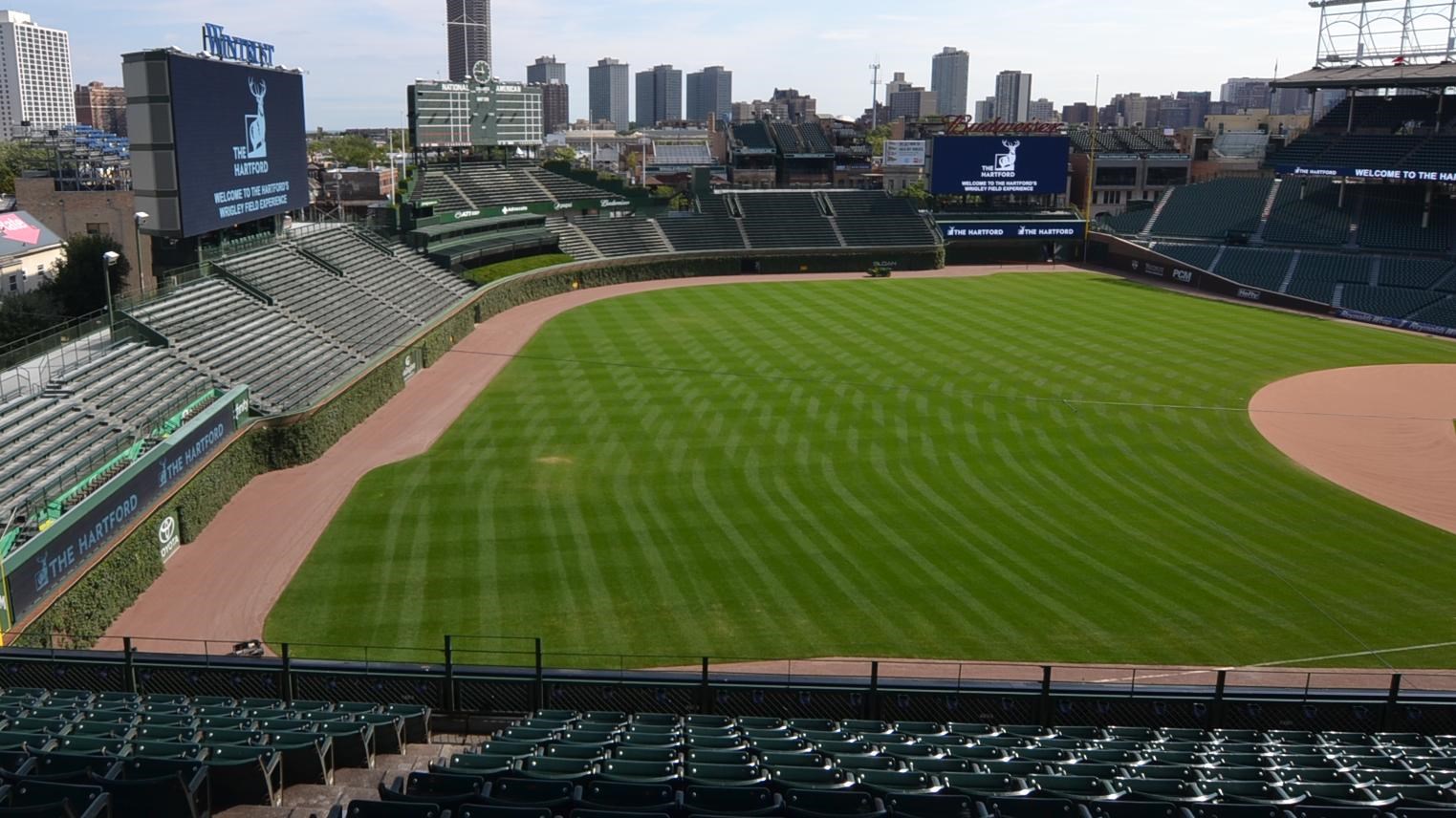 Chicago Cubs: A Legacy
The Chicago Cubs, a Major League Baseball team with a rich history, call Wrigley Field home. This iconic ballpark, built in 1914, has seen many memorable events over the years and is widely known for its unique charm and traditions.
Notable Players and Achievements
Throughout their history, the Cubs have had numerous notable players who have left a significant impact on the team. Some of these players include:
Ernie Banks: Known as "Mr. Cub," Banks spent his entire career with the Cubs and was a 14-time All-Star and two-time National League MVP.
Ryne Sandberg: Hall of Famer Sandberg played as second baseman and was known for his excellent defense, earning 9 consecutive Gold Glove awards.
Ron Santo: Another Hall of Famer, Santo spent most of his career with the Cubs as a third baseman, earning 9 All-Star appearances and 5 Gold Gloves.
In terms of achievements, the Cubs have seen their share of successes:
World Series Champions: 1907, 1908, 2016
National League Champions: 1906, 1907, 1908, 1929, 1932, 1935, 1938, 1945, 2016
Fan Culture and Traditions
Wrigley Field has a unique fan culture and memorable traditions, such as:
The Ivy: The outfield walls of Wrigley Field are covered in ivy, adding a picturesque look and atmosphere to the ballpark.
The 7th Inning Stretch: Fans join together to sing "Take Me Out to the Ball Game" during the 7th inning stretch.
The W Flag: After a home victory, a white flag with a blue "W" is hoisted above the scoreboard to signal the win.
These traditions and the passionate fan base make Wrigley Field an unforgettable experience for Cubs fans and visitors alike.
Visiting Wrigley Field
Seating and Ticket Options
Wrigley Field offers a variety of seating options for fans. There are traditional seats, bleacher seats, and even suites for a more luxurious experience. To purchase tickets, you can visit the official Chicago Cubs website or third-party ticket platforms. For group visits, private tours can be arranged for up to 50 people, priced at $1,500 (plus tax).
Food and Beverage Choices
The ballpark provides a range of food and beverage options for fans to enjoy during their visit. Some of the traditional favorites include:
Chicago-style hot dogs: Classic ballpark fare, served with a variety of toppings.
Italian beef sandwiches: A Chicago staple, featuring thinly sliced beef and seasoned gravy on Italian bread.
Nachos: A popular choice, served with cheese and optional jalapeños.
Soft pretzels: A salty snack to keep you satisfied throughout the game.
Additionally, there are many vendors offering alcoholic and non-alcoholic beverages to keep you refreshed while you cheer on the Cubs.
Nearby Attractions and Accommodations
While in the area, consider exploring some nearby attractions to complement your visit to Wrigley Field:
Gallagher Way: A public park with various dining, shopping, and entertainment options located just outside the ballpark.
The Friendly Confines: A historic tour that provides an in-depth look at the history and unique features of Wrigley Field.
For accommodations, there are several hotels close to the ballpark, including:
Hotel Zachary: A boutique hotel directly across from Wrigley Field, offering a mix of modern amenities and historic charm.
The Wheelhouse Hotel: A stylish option located just a few blocks from the ballpark, providing easy access to nearby attractions and dining options.
James is a big time NBA Golden State follower, who makes sure to catch games when he's in the area. He likes to follow International Soccer, with an interest in small town soccer club, Blackburn Rovers located in the North on the UK.