As the saying goes, "all roads lead to Rome," but for basketball fanatics, all roads lead to Gainbridge Fieldhouse. This legendary arena is home to the Indiana Pacers and is a beloved part of the Indianapolis community.
Going through many renovations and ups and downs, this arena had a tough life. That's why it deserves a special place in our hearts.
In this overview, we'll look closer at Gainbridge Fieldhouse and highlight its features, events, and contributions to the local community. Plus, we'll hint at some of the best hotels, restaurants, and parking spots near the arena.
Let's go!
Gainbridge Fieldhouse Key Facts
Gainbridge Fieldhouse, formerly known as Bankers Life Fieldhouse, is a multi-purpose arena in downtown Indianapolis, Indiana. It is the home arena of the Indiana Pacers of the National Basketball Association (NBA) and the Indiana Fever of the Women's National Basketball Association (WNBA). The arena was opened in 1999 and underwent a name change in 2020 after Gainbridge, a digital financial services company, purchased its naming rights.
Seating capacity
The arena has a seating capacity of 18,345, including 69 luxury suites and 2,400 clubs. Its state-of-the-art facility has hosted various events, including basketball games, concerts, wrestling matches, and hockey games.
Here you can find many seating options suitable for every taste and budget. Guests can choose between standard seating and premium seating options, such as suites, club seats, and VIP boxes. The suites and VIP boxes are equipped with additional amenities, including private restrooms, catering services, and access to exclusive lounges.
For people's entertainment, Gainbridge Fieldhouse hosts a variety of concerts and family shows too. It has welcomed some of the biggest names in music, including Taylor Swift, Elton John, and Paul McCartney.
Fun fact: The venue hosts more than 2 million guests attending 550 live performances, concerts, conventions, and games every year.
Architecture & design
Gainbridge Fieldhouse is an arena with a unique architectural design. It features a brick exterior and a glass atrium, providing a stunning city view. The arena's interior is designed to give fans a unique experience, with a seating bowl that creates a "wall of sound" effect. The arena also has several large video boards and LED displays for a clear view of the action regardless of the seating position.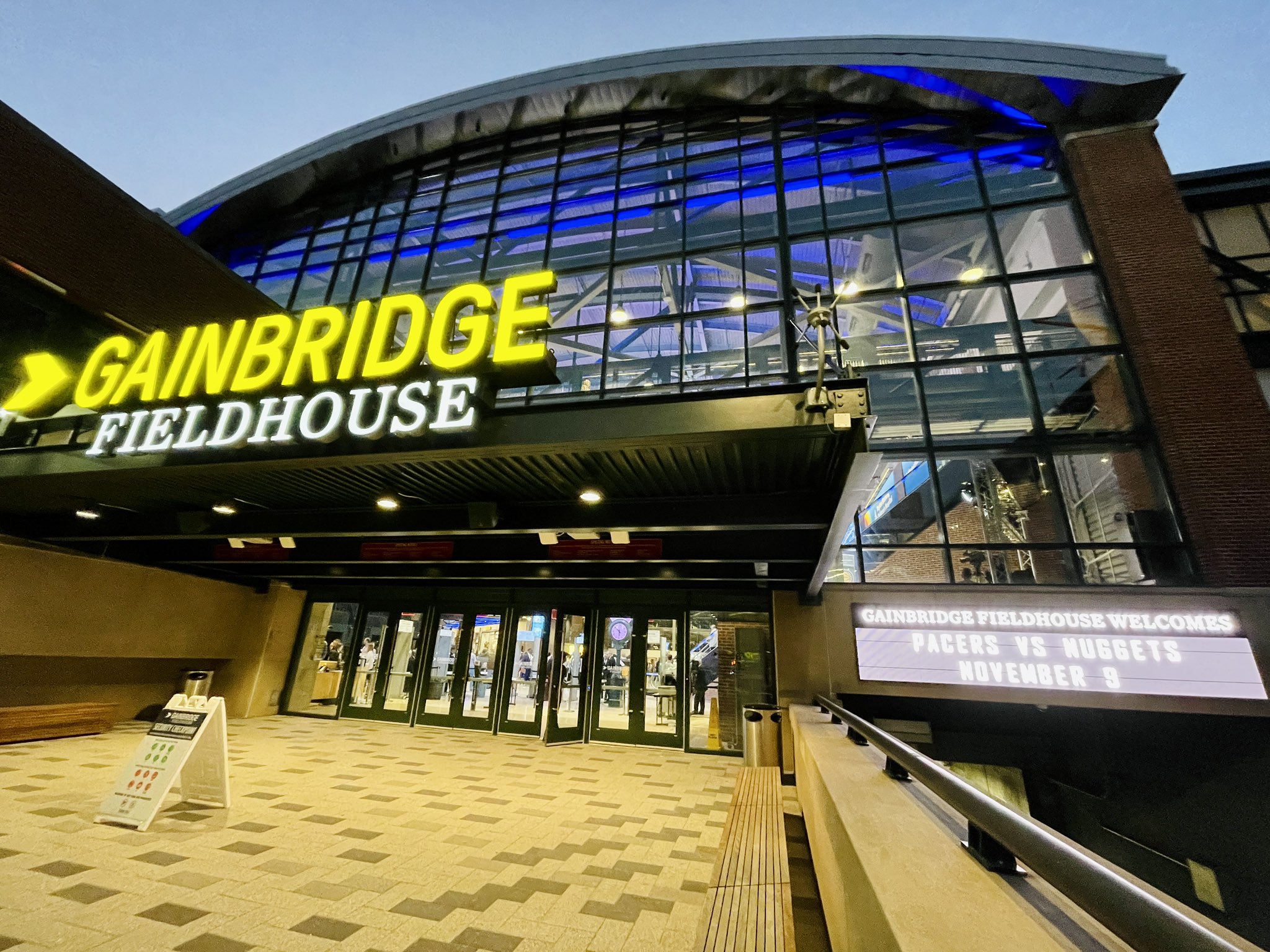 Amenities
In case you get hungry from all the cheerleading, the arena has a variety of food and beverage options to satisfy fans' cravings. Several concession stands throughout the arena offer various options, including hot dogs, burgers, pizza, and other classic game-day fares.
Another key fact about the Gainbridge Fieldhouse is that it is designed to be accessible for fans with disabilities. The arena has several wheelchair-accessible seating options and elevators and ramps throughout the facility. Plus, there are assistive listening devices and sign language interpretation services for fans who are deaf or hard of hearing.
Lastly, Gainbridge Fieldhouse has state-of-the-art technology to enhance the fan experience. The arena features free Wi-Fi available throughout the facility, allowing fans to stay connected during events.
On the other hand, the arena was built with sustainability in mind and has a range of green initiatives, such as energy-efficient lighting, water conservation measures, and recycling programs.
Where Is Gainbridge Fieldhouse Located?
The arena is at 125 South Pennsylvania Street, in the heart of downtown Indianapolis. It is near several other popular attractions, such as Monument Circle, the Indiana State Capitol, and the Indiana Convention Center.
It is easily accessible by car, with several nearby parking garages and public transportation, with several bus and train routes passing nearby.
Additional information
The Best Way to Get to Gainbridge Fieldhouse
The best way to get to Gainbridge Fieldhouse depends on your starting location and your personal preferences. However, here are some common transportation options:
Car – If you have a car, you can drive to the venue and park in one of the many parking lots or garages located nearby.
Public transport – If you prefer not to drive, you can take a bus or train to downtown Indianapolis, where Gainbridge Fieldhouse is located. The city's public transportation system, IndiGO Bus, offers several bus routes that serve the downtown area.
Ride-sharing services – You can also use ride-sharing services like Uber or Lyft to get to the venue. These services are widely available in Indianapolis and can drop you off right at the entrance to the Fieldhouse.
Walking or biking – If you are staying in a hotel or apartment in downtown Indianapolis, you can walk or bike to the Fieldhouse in the heart of the city.
There are many options for getting to the arena, and deciding the most convenient way is up to you.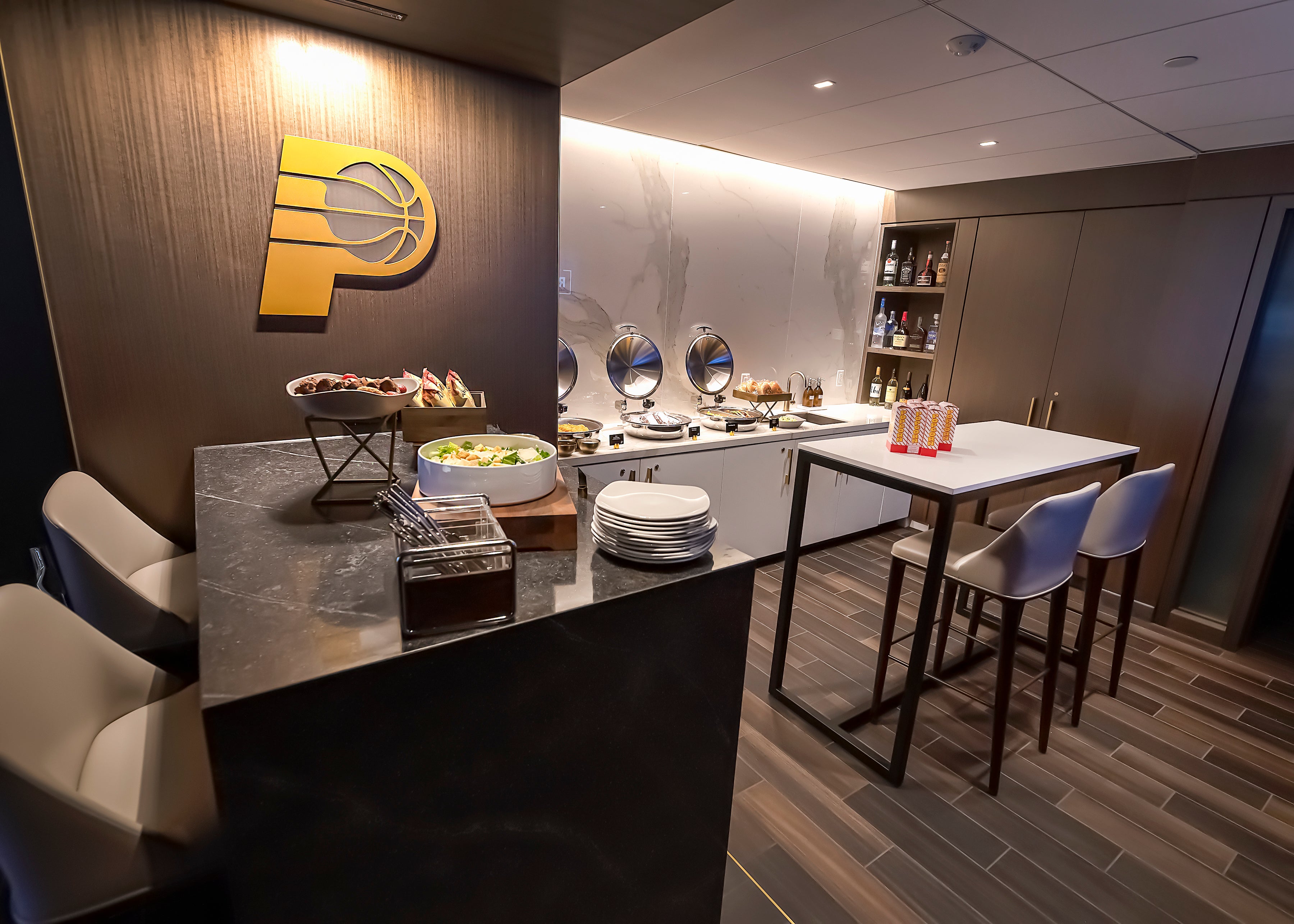 Parking Near Gainbridge Fieldhouse
During the event season, finding a good parking spot near the arena can be frustrating. Here are some close parking lots where you can leave your car:
The Virginia Avenue Garage is on the northeast corner of the building, and it's the closest parking option. The garage is connected to the arena through a covered sky bridge on the third floor of the building. The entrance to the garage is located off Maryland Street.
This garage is another convenient parking spot near the Gainbridge Fieldhouse. It offers 24-hour parking under paved and covered multi-level parking structures. The Claypool Garage is secured and close to other nearby attractions like the Indiana Convention Center and Lucas Oil Stadium.
Here are some other honorable mentions:
Overall, these parking lots are excellent options for anyone looking for parking near the Gainbridge Fieldhouse or other downtown Indianapolis attractions. Their convenient location, affordable pricing, and additional amenities make it a great choice for visitors and locals alike.
The Best Restaurants Near Gainbridge Fieldhouse
Plenty of restaurants near Gainbridge Fieldhouse are sure to satisfy your hunger. Here are some of the best restaurants to check out:
If you're in the mood for a classic steakhouse experience, St. Elmo is the place to go. This iconic restaurant has been around since 1902 and is known for its famous shrimp cocktail and delicious steaks. It's located just a few blocks from the Fieldhouse, making it a convenient option for pre or post-event dining.
Additional information
If you're looking for something with a little more spice, head over to Nada for some tasty Mexican cuisine. From tacos to guacamole, Nada offers a variety of dishes that are sure to please your taste buds. They also have a great selection of margaritas to enjoy with your meal.
Additional information
For some southern comfort food, check out The Eagle. Their fried chicken is a must-try, and they also offer a variety of sides and appetizers to complement your meal. The casual atmosphere is inviting, making it a great spot for a laid-back meal after a good game or concert in the Gainbridge Fieldhouse.
Additional information
Another great steakhouse option is Harry & Izzy's. It's just a short walk away from Gainbridge Fieldhouse. Harry & Izzy's is an upscale restaurant famous for its prime rib and seafood dishes and extensive wine list. Overall, it's a great spot for a special occasion or a fancy night out. Plus, the staff is really friendly.
Additional information
Kilroy's Bar & Grill is the place to be if you're looking for a fun and lively atmosphere. With multiple locations throughout Indiana, this sports bar offers a great selection of food and drinks. They have a diverse menu, and we're sure you'll find something to satisfy your hunger. We heard that their burgers and chicken wings are to die for. Also, they have plenty of TVs to catch the game if you're not headed to the Fieldhouse yet.
Additional information
These are just a few of the top options to check out before or after your event. Make sure to arrive early or make a reservation if you're dining on a busy event night, as these spots can fill up quickly.
The Best Bars Near Gainbridge Fieldhouse
If you plan a night out in the area, you'll want to check out some of the best bars near Gainbridge Fieldhouse. Here are some of our top picks:
Located just a few blocks from Gainbridge Fieldhouse, The Tap is a popular spot for pre-game drinks and food. With over 50 craft beers on tap and a delicious pub fare menu, this bar will surely please everyone in your group. They also have plenty of TVs, making it a great spot to catch the game if you don't have tickets.
Additional information
Tavern on South is a popular spot for both locals and visitors. They have a wide selection of beers on tap and a menu of classic pub fare with a twist. Their outdoor patio is perfect for a light drink and snack after exploring the city.
Additional information
This historic bar has been a staple of Indianapolis since 1850, making it one of the oldest bars in the city. With live blues music, every night and a menu of classic American fare, Slippery Noodle Inn is the perfect spot to unwind after the game.
Additional information
For a truly unforgettable experience, head up to The Eagle's Nest, a rooftop bar on the 23rd floor of the Hyatt Regency hotel. From here, you'll have a 360° view of the downtown skyline while sipping craft cocktails and enjoying some upscale bar bites.
Additional information
Pivot Bar & Balcony is the closest to Gainbridge Fieldhouse on our list of the best bars. This bar has drinks to match your post-game vibe and a selection of small bites that will satisfy your hunger. The outdoor patio has a lovely atmosphere with comfortable chairs, sofas, and a fireplace that feels like home.
Additional information
Whether you're in the mood for craft beer, snacks, or live music, these bars will make your night out in Indianapolis memorable.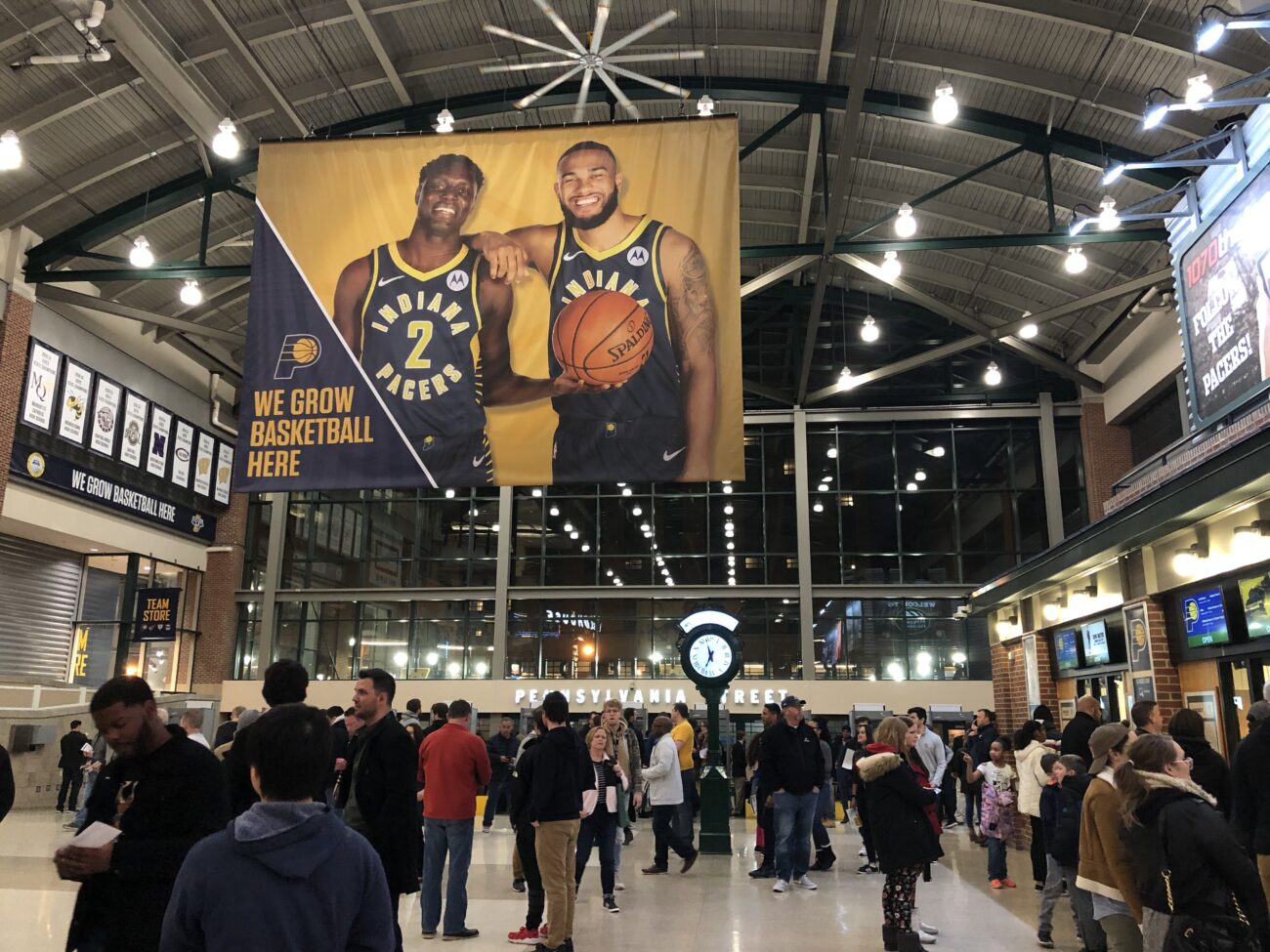 The Best Hotels Near Gainbridge Fieldhouse
If you're planning to visit Gainbridge Fieldhouse, one of the top event venues in Indianapolis, you might be wondering where to stay. Luckily, there are plenty of great hotels in the area. Our suggestions are
This hotel is just a few blocks away from the Fieldhouse, making it an ideal choice for those who want to be close to the action. It features 499 rooms and suites and amenities like a fitness center, indoor pool, and on-site restaurant. The rooms are modern and spacious, with plenty of natural light and great city views.
Additional information
Another great choice for those who want to be close to the Fieldhouse, The Westin Indianapolis is just a five-minute walk away. The rooms are comfortable and well-appointed, with plush beds and high-end amenities. Also, there are many bars and restaurants near the hotel. This hotel has bicycle rental, fast Wi-Fi, and pet-friendly rooms.
Additional information
If you're looking for a more affordable option, the Courtyard by Marriott Indianapolis Downtown is great. This hotel is just a few blocks away from the Fieldhouse and features a fitness center, indoor pool, and on-site restaurant. The rooms are comfortable and modern, with all the essentials you need for a great stay.
Additional information
This luxury hotel is one of the largest JW Mariotts' in the world and is close to many popular attractions like White River State Park and, of course, Gainbridge Fieldhouse. The modern guest rooms are filled with goodies, and the floor-to-ceiling windows will provide you with the city's best views. You can indulge in a meal in their famous restaurant, High Velocity, or have a workout session in the fully-equipped gym. All in all, boredom is not an option in this hotel.
Additional information
Located just a few blocks from the Fieldhouse, the Hampton Inn Indianapolis Hotel Downtown Near Circle Centre is another great budget-friendly option. This hotel features 180 rooms and suites, as well as a fitness center and free breakfast. The rooms are comfortable and clean, with all the basics you need for a comfortable stay, such as free Wi-Fi, a refrigerator, a microwave, a safe, and room service.
Additional information
No matter which hotel you choose near Gainbridge Fieldhouse, we're sure you'll have a great stay in Indianapolis. These hotels offer a range of amenities and price points so that you can find the perfect option for your budget and needs.
Just be sure to book early, as rooms near the Fieldhouse can fill up quickly during big events!
The History of Gainbridge Fieldhouse
There's an interesting history behind the Gainbridge Fieldhouse arena. The arena was quite different back then – nothing as you know it today.
The idea for the arena's construction was first proposed in the early 1990s, when the Pacers' previous home, Market Square Arena, began showing its age. The Pacers sought a new, state-of-the-art facility to accommodate their growing fan base.
In 1996, the Indiana state legislature approved the construction of the new arena. The project was funded through public and private financing, with the Pacers contributing $60 million towards the construction costs.
The arena's construction began in 1997 and took two years to complete. The architectural firm HOK Sport designed the arena, which has designed numerous other sports venues worldwide, including the Emirates Stadium in London and the Mercedes-Benz Stadium in Atlanta.
At first, the arena was named Conseco Fieldhouse after the insurance company Conseco, which had purchased the naming rights. A couple of years later, in 2020, the arena was renamed Gainbridge Fieldhouse, as we know it today.
After all these years, the arena has undergone several renovations and upgrades, and today is one of the premier sports and entertainment venues in the United States.
Where to Get Tickets for Gainbridge Fieldhouse
You can purchase tickets for Gainbridge Fieldhouse events from several sources:
The official website of Gainbridge Fieldhouse
You can purchase tickets directly from the arena's website at www.gainbridgefieldhouse.com. From the homepage, click "Events & Tickets" to access the calendar of events and purchase tickets.
Ticketmaster
Tickets for most events at Gainbridge Fieldhouse are sold through Ticketmaster. You can visit their website or use the Ticketmaster mobile app to search for events and purchase tickets.
Third-party ticketing websites
Several websites specialize in reselling event tickets, including those at Gainbridge Fieldhouse. Examples include StubHub, Vivid Seats, and SeatGeek.
Box office
You can also purchase tickets in person at the Gainbridge Fieldhouse box office. The working hours may vary depending on events, so it's a good idea to check the website or call ahead before visiting.
Ticket prices may vary depending on the event and where you purchase them. It's always a good idea to compare prices from multiple sources to ensure you get the best deal.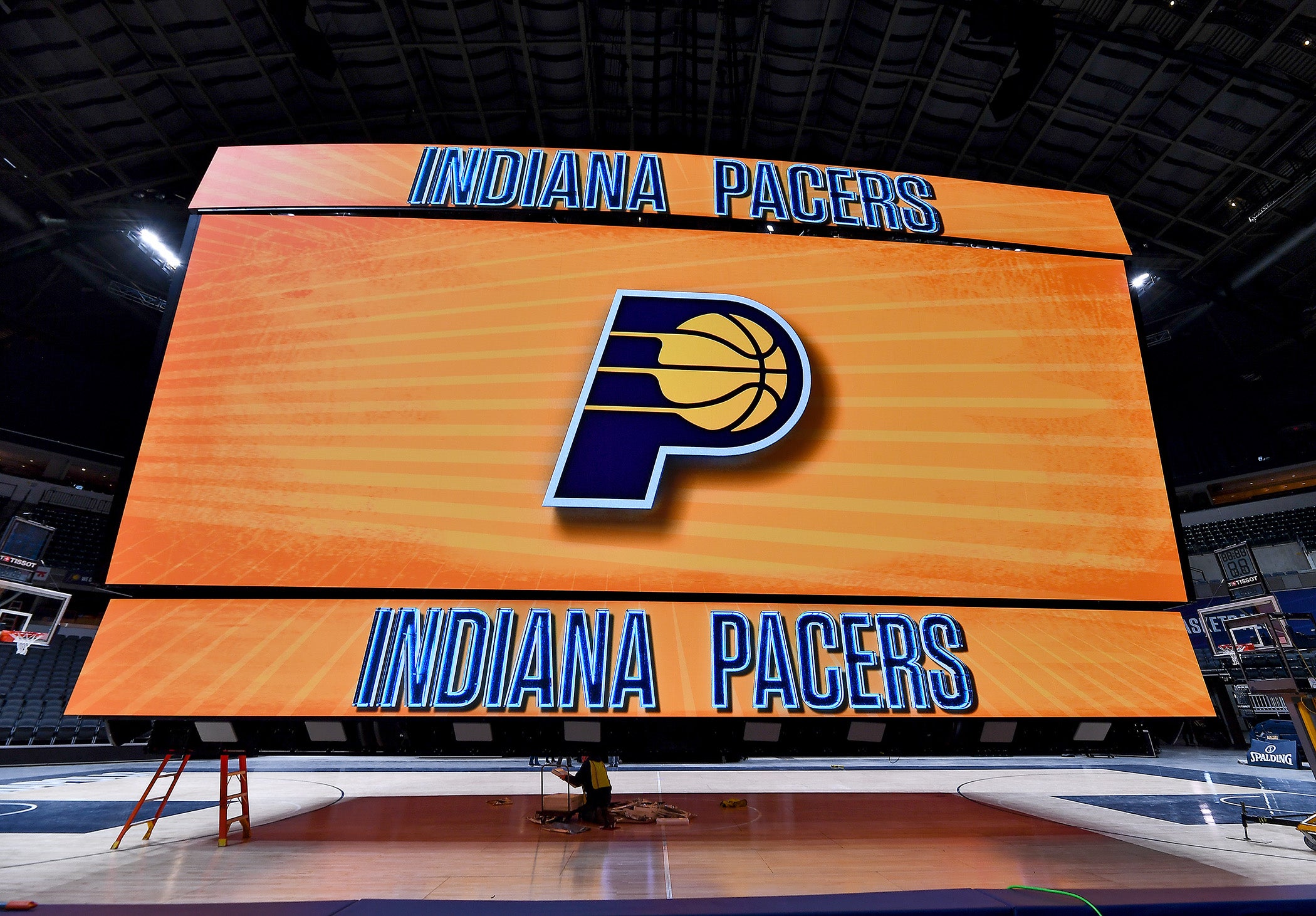 Does Gainbridge Fieldhouse Offer Tours?
At this moment, there is no information available about Gainbridge Fieldhouse tours.
Conclusion
Gainbridge Fieldhouse is a historical venue that has been an important part of Indianapolis for over 80 years. Originally built as a basketball arena, it has since been transformed into a multi-purpose facility that hosts various events, from concerts and trade shows to basketball games and graduation ceremonies.
The hotels near the venue offer guests a unique and convenient stay, while the restaurants have some of the best menus in town.
Overall, Gainbridge Fieldhouse is a must-visit destination for anyone who wants to experience what Indianapolis offers.