Are you planning to visit Lucas Oil Stadium?
If you do, keep reading. This article holds all the tips about the stadium and its surrounding area.
If you want to know where to stay, eat, and where the party is, you are at the right place. This article aims to inform you about all necessities. So, don't move, relax and be prepared to buy your tickets for the upcoming football season. Because, after reading this article, all you'll worry about is where to sit at the game!
And what do we say in Indianapolis? Go Colts!
Lucas Oil Stadium: Key Facts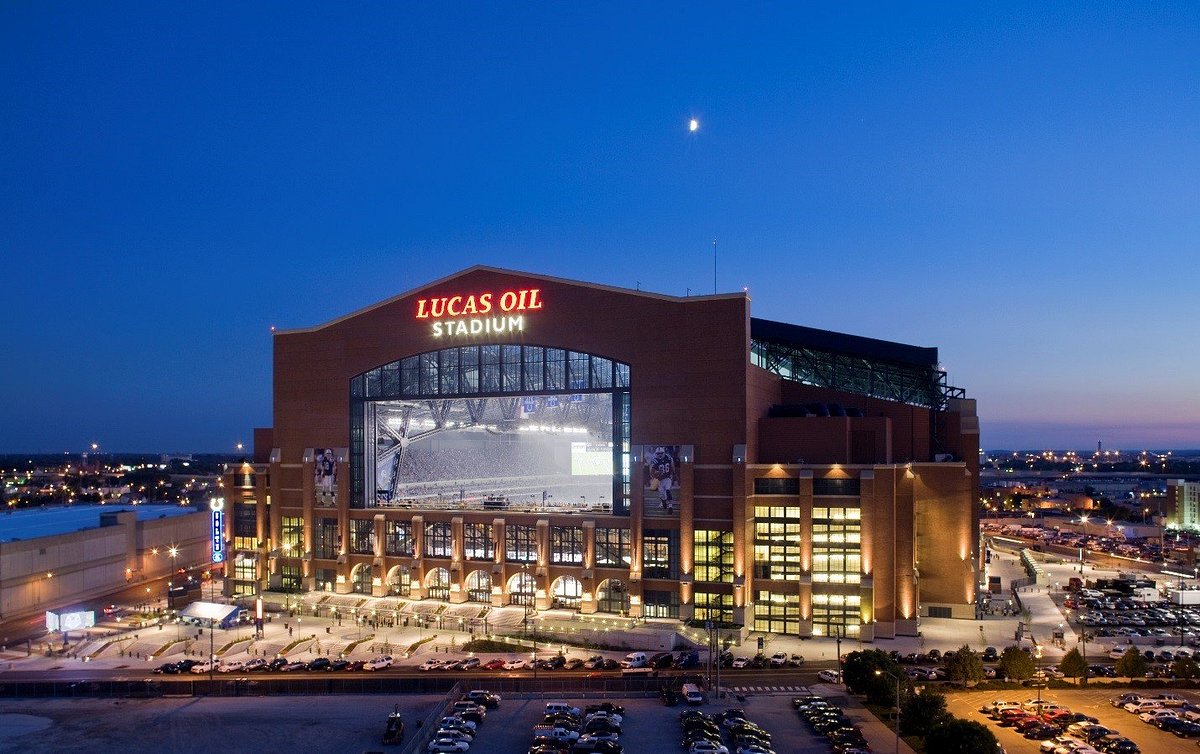 In order to better understand everything about this stadium, let's start with how big it is. Lucas Oil Stadium holds a territory of 1.8 million square feet. Can you believe it?
This stadium has the seating capacity to welcome 67,000 people. However, this number can be increased up to 70,000 for special events or high-demand spectacles.
Additionally, it also offers 139 suites, two club lounges, two exhibit halls, and 12 meeting rooms. It also has seven locker rooms and 11 passenger elevators.
Most commonly, people recognize this place as the home of the Indianapolis Colts. If this is the first time you have heard about the Indianapolis Colts, they are a famous National Football League team.
When it comes to the equipment, Lucas Oil Stadium has 360-degree ribbon boards and two 53-foot HD video boards. The stadium's roof can be closed and opened, depending on the weather and the event type.
Where Is Lucas Oil Stadium Located?
Lucas Oil Stadium is located in Indianapolis, Indiana, on 500 South Capitol Avenue.
Close by is the Indianapolis Union Station, the Indiana Convention Center, and the Victory Field.
The Best Way to Get to Lucas Oil Stadium
If you are attending a game at the Lucas Oil Stadium, then you should be prepared for lots of traffic and thousands of drunk football fans. Considering the fact that this stadium is widely known and is the home of a National Football League team, this shouldn't surprise you.
With all this said, our advice would be for you to avoid coming to the stadium by car. According to the standard protocols of the city, many streets might be closed. Additionally, there will be a long wait on the streets.
Based on our research, the best way to reach the stadium is if you use public transport. You can use the bus to access nearly any area of Indianapolis. There are 31 bus routes available. Bus lines 10, 14, 18, 25, 3, and 90 have routes that pass near Lucas Oil Stadium.
Another good way of getting to the stadium and avoiding additional costs for parking and gas is by taking a cab. Considering the availability in this city, you can call an Uber or a regular taxi.
Parking Near Lucas Oil Stadium
If you decide to come by car to your game or concert, we recommend parking at a safe location.
During crowded events such as concerts and games, people are excited, and many drink beer or other types of alcohol. More importantly, such public gatherings present a clear opportunity for someone to steal from you.
So, to avoid unpleasant events, we recommend you carefully choose where you park. It's not just important to be cheap and close. We advise you to look for a parking lot that is secure and under constant protection.
Therefore, we researched using location, safety, and price as the main standards. Based on our results, we prepared a short list of safe places to park.
The Best Restaurants Near Lucas Oil Stadium
For anyone that likes to have a nice dinner after a great concert or a game, we got your back.
We found the best three restaurants that are located within a maximum ten-minute drive from the stadium. They all serve freshly prepared food using natural ingredients.
All of these restaurants are accessible to people with disabilities.
Additionally, each restaurant has a variety of choices and a great chef in the kitchen, which means the taste is guaranteed. The average price to dine in any of these restaurants is $20, and this includes a main dish and a drink for one person.
Tavern On South
Spoke & Steele
1913 Restaurant
Tavern On South
If you decide to pay Tavern On South a visit, we recommend trying Tavern IPA Chili.
Aside from the tasty food, this place also has a relaxing atmosphere where you can work or study.
Lastly, the prices are very affordable, and you will pay only $13 per dish on average.
Additional information
Spoke & Steele
Spoke & Steele is only nine minutes away from Lucas Oil Stadium.
We are in love with the interior of this place, but also with the food. Our favorite specialty is the charcuterie board.
The average price is $30 for one person's dinner.
Additional information
1913 Restaurant
If you are looking for a great restaurant in Indianapolis, then 1913 Restaurant should be your top choice.
They have very delicious food and a special collection of wines. We recommend asking the waiter for the chef specials or chef recommendations regarding the food.
However, don't leave this restaurant without trying one of their white wines!
Additional information
The Best Bars Near Lucas Oil Stadium
There is no better way to celebrate your favorite team's win than going to a nice bar for a drink.
Lucas Oil Stadium is widely known and has regular yearly events. For that reason, many bars are located within a short distance from the stadium. The following list has all the bars that are located within a three-minute drive.
We are also happy to inform you that each bar is accessible to disabled guests. They have accessible entrances and seating, and some have suitable parking and toilets.
If you like having fun and attending awesome parties, visit one of the following bars!
1933 Lounge
The District Tap
Howl at the Moon Indianapolis
1933 Lounge
Only a two-minute drive from the stadium separates you from the 1933 Lounge.
Having a modern and aesthetically pleasing interior design, this is a great place to grab a drink with your friends. It has an open bar with various drink options, both alcoholic and non-alcoholic.
We recommend you try their cocktails, as they are their specialty.
The staff is polite and well-trained, which means that you will receive fast service at all times.
Additional information
The District Tap
The District Tap is for anyone that looks for a calm yet exciting place to spend their time.
It has numerous positive reviews from past customers and is located a three-minute drive from the stadium.
This bar is the perfect place to hang out with your friends after a game!
Additional information
Howl at the Moon Indianapolis
Going to the Howl at the Moon Indianapolis right after an event at Lucas Oil Stadium is a four-minute drive.
The bar often has live music and karaoke nights. Additionally, they have fast service and outdoor seating.
If you decide to go here, we recommend trying their cocktails. The bartender is polite and experienced and can make you anything you want.
Additional information
The Best Hotels Near Lucas Oil Stadium
Finding a hotel can be a nightmare for anyone outside of Indianapolis because there are so many overpriced options that cost thousands of dollars only for a weekend away.
Because we understand the struggle of finding a hotel near the Lucas Oil Stadium, we tried to make it easier for you.
We conducted research with the purpose of finding the best, most affordable, and most comfortable hotels accessible to everyone. From the gathered results, we made a list of the three best hotels to stay at!
Holiday Inn Express & Suites Indianapolis Dtn-Conv Ctr Area, an IHG Hotel
Staybridge Suites Indianapolis Downtown-Conv Ctr, an IHG Hotel
Crowne Plaza Indianapolis-Dwtn-Union Stn, an IHG Hotel
Holiday Inn Express & Suites Indianapolis Dtn-Conv Ctr Area, an IHG Hotel
Holiday Inn Express & Suites is for everyone who likes certainty and comfort.
This hotel is clean, bright, secure, and homey. It has spacious rooms that are well-organized and ideally wide for the guests to function normally. Each room is fully equipped and fully functional with a smart flat-screen TV, a private bathroom, and air conditioning.
In addition to this, the suites have a seating area, bigger space, and a private kitchen.
The beds in both the regular rooms and the suites are a king or queen-sized. This mainly depends on the type of room you chose. All rooms that come with one bed have king-sized mattresses. All of the rooms with two beds have a queen-sized mattress.
On average, staying here costs $165 for one night. The cheapest prices can be secured during the spring or autumn season. However, note that the demand is high in the summer, and the prices go higher as well.
Finally, you can enjoy an indoor pool and a hot tub at this hotel. There is also daily housekeeping and free Wi-Fi.
Additional information
Staybridge Suites Indianapolis Downtown-Conv Ctr, an IHG Hotel
Staybridge Suites is the hotel for you if you enjoy the comfort of a larger space that feels like home.
Staybridge Suites is a bright, well-organized, and comfortable place to spend your holiday. When it comes to the rooms, they all are clean, wide, and suitable for any guest type. Each room has a flat-screen TV, a dresser, a private toilet, and air conditioning. The beds are queen or king-sized, depending on the room type.
The average price per night is $190 for one room only. However, if you are staying here in the summer, the prices charged per night are higher.
People with disabilities can also enjoy the luxury of this hotel as it has a suitable entrance, seating, parking, and a lift.
Staybridge Suites doesn't have a pool. However, it has a hot tub where you can enjoy a relaxing time.
Lastly, this hotel is pet-friendly. This means you can bring your dog here!
Additional information
Crowne Plaza Indianapolis-Dwtn-Union Stn, an IHG Hotel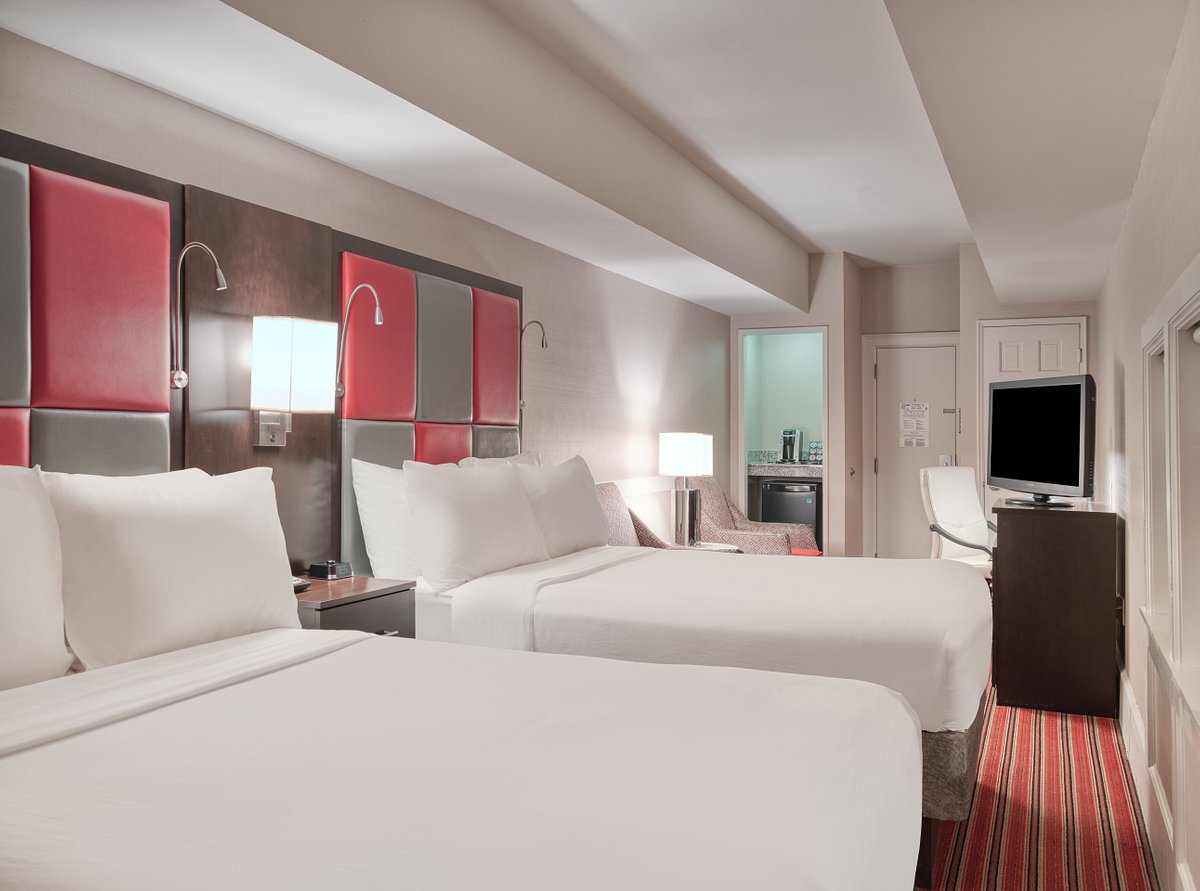 This is the perfect hotel for anyone searching for luxury but at a normal and affordable price!
It has a modern design and warm tones. The rooms are wide and bright. Each room has a king or queen-sized bed, a flat-screen TV, and a private toilet. Additionally, there is daily housekeeping. The hotel is clean, and the beds are comfortable.
On a more important note, this hotel is made accessible to disabled guests.
The prices, on the other hand, are affordable. If you stay here, the average price per night is $185 for one room. Considering what you get with this money, this is not the most expensive fee to stay at a hotel.
The hotel has a pool, a fitness center, and room service. Lastly, the parking at this hotel is private and is charged on a daily basis.
Additional information
The History of Lucas Oil Stadium
Lucas Oil Stadium was first opened in August 2008. According to the publicly available information, the building costs of the stadium were $720 million.
The Lucas Oil Corporation owns it, and the Capital Improvement Board operates it.
Since the opening of the stadium, it has received several recognitions and awards, such as the "Sports Facility of the Year" award in 2009.
Where to Get Tickets for Lucas Oil Stadium
Getting a ticket for a popular event can be hard and sometimes impossible. In order to avoid a scenario where you are left with no tickets, you must know the secret. So, listen closely!
Each stadium has its own platform or website where you can buy tickets for an upcoming event. This means that Lucas Oil Stadium has a special website where you can find your tickets. All you have to do is go on this website and choose the event you want to attend.
Buying tickets this way will cut the waiting time. Additionally, it is not commonly known that tickets can be bought like this, so you will have a higher chance of securing your seat.
So, if you still don't know what shows to attend, you can find the list of all upcoming events at the stadium at this link.
Does Lucas Oil Stadium Offer Tours?
Yes, yes, and yes!
Lucas Oil Stadium offers tours for anyone and everyone. This means that you can visit the stadium if you are a huge fan of the Indianapolis Colts or if you are just looking for fun.
The tours usually last for 75 minutes. This visit includes a walk around the field, an NFL locker room tour, the press box, and numerous other unique areas that are typically inaccessible to the public.
You can have a public or private tour. The public tours are usually held on Fridays at 11 am, 1 pm, and 3 pm.
The private tour is for small and private groups that want intimate and fun activities. The main difference between public and private tours is the group size. Additionally, the private tour has a knowledgeable tour guide. The private tours can be scheduled on weekdays and weekends if they are not overlapping with the events at the stadium.
Please note that there are no tours on event days and holidays.
Tour tickets
The tour tickets can be bought approximately two weeks before your desired date and are available until they get sold out.
The prices for a public group tour are always lower than the ones for a private tour. For an adult, the price per ticket is $15. There is a discount on the price if you are a senior (65+), a child (4-12), or a military member (retired or active ID). For these three groups, the price is $12 per ticket. Lastly, all kids that are three years old or younger and that are accompanied by a parent or guardian can enter free of charge.
The private tour is recommended for groups of 25 people that want a more intimate and casual time.
The prices for private tours depend on the group size. For a small group of 1-25 people, the price is $300. For groups with 26 to 50 people, the price is $600. The maximum number of people on a private tour is 125, and the price for 101 to 125 people is $1500.
All prices for the private tours include a non-refundable fee of $50.
Anyone interested in a private tour should complete the online Private Tour Request.