New Orleans, a city steeped in history and culture, is where you can experience the best of everything. Whether you're in town for a football game or to indulge in the city's world-renowned cuisine, you're in for a treat regarding accommodations.
With an array of luxurious and stylish hotels to choose from, you'll have trouble making a choice. The best part is that many of these hotels are located within walking distance of the iconic Caesars Superdome.
From the opulent Maison de la Luz to the historic NOPSI Hotel and the trendy Aloft New Orleans Downtown, you'll find everything from fitness centers to rooftop pools and on-site dining options that cater to your every need.
This means you can enjoy all the excitement and energy of the stadium while also experiencing the best New Orleans has to offer. But with so many fantastic hotel options available, how do you decide which one is right for you?
That's where our expertly curated article comes in. By reading our article, you'll discover the top hotels near Caesars Superdome, each offering a unique and unforgettable experience.
Maison de la Luz
Maison de la Luz is a lavish hotel located in the center of New Orleans, radiating luxury, style, and grace. Its distinctive architecture harmoniously combines classic charm and contemporary elements, forging an ambiance of sophistication and comfort.
The moment you step inside, you are embraced by an aura of extravagance and pampering, meticulously crafted to guarantee a truly exceptional experience.
The hotel's lobby is a breathtaking space that sets the tone for the rest of the hotel. A grand staircase adorned with a stunning chandelier leads to the reception desk, where you will be greeted by friendly and attentive staff.
The lobby is also home to the hotel's bar, a stylish and intimate space that serves up some of the city's most creative cocktails. Sink into one of the plush armchairs and sip on a signature drink while enjoying the luxurious surroundings.
Rooms
The guest rooms at Maison de la Luz are equally impressive, with each one featuring bespoke furniture, sumptuous linens, and carefully selected artwork.
The rooms are spacious and light-filled, with high ceilings and large windows that offer stunning views of the city. The bathrooms are equally luxurious, with oversized soaking tubs, rainfall showers, and amenities from luxury brands like Le Labo and Grown Alchemist.
For those seeking even more indulgence, the hotel's suites offer an even greater level of luxury. The Penthouse Suite is particularly noteworthy, with a private rooftop terrace boasting stunning city skyline views.
The suite is also home to a custom-designed pool table, a spacious living room, and a master bedroom that exudes elegance and refinement.
Amenities
Maison de la Luz also offers a range of amenities that ensure guests have everything they need to make their stay as comfortable and enjoyable as possible.
The hotel's fitness center is equipped with state-of-the-art equipment, and there is a library where guests can relax and read a book.
The hotel's concierge is also on hand to help guests plan their stay in New Orleans, from recommending the best restaurants to arranging tours of the city's historic neighborhoods.
Additional information
NOPSI Hotel – Historic New Orleans Hotel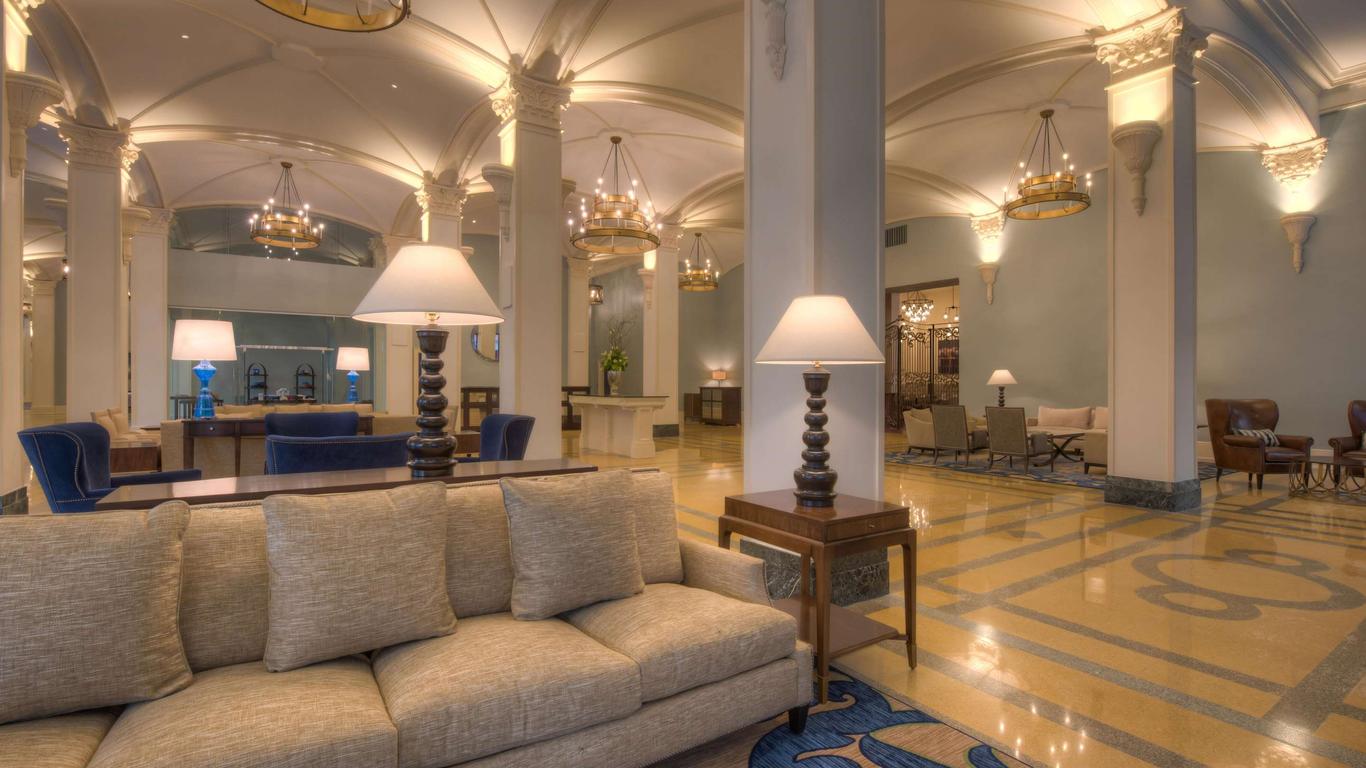 NOPSI Hotel is a one-of-a-kind hotel located in the vibrant heart of New Orleans. The hotel's name is a nod to its past as the city's former power company, with NOPSI standing for New Orleans Public Service Inc.
The hotel is housed in a stunning Beaux-Arts building that was constructed in 1927 and has been beautifully restored to its former glory.
From the moment you step inside, you are transported to a world of elegance and sophistication. Every detail has been carefully curated to ensure your stay is nothing short of extraordinary.
The lobby is a magnificent space with soaring ceilings, intricate moldings, and stunning chandeliers, which all hark back to the building's rich history. At the same time, the contemporary furnishings and artwork give the space a modern twist.
The lobby is also home to the hotel's bar, which serves a range of creative cocktails and small plates in a stylish setting.
Rooms
NOPSI Hotel's guest rooms exude luxury, with plush furnishings, premium linens, and modern amenities. The expansive, bright, and airy rooms offer panoramic city views through oversized windows.
The equally impressive bathrooms feature roomy walk-in showers, indulgent soaking tubs, and high-end toiletries from the renowned brand C.O. Bigelow.
NOPSI Hotel's suites offer a truly indulgent experience for those seeking the utmost luxury. The Grand Suite is especially noteworthy, boasting a spacious living room, an intimate dining area, and a master bedroom with a king-size bed and a generous walk-in closet.
Moreover, the suite's private balcony offers sweeping cityscape vistas, providing the perfect setting to relish the sunset over New Orleans.
Amenities
The NOPSI Hotel presents an array of conveniences to guarantee guests an exceedingly gratifying and pleasurable stay.
Their fitness center has cutting-edge equipment, while the rooftop pool and bar offer a tranquil retreat where guests can bask in the breathtaking vistas of the city.
Additionally, guests can indulge in the hotel's on-site dining options, including Public Service restaurant and Undercurrent Bar, which serve up delicious food and drink options.
The NOPSI Hotel also offers valet parking, laundry services, and a concierge to assist with any needs or inquiries, making for a truly stress-free stay.
Additional information
Aloft New Orleans Downtown
Aloft New Orleans Downtown boasts an eclectic and contemporary atmosphere. With its prime location, guests can easily access the city's most popular attractions, including Bourbon Street, the French Quarter, and the Mercedes-Benz Superdome.
The hotel's urban vibe and sleek design offer all visitors a unique and unforgettable experience.
Aloft New Orleans Downtown has a trendy and vibrant design featuring a sleek and urban aesthetic. The hotel's façade blends contemporary and traditional architecture, creating a unique and inviting atmosphere.
Upon entering the lobby, guests are greeted by a colorful and artistic setting with vibrant accents and bold furnishings.
The hotel's guest rooms are equally stylish, featuring textures and patterns that create a cohesive, eye-catching design. The use of bold colors, such as turquoise and yellow, against a neutral backdrop gives the rooms a playful and upbeat ambiance.
Overall, Aloft New Orleans Downtown provides a refreshing and modern take on traditional New Orleans hospitality.
Rooms
Aloft New Orleans Downtown features 188 guest rooms and suites, each outfitted with vibrant decor and modern amenities.
Guests can choose from various room types, including the spacious king suite, which boasts a separate living area and a private balcony with stunning city views.
The hotel's signature platform beds with plush bedding ensure a restful night's sleep, while the 55-inch LCD TVs and complimentary Wi-Fi provide endless entertainment options.
Amenities
Aloft New Orleans Downtown provides an ample selection of conveniences aimed at elevating guests' experiences.
The hotel's fitness center operates 24/7 and is fully equipped, allowing visitors to adhere to their exercise regimen while away from home.
Guests can relax and mingle with a bespoke cocktail or artisan beer at the WXYZ Bar, a convivial setting.
Business travelers can take advantage of the hotel's Tactic meeting rooms, offering versatile and adaptable spaces for various gatherings.
Besides, Aloft New Orleans Downtown offers complimentary shuttle service to popular local attractions within a 3-mile radius, rendering exploring the city effortlessly.
Additional information
Drury Plaza Hotel New Orleans
Located in the heart of downtown New Orleans, the Drury Plaza Hotel New Orleans is a luxurious hotel that offers modern amenities and comfortable accommodations for both business and leisure travelers.
With its convenient location and numerous features, this hotel is a top choice for visitors looking to experience the best of the city.
The Drury Plaza Hotel New Orleans is an elegant and sophisticated hotel that presents guests with a beautiful design and modern amenities.
The hotel offers spacious rooms and suites that are tastefully decorated and feature plush bedding, flat-screen TVs, and a variety of other amenities to ensure guests' comfort.
The hotel also features a rooftop pool and hot tub, a 24-hour fitness center, and complimentary breakfast and evening receptions, making it an ideal choice for guests looking for relaxation and convenience.
Rooms
The Drury Plaza Hotel New Orleans has a range of room types to suit every traveler's needs. Guests can choose from standard rooms, deluxe rooms, and suites, each featuring comfortable beds with plush bedding, a microwave, refrigerator, iron, ironing board, hairdryer, and a flat-screen TV with premium channels.
The suites offer additional space and luxury features, such as separate living areas and whirlpool tubs.
Amenities
The hotel has an impressive array of amenities to ensure guests have a comfortable and enjoyable stay.
These include complimentary Wi-Fi that is accessible throughout the entire property, a 24-hour fitness center for guests who want to maintain their workout routine, and a rooftop pool and hot tub that offer breathtaking views of the city skyline.
In addition, guests can savor the convenience and relaxation of complimentary hot breakfast, evening drinks, and snacks, making it an ideal way to kick start and unwind from the day's activities.
Additional information
Conclusion
After reading our article, you now know all about the top hotels near Caesars Superdome. These hotels offer more than just a place to stay; they provide an unforgettable experience that will make your trip to New Orleans truly special.
With their luxurious amenities and prime location, you'll have everything you need for a comfortable and stress-free stay. Whether you're in the mood for a rooftop pool, a fitness center, or delicious on-site dining options, you'll find it all at these hotels.
So why wait? Book your stay now and get ready to experience the best that New Orleans has to offer.