As a frequent visitor to the Caesars Superdome, I know how important it is to be aware of the gate and entrance details for a smooth and enjoyable experience. In this article, I'll be sharing everything you need to know about the gates and entrances at Caesars Superdome to make your visit as hassle-free as possible.
The Superdome is a massive venue, hosting not only New Orleans Saints games, but also concerts and other events. With such a large venue, navigating your way around can be a bit intimidating. That's why I've taken the time to research and compile all the important information about the gates and entrances at Caesars Superdome.
As you continue reading, you'll learn about the location of various gates, VIP entrances, and when these gates open for fans to enter. Armed with this knowledge, you'll be able to make the most of your visit and have a fantastic time!
History of Caesars Superdome
As a believer in providing valuable information to you, let me share a brief history of Caesars Superdome. Caesars Superdome, located in New Orleans' Central Business District, is a multi-purpose stadium that has become an essential landmark in modern American history. I remember that the idea of the Superdome was conceived by David Dixon, a local businessman who later founded the United States Football League in the 1980s.
In 1966, after legislation was passed by the largest margin in Louisiana history, the Superdome project broke ground. On August 3, 1975, the venue finally opened to the public. Since then, it has been home to the New Orleans Saints of the National Football League. One of the first NFL games played in the Superdome was a preseason match between the Houston Oilers and the New Orleans Saints on August 6, 1975, in which the Oilers emerged victorious with a 13-7 win.
Apart from being the home of the New Orleans Saints, Caesars Superdome has also become a significant attraction in the Crescent City. The 76,468-seat facility is part of a consolidated sports and entertainment complex, alongside the adjacent Smoothie King Center, home to the NBA's New Orleans Pelicans.
As you can see, Caesars Superdome has an impressive and storied history. Visiting this iconic stadium is not only an opportunity to attend a thrilling game, but also a chance to witness a piece of American history.
Understanding the Gates of Caesars Superdome
As a frequent visitor to the Caesars Superdome, I'd like to share my knowledge about the different gates and entrances in this friendly guide. Let's jump right into the information on each gate:
Gate A
Gate A is one of the eight main gates at Caesars Superdome. It's a convenient entry point for fans with tickets in the surrounding area. Make sure to check the ticket for the recommended entrance, as it makes the process smoother and quicker to reach your seat.
Gate B
Gate B is another entrance for visitors with tickets in that particular section of the stadium. This gate might be an ideal choice for someone coming to the venue for the first time, as it makes navigating through the stadium a bit easier. Remember to arrive early, as the gates can get crowded closer to game time.
Gate C
If you have tickets near Gate C, this is the entrance you should use. Similar to the other gates, arriving earlier will help you avoid long queues. In my experience, knowing the right gate to use has really helped streamline the process of getting to my seat.
Gate D
Gate D is yet another entrance for fans situated in that area of Caesars Superdome. It's important to note that the stadium is a cashless operation, so make sure to have a card for any purchases within the venue. There are also Guest Service locations where you can convert cash to a Visa Card.
Gate E
For those with tickets closer to Gate E, this is the entrance to use. As always, make sure to check the ticket details to determine the best gate and plan accordingly. Arriving early is a good idea to avoid any potential delays.
Gate G
Finally, Gate G is another option for fans with tickets in that section. Keep an eye on your ticket information to ensure you're using the correct entrance. By doing so, you'll have a smooth experience on your visit to Caesars Superdome.
I hope this friendly guide helps you navigate the gates and entrances at Caesars Superdome during your next visit!
Caesars Superdome Entrances
North Rampart Street Entrance
When I visit the Caesars Superdome, I often prefer the North Rampart Street Entrance. It's one of the main gates for fans to use and is located near the intersection of North Rampart Street and Poydras Street. The staff is always friendly, which helps create a welcoming atmosphere for all visitors. Plus, it's easy to find with clear signs directing you to the entrance.
Poydras Street Entrance
Another great way to enter Caesars Superdome is the Poydras Street Entrance. Located on Poydras Street, this entrance is typically bustling with activity and excitement on game days. I like the convenience it offers, as it's close to many parking options and public transportation options like the streetcar. Just remember to arrive early and be patient, as it might be crowded during peak times.
Sugar Bowl Drive Entrance
Lastly, the Sugar Bowl Drive Entrance is another option for fans attending events at Caesars Superdome. This entrance can be found near the corner of Sugar Bowl Drive and Dave Dixon Drive. I appreciate its proximity to the nearby parking garages, making it a convenient option for those who prefer to drive to the stadium. Additionally, the area surrounding this entrance has a festive atmosphere, which adds to the excitement of attending an event at this iconic venue.
Remember, no matter which entrance you choose, the Caesars Superdome staff is always ready to help you have the best possible experience at the stadium.
Access Regulations and Policies
Entry and Re-Entry Rules
As a visitor to the Caesars Superdome, I want to let you know that there is a no re-entry policy in place. If you need to exit and return for any reason, you should be referred to the Experience Ambassador or the Ticket Supervisor assigned to your gate. They will approve your exit and return if necessary. Gates at the Caesars Superdome open 2 hours before the kickoff, so plan to arrive early to ensure a smooth entry experience.
Prohibited Items List
While attending an event at Caesars Superdome, it's crucial that I share with you a few items that are not allowed inside the stadium. This is for the safety and security of all guests. Here's a short list of some prohibited items:
Bags, other than approved clear bags
Coolers and containers
Umbrellas
Seat cushions
Strollers
Weapons, including firearms (the State of Louisiana bans the possession of guns on the premises)
Please note that the Superdome uses walk-through metal detectors at all entry gates to enhance safety and security. Be prepared to have your approved clear bags open and ready for screening.
Accessibility Services
I would also like to inform you that service animals assisting ADA patrons are allowed in the Caesars Superdome. Other animals are strictly prohibited. If you require additional accessibility services, please reach out to the stadium staff, who will be more than happy to help and ensure you have a pleasant experience at the Superdome.
Facilities Inside Caesars Superdome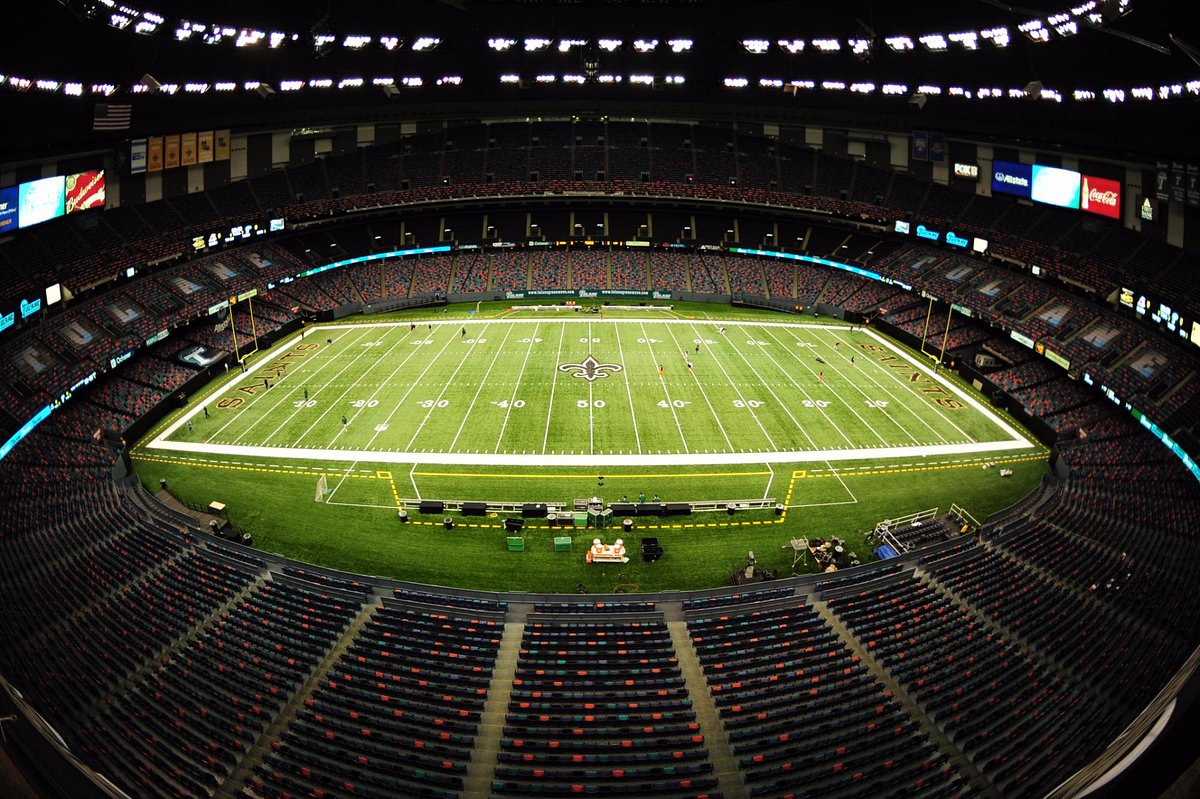 Restrooms
I found that Caesars Superdome has an ample number of restrooms for visitors, with accessible stalls available for individuals with disabilities. Both men's and women's restrooms can be found throughout the stadium on various levels, ensuring a convenient and hassle-free experience during game day or other events. To assist in locating nearby restrooms, just look for directional signs posted within the Superdome.
Food and Beverage Locations
Caesars Superdome offers a diverse range of food and beverage options for guests to enjoy. The stadium has multiple concession stands, kiosks, and portable food carts where fans can grab their favorite stadium snacks, such as hot dogs, nachos, and popcorn. Additionally, expect to find various specialty food items like po'boys, jambalaya, and Louisiana-style barbecue. As for beverages, guests can choose from a wide selection of soft drinks, bottled water, and alcoholic beverages like beer and cocktails. Please note that Caesars Superdome is a cashless operation, and only accepts credit cards or mobile payment methods.
ATM Locations
While Caesars Superdome doesn't accept cash for parking, retail, and concession services, it does provide ATM locations for guests in need of cash for other purposes. As a visitor, I spotted ATMs located at various guest service locations throughout the stadium. If you need to convert cash to a Visa Card for use at the Superdome, simply visit one of these guest service locations for assistance.
Tips for a Smooth Experience
When I visit the Caesars Superdome, I always consider a few factors to ensure I have the best experience. In this section, I'll share some tips that might help enhance your visit too.
Arrive early: With eight main gates and three VIP entrances, the Caesars Superdome offers multiple points of entry. However, to avoid congestion and long lines, I make it a point to get to the stadium at least an hour prior to the event start time. This allows me to navigate the entry process with ease, making my experience more enjoyable.
Prepare for security: Security at the Superdome is stringent, with uniformed police officers, trained hazard detection canines, and bag screenings. To minimize delays, I make sure to pack light and prepare for the screenings. This means avoiding items such as large bags, umbrellas, and glass containers. By adhering to the Superdome's policies and guidelines, you'll have a quicker and more seamless entry experience.
Research parking options in advance: Parking can be tricky on event days. I recommend researching and reserving a parking spot ahead of time to avoid any hassles. There are plenty of options online that allow you to reserve spots near the Superdome.
Plan your dining choices ahead of time: With numerous food and drink options available within the Superdome, it's worthwhile to plan your choices ahead of time. By doing so, I avoid waiting in long lines during peak hours and can make the most of my time watching the game or performance.
By considering these tips, I've been able to enjoy my time at the Caesars Superdome immensely. I hope the suggestions provided here ensure a smooth and enjoyable experience for you as well.
Conclusion
As I explored the Caesars Superdome gates and entrances, I found that there are eight main gates and three VIP entrances available for fans. This allows for easy access and a smooth entry process for everyone attending the games. Additionally, the Superdome has undergone renovations over the years, making it an even more enjoyable experience for all.
My research provided helpful insights for fans planning to attend games at the Caesars Superdome. There's a wealth of information available, so it's easy to be well-prepared for a great game day. I hope this brief overview gives you the necessary guidance for your next visit to the iconic Caesars Superdome. Enjoy the game!