As a frequent visitor to FedExField, the home of the Washington Commanders, I know that navigating the stadium can be quite an experience. With ten entrance gates, it's essential to plan ahead to make the most out of your visit. I've put together some crucial information and tips to help you find your way around this impressive venue.
In this guide, we'll talk about the location of the different entrances, gate opening times, and other valuable details to make your visit to FedExField a memorable one. From VIP access to general admission gates, we've got you covered.
By familiarizing yourself with the FedExField entrance guide, you'll be better prepared to enjoy the game and focus on cheering for your favorite team. So let's dive in and explore everything you need to know to enhance your experience at this iconic stadium!
Locating FedExField
Public Transportation Access
As a fan, I would use the Metrorail as my go-to option for reaching FedExField. It's convenient and budget-friendly. The closest station is Morgan Boulevard, located on the Blue Line. From there, it's a short 1-mile walk to the stadium, and I would just follow the signs and pedestrian traffic.
Access by Car
If I decide to drive to FedExField, I can easily find the stadium in Landover, Maryland, at 1600 FedEx Way. For precise directions, it's always a good idea to use a GPS device or a smartphone app, such as Google Maps or Waze. These applications can also provide real-time traffic updates, ensuring a smooth journey to the venue.
Parking Options
Once I arrive at FedExField, there are several official parking lots surrounding the stadium, so I won't have to look far for parking space. To make it even more convenient, I would consider purchasing a parking pass in advance, which can be found on the Washington Commanders' website or through other ticketing platforms. Keep in mind that some parking lots may require a permit, so I'll make sure to verify that before leaving.
Stadium Gates Descriptions
Gate A Entrance
When I visit FedExField, I often choose to enter through Gate A. This entrance is conveniently located and provides easy access to various sections of the stadium. Once inside, I can quickly find my seats, restrooms, and concessions nearby.
Gate B Entrance
Gate B is another entrance option at FedExField. Entering through this gate, I can easily navigate to different parts of the stadium. From Gate B, it's convenient to locate guest services and ADA seating areas, making it a preferred entrance for fans with special needs.
Gate C Entrance
If I'm looking for a central entrance point, I choose Gate C. This entrance offers access to the middle sections of the stadium and is often less crowded. Upon entering through Gate C, I can quickly reach both upper and lower level seating areas as well as the Team Store.
Gate D Entrance
Gate D provides a convenient entry point for fans in search of suite entrances. When using Gate D, I can easily reach the luxury suites and club areas, perfect for a VIP experience. This gate also features easy access to nearby parking options.
Gate E Entrance
Gate E is a great entrance option for fans looking to access the Dream Seats and other premium seating areas. Entering through Gate E, I notice that it's less congested than other gates, allowing for quicker entry into the stadium. Once inside, I immediately find myself close to premium concessions and bars.
Gate F Entrance
At FedExField, Gate F serves as another entrance option for fans. This gate provides access to a mix of stadium sections, making it an ideal choice for fans with seats in various locations. Upon entering through Gate F, I appreciate the convenience of nearby restrooms and food concession options.
Gate G Entrance
Gate G is an entrance I use when I need to access the field-level seating areas at FedExField. With easy access to these prime seating locations, this gate often has a high demand, but is worth the wait. Once inside the stadium, I am surrounded by plenty of options for food, beverages, and merchandise.
Gate H Entrance
Entering through Gate H, I find it to be a suitable option for fans with tickets in the upper sections of the stadium. With easy access to escalators and elevators, this entrance offers a seamless experience for reaching the higher levels. Additionally, nearby concessions and restrooms make it a convenient choice.
FedExField Security Measures
As a fan attending a game or event at FedExField, I found out that there are security measures in place to ensure a safe and enjoyable experience for everyone. In this section, I'll cover some of the key aspects, including prohibited and allowed items. So, let's dive into the details.
Prohibited Items
FedExField has a strict list of items that are not allowed inside the stadium. This is crucial to ensure the safety and comfort of all attendees. Some of the prohibited items include:
Bags: Only NFL-approved clear plastic bags, no larger than 12″ x 6″ x 12″, small clutch bags, and one-gallon clear plastic freezer bags are allowed. An exception is made for medically necessary items, which require inspection at a designated gate.
Outside food and drinks: Bringing your own food and drinks into the stadium is not permitted.
Weapons: Any kind of weapon, including firearms, knives, or any other item that could be used as a weapon, is strictly forbidden.
Allowed Items
On the other hand, there are items that you can bring with you to FedExField. Some of the allowed items include:
Clear bags: As mentioned previously, NFL-approved clear plastic bags are allowed, as long as they meet the size requirements.
Mobile devices: Cell phones, tablets, and other mobile devices are permitted inside the stadium, so you can stay connected.
Small cameras: Small cameras without a case are acceptable, but their use is limited to non-commercial purposes.
In conclusion, it's essential to be aware of FedExField's security measures to have a smooth and hassle-free experience. By understanding and following the guidelines for prohibited and allowed items, we can all contribute to making events safer and more enjoyable for everyone.
Accessibility Options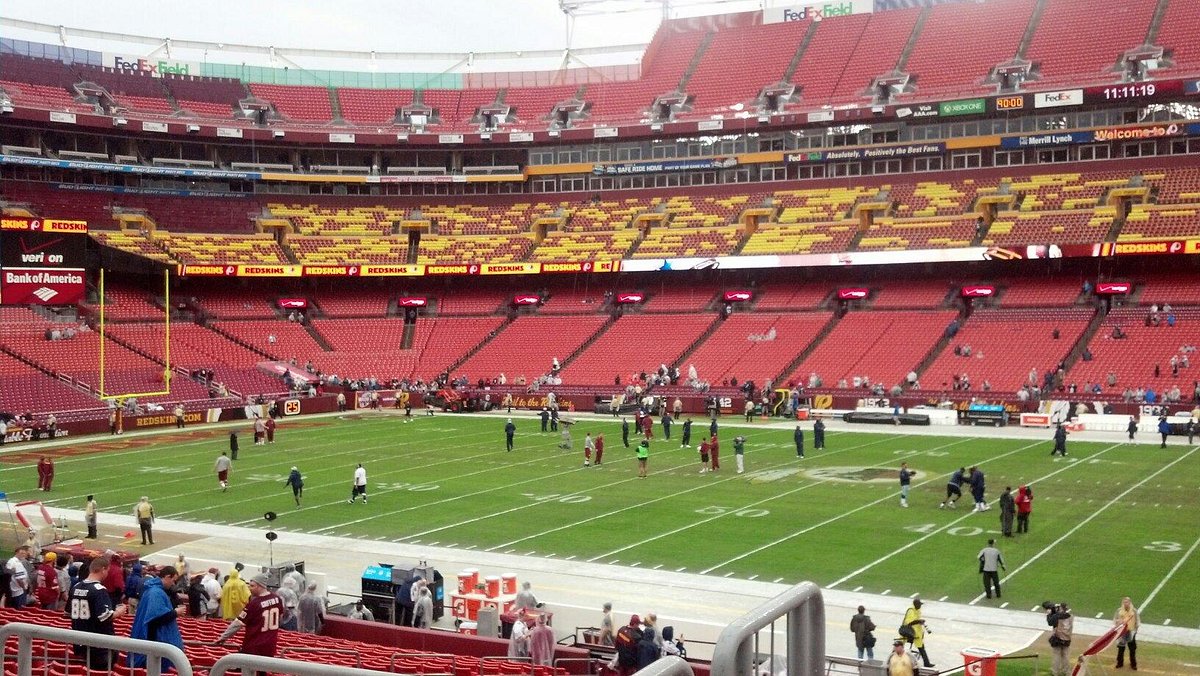 Entrances for Disabled Patrons
At FedExField, I found that they genuinely care about making every guest feel welcome. For fans with accessibility needs, there are specific entrance gates available. While I don't have the exact gate locations right now, you can easily reach their guest services for details by calling (301)-276-6050 or emailing [email protected] Also, keep an eye out for signs indicating accessible entrances when you arrive at the stadium.
Wheelchair Services
I am glad to report that FedExField provides wheelchair services for guests with limited mobility. On my visit, I noticed staff members ready to assist patrons who needed help getting to and from their seats. If you find yourself in need of a wheelchair, don't hesitate to ask one of the friendly staff members nearby or head to one of the Guest Services booths, which are conveniently located throughout the stadium. They'll do their best to accommodate your needs and make your experience at FedExField enjoyable.
Services and Amenities
Food and Beverage Locations
I've found that FedExField offers a variety of food and beverage options for visitors to enjoy. There are numerous concession stands throughout the stadium, serving a wide range of snacks, meals, and drinks. From traditional game day favorites like hot dogs and nachos to more unique options such as gourmet sandwiches and specialty tacos, there's truly something for everyone. Additionally, the stadium features various bars and beverage stations where you can grab a beer, soda, or water to stay hydrated and refreshed.
Restrooms
At FedExField, I noticed they've made plenty of restrooms available, ensuring convenience and accessibility for all fans. The restrooms are located throughout the stadium, clearly marked so they are easy to find. They also have designated restrooms for individuals with disabilities, as well as family restrooms for those attending with young children or others needing assistance. I found all the restrooms I visited to be clean and well-maintained, making for a comfortable experience during my time at the stadium.
Game Day Information
Ticket Services
At FedExField, I noticed that they no longer allow paper tickets. This means I have to use my mobile device to access and manage my tickets. I suggest using the official Washington Commanders app or the ticket provider's app for a smooth entry. When I attended a game, I also found that some entrance gates are exclusive to VIP, Club Members, and Suite Ticket Holders, so remember to check which gate is best for your type of ticket.
Lost and Found
During my visit to FedExField, I discovered that they have a Lost and Found service for misplaced items. If I were to lose something at the game, I could contact Guest Services to report it. They keep the items securely stored and will assist me in locating my belongings. To avoid any unnecessary stress, I make sure to keep track of my belongings throughout the game, but it's good to know that FedExField has a system in place for lost items.