As a baseball fan and frequent visitor to stadiums, I always appreciate a good guide to help me navigate the ins and outs of a new ballpark. Today, I want to share my knowledge about Oriole Park at Camden Yards, focusing on gate and entrance information, so you can make the most of your visit to this iconic stadium. Home to the Baltimore Orioles, Oriole Park is a beautiful and historic venue situated in the heart of downtown Baltimore, perfect for enjoying America's favorite pastime.
Before we dive into the details, it's important to note some general guidelines for attending a game or event at Camden Yards. Keep in mind that bags should be clear plastic and not larger than 12″ x 6″ x 12″. Clear plastic freezer bags can also be used. All bags are subject to search, so make sure to indicate if you're carrying medical or childcare items in non-clear bags as exceptions can be made. Safety is a priority, and following these rules helps ensure a smooth entry process for everyone.
Now that you're aware of the basic regulations, let's explore the different stadium entrance gates and parking lot locations to find the best options for your visit. Stay tuned for helpful tips and tricks to make entering and exiting Oriole Park at Camden Yards a breeze.
A Brief History of Oriole Park at Camden Yards
I'd like to take you on a brief journey through the history of Oriole Park at Camden Yards. This iconic stadium officially became the home of the Baltimore Orioles on April 6, 1992. Known for its beautiful downtown Baltimore location, Oriole Park at Camden Yards is just a 12-minute walk from the city's Inner Harbor and two blocks from the birthplace of none other than baseball legend Babe Ruth.
The construction of this charming ballpark began in 1989, and it took 33 months to complete. Before the construction, there was a debate on what to name the new park. Former Orioles owner Eli Jacobs preferred the name Oriole Park, while then-Maryland Governor William Donald Schaefer was in favor of Camden Yards. In the end, a compromise was reached, and both names were used, hence the stadium's full name: Oriole Park at Camden Yards.
Since its opening day, Oriole Park at Camden Yards has been widely praised for its design and ambience. It has inspired a new generation of baseball stadiums, marrying the old-fashioned charm of classic ballparks with modern amenities that fans expect today. As we celebrate 30 years of this beloved stadium, we can't help but feel a sense of pride and excitement about what it has brought to the city of Baltimore and the world of baseball.
In this Gate & Entrance Guide, I'll share everything you need to know about entering and navigating the iconic Oriole Park at Camden Yards. Whether you're a regular attendee or a first-time visitor, this information will ensure you have a seamless experience, allowing you to focus on the main event—the joy of cheering on your favorite team!
Accessing The Park
By Public Transport
If you're taking public transport to Oriole Park at Camden Yards, there are various options available. The Light RailLink has a stop right at the ballpark, making it convenient for you to arrive on time. Additionally, the MARC train on the Penn Line provides connections between Camden Station and Washington, D.C., or Perryville, Maryland. Don't forget to check the schedules before heading out to the game!
By Car
For those driving to the park, several parking options are nearby. There are official Camden Yards parking lots where you can reserve a spot in advance, ensuring a stress-free arrival. Alternatively, you can find a variety of off-site garages and lots within walking distance of the stadium. Just make sure to arrive early, especially on game days, as parking can fill up quickly.
By Bike
If biking is your preferred mode of transportation, you'll be happy to know that there are bike racks available near the gates of Oriole Park at Camden Yards. Taking this eco-friendly and active approach to getting to the game can help you avoid traffic and parking issues. Just remember to bring your own lock to secure your bike while you enjoy the game!
Entry Gates and Times
Gate Opening Times
I noticed that gates at Oriole Park at Camden Yards typically open 60 minutes prior to the first pitch of the game. It's good to know this when planning my arrival time to the ballpark. Additionally, parking lots usually open one hour before the gates do, allowing me plenty of time to park and head to the entrance.
Designated Entry Gates
As I explore the park, there are two main entry gates worth mentioning:
Gate A Entrance Location: This gate serves as a primary entry point for fans attending the game, and it's conveniently located near the Eutaw Street corridor, home to many popular food options and the Orioles Team Store.
Gate C Entrance Location: Another entry point for fans, Gate C is situated closer to the Babe Ruth Birthplace Museum and offers easy access to other park amenities.
Each of these gates has its own unique features and offerings, so I can choose the one that works best for my visit to the park. Keep in mind that metal detectors are used to screen all fans at the entrances for security purposes. So, be prepared for this process as you enter Oriole Park at Camden Yards.
Ticketing And Seating Guide
Ticket Purchasing Options
As someone who frequently visits Oriole Park at Camden Yards, I recommend considering the various ticket purchasing options available. You can purchase tickets through the Baltimore Orioles' official website or by calling 888-848-BIRD (2473). If you prefer visiting the park in person, you can also buy tickets at the Oriole Park at Camden Yards box office.
Another great way to get tickets and personalize your visit is by using the MLB Ballpark app. This app provides digital ticket functionality, mobile check-in, special offers, rewards, and exclusive content.
Seating Information
As for the seating information, let me break it down into different sections for you:
Lower Level: This includes the sections closest to the field and offers great views of the game. I always find the atmosphere here more intimate, making it perfect for immersing yourself in the action.
Club Level: If you're looking for a more luxurious experience, the Club Level provides enhanced amenities, such as wider seats and access to an air-conditioned concourse with featured dining options. In my experience, these seats provide a more relaxed atmosphere for enjoying the game.
Upper Level: This is a great budget-friendly option, offering a broader view of the entire ballpark. Although the seats are higher up, I still appreciate the panoramic perspective it gives me while watching the game.
For a detailed seating map, I recommend visiting the Oriole Park at Camden Yards Seating Map on the Baltimore Orioles website. This will help you visualize the different sections and choose the perfect seats for your visit to the park!
Park Facilities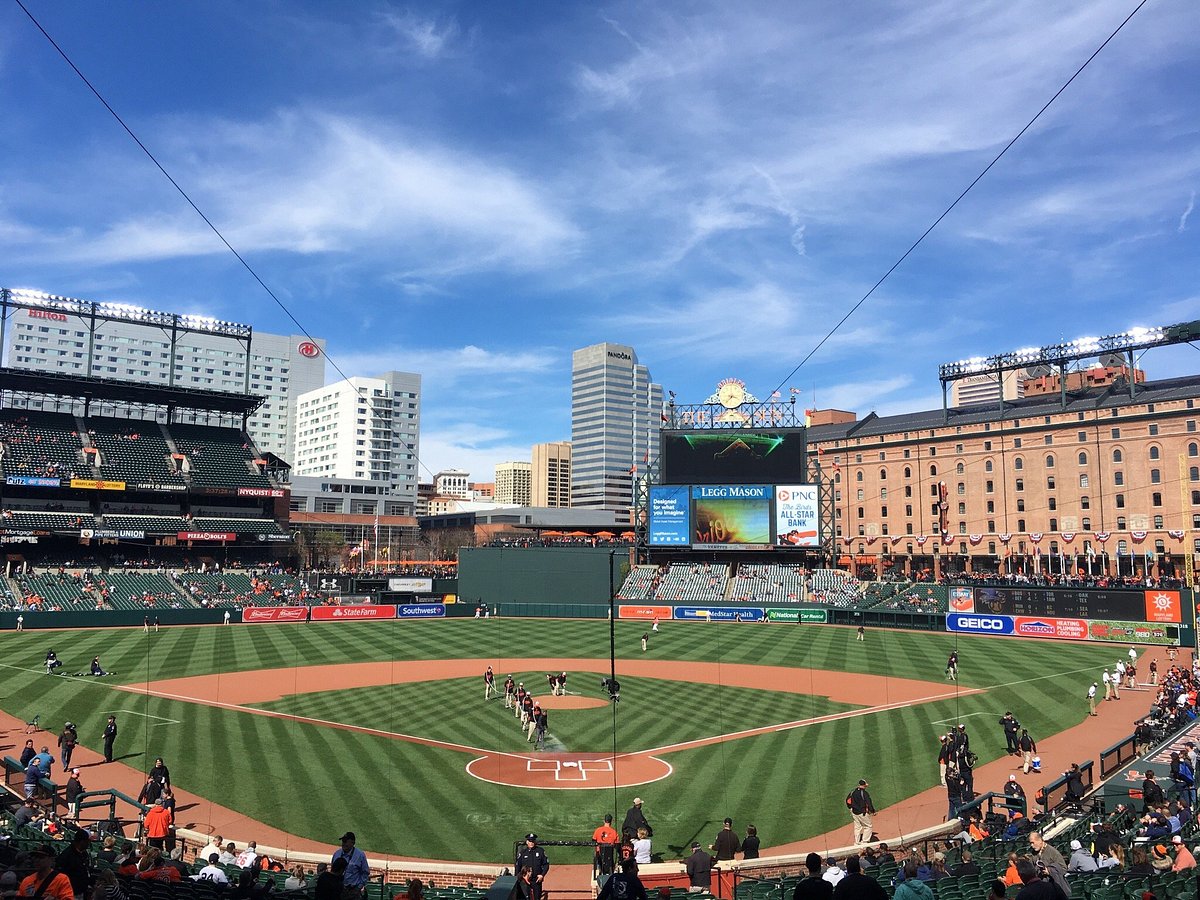 Restrooms
At Oriole Park at Camden Yards, I appreciate that restrooms are clean and accessible throughout the stadium. They're located on all levels of the ballpark, so I can always find one when I need it. In addition, there are family restrooms available for those who need extra assistance or privacy. No matter where my seat is, I know that a restroom is nearby.
Food and Beverage Options
I never go hungry at Camden Yards because there are so many food and beverage options to choose from. Some of my favorites include:
Boog's BBQ: Delicious pit beef sandwiches and other barbecue favorites.
Camden Yards Street Food: Grab a hotdog, burger, or tasty crabcake at one of these carts.
I also enjoy exploring the concessions on Eutaw Street, where I can find a variety of local and visiting food trucks to try out. And of course, there's always a great beer selection, including local brews from Baltimore and the surrounding region.
Park Services
As a fan, I find it essential to have access to park services at Oriole Park at Camden Yards during game times. These services make my experience more enjoyable:
Guest Services: I get all my questions answered and any issues addressed at the guest services booths, conveniently located on the main concourse and upper deck.
First Aid: Accidents happen, and it's good to know there are first aid stations available to handle any medical emergencies.
Lost and Found: If I ever lose or find something during a visit, I know that a Lost and Found service is available for my convenience.
These park facilities make my time at Oriole Park at Camden Yards comfortable, enjoyable, and stress-free, ensuring that my focus remains on the game and the overall experience.
What to Expect – Safety Procedures
As a fan attending a game at Oriole Park at Camden Yards, I found it important to be aware of the safety procedures in place at the ballpark. I noticed the staff was attentive to security and ensuring a safe environment for everyone.
When I arrived at the entrance, I saw the security personnel doing thorough bag checks. I learned that a 1-gallon plastic freezer bag, a fanny pack or clutch purse no larger than 5″ x 7″, and medically necessary items including a diaper bag are the only bags allowed inside the park1. Additionally, no containers or unauthorized items could be left at any park entrance. If found, fans would be asked to return them to their car and there would be no re-entry permitted1.
Moreover, Oriole Park at Camden Yards has transitioned to a completely cashless ballpark2. This means all transactions, including purchasing tickets, food, and merchandise, can only be done through credit or debit cards, or mobile payment services. The cashless policy aims to create a smooth and efficient experience for fans.
During my visit, I noticed Orioles staff and security were vigilant and consistently monitoring the crowd to ensure everyone's safety and enjoyment throughout the game. This attention to detail allowed me to feel secure and focus on cheering for the Orioles.
Overall, Oriole Park at Camden Yards values the safety and satisfaction of their fans. So when you attend a game, comply with their safety guidelines and be assured that a safe, friendly, and enjoyable atmosphere awaits you.