Oriole Park at Camden Yards, nestled in the heart of Baltimore, Maryland, is a classic baseball stadium that serves as the home of the Baltimore Orioles.
Since its inception in 1992, the ballpark has been celebrated for its distinctive charm and rustic design, while setting the standard for modern stadiums with its focus on fan experience and architectural innovation.
As one of Major League Baseball's most iconic venues, Camden Yards has hosted a multitude of memorable events, including the 1993 MLB All-Star Game.
Fans visiting the park can expect easy access to the grounds via public transportation, such as the light rail, which spans 29.5 miles and conveniently offers 33 stops.
The surrounding area offers a plethora of dining options, accommodations, and attractions for visitors to enjoy before or after taking in a game.
With its history, iconic design, and unforgettable atmosphere, Oriole Park at Camden Yards is truly a must-visit destination for baseball enthusiasts and sports fans alike.
Experience the undeniable magic of this ballpark as you cheer on the Baltimore Orioles in their pursuit of victory.
History
Stadium Construction
In the late 1980s, the Baltimore Orioles sought to replace their aging home at Memorial Stadium. The organization looked for a design that would embody the spirit of iconic early 1900s ballparks.
The result was Oriole Park at Camden Yards, which went on to influence many future stadium designs. Construction began in 1988 on a downtown plot near Baltimore's Inner Harbor, encompassing 85 acres of land.
The original seating capacity was 48,041, but after recent expansions, the ballpark now seats 45,971 spectators.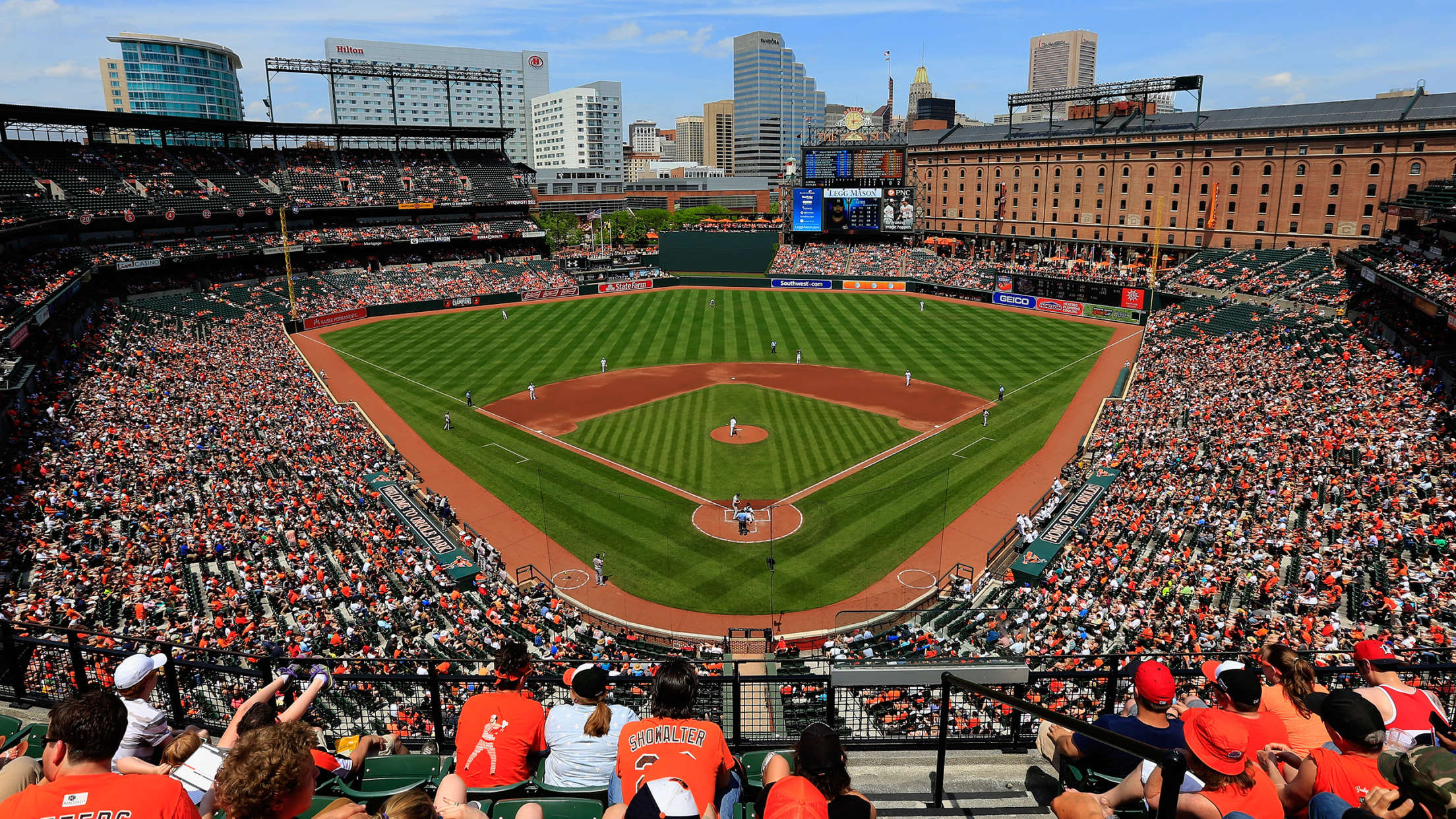 Opening and Early Years
Oriole Park at Camden Yards officially opened on April 6, 1992. The cutting-edge yet nostalgic stadium aimed to provide a pleasant experience for fans while revitalizing a previously run-down area of downtown Baltimore.
Its location, just a short 12-minute walk west from the Inner Harbor and only two blocks from baseball legend Babe Ruth's birthplace, made it the perfect spot for the history-filled ballpark.
The early years of Oriole Park saw the Baltimore Orioles enjoy multiple successful seasons, hosting playoff games and creating unforgettable memories.
The beauty of the ballpark and the exciting atmosphere helped to establish Camden Yards as a must-visit destination for baseball fans across the nation.
Stadium Features
Design and Architecture
Oriole Park at Camden Yards, situated in downtown Baltimore, officially became the home of the Baltimore Orioles on April 6, 1992.
The once-thriving railroad center is only 12 minutes away by foot from the city's Inner Harbor and two blocks from baseball legend George Herman "Babe" Ruth's birthplace.
The stadium's architecture incorporates local elements, such as the preserved B&O Warehouse, which contributes to its distinctive charm.
Seating and Accessibility
The stadium offers various seating options for fans, catering to different preferences.
The seating capacity of Camden Yards is designed to accommodate spectators comfortably during games and other events.
The venue also prioritizes accessibility, with features like ramps, elevators, and escalators to ensure all fans can enjoy their time at the stadium.
In addition, the MLB Ballpark app provides digital ticketing functionality, mobile check-in, special offers, rewards, and exclusive content to personalize your experience at Oriole Park at Camden Yards.
Significant Games and Events
All-Star Game
Oriole Park at Camden Yards hosted the 64th Major League Baseball All-Star Game on July 13, 1993.
This Midsummer Classic event showcased some of the best talent in baseball at the time, including Cal Ripken Jr., Ken Griffey Jr., and Barry Bonds. The American League emerged victorious in this game, defeating the National League 9-3.
Record-Setting Performances
On September 6, 1995, Cal Ripken Jr. made baseball history at Oriole Park at Camden Yards when he broke Lou Gehrig's record of playing in 2,130 consecutive games. Ripken's record-setting game, in which he played his 2,131st consecutive game, is remembered as one of the most iconic moments in the ballpark's history.
The park has also witnessed several milestone home runs. On September 28, 1996, Eddie Murray hit his 500th career home run, becoming the 15th player in MLB history to accomplish that feat.
In addition to these milestone events, Oriole Park at Camden Yards has seen numerous spectacular individual performances and memorable games throughout its 30-year history, adding to the ballpark's significance in Major League Baseball.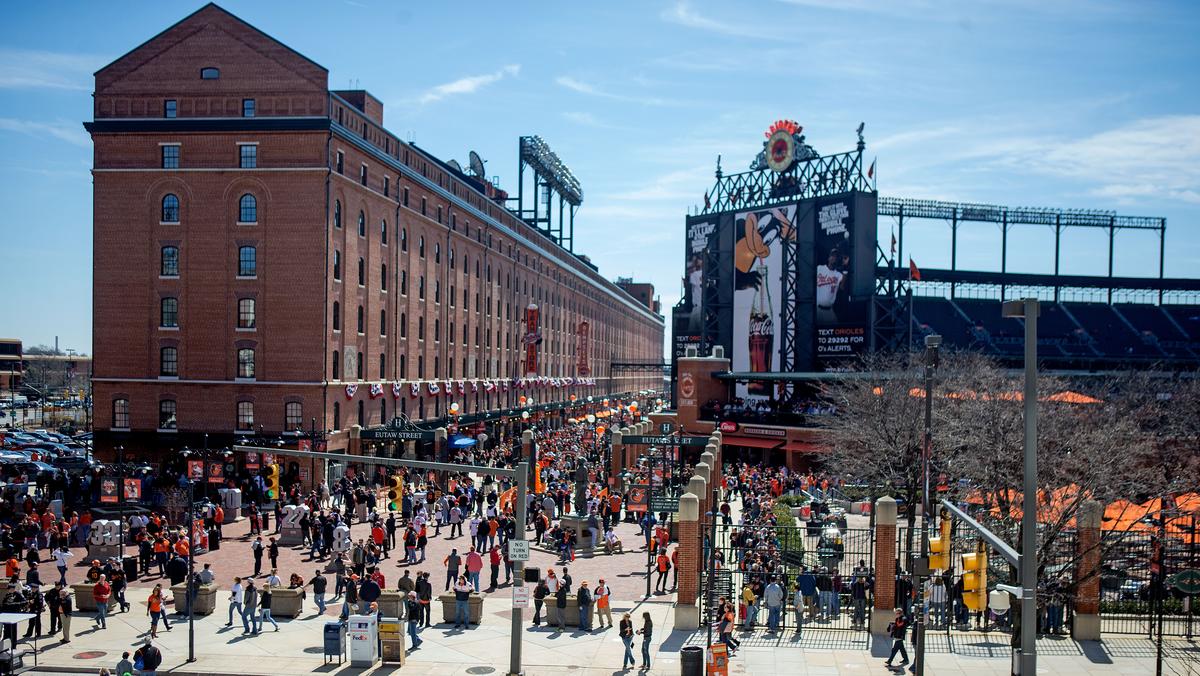 Fan Experience
Food and Concessions
At Oriole Park at Camden Yards, visitors can enjoy a wide range of food options and concessions. The ballpark is known for its traditional baseball fare, such as hot dogs, nachos, and crackerjacks. Additionally, fans can indulge in delicious crab cakes and Old Bay-seasoned fries, which are true Baltimore favorites. There are also numerous dining areas to choose from, like the popular Eutaw Street, located between the Warehouse and the ballpark.
For those seeking a unique dining experience, the ballpark offers more diverse options like vegan and gluten-free options as well as ethnic food choices. Various local and national food vendors are available throughout the stadium, making it easy for fans to grab a bite while enjoying the game.
Family Activities
Oriole Park at Camden Yards offers plenty of family-friendly entertainment options for visitors to enjoy. One fun activity for families is to search for the brass baseballs embedded into the sidewalk on Eutaw Street, marking the spot where home runs cleared the right field fence and landed on the street. This scavenger hunt-style activity is enjoyable for fans of all ages.
The ballpark also hosts Birdland Murals, a collection of vibrant murals scattered throughout the stadium. These artistic displays offer perfect photo opportunities for families, sports fans, and art enthusiasts alike.
Families can also take part in a guided tour of Camden Yards to explore and learn about the ballpark's history, architecture, and unique features. The tours are available on both game days and non-game days, providing an exciting and educational experience for visitors.
In conclusion, Oriole Park at Camden Yards offers an outstanding fan experience, with a blend of great food, family-friendly activities, and an inviting atmosphere that makes every visit enjoyable.
Community Interaction
Philanthropy and Engagement
The Baltimore Orioles are dedicated to giving back to their community through various philanthropic efforts. They participate in numerous charity events, fundraisers, and initiatives that directly benefit the people of Baltimore. These efforts focus on key areas such as education, youth baseball programs, and health and human services.
Some of the Orioles' notable involvement includes collaborations with charitable organizations such as the Boys and Girls Clubs, the American Heart Association, and the Ronald McDonald House. They also run the OriolesREACH program, which aims to positively impact the lives of children, veterans, and the environment. The team's commitment showcases their strong dedication to improving the lives of people beyond the baseball field.
Environmental Commitment
Oriole Park at Camden Yards takes environmental responsibility seriously. The stadium has implemented eco-friendly practices throughout its operations. Some of the park's initiatives include:
Energy efficiency: Utilizing LED lighting in various parts of the facility to reduce energy consumption.
Waste reduction: Implementing a comprehensive recycling program, which includes recycling bins for fans throughout the ballpark.
Water conservation: Implementing a closed-loop irrigation system, reducing water usage and minimizing water waste.
Through these efforts, Oriole Park at Camden Yards demonstrates a strong commitment to environmental responsibility, ensuring the sustainable operation of their facilities and a positive impact on the planet.
James is a big time NBA Golden State follower, who makes sure to catch games when he's in the area. He likes to follow International Soccer, with an interest in small town soccer club, Blackburn Rovers located in the North on the UK.