Heading to a New England Patriots game or another event at Gillette Stadium can be an exciting experience. With so many people attending these events, it's important for everyone to know the ins and outs of the stadium to make the most of their visit. In this article, I'll be sharing valuable information about the Gillette Stadium gates and entrances to help you find your way with ease.
Gillette Stadium offers various entrances and gates that cater to different seating sections for the convenience of all guests. Knowing where these gates are located and which one you need to use can help save you time and energy, allowing you to focus on enjoying the event.
Additionally, different events may have varying ticket requirements and accessibility options. By becoming familiar with the stadium's entrance guide, you'll be well-prepared for any event at this popular venue, ensuring you have a seamless and enjoyable experience every time. So, let's dive in and explore everything you need to know about Gillette Stadium's gates and entrances.
About Gillette Stadium
I'm really excited to share some information about the Gillette Stadium, which is the home to the New England Patriots and the New England Revolution. This amazing stadium has been the site for numerous memorable games and events since it opened its doors in 2002.
As I observed, one of the most iconic features of the stadium is the 218-foot lighthouse, which holds the record as the tallest lighthouse in the United States. Trust me, you need to see this! The lighthouse offers a 360-degree observation deck that provides breathtaking views of neighboring Foxborough center, the skylines of Boston and Providence, and beyond.
Now, let me tell you about getting inside this fantastic venue. The Gillette Stadium has multiple entrances and gates for fans to have a convenient entry experience. Some of the gates include the Patriot Place Gate, Prime Sport Gate, UBid Gate, Bank of America Gate, Putnam Club Entrances East and West, and the Suite Entrances East.
Before you ask, let me tell you that all guests attending the Patriots' home games need a ticket for entry, regardless of their age. However, for Revolution matches, children age two and under can enter without a ticket. What a relief for parents, right? Just keep in mind that the policies for other events may vary, so it's always a good idea to review the Event Guide for specific information.
As for parking, I discovered that ticketholders can save time and have access to stadium-side parking lots by purchasing a prepaid parking pass. If you don't have a pass, you can still park using the general admission entrance at P10 or P11.
I hope this information helps prepare you for an exceptional and stress-free experience as you head to Gillette Stadium for an unforgettable game or event. Enjoy!
Gates and Entrances
I'd like to share some helpful information about the gates and entrances at Gillette Stadium, which is home to the New England Patriots. The stadium has a variety of entrances, including the Patriot Place Gate, the Prime Sport Gate, the UBid Gate, the Bank of America Gate, and entrances for the Putnam Clubs and stadium suites.
First, there's the Patriot Place Gate where you can access the stadium through the popular Patriot Place shopping and entertainment complex. This entrance is ideal for fans who want to grab a bite to eat, shop, or enjoy some entertainment before the game.
Next up is the Prime Sport Gate, which is dedicated to Prime Sport ticket holders. This gate offers a fast and easy entrance into the stadium for those with Prime Sport access. If you have these tickets, make sure to take advantage of this convenient entrance.
The UBid Gate is another entrance point, which provides easy access for fans who have purchased their tickets through the UBid platform. Just like the Prime Sport Gate, this entrance is dedicated to fans with specific tickets, ensuring smooth entry into the stadium.
Moving on, the Bank of America Gate is a good option for fans looking to enter the stadium from the west side. This gate, sponsored by Bank of America, has plenty of entry points and is an excellent choice for fans on that side.
Lastly, there are entrances for the Putnam Club and Stadium Suite ticket holders. These entrances, located on both the east and west sides of the stadium, offer hassle-free entrance to these premium seating areas.
Keep in mind that for different events, the stadium might have varying entrance and seating policies. For example, all guests attending Patriots home games need a ticket regardless of age, whereas children ages two and under do not need a ticket for Revolution matches. Be sure to check Event Guides for specific events to know the exact policies.
Now that I've shared the different gates and entrances at Gillette Stadium, you should have a better idea of which entrance is best suited for you. Happy game day!
Gate Etiquette
Entry Protocol
When I go to a game or event at Gillette Stadium, it's important for both me and my fellow attendees to follow the entry protocol. First, I'm sure to have my ticket ready, as everyone, including infants and small children, needs a ticket to enter the stadium. I've noticed that for some events, like Revolution matches, children under the age of two don't need a ticket, but it's always a good idea to check the specific event's policy before attending.
As I approach the entrance gates, I make sure to have any bags or personal items easily accessible for inspection. This helps keep the line moving smoothly and ensures everyone's safety.
Safety Measures
Gillette Stadium takes safety very seriously, and as an attendee, I appreciate the measures they take to protect all guests. Before entering the stadium, both my possessions and I must undergo a search. I understand that this is necessary and consent to the search, as anyone who refuses to comply will be denied entry.
When I'm inside the stadium, I'm also mindful of my own personal safety, as well as the safety of those around me. If I see anything suspicious, I report it to stadium staff immediately.
In conclusion, to make everyone's Gillette Stadium experience enjoyable and safe, it's important to follow gate etiquette and be respectful of the entry protocol and safety measures in place.
Accessibility Features and Services
Parking Arrangements
In terms of parking arrangements, Gillette Stadium provides accessible parking for guests with disabilities. These parking spaces are available on a first-come, first-served basis, and it is important to show a valid disability placard or license plate to park in these designated spaces.
Special Services
Gillette Stadium is committed to offering a comfortable and enjoyable experience for all its guests, including those with disabilities. I would like to highlight some of the special services offered at the stadium:
Accessible Seating: There are different seating maps available, depending on the type of event (Patriots, Revolution, or Concerts). Accessible seating can be purchased, and companion seating is also available.
Accessible and Companion Seat Relocation: In case you require to change your seats due to accessibility needs, the stadium provides assistance with accessible and companion seat relocation.
Ticketing: Remember that all guests attending Patriots home games need a ticket, regardless of age. For Revolution matches, children ages two and under do not require a ticket, but other guests do. The ticketing policy for other stadium events may vary, so it is always best to review the event guide for specific information.
Accessibility Questions: If you have any questions or concerns about accessibility at the stadium, you can call (508) 384-9191 for assistance.
I hope this information helps you make the most of your experience at Gillette Stadium while keeping your accessibility needs in mind.
Prohibited Items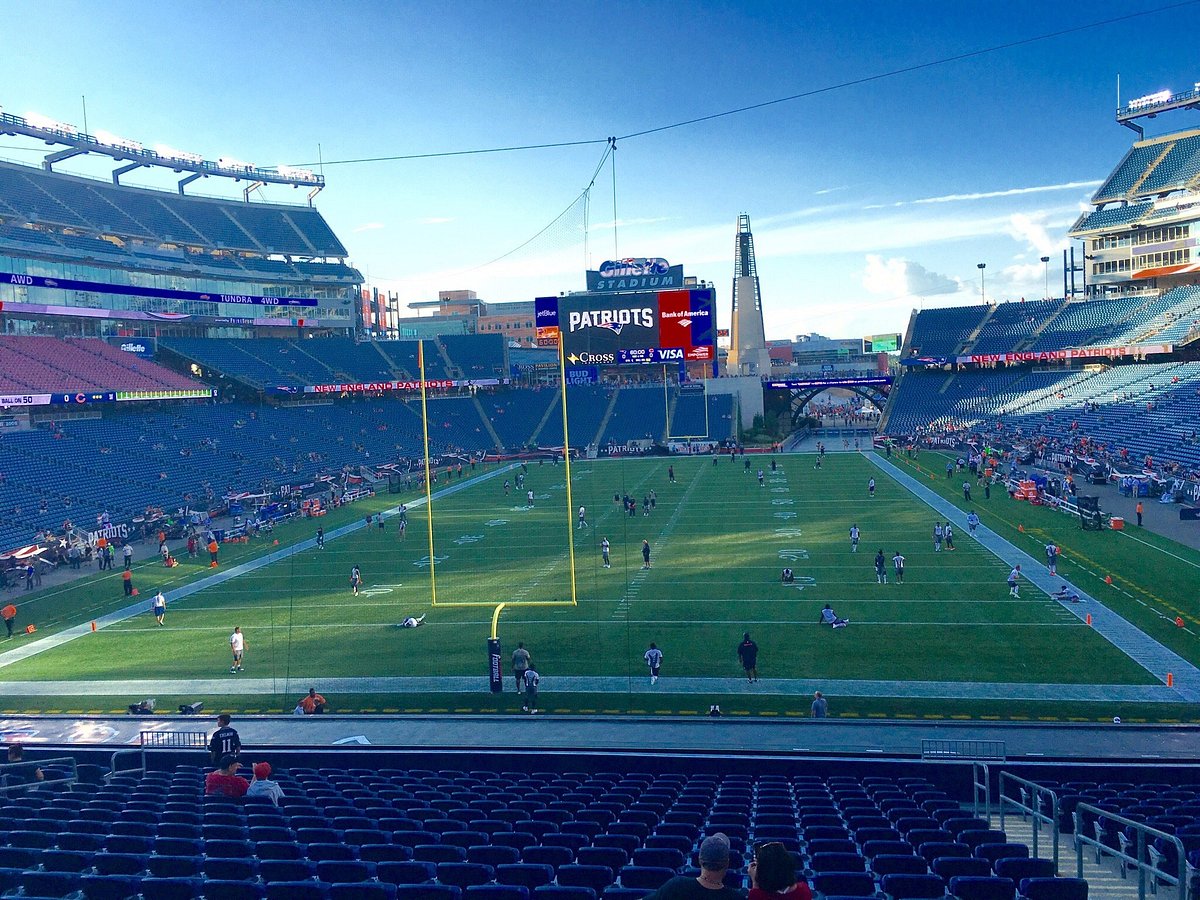 As a fan visiting Gillette Stadium, I want to make sure everyone is aware of the items that are not allowed in the stadium. This will ensure a safe and enjoyable experience for us all.
First and foremost, Gillette Stadium has a strict bag policy. Only clear plastic bags are allowed so that the security staff can easily see what's inside. Remember, the largest bag permitted is 12 inches by 12 inches by 6 inches. Any non-transparent bags, backpacks, or purses larger than a small clutch are prohibited.
Let's talk about other prohibited items. When attending a game or event at Gillette Stadium, we should avoid bringing any of the following items with us:
Weapons, such as firearms, knives, or chemical sprays
Alcoholic beverages or illegal substances
Glass bottles or cans
Fireworks or any other explosive devices
Professional cameras or video recording equipment
Laser pointers, drones, or any other similar devices
Umbrellas, large signs, or banners
Strollers or baby seats are also not allowed, but there are places to check these items before entering
Having a list like this helps ensure a smooth entry into the stadium. If we happen to have any of these prohibited items, we may be denied admission, ejected, and possibly even arrested. Additionally, any prohibited items discovered during the security check will be confiscated. So, let's do our part to help keep Gillette Stadium safe and fun for everyone!
Stadium Amenities
Food and Beverage
At Gillette Stadium, I found a variety of food and beverage options to keep me satisfied during the games. There are numerous concession stands located throughout the main and upper concourses. I can grab classic game-day favorites like hot dogs, burgers, and pretzels, as well as New England specialties like clam chowder and lobster rolls. For those with dietary restrictions or preferences, there are also gluten-free, vegetarian, and vegan options available. Drink options include water, soda, coffee, and a selection of both domestic and craft beers.
Merchandise Stores
When I want to show my team spirit, there are plenty of merchandise stores within Gillette Stadium to choose from. Team Pro Shop is the official store of the New England Patriots and the New England Revolution. It is located near the main entrance and offers a wide selection of team apparel, hats, accessories, and collectibles for all ages. Additionally, there are several smaller merchandise stands scattered throughout the concourses where I can find the perfect souvenir to remember my visit.
Restroom Locations
To ensure my comfort during the game, Gillette Stadium has numerous restroom facilities available. Restrooms are situated throughout the main and upper concourses, providing easy access no matter where my seat is located. They also offer both male and female facilities as well as family restrooms and changing areas for parents with young children. The restrooms are well-maintained and cleaned regularly to provide a pleasant experience for all guests.
Guest Services
At Gillette Stadium, the guest experience is of utmost importance, and I want to share some key details to help you make the best of your visit. Be aware that these services and policies could be subject to change, so I advise checking the official Gillette Stadium website for up-to-date information before attending an event.
First and foremost, it is essential to know that all guests, regardless of age, require a ticket to enter the stadium for New England Patriots home games. However, for New England Revolution matches, children ages two and under do not require a ticket. Other events may have different ticket policies, so make sure to review the Event Guide for specific information.
Additionally, Gillette Stadium's bag policy is quite strict. To ensure everyone's safety, only clear plastic bags are allowed, making it easier for security staff to see their contents. The maximum bag size permitted is 12 inches by 12 inches by 6 inches. Be prepared to follow these guidelines to prevent any issues at the entrance.
Inside the stadium, there are distinct concourses that cater to specific seating sections. The Main Concourse serves guests with tickets in the 100-level and 200-level seating sections, while the Upper Concourse provides amenities for those with tickets in the 300-level seating sections.
Lastly, when attending a concert or event at the stadium, it's good to know that the venue has a record of hosting some high-profile performances. For example, in 2023, Taylor Swift's Eras Tour had three sold-out nights, solidifying Gillette Stadium's reputation as a premier entertainment venue.
Additional Tips
As a regular visitor to Gillette Stadium, I've come across a few extra tips that can help enhance your experience. First, let's talk about parking. If you're driving to the stadium, make sure to arrive early, as parking lots can fill up quickly. Gillette Stadium has ample parking spaces (for a fee), but if you're looking for free parking, there are a few off-site lots within walking distance.
In terms of seating, it's a good idea to check the Gillette Stadium website before attending an event. The seating chart can give you a better idea of where your seat is located, and whether you'll have a good view of the action. If you're attending a New England Patriots game, be prepared for chilly weather – especially during late-season games. Bundle up and bring some hand warmers, as it can get quite cold in the stands!
Be sure to plan your meals before heading to the stadium. There are plenty of concessions inside Gillette Stadium offering a variety of food and drink options. However, if you're looking for a more budget-friendly option or have dietary restrictions, consider packing your own snacks. Just make sure to review the stadium's policies on outside food and drink before arriving.
Finally, if you have any questions or need assistance while at the stadium, don't be afraid to ask a stadium staff member. They're more than happy to help and can provide you with useful information or direct you to the right location. Enjoy your time at Gillette Stadium, and make some unforgettable memories!