Detroit, Michigan, is home to many incredible attractions. Besides the Little Caesars Arena, where you can see the games of the famous Red Wings and Pistons, you'll find various entertainment, cultural, and shopping areas to enjoy during your stay.
You will want to be careful when selecting which hotel to stay at when in the area. It can be easy to reserve a room in a part of the city that is less vibrant or is far away from the arena.
With that information in your back pocket, how do you know which hotel you should choose? Below we have an overview of 15 of the best hotels near Little Caesars Arena for your next visit to the motor city.
Best Hotels Near Little Caesars Arena
1777 3rd Ave
Detroit, MI 48226
The MGM Grand Detroit is located less than one mile from Little Caesars Arena. Connected to the MGM Grand Casino, it's filled with the hustle and bustle of both visitors and players. The location is nestled within many shopping areas and eateries, making everything accessible within a brief walking distance.
With parking being hard to come by, one of the best perks of staying at the MGM Grand Detroit is that the cost of parking is included. While children are permitted to stay at the hotel, their access to areas within the building is limited. These limitations include the pool.
2901 Grand River Ave
Detroit, MI 48201
Another casino hotel option that is just 0.1 miles away from Little Caesars Arena is the MotorCity Casino Hotel. Access to the casino is just a one-minute walk away, and ample public transportation is available to take you to the downtown area or nearby bars.
One of the highlights of the MotorCity Casino Hotel is the large room size. Additionally, they offer adjoining rooms on a requested basis. With these perks, the hotel is excellent for large groups that travel together as it provides enough space for everyone.
1 Park Avenue
Detroit, MI, 48226
The Aloft Detroit at The David Whitney is less than half a mile from Little Caesars Arena, and the beauty that greets you upon arrival is unmatched. With the intricately detailed pillars, the open floors, and the high-end materials, you will be in awe of the classic elements you can find in the hotel lobby.
However, when you enter the guest rooms, it's another story. In a typical classic meets modern fashion, the rooms are designed with unique furnishings in bright colors and patterns. The furniture is inviting and comfortable, and the layout gives a refreshing twist to a standard hotel room.
351 Gratiot Ave
Detroit, MI, 48226
Another hotel option that is less than half a mile from Little Caesars Arena is the Hilton Garden Inn – Detroit Downtown. The Hilton brand is well-known, and this location doesn't disappoint. With ample room sizes and a noon check-out time, many people opt for this hotel over others in the area.
On-site is a fully stocked gym, a mini convenience store, and two restaurants. You are also steps away from Greektown, a popular attraction in the area. Hilton hotels offer free WiFi to guests, so no worries about incurring an additional cost for that service.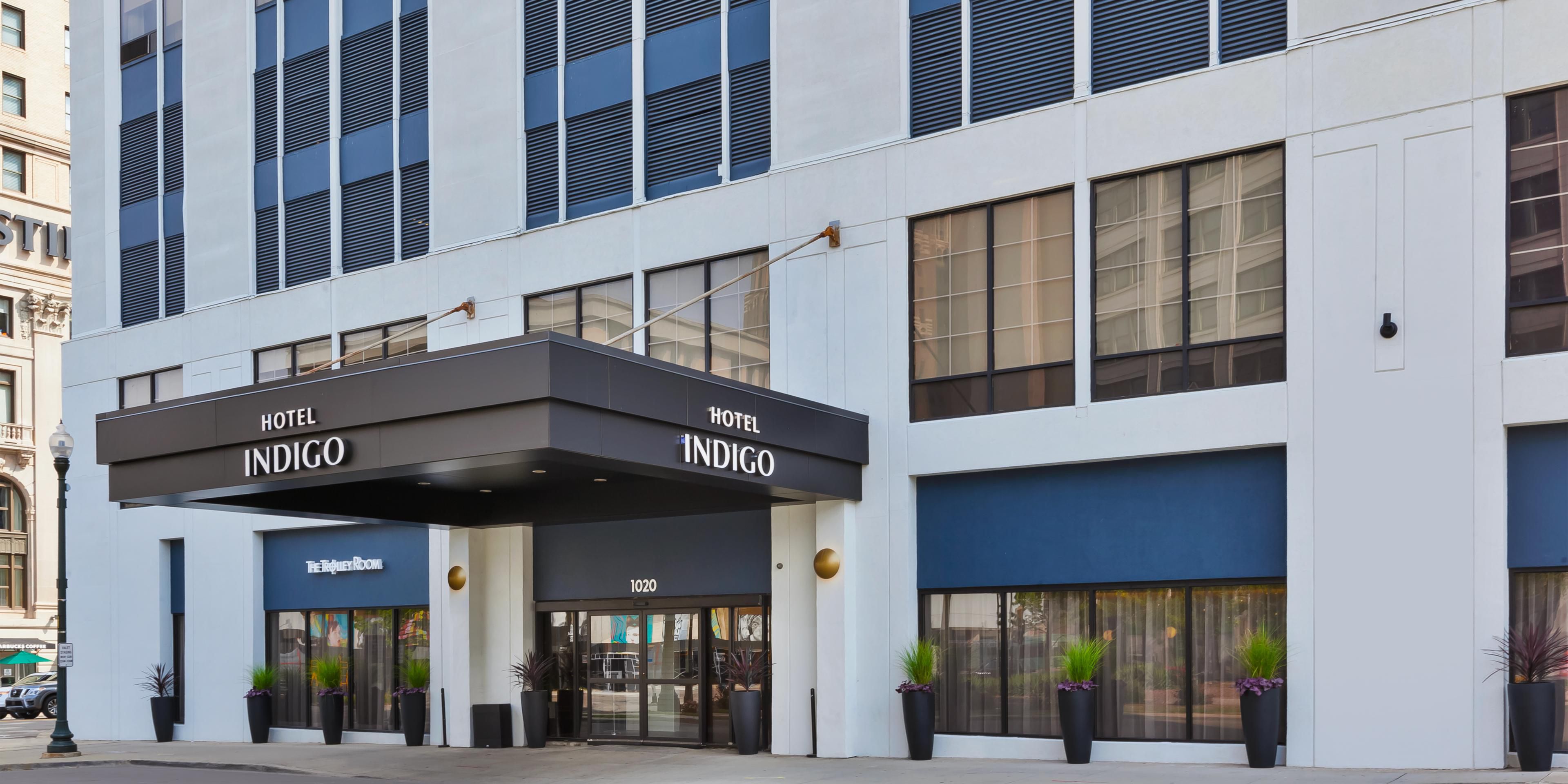 1020 Washington Blvd
Detroit, MI, 48226
As part of the IHG brand, Hotel Indigo Detroit Downtown offers a high level of customer service with many additional perks and features. This hotel is located ¾ of a mile from Little Caesars Arena and offers a unique combination of aesthetics. Some of the elements are eclectic, but there are also more traditional pieces throughout the building and rooms.
The layout of guest rooms is standard up until the larger rooms and suites. With wood furnishings and modern designs, you'll feel like you're in a room customized by a top designer.
525 West Lafayette Blvd
Detroit, MI 48226
Besides the proximity to Little Caesars Arena, guests staying at DoubleTree Suites by Hilton Downtown Detroit like being located right next to the train station. For those who come in via the train for a hockey game, the ability to walk back the next day to catch a ride home is appreciated.
Another perk for all DoubleTree chains is the size of each guest room. Most of the rooms available are considered suites, which gives you a separate living room area and bedroom, as well as a kitchenette. Guests love this when traveling with several people, as spending an evening visiting and socializing in one room is more feasible.
1400 Woodward Ave
Detroit, MI 48226
The Shinola Hotel, located just half a mile from Little Caesars Arena, is a rare gem when it comes to Detroit hotels. You get a glimpse of its appeal by looking at the gorgeous brick facade of the exterior. The beautiful architecture has been preserved in this boutique accommodation, offering many rooms with large expansive windows and ample natural sunlight.
The feel of the guest rooms at the Shinola Hotel is reminiscent of high-end apartments, with great attention to detail and decorative furnishings. You'll even find Italian sheets, record players, Smart TVs, and sectional sofas. All rooms are soundproof so you can rest in silence, and a bar and restaurant are on-site.
1509 Broadway St.
Detroit, MI 48226
The mid-century feel of The Siren Hotel gives off a moody and intense atmosphere that will draw you in immediately. With a look that is different from many other hotel brands, you will be taken in by the beauty that greets you upon arrival. The guest rooms are stunning, with their beautiful fabrics and hardwood floors which make the look of the room pop.
The Siren Hotel is pet-friendly and offers free WiFi. It is half a mile from Little Caesars Arena and is within walking distance of two different train stations. If you also want to take in a show at the Detroit Opera, it is a quick three-minute walk away.
97 Winder
Detroit, MI 48201
With a similar decor to The Siren Hotel, The Inn at 97 Winder makes you feel like you have stepped into a castle. The ornate furniture occupying every guest room will have you feeling like you're royalty. Elements such as the wrought iron staircases lend exquisite detail to the larger rooms.
Many guests appreciate that breakfast is included with their stay at The Inn at 97 Winder, in addition to the free WiFi. Little Caesars Arena is a quick five-minute walk from the hotel, and in bad weather, you can easily catch an Uber to the game.
33 John R Street
Detroit, MI 48226
As a Marriott chain hotel, Element Hotel Downtown Detroit packs a punch when it comes to amenities available to guests. Located within walking distance from Little Caesars Arena, many visitors pick the hotel as a place to crash for the night after an action-packed game. The ultra-comfortable beds and high-quality toiletries add to the overall experience.
For bigger groups, the suites come with a separate living room area and a kitchenette. Depending on which room type you select, you can enjoy the use of a sectional couch or a more petite sofa with an armchair.
1114 Washington Blvd
Detroit, MI 48226
As another Marriott option, the Westin Book Cadillac offers high-end hotel rooms decorated with style and charisma. The expansive bathrooms give plenty of room to prepare for a night out, and the comfortable mattresses and luxurious linens will provide you with the best night's sleep you've had in a long time.
Off the lobby, you can enjoy a bar and restaurant that serves up a variety of bar foods and drinks. The hotel was built in the 1920s, and the details of its original architecture are still in place. Walking into the ballroom will render you speechless, and the building's exterior is every bit as striking as its interior.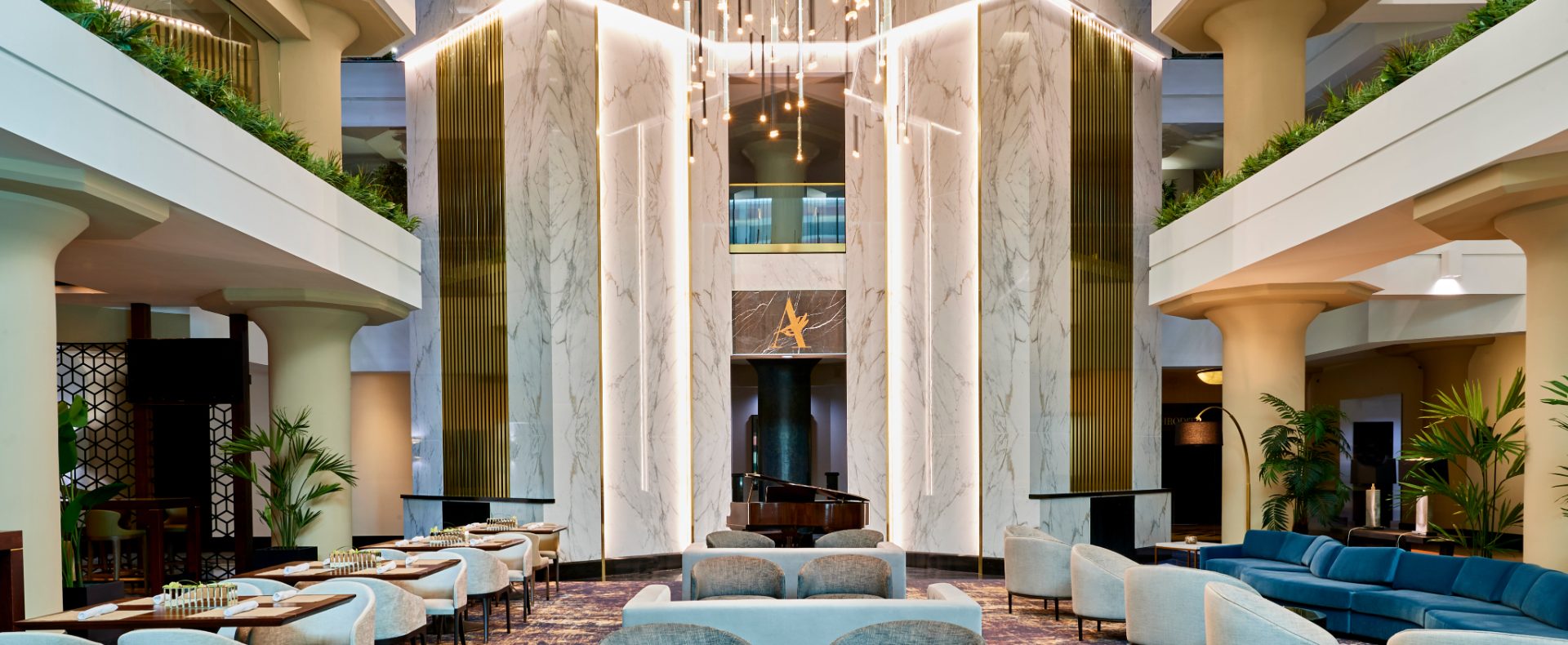 1000 Brush Street
Detroit, MI 48226
It is safe to say that hotels can quickly fill up on Red Wings game nights. When you find yourself in the area during a time when more than one sporting event is taking place (there are four sports facilities in one general area) you're really up against the grain to find accommodations for the evening.
Thankfully, the Atheneum Suite Hotel Detroit is less than a mile from the arena and has a significant number of guest rooms available for such events. The building is decorated in a modern Greek aesthetic, which lends to a calming environment for decompressing. The bathrooms come with deep soaking tubs, perfect for taking a load off your feet after a day of walking.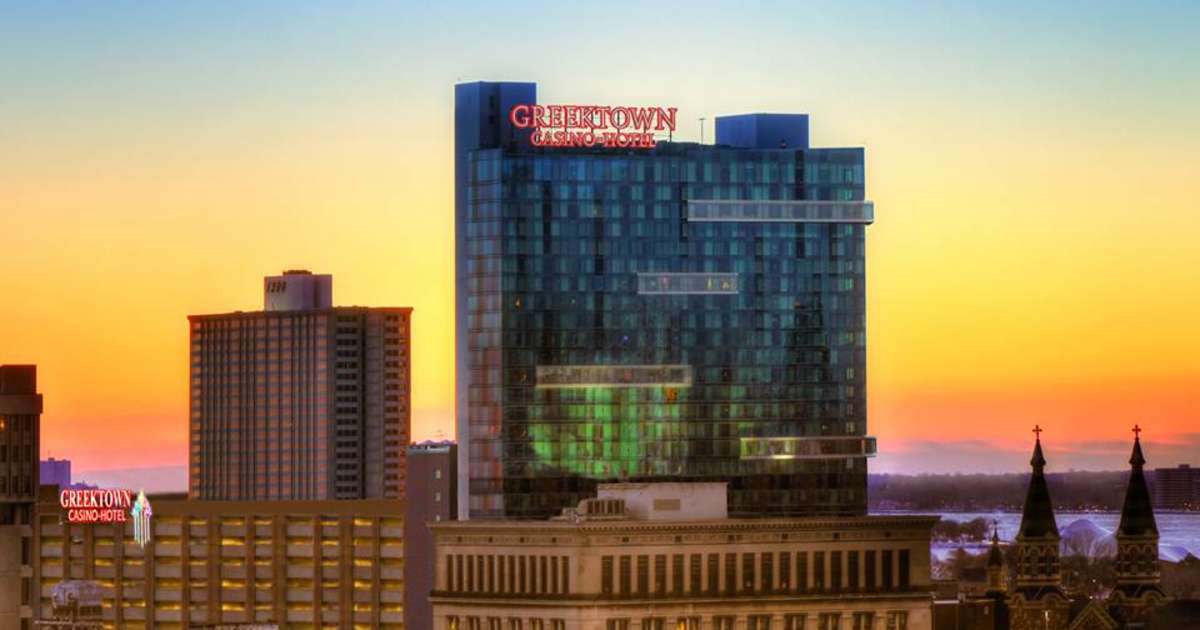 555 East Lafayette Street
Detroit, MI 48226
After the adrenaline of a high-activity hockey game, it can be hard to wind down right away. A few go-arounds at a casino provide fun and entertainment even after the game has finished. The Greektown Casino Hotel in Detroit offers accommodations and casino activities for its adult guests. There is no shortage of casinos in Detroit, and there are several within walking distance of Little Caesars Arena, Greektown included.
The high-floor rooms at the hotel give a spectacular view of downtown Detroit, which sparkles after sunset. The floor-to-ceiling windows provide a significant amount of natural sunlight during the day, and upon check-in, you are given complimentary bottled water in your room. You also enjoy Detroit's fastest internet connection for no additional charge.
250 West Larned Street
Detroit, MI 48226
As the furthest hotel from Little Caesars Arena on this list, coming in at one mile from the sports complex, the Detroit Foundation Hotel Downtown is worth the walk. The amenities that come with your stay are so accommodating that they will have you wanting to move in!
As a unique addition, the Detroit Foundation Hotel offers a podcast studio for guest use. They are also a pet-friendly hotel that offers special perks for its furry visitors. There is a 24-hour fitness center, free WiFi, ice delivery, and a complimentary newspaper service. After the game, you can snuggle up with your pet, order room service, and watch some Netflix on the room television for a calm night in Motown.
2 Washington Blvd
Detroit, MI 48226
Fort Pontchartrain Detroit is extremely close to the Detroit city center. Managed by Wyndham, this hotel is a modern and comfortable stay in walking distance to the Little Caesars Arena. The amenities included in your stay include:
24/7 fitness center access
Heated indoor pool, sauna, and hot tub
Free WiFi
Two restaurants at the hotel
Coffee center
You can also work at the hotel's onsite business center, or check out their shops and paid parking options. 367 rooms and suites are available here for your convenience.
Conclusion
Detroit is a thrilling city with a rich culture. Outside of its history in the music and car industries, it's also well-known for its love for sports. You can take in a Pistons basketball game, Lions football match, Tigers baseball match, or a Red Wings hockey competition. Depending on the season, you can take in more than one game on the same day!
When searching for one of the best hotels near Little Caesars Arena, the list above provides available accommodations within walking distance that are also in a fantastic area of Detroit. Is there a hotel that we've missed? Let us know!
James is a big time NBA Golden State follower, who makes sure to catch games when he's in the area. He likes to follow International Soccer, with an interest in small town soccer club, Blackburn Rovers located in the North on the UK.