As a Comerica Park enthusiast, I'm excited to share some essential information to make your visit to this incredible ballpark hassle-free and enjoyable. Comerica Park, home to the Detroit Tigers, is a must-visit destination for baseball fans, and knowing about its various entrance gates and parking options will save you time and energy while attending a game or event.
Before heading to Comerica Park, it's helpful to familiarize yourself with the different stadium entrance gates and parking lots. Whether you're using public transportation like the People Mover or QLine, or driving and looking for the best parking spots, this guide will provide you with all the necessary information to streamline your experience.
During your visit to Comerica Park, remember that there are various policies and procedures to follow, ensuring a safe and secure environment for all guests. With this handy gate and entrance guide, you'll have all the knowledge you need to navigate and enjoy your time at Comerica Park.
Overview of Comerica Park
When I first visited Comerica Park, I was immediately captivated by its bustling atmosphere and iconic attractions. Located in the heart of Detroit, Comerica Park has been the home of the Detroit Tigers since 2000. The park offers visitors an unforgettable experience, whether they're attending a game, exploring its historic attractions, or enjoying family-friendly activities.
One of the things that stood out to me was the Ferris wheel located in the outfield. Not only does it provide a unique backdrop for the game, but it also offers a fun and exciting activity for families and fans of all ages. In addition to the Ferris wheel, the historic carousel with its beautifully crafted hand-painted horses is another attraction that adds character and charm to the park.
When I visited Comerica Park, I found it helpful to be aware of the several entrances available for use. The main entrance, the Comerica Entry, is located on Witherell Street, directly in front of the ballpark. Another entrance, the Rocket Mortgage Entry, can be found at the corner of Adams and Witherell Streets.
For those looking for parking options, there are various garages and lots surrounding the park, including the Fox Parking Garage, D Garage, and the Detroit Tigers Parking Garage. I found it convenient to plan my parking arrangements ahead of time to make my visit as seamless as possible.
In conclusion, my time at Comerica Park was filled with excitement, history, and memorable experiences. With its unique attractions and convenient entrance points, it truly offers something for everyone. So, whether you're a die-hard Detroit Tigers fan or just looking to have a fun day at the ballpark, be sure to check out Comerica Park.
Getting to Comerica Park
As someone who has been to Comerica Park, I found a couple of ways to get there. Let me share my experiences with you.
Public Transportation
I've discovered that public transportation can be a convenient way to reach Comerica Park. The park is served by the QLINE streetcar, which runs along Woodward Avenue and has a stop near the stadium. I also noticed that the Detroit People Mover— an automated light rail system—has a stop at the Grand Circus station, which is just a short walk away. Additionally, numerous city bus routes pass by the park, making it easy for those who prefer traveling by bus. To plan my journey, I usually check the Detroit Department of Transportation (DDOT) website for route schedules and fare information.
Parking
For those of us who might prefer to drive to Comerica Park, there are plenty of parking options available. I found that there are several nearby parking lots and garages within walking distance of the stadium. However, it's worth noting that the availability of parking spaces may vary depending on the event and time. The closer it gets to game time, the more difficult it can be to find a parking space. To save time and hassle, I suggest using some of the parking apps available, where I can reserve a parking spot in advance and even compare prices.
Entrance Gates
Gate A
At Gate A, you'll find one of the main entrances to Comerica Park. It's located on the corner of Adams and Brush Street. As you approach, you'll see friendly staff members ready to assist you with any questions you may have.
Gate B
Gate B is another primary entrance to the ballpark, situated on Witherell Street. This gate offers easy access to the main seating sections and allows you to dive straight into the action.
Gate C
You'll find Gate C on the corner of Montcalm and Brush Street. This entrance provides a convenient access point to the eastern side of the stadium and can be a great choice if you're looking to explore the stadium's unique features.
Gate D
Gate D is located on Montcalm and Witherell Street, offering a versatile entry point for fans. This gate is particularly helpful if you're visiting Comerica Park for the first time, as it leads you directly into the heart of the stadium.
Tigers Den Entrance
The Tigers Den Entrance is specifically designated for guests with Tigers Den or On-Field Box tickets. You'll find this entrance on the corner of Witherell Street and Montcalm. It's a premium entry point that offers a more exclusive experience for guests with these premium ticket levels.
Mead Street Gate
Finally, the Mead Street Gate is an additional entrance for fans found on Mead Street. This gate is a convenient option if you're arriving from the southeastern side of the stadium, providing easy access to the nearby parking facilities.
I hope you find this Gate & Entrance Guide helpful for navigating your way through Comerica Park and getting the most out of your experience. Enjoy the game!
Security Regulations
As I visit Comerica Park for a Detroit Tigers game or any other event, it is important to know and follow the security regulations in place to ensure the safety of all attendees. To give you an idea of what to expect, I'll outline some of the key security measures that the park has in place.
The first thing to note is that upon entry, all bags that are permitted (check Comerica Park's bag policy) will be searched. Make sure to keep your bags open and accessible, as this will help speed up the process and make things smoother for everyone. Don't worry, security personnel are there to ensure everyone's safety, so complying with their requests will make the experience better for all.
Additionally, Comerica Park has implemented walk-through metal detectors at the entrances to enhance security further. As you approach the entrance gates, be prepared to pass through these detectors. Remember to remove any metal objects such as keys, cell phones, or pocket change before entering the detector to avoid any misunderstandings or delays.
In certain sections of the park, mobile ordering is available to make purchasing food and beverages more convenient. However, if you need assistance with your mobile order, just email [email protected]. Mobile ordering can be found at sections 115, 137, and 217.
At some events, Comerica Park offers giveaway items for attendees. These items are typically handed out to guests as they enter the ballpark through the entrance gates. Remember to arrive early for the best chance of receiving a giveaway item, as they may run out.
By following these guidelines and security measures, I can ensure a safe, smooth, and enjoyable experience for myself and other attendees at Comerica Park.
Accessibility Features
Wheelchair Access
I found that Comerica Park meets the requirements of the Americans with Disabilities Act and is dedicated to accommodating the needs of guests with disabilities and their families/friends. There are various parking lots and accessible parking spaces available on a first-come, first-served basis.
Once at the park, there are accessible entrances and seating areas to accommodate guests with wheelchairs. Additionally, Comerica Park offers services such as assistive listening devices and wheelchair escorts, ensuring that everyone can enjoy their visit to the ballpark.
Service Animal Policy
As a pet lover, I understand how essential service animals can be for individuals with disabilities. Fortunately, Comerica Park has a service animal policy in place, allowing guests to bring their trained service animals to the ballpark. Just make sure to have your service animal under control and follow any guidelines provided by the venue for the safety and well-being of all guests.
In-Park Services
Concessions
At Comerica Park, I found a wide variety of food and beverage options to enjoy during the games. There are numerous concession stands throughout the park, offering everything from traditional ballpark fare like hot dogs and popcorn to gourmet sandwiches and unique local treats. I also noticed several bars and restaurants within the park, providing sit-down dining options and a great atmosphere for watching the game.
First Aid
In case I needed any medical assistance, I knew that Comerica Park provides first aid stations located throughout the park. Staffed by trained medical professionals, these stations are open during games and events for the convenience and safety of all guests. I appreciate how they prioritize the well-being of their guests.
Lost and Found
During my visit to Comerica Park, I discovered that they have an efficient lost and found system in place for any belongings that may be misplaced during events. If I were to lose any personal items, I could inquire with the Guest Services staff, who are more than willing to assist with any lost item concerns.
Tips and Tricks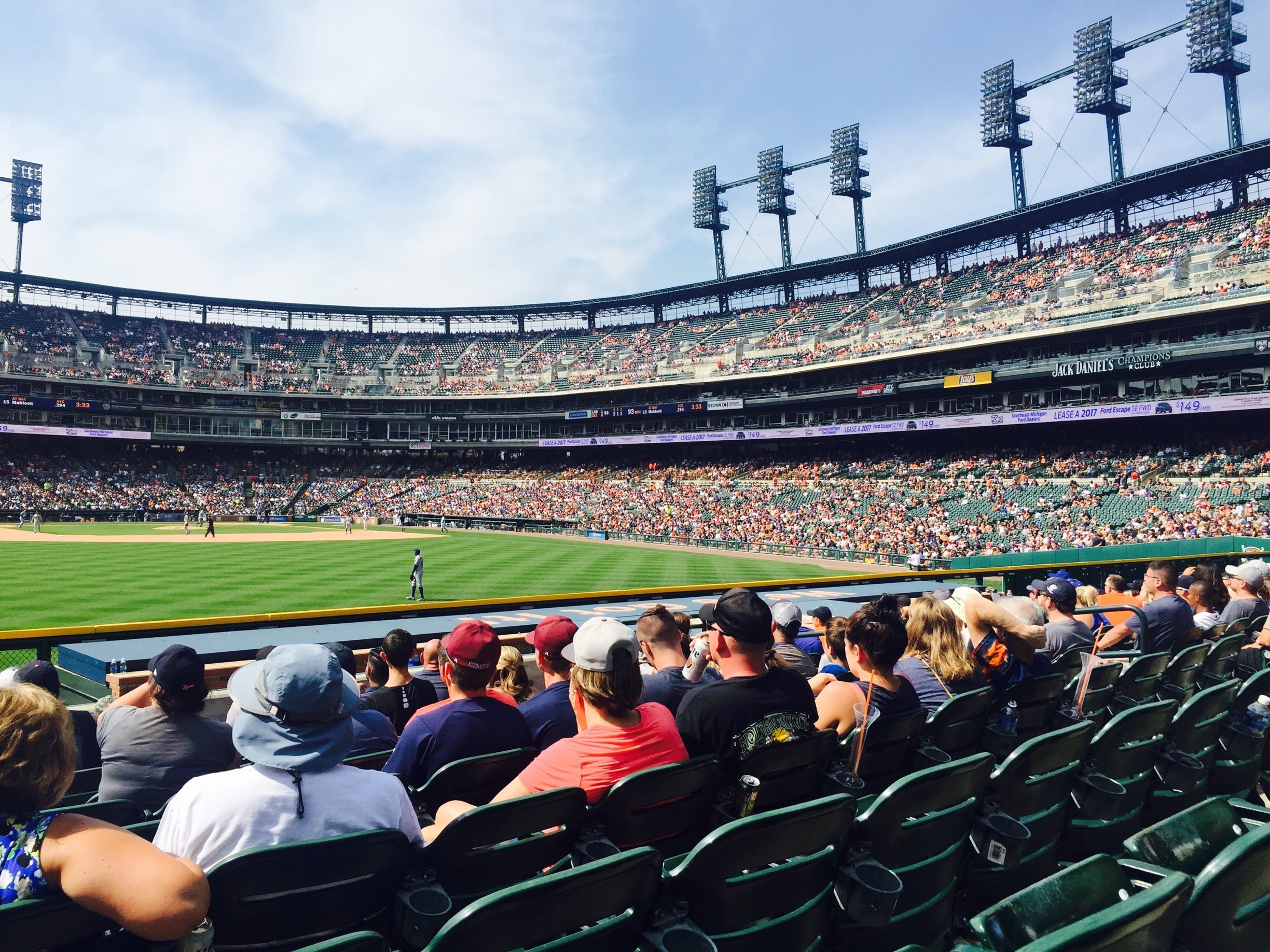 I have some great tips and tricks to share with you guys to make your visit to Comerica Park even better. So, let's get started!
First of all, arrive early if you want to catch a glimpse of the players warming up. Batting practice usually takes place a couple of hours before the game starts, and it's an excellent chance to see your favorite players up close. Don't forget to bring a glove, as you might just catch a ball!
Parking can be a bit of a challenge, especially on game days. My advice would be to look for parking options on the ParkWhiz app or website before arriving, as it allows you to reserve a spot in advance. Make sure to check out the D Garage, which is the official Detroit Tigers parking garage.
When it comes to food, Comerica Park has an array of options to suit everyone's taste buds. Some of my favorites include:
Little Caesars Pizza: A classic choice that's always a hit.
Buddy's Pizza: For a taste of Detroit-style deep dish pizza.
Dearborn Sausages: To satisfy that hot dog craving.
Staying hydrated is essential, especially during those hot summer days. Be sure to bring an empty water bottle with you. There are water fountains available throughout the park where you can refill your bottle.
Lastly, make sure to check out some of the awesome attractions around the ballpark, such as the Detroit Tigers Walk of Fame and the Riverwalk. These provide a unique experience for fans and are a great way to spend some time before or after the game.
That's it for my tips and tricks! I hope you have a fantastic time at Comerica Park, and enjoy everything the park has to offer.