Little Caesars Arena, home to the Detroit Pistons and Detroit Red Wings, provides visitors with an impressive selection of food options to enjoy during events.
From classic arena fare to unique culinary offerings, there is something to suit everyone's taste buds.
Patrons of the arena can expect to find traditional stadium staples such as popcorn, hot dogs, jumbo pretzels, chicken tenders, potato chips, and more at multiple concession stands throughout the concourses.
For fans of the famous pizza, Little Caesars is on-site serving up individual slices of Italian pizza in various locations.
Additionally, the arena features several sit-down restaurants and unique food choices, ensuring that there is something for everyone to enjoy.
Food Options at Little Caesars Arena
Little Caesars Arena offers a variety of food options to cater to different preferences and tastes.
The arena's selection ranges from fast food and concession stands to sit-down restaurants, ensuring that visitors can find something to satisfy their cravings.
In this section, we will take a closer look at some of the fast food, sit-down restaurants, and concession stands available at the arena.
Fast Food
Fast food options at Little Caesars Arena include well-known brands as well as some local favorites. One of the most popular choices is Little Caesars pizza, offering a convenient and quick option for fans who want a classic and familiar choice.
Other fast food options include chicken dishes and grilled items, providing a variety of choices for people looking for a quick and satisfying meal.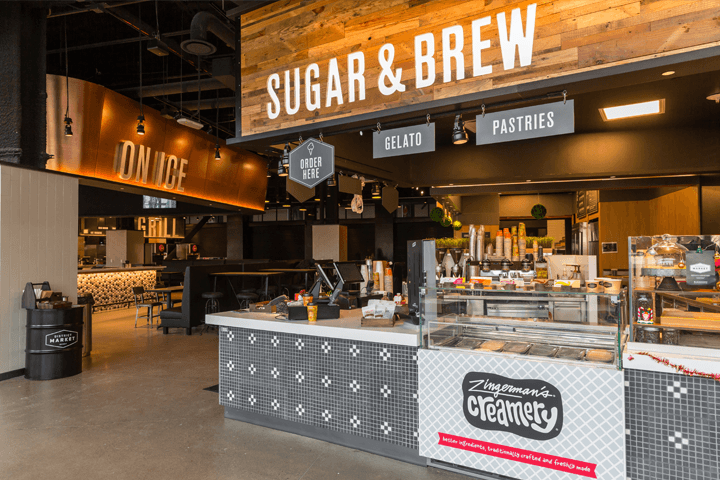 Sit-Down Restaurants
For those who prefer a more relaxed and leisurely dining experience, there are sit-down restaurants available within the arena or in close proximity.
While the specific restaurants may vary, visitors can expect to find a range of cuisine options, such as American, Italian, and Asian fare.
The Visit Detroit website provides a list of some of the favorite places within a 10-minute walk from the arena, making it easy to plan a pre- or post-event meal.
Concession Stands
The concession stands at Little Caesars Arena offer a variety of food choices to satisfy any craving.
Alongside traditional stadium fare like hot dogs and popcorn, visitors can find more unique offerings such as specialty sausages and gourmet sandwiches.
Additionally, for those with dietary restrictions, there are vegan options available, ensuring that all guests can indulge in delicious food options while enjoying the event.
Fan Favorites
Little Caesars Arena is not only the home for the Detroit Pistons NBA team and Detroit Red Wings NHL team, but it also offers a wide variety of food options for fans to enjoy during games and events.
From classic dishes to local favorites, the arena caters to a multitude of tastes and preferences.
Of course, at the heart of the arena's food selection lies the fan-favorite Little Caesars pizza, which can be easily found throughout concession stands.
While pizza is a staple at Little Caesars Arena, other popular menu items are available to make the game-day experience even more memorable.
For those looking for traditional arena food, burgers, chicken tenders, and hot dogs are readily available. Fans can also indulge in some delicious local dessert options, like ice cream.
Health-conscious visitors can opt for grilled options and salads found at various vendors throughout the arena. In addition to these classic dishes, Little Caesars Arena offers a range of diverse, unique options from local restaurants, showcasing the best of Detroit's culinary scene.
Special Dietary Preferences
Vegetarian and Vegan Options
Little Caesars Arena understands the need for catering to diverse dietary preferences.
Guests can find a variety of vegetarian and vegan food options throughout the arena.
Though there is limited information on specific menu items at the stadium, special event attendees are encouraged to contact the Suite Office at (313) 471-7781 for more information about their menu and catering options tailored to their needs.
Gluten-Free Options
While the exact gluten-free offerings at Little Caesars Arena remain unspecified, guests with gluten sensitivities are encouraged to consult with the Suite Office at (313) 471-7781.
The dedicated team will work with their chef to ensure all special dietary needs are met.
It is advisable for attendees to contact the arena ahead of time to discuss their specific dietary requirements and restrictions. This ensures a smoother, more enjoyable experience during their visit while respecting each individual's dietary preferences and needs.
Payment and Pricing
Prices for dining choices may vary depending on the item and vendor. For example, Little Caesars Pizza typically ranges from $7 to $15 for a whole Detroit-style deep-dish pizza.
At other food stands such as The Coop, chicken entrées are priced between $10.75 and $15.50. In addition, patrons can expect to pay between $10 to $15 for a beer at a game or event.
To ensure a smooth and pleasant dining experience, it is recommended to have a variety of payment methods available.
Some vendors may accept cash, while others may prefer contactless and electronic forms of payment such as credit cards and mobile wallets. It may be beneficial to carry both options as you explore the arena's diverse culinary offerings.
Location of Food Outlets within the Arena
Little Caesars Arena offers a variety of dining options to cater to the diverse tastes of its patrons. Inside the arena, guests can find four restaurants to choose from, ensuring an enjoyable dining experience during their visit.
Mike's Pizza Bar is one of the popular choices, serving hand-crafted pizzas to satisfy those who crave a classic game-day meal.
Visitors can enjoy their pizza with a cold brew, fine wine, or opt to take their food to-go if they prefer.
For fans interested in a more immersive sports experience, PointsBet Sports Bar is an excellent choice. This sports bar offers a wide range of beverages and bar food options, allowing guests to socialize and watch various games on large screens while enjoying their meals.
Another option for visitors is The UWM District Market, which provides a mix of healthy and convenient food and beverage alternatives. Whether you're seeking a light snack or a more substantial meal, this market is well-suited for those who prefer diverse options.
In addition to these outlets, several concession stands are available throughout the arena, offering an array of quick bites and refreshments. With such a wide variety of dining choices, guests at Little Caesars Arena are sure to find something to suit their culinary preferences.
Nearby Restaurants
Little Caesars Arena offers numerous dining options for visitors, both inside the arena and within walking distance. In addition to the in-house restaurants such as Mike's Pizza Bar, PointsBet Sports Bar, and The UWM District Market, there is a great variety of eateries nearby.
Some popular restaurants close to Little Caesars Arena include The Mixing Board and Bakersfield. Guests seeking a diverse culinary experience will enjoy browsing the District Seventy8 with its various food options.
For those who prefer a lighter meal, head to Cafe March 21 for a cozy café experience or try Blimpie for delicious sandwiches. If you're looking for something unique, the Hero Or Villain Van food truck offers a memorable twist on classic sandwich options.
Lastly, if you're in the mood for some craft beer and pizza, consider visiting Craft Heads Brewing Company. With so many dining choices near Little Caesars Arena, visitors are sure to find a meal that satisfies their cravings.
James is a big time NBA Golden State follower, who makes sure to catch games when he's in the area. He likes to follow International Soccer, with an interest in small town soccer club, Blackburn Rovers located in the North on the UK.