Welcome to Ford Field, the iconic home of the Detroit Lions, situated in the bustling heart of downtown Detroit.
This modern, state-of-the-art stadium has been a symbol of pride and resurgence for the city and its loyal fans since its inauguration.
Ford Field serves as the ultimate destination for Lions supporters and sports enthusiasts alike, providing a thrilling game-day experience that combines cutting-edge facilities, exhilarating energy, and an atmosphere that encapsulates the spirit of this beloved football team.
In this guide, we'll take you on a journey through Ford Field, exploring its fascinating history, impressive features, and insider tips to ensure your visit is nothing short of extraordinary.
Whether you're a devoted Lions fan or a curious visitor, Ford Field promises an unforgettable experience that will have you eagerly anticipating your return.
So, put on your Honolulu blue and silver, and get ready to dive into the captivating world of Detroit Lions football!
Ford Field: Key Facts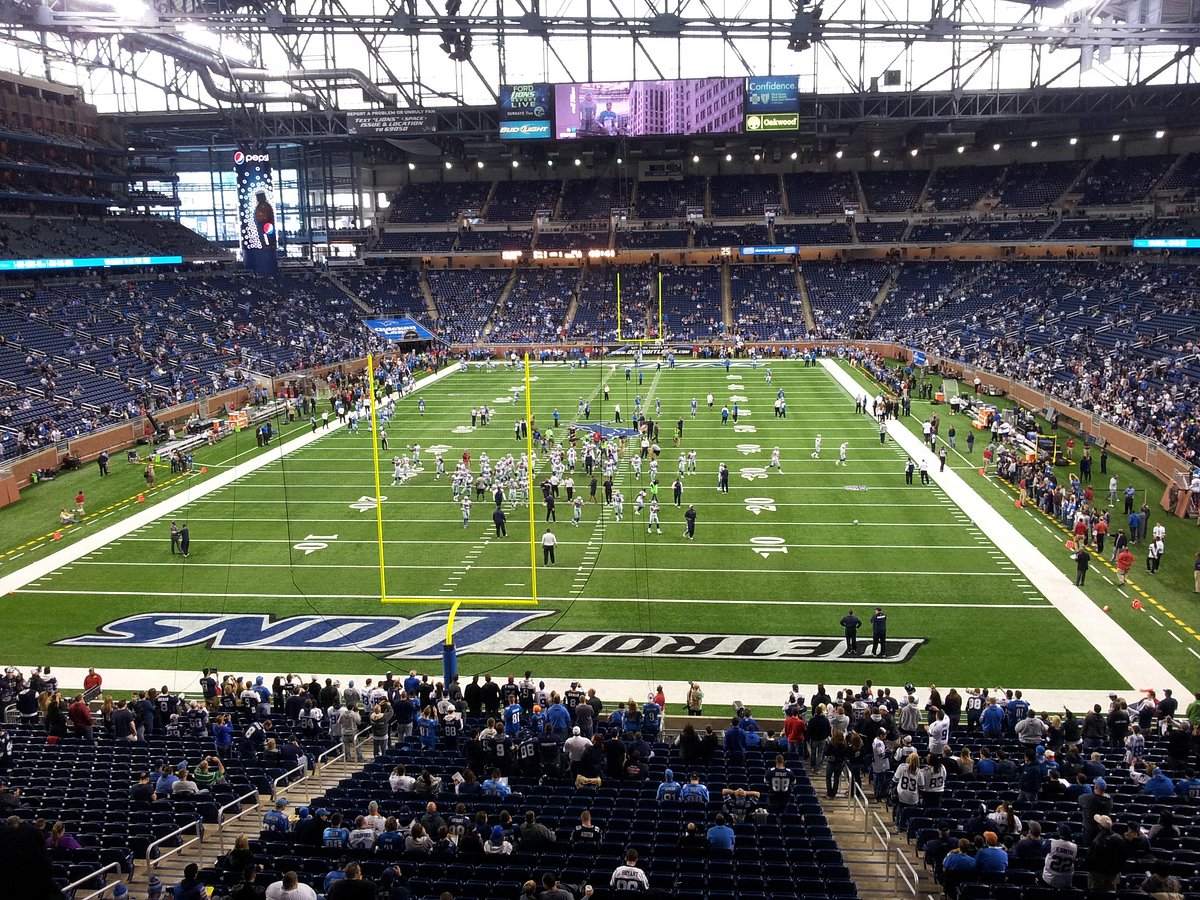 Ford Field is an enclosed and domed-off football stadium in Detroit. It is the biggest stadium in Detroit and home to the world-renowned Detroit Lions.
A football team that has been in the NFL since 1929 when they were formed. Initially, they were called the Portsmouth Spartans of Portsmouth; later, in 1934, they were rebranded and repurposed as the Detroit Lions. The name was precisely chosen to symbolize the "King of the jungle," the lion.
They have won four NFL championships. First, one against the New York Giants in 1935, then against the Cleveland Browns in 1952, 1953, and 1957. Ever since their last win, they have been struggling to compete against other teams in the NFL.
They have had some very successful players, including Bobby Layne, Earl "Dutch" Clark, Doak Walker, Barry Sanders, Calvin Johnson, and many more. They have overcome many challenges and had many career accomplishments with the Detroit Lions.
Apart from the triumphant players, the Detroit Lions have many celebrities as their fans, including Bob Seger, Keegan-Michael Key, and Kid Rock.
Other facts
It has an impressive capacity of 65,000 seats which can be expanded to 70,000 for football games and 78,000 for basketball games. It was by many experts ranked in the top half of best stadiums in the U.S., coming in at 15th place.
The stadium's record-breaking seating attendance was 80,103 during the WrestleMania 23 event, which was held in 2007.
This stadium is the current home of the Detroit Lions; it was opened in 2002 and held its first football game on the 24th of August 2002 when they hosted the Detroit Lions vs. Pittsburgh Steelers.
The stadium comprises 1.85 million square feet of area, with four suites and a whole level for club seating—an entire level, the ground floor, reserved for restaurants, concessions, and retail.
Besides the football games, Ford Field hosts many other events, including the Quick Lane Bowl, concerts, banquets, trade shows, business meetings, and conventions. It boasts an average yearly attendance of an estimated 1.5 million.
Where Is Ford Field Located?
Ford Field is located in the center of downtown Detroit, neighboring Comerica Park. Right on the border between the U.S. and Canada; technically inside the U.S., but a mere 10 minutes from entering Canada.
To get to Canada, the neighboring city of Windsor, you can take the Detroit-Windsor tunnel highway system, which is no more than a five-minute drive from Ford Field. Besides Comerica Park, Ford Field is near the Detroit Opera House and Fox Theatre.
Additional information
The Best Way to Get to Ford Field
No matter the location that you are at, you always have plenty of options for transport to Ford Field. Some of the best ones are:
Driving directions
Downtown Detroit
Suppose you are in downtown Detroit. From Monroe St., take a left to get to Randolph St., take the first right on Gratiot Ave., then left to get on Brush St., continue going forward, and you will see Ford Field on your right. 
Windsor, Canada
Suppose you are coming from Windsor, Canada. Take the Detroit-Windsor tunnel, which will directly lead you to Randolph St., where you want to continue forward for approximately 2,000 feet.
Then turn right to get on Gratiot Ave., continuing from this point on by using the previous and above-mentioned points.
Fisher Freeway
Head northeast on I-75 N, merge toward downtown onto I-375 S, exit toward Lafayette Ave., turn right onto Macomb St., turn right again onto St Antoine, then continue forward for 2000 feet, where on your left, you will see Ford Field.
Gratiot Ave. or Eastern Market
Head southwest on Gratiot Ave. toward Brewster St., keep left on Gratiot Ave., then turn right onto Brust St. Going forward, you will see Ford Field on your right.
I-75 S to Ford Field
Continue going southeast on I-75 S, then forward on I-375 S. Here, use the left lane to take the Madison Ave. exit. Finally, turn right on St. Antoine, then continue forward for 2,000 feet, where you will see Ford Field on your left.
Public transport
Downtown Detroit
Since it is very close, you have two options; bus and taxi. The better option is a taxi, which is way faster, but the cheaper one is a bus.
To go by bus, take line 6 or 40 bus. There should be one every 20 minutes. The bus costs around $1-$3 and is usually a five-minute ride. Taking a taxi will take around two minutes of driving and cost around $4-$6.
The area of Eastern Market
Coming from the area of Eastern Market again, you only have three options—bus, taxi, and subway. You can take the Line 40 bus for $2 and an eight-minute ride or a taxi for $5-$6 and a drive of three minutes. 
The Subway 6 Gratiot will take you around four minutes, and it will cost $2. The subway will leave you off at Gratiot & St Antoine, then continue on St. Antoine, and you will reach Ford Field in less than five minutes of walking.
Woodbridge, Jeffries, or North Corktown
Suppose you are in Woodbridge, Jeffries, or North Corktown. You can take the 3 Grand River subway for $2. But be wary that you must walk for about 12 minutes from Grand River & Times Sq. to Ford Field.
Moreover, you can take the line 3 bus, but again you will have to walk for about 15 minutes from Grand River & First to Ford Field for a price of $2 and a five-minute ride. A taxi is always an option which, in this case, seems like the best option to take you directly to Ford Field for a price of $7-$9 and a five-minute drive.
Parking Near Ford Field
Because Ford Field is located next to Comerica Park, they share plenty of parking lots. You can visit their website to book your parking beforehand, which will redirect you to ParkWhiz.
Ford Field Parking Deck
The closest parking to Ford Field with around 1,000 spots, some of which are disabled spots. This parking garage allows for cash, cards, and even contactless payment. Access to the garage is generally open around four hours before an event or game.
Additional information
| | |
| --- | --- |
| Location | Ford Field Parking Deck |
| Height Restriction | 8.1 feet (2.48m) |
| Electric Car Charging | Yes |
| Phone Number | +1 313-262-2871 |
McLaren Garage
Although the McLaren garage is closer to Comerica Park, it is within a three-minute walking distance from Ford Field. The garage is clean, and the spaces aren't too narrow. On the way out, you can take a picture with the lion in front of Comerica Park. 
It has around 900 spots, some of which are disabled spots. It allows for a card or contactless payment. Flat rates for the garage are $8, and monthly rates are $135.
Additional information
| | |
| --- | --- |
| Location | McLaren Garage |
| Height Restriction | 8.1 feet (2.48m) |
| Electric Car Charging | / |
| Phone Number | +1 313-725-3848 |
Other options nearby
The Best Restaurants Near Ford Field
Harbor House Detroit 
Harbor House Detroit is a seafood & steak restaurant based in a building circa 1905—brick walls with a classy interior design and unique mosaic chandeliers.
Included inside is a bar with plenty of seating available, but unfortunately, there is no outside seating available. The ambiance is relaxing, and the cuisine is great. An all-around solid restaurant with a meat-based menu.
Additional information
Vertical Detroit
Vertical Detroit is a formal restaurant located not too far from Ford Field. The restaurant offers an extensive wine and drink menu that complements the American small-plate dishes.
This restaurant is decorated with a beautiful brick interior with an extensive wine cellar implemented in the wall. They allow for outside and inside seating, but delivery is not available.
Additional information
Mom's Spaghetti
One of the most unique and fabulous restaurants in Detroit just for its interior design. This restaurant does not boast a decadent menu nor rich or modern interior or exterior details.
The entire restaurant is a tribute or somewhat of a museum for the world-renowned rapper Eminem. The restaurant is full of replicas and clothes he has worn, like a trip through his history.
The menu mainly consists of spaghetti cuisine, hence the name and the famous Eminem lyrics.
Additional information
The Best Bars Near Ford Field
Hockeytown Cafe
Hockeytown Cafe is a sports bar with Red Wings memorabilia. It is a high-energy bar with big screens that offers burgers and light meals.
You will find an extensive drink menu and an exceptional interior design there. Classic motorbikes attached to walls, in displays, and in their rustic but tasteful interior design. Although this is a bar, they have a menu offering various meals and desserts.
Additional information
Brass Rail Pizza Bar
Brass Rail Pizza Bar is a classic sports bar full of TV screens. Wooden interior with a menu full of pretty much every drink you can name and beer on tap. They have light meals, dishes, clever pies, burgers, and more.
Friendly vibe with amiable staff and fast service. And, of course, many different types of pizzas.
Additional information
Elwood Bar & Grill 
This bar is across the street from Ford Field and the perfect spot to stop before or after a game. You will regret not visiting this bar for its attractive interior and exterior design. It looks like it's straight out of a kids' cartoon.
Delicious burgers and classic American fare coupled with a variety of drinks. Also, a relaxed atmosphere with friendly and welcoming staff.
Additional information
The Best Hotels Near Ford Field
Greektown Hotel
Greektown Hotel is a contemporary and modern 4-star hotel close to Ford Field and across the street from the above-mentioned Pegasus Taverna.
A glass tower that overlooks most of the city skyline and offers one of the best views in Detroit. There you will find their casino and amenities such as a training center and gym, meeting, and business rooms, and, to go with it, all free Wi-Fi. 
You can find parking easily as they provide free parking in their private parking garage, which has more than 2,000 parking spots and is connected to the hotel.
To enter the casino, guests have to go through a skywalk where they will find two restaurants, a bar, and plenty of casino games such as slots, tables, live poker, and much more.
Nearest to Ford Field, this hotel is one of the better options. It is well-priced and offers every amenity a hotel should. Customers are always left satisfied. For those coming in from out of town, this hotel provides an airport shuttle.
Additional information
The Siren Hotel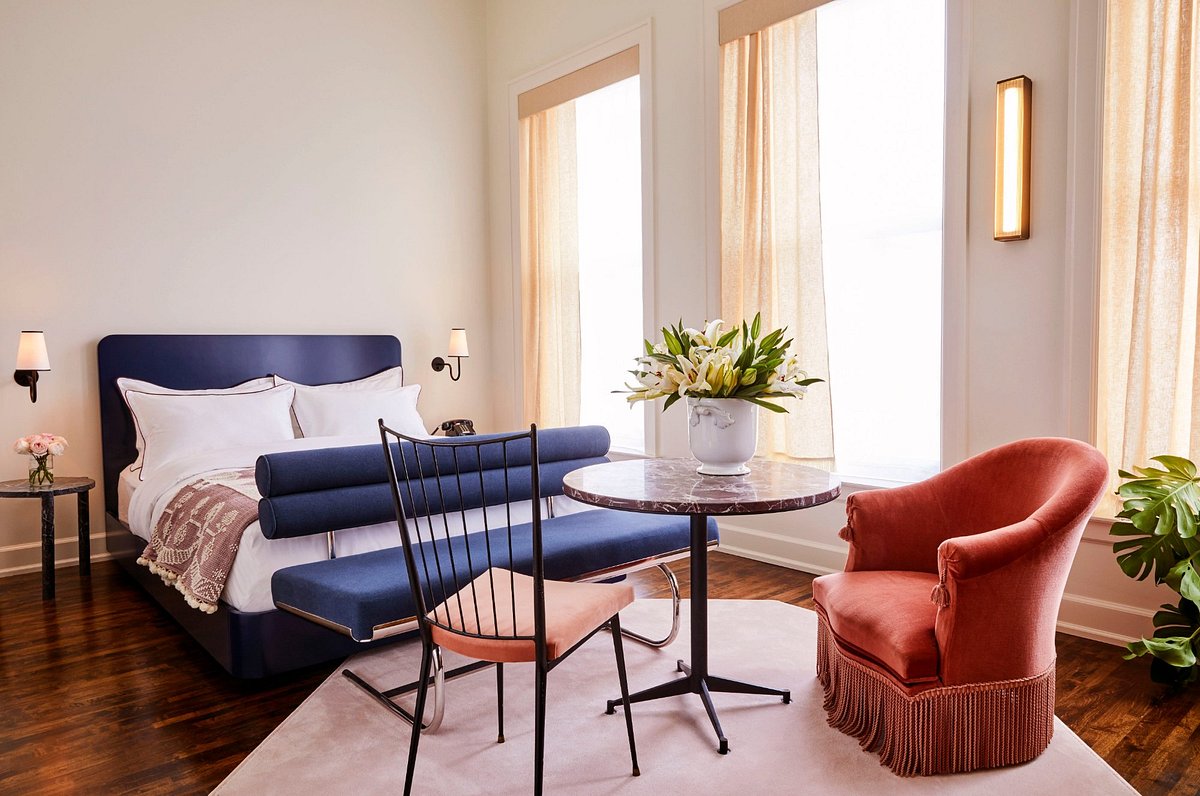 A slightly more affordable hotel than the previous one is the Siren Hotel. It makes our list for its exciting and unusual interior design. Classy, vintage with picturesque colors put together tastefully.
You will find a retro cafe, a movie-like cocktail bar, and a high-end restaurant seating eight guests only. This hotel is pet-friendly and offers free Wi-Fi, while parking does have to be paid for.
The location of this hotel is excellent; very close to the Opera House, downtown Detroit, Comerica Park, and Ford Field.
Additional information
The History of Ford Field
The history of Ford Field, although short, is plentiful. To play in their hometown, in 1996, intentions were expressed by the Lions to build their stadium and replace their then-home stadium, the Pontiac Silverdome.
Construction began soon after, and the stadium was opened in August of 2002 when the first football game was held. The stadium's first major concert was held in May, later that year, by the Rolling Stones.
The stadium cost approximately $500 million or $753 million in 2021. The stadium had one major renovation in 2017, costing approximately $100 million.
This stadium has a rich history of hosting prestigious events. Concerning football, they hosted Super Bowl XL in 2006. In 2006 they hosted the then-largest crowd to attend a basketball game.
An impressive number of 78,129 people watched a game of Basketball. Many other sports events have been held at Ford Field and hundreds of concerts with household-name singers or bands.
We cannot forget the Lions' traditional game for Thanksgiving. A tradition that started in 1934 by their then owner George A. Richards. The Lions have played a football game every year on Thanksgiving day ever since.
Where to Get Tickets for Ford Field
Tickets for Ford Field can be acquired on their website or in person at the ticket office located next to the main entrance of Gate G on St. Antoine Street.
The ticket office opens at 10 a.m and closes at 6 p.m., and works Monday through Friday. But be wary that this timetable might not always be correct, so to ensure the working hours, you can contact them at 313.262.2008, fax at 313.262.2808, or email them at [email protected]
For more ticket information, check out their website, detailing when to arrive and where not to park.
Does Ford Field Offer Tours?
Ford Field offers three types of tours, which can be booked through either website or phone number (313) 262-2270 ).
Public Tour
Here, you will get a behind-the-scenes tour at a price of $10-$12 per person.
Private Groups Tour
A private behind-the-scenes tour at a price of $10-$12 per person. At least 25 people are required for this tour.
Photos
Take photos in a Luxury Suite and the Lions' locker room.
Note: Be wary that most tours have very limited schedules. Contact information 313.262.2100, or email Chris Judd at [email protected]
Conclusion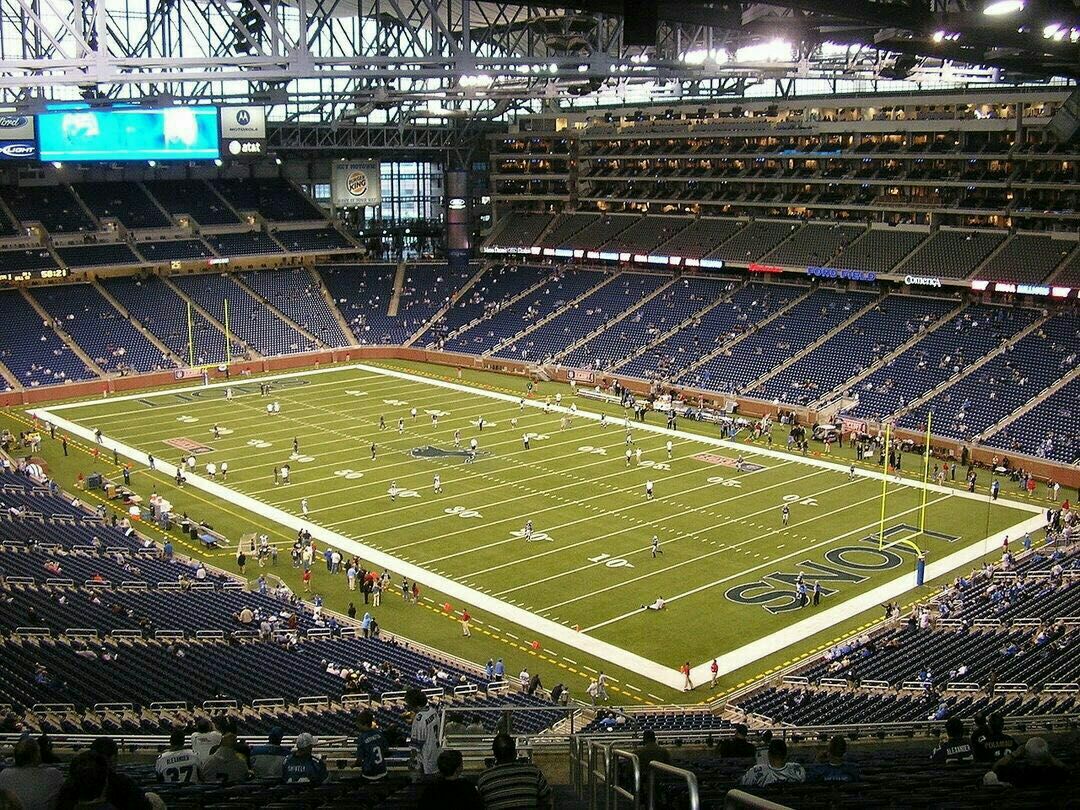 As one of the older cities in the US, Detroit has a lot to offer. There is always something to see, do, try something new, and so on. Visiting is an experience worth having, and while there, you should always consider a Lions' game.
You might have the time of your life while there.