Ford Field, located in Detroit, MI, is a popular destination for sports fans and concertgoers alike. As the home of the Detroit Lions and host to various events throughout the year, visitors from near and far may be wondering about the best ways to reach this iconic venue. This article provides a quick guide on how to get to Ford Field, with information on multiple transportation options to accommodate everyone's needs.
Whether you're driving your own vehicle, using public transportation, or taking advantage of rideshare and taxi services, multiple routes and options are available for you to choose from. Additionally, this guide discusses parking options for those coming by car, accessibility for individuals with disabilities, and tips for a smooth and hassle-free trip to Ford Field. With a bit of planning and preparation, you can make your journey to Ford Field an enjoyable experience.
Key Takeaways
Explore various transportation options like driving, public transit, and rideshare services
Consider available parking facilities and accessibility options for diverse needs
Plan and prepare for a smooth, hassle-free journey to Ford Field
How to Get to Ford Field by Car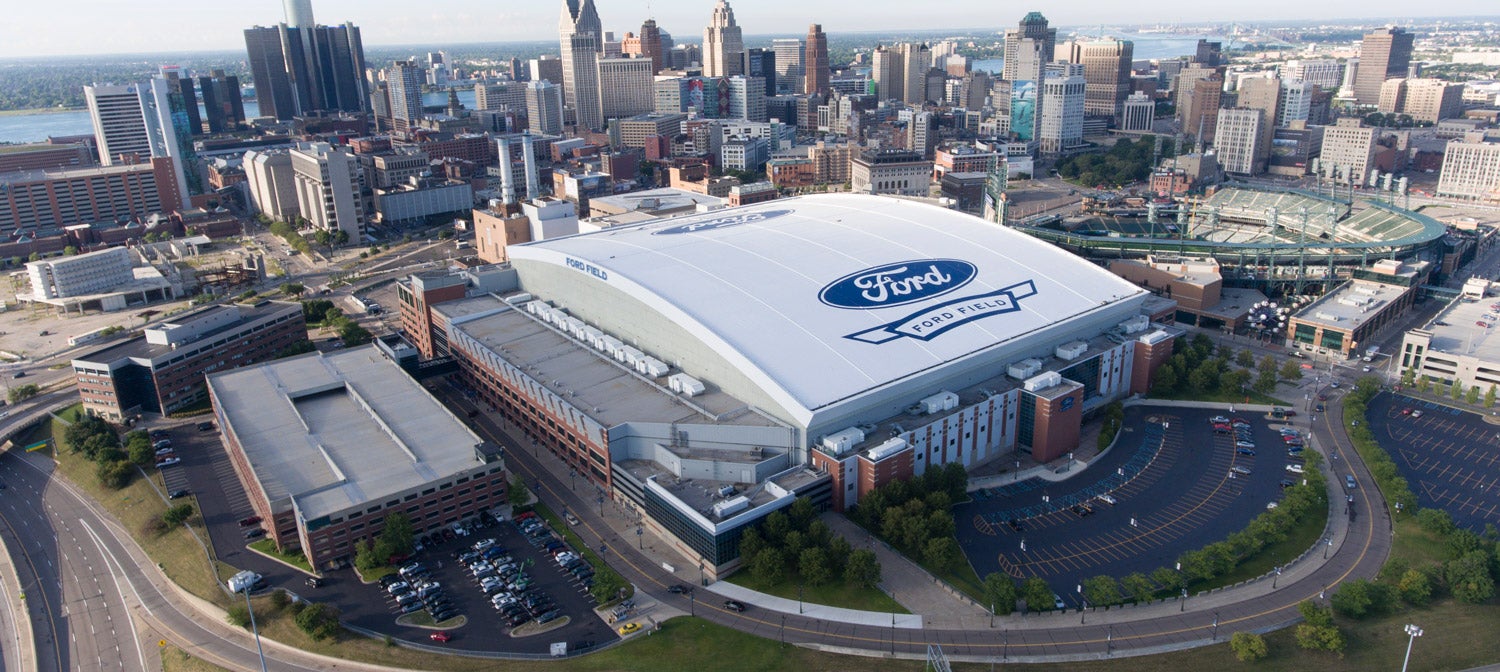 From East and West
Driving to Ford Field from the east or west can be done using Interstate 94 (I-94) or Interstate 96 (I-96). When using I-94, follow the freeway until you reach I-75 South. When using
Public Transportation Options
Ford Field, home to the Detroit Lions, is located in the heart of downtown Detroit. Thankfully, there are several public transportation options to help you reach the stadium without the need for a car.
Detroit People Mover
The Detroit People Mover is an automated light rail system that circles downtown Detroit. With 13 stations, it's an easy way to get around the city and access Ford Field. You can catch the People Mover at any of its stops and ride it to the closest station to Ford Field, which is the Grand Circus Park station. From there, it's just a short walk to the stadium.
QLine Streetcar
Another convenient option is the QLine streetcar, which runs along Woodward Avenue in the heart of Downtown Detroit. The streetcar has 12 stops, including one at Grand Circus Park, just a few blocks away from Ford Field. To plan your route and find the nearest QLine station, visit their website.
Bus Services
Detroit's bus system, operated by the Detroit Department of Transportation (D-DOT) and SMART, provides numerous routes that can help you reach Ford Field. One option is the line 261 bus. You can catch this bus at the corner of Michigan and Cass and get off at Michigan and Mason, just a short walk from the stadium. For additional routes and schedules, check the D-DOT website and SMART website.
In addition to these public transportation options, you may consider using rideshare services like Uber and Lyft or exploring Detroit's bike-sharing programs, such as MoGo, to make your trip to Ford Field even more convenient.
Parking at Ford Field
Official Parking Lots
Ford Field offers disabled parking in Lot 4 and the Ford Field Parking Deck on game days. Lot 4 is located just north of Ford Field, east of Brush, and south of Montcalm. The Ford Field Parking Deck is located just east of Ford Field on St Antoine. These parking areas are available for guests with disabilities on a first come, first serve basis. To access Lot 4, enter from Montcalm.
Alternative Parking Options
Although there is no official parking for the general public at Ford Field, attendees can find third-party parking options in the surrounding area. Vendors near Ford Field often sell parking spots on platforms such as ParkWhiz and SpotHero. By using these services, you can easily find and reserve a parking spot for the event you plan to attend at Ford Field.
Remember to arrive early to secure available parking and account for any traffic or potential delays. Keep in mind that both official and alternative parking options may be subject to additional fees.
Rideshare and Taxi Services
Rideshare Pickup and Dropoff Locations
Ridesharing services such as Lyft and Uber are popular options for transportation to and from Ford Field. To request a ride from Detroit Metropolitan Airport, simply open the Lyft or Uber app, input Ford Field as your destination, and you'll be matched with a driver. Both Lyft and Uber offer a range of vehicle sizes to accommodate different numbers of passengers, with Lyft Shared and UberPool options for shared rides.
When arriving at Ford Field, your driver will drop you off at a designated location, usually near the venue entrance. For pickup after the event, you can request a ride through the app and head to the designated pickup location where your driver will meet you.
Taxi Services
Traditional taxi services are also available for transportation to Ford Field. Rather than using an app, taxis can be hailed at the airport or pre-arranged for pickup. To ensure a smooth trip, it's recommended to provide the taxi driver with the specific address of Ford Field: 2000 Brush St, Detroit, MI 48226. If you require a specific type of taxi or have accessibility needs, it's best to call a local Detroit taxi company in advance to ensure those accommodations can be made.
Remember to always be safe and responsible while using any transportation service. Enjoy your visit to Ford Field!
Accessibility Options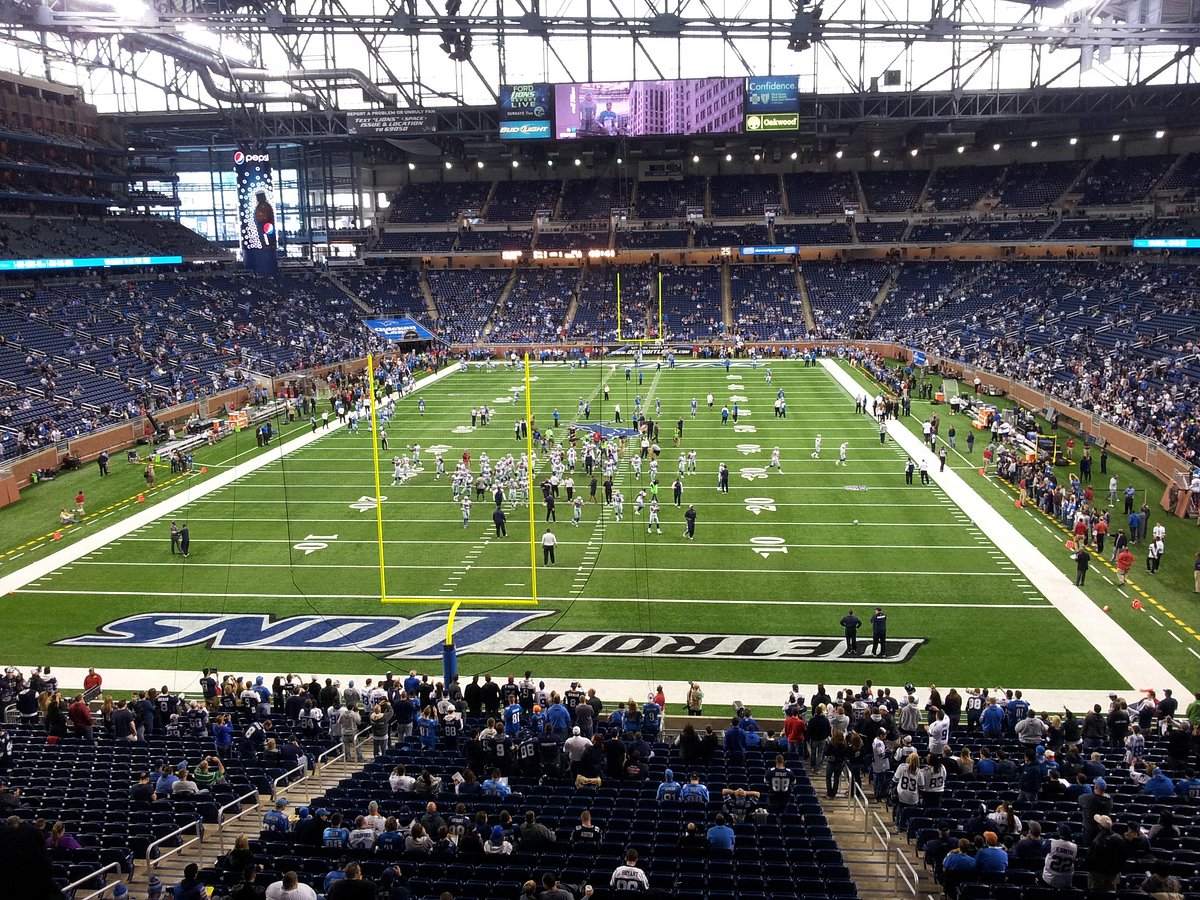 ADA Parking
Ford Field offers accessible parking options for guests with disabilities. These spaces are available on a first-come, first-served basis and require a valid state-issued disability parking permit. It is recommended to arrive early to secure an accessible parking spot.
Wheelchair Services
Ford Field is dedicated to providing an inclusive and comfortable experience for all guests. The stadium has wheelchair-accessible seating areas and companion seating throughout the venue. Additionally, Ford Field offers wheelchair assistance for guests who need help getting to and from their seats; simply visit one of the Guest Services desks located throughout the stadium for assistance. The assistance team is ready to ensure all guests have a pleasant experience at the event.
Tips for a Smooth Trip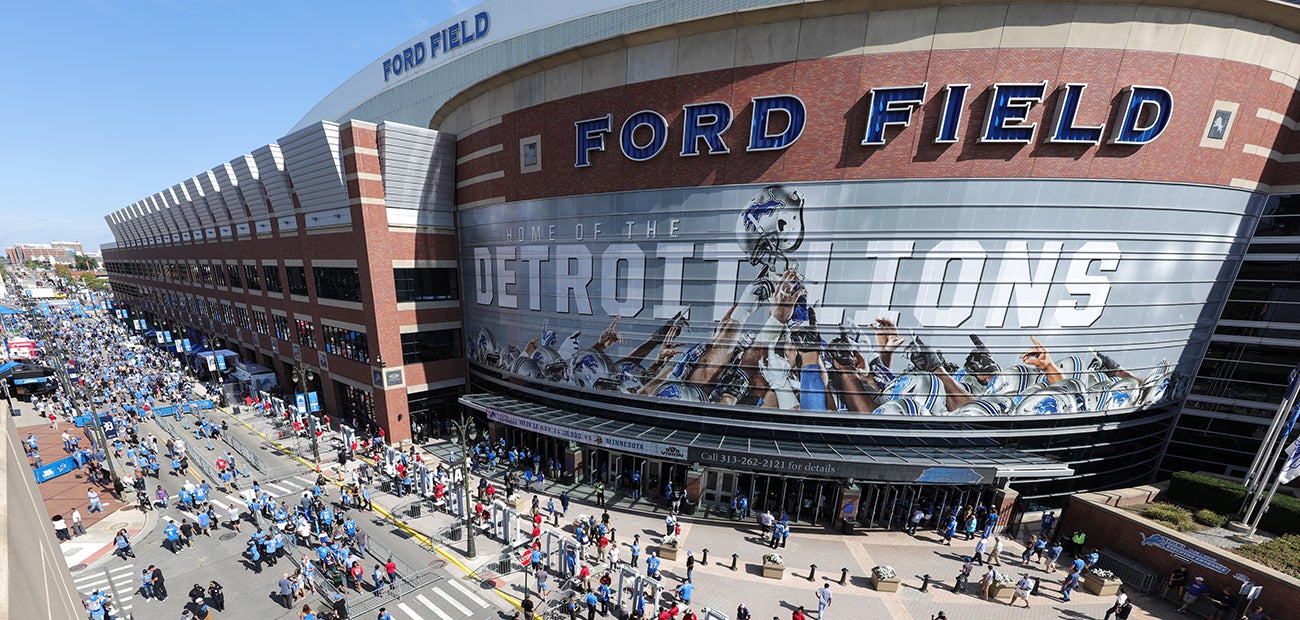 Before you head to Ford Field, it's essential to plan your visit to ensure a smooth trip. Start by getting familiar with the directions to the stadium. Ford Field is nestled in downtown Detroit, surrounded by fantastic restaurants, bars, shopping, hotels, nightlife, theaters, clubs, and Comerica Park.
When considering transportation options, don't forget about public transit. Investing in a Detroit Lions game ticket at Ford Field will provide you with various choices for getting to the stadium. Be sure to explore all available transit methods to determine the best fit for your needs.
Parking is always a concern when attending events in a bustling city like Detroit. To secure a convenient parking spot, look into the official Ford Field parking lots. These lots are typically located close to the stadium, making it easier to get to the venue. Be mindful of handicap parking solutions, as they will likely have designated spaces reserved for those who need them.
While planning your trip, it's also essential to account for meals and refreshments. Ford Field is home to numerous food and beverage options, so take some time to familiarize yourself with the stadium's offerings. Additionally, nearby restaurants and bars provide excellent opportunities for pre- or post-game dining experiences.
Lastly, consider taking a Ford Field stadium tour to enhance your overall experience. The tour offers an insightful history of the stadium, Comerica Park, and the city of Detroit. Such a tour can also provide you with valuable information about seating options for future events.
By following these tips, you'll be well-prepared for a smooth and enjoyable visit to Ford Field.
Conclusion
In conclusion, reaching Ford Field is a rather straightforward process that offers various options for visitors. Located at 2000 Brush St, Detroit, MI 48226, the stadium is easily accessible via public transportation, car, or even walking from nearby locations.
Visitors can utilize Detroit's public transportation system, such as buses and the People Mover, to get to the stadium conveniently. For those driving to the venue, ample parking is available around the stadium, and planning ahead will help ensure a smooth arrival experience.
Adjacent to Comerica Park, Ford Field is part of a bustling entertainment district. When planning a trip to the stadium, consider exploring the surrounding area for dining and lodging options, as well as other points of interest. By following these tips, you'll be well-prepared for an enjoyable visit to Ford Field.