As I planned my trip to Little Caesars Arena, I realized that knowing the ins and outs of the entrance and gate locations would make my experience much smoother. As a fan and visitor, I wanted to share my findings to help you navigate this incredible venue with ease.
Little Caesars Arena, home to the Detroit Pistons and Red Wings, features several entrances and gates, each with its unique offerings and access points. In this guide, I'll share everything you need to know about the entrances and gates, including their locations, what you can expect nearby, and any tips for making the most of your visit.
Throughout my research, I discovered that the doors at Little Caesars Arena generally open 1.5 hours before the start of Pistons and Red Wings games, while the opening time may vary depending on concerts and other events. By becoming familiar with the arena's entrances and gates, you'll find yourself enjoying your time at this state-of-the-art venue even more. Let's dive right into it!
How to Reach Little Caesars Arena
Public Transport
As an event-goer at Little Caesars Arena, I've found that using public transport is a convenient way to get there. Detroit offers various public transportation options that can get you to the arena easily. You can consider using the Detroit People Mover, a monorail system with a stop at Grand Circus Park Station, which is just a short walk away from the arena. Another alternative is the QLINE, a streetcar system that connects downtown Detroit to Midtown, with a stop at the Little Caesars Arena station on Woodward Avenue.
Parking Options
When driving to Little Caesars Arena, I always make sure to plan for parking. With 32 parking locations available throughout The District Detroit, I never worry about finding a spot as these parking lots and garages usually guarantee being within a 10-minute walk from the venue. To make things even more convenient, it's possible to book a parking space online ahead of time at ParkDistrictDetroit.com. Keep in mind that parking capacities may vary depending on the size and type of the event, so make sure to arrive early to secure a spot.
Entering the Arena
Gate Locations
I noticed that Little Caesars Arena has four public entry gates and one VIP entrance. The Little Caesars Arena Chevrolet Northeast Entrance is one of the main entrances you can use. Be sure to check the event details to find the best gate for your seating location. There are plenty of signs and friendly staff to guide you through every step of the way.
Security Checkpoints
As I approached the arena, I encountered security checkpoints at all gates. Please remember that you may have to go through metal detectors and have your bags checked. It's a good idea to review the arena's policies about what you can bring inside before you arrive. Make sure to arrive a bit early to give yourself enough time to pass through security and find your seat.
Accessibility Features
During my visit, I saw that the arena has various accessibility features to accommodate attendees with disabilities. There are accessible entrances at all public gates, and the staff is more than willing to assist you during your visit. Wheelchair accessible seating and assistive listening devices are also available.
I hope this information helps you plan your visit to Little Caesars Arena. Enjoy your event!
Inside the Arena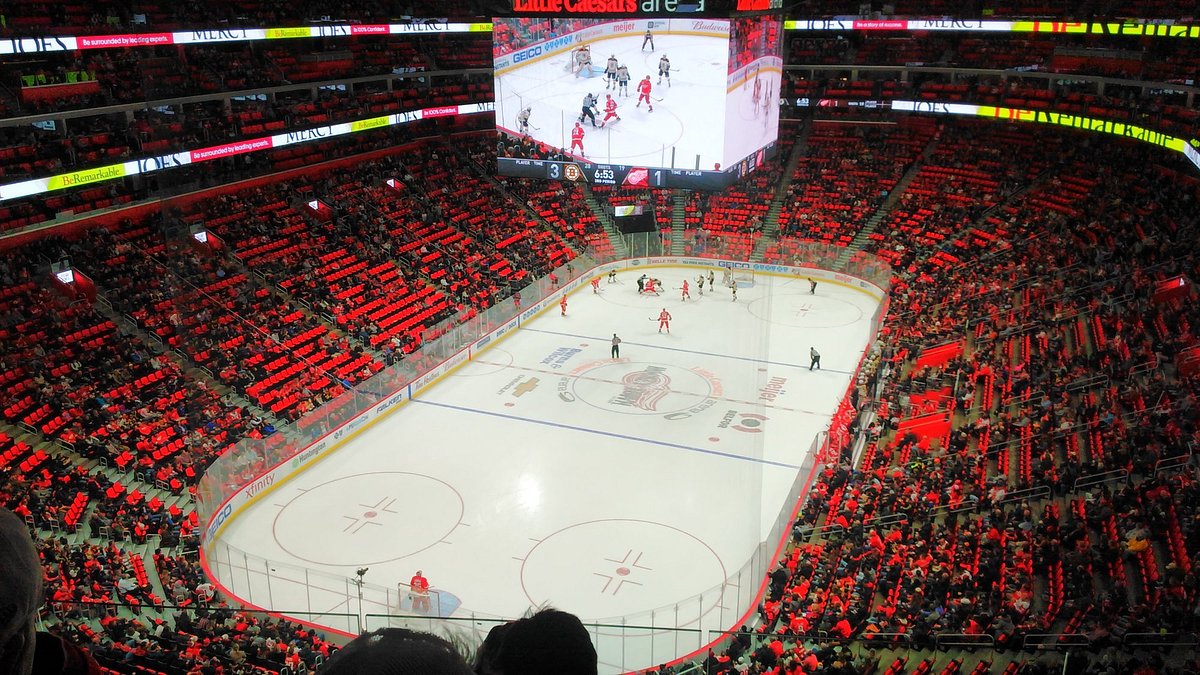 Seating Arrangements
I discovered that Little Caesars Arena uses a portal system as the primary way for guests to locate their seats. There are 82 portals inside the arena. You can find portals 1-20 on the street level concourse, while portals 21-72 are on the upper concourse. Interestingly, the arena replaced its all-red seats during the 2018-19 season.
Refreshments and Dining
As I explored the area, I found that you can plan to arrive early for an event and enjoy one of four Little Caesars Arena restaurants open on both event and non-event days. In addition, there's the PointsBet Sports Bar, which is a great spot for sports bettors and fans seeking a full-service, seated dining option.
Restrooms, ATMs, and Other Amenities
When it comes to additional amenities, Little Caesars Arena offers restrooms, ATMs, and other useful facilities. Be sure to keep an eye out for signs indicating their locations as you navigate the venue.
Special Tips for Concerts
When I attend concerts at Little Caesars Arena, I like to keep a few things in mind to make the most of my experience. Here are my go-to tips for enjoying concerts at this amazing venue:
Arrive early: Doors to Little Caesars Arena usually open about 1.5 hours before the event starts. I suggest getting there early to grab a bite to eat, find my seat, and explore the venue without feeling rushed.
Bring essentials only: Security checks are taken seriously at Little Caesars Arena. For a smooth entry, I always pack light and carry only the essentials in a small bag to avoid any potential delays.
Non-smoking policy: It's important to note that Little Caesars Arena and its surrounding areas are non-smoking. This means that once I exit the arena, there's no re-entry. So, I always make sure I'm set with everything I need before leaving my seat.
Navigate the concourse: The Little Caesars Arena Via concourse is open to the public during events. I find it helpful to take a quick stroll around to familiarize myself with the layout and various amenities, like restrooms and food options, before the show starts.
Consider dining options: Little Caesars Arena offers both sports bars and full-service dining options, such as the PointsBet Sports Bar. I often indulge in a meal before or after a concert to complete my event experience.
Overall, by following these tips, I've found that I can fully enjoy the concerts at Little Caesars Arena without any hassles. I hope these suggestions will help you make the most of your concert experience at this exquisite venue.
Managing Emergencies
I was curious about the procedures and resources available at Little Caesars Arena in case of emergencies. Hence, I decided to look into the matter and found out the arena has a well-organized emergency management plan in place to ensure the safety of all guests.
In the event of an emergency, the arena staff is well-trained to guide and assist all guests to safety. The ushers and security personnel play a crucial role in executing the evacuation plan in a calm and orderly manner.
Information about emergency exits can usually be found on the back of the tickets, which are located throughout the arena. Additionally, there are visible signs and announcements made during events to remind guests about the location and accessibility of these exits.
For guests with disabilities and those with mobility issues, Little Caesars Arena has designated evacuation routes and assistance from the arena staff to ensure their safety as well. Furthermore, medical professionals are on-site to attend to any injuries or health-related concerns that may arise during an event.
Lastly, I recommend listening and adhering to any instructions from the staff in emergency situations. Their primary goal is to ensure the safety and well-being of each guest. In case you have any concerns or require assistance, do not hesitate to approach a staff member for help.
Exiting the Arena
When I leave Little Caesars Arena after an event, it's important to have an exit strategy in mind. With a friendly tone, here are a few things I consider to make it a smooth exit process:
First, I familiarize myself with the various exit doors available at the arena. Knowing where the closest exit to my seat is helps me get out more quickly and efficiently. I also make sure to note any signage that points me in the direction of the nearest exit.
Next, if I'm planning to use a rideshare service like Uber or Lyft, it's good to know the designated pickup location. For Little Caesars Arena, the Comerica Entry SE is the recommended exit, and I can then head to the corner of Woodward and Fisher St. to meet my ride.
I also keep in mind that there might be ongoing construction in The District Detroit and surrounding areas, so planning to leave a bit early gives me enough buffer time in case I encounter any delays. Patience and a positive attitude can go a long way in making my exit from the arena stress-free.
Finally, as a responsible arena visitor, I abide by the Little Caesars Arena safety and security guidelines. Keeping my bags within the permitted size limits (14″x14″x 6″) and following other arena rules ensures a seamless experience for both myself and my fellow event attendees.
In short, exiting Little Caesars Arena can be a breeze with a little planning and attention to the arena's guidelines. So, the next time I attend an event there, I'll be well-prepared for a smooth departure.
Summary
As a frequent visitor to the Little Caesars Arena in Detroit, I've found that knowing the ins and outs of this incredible venue can greatly improve the overall experience. Whether you're attending a Detroit Red Wings or Detroit Pistons game, a concert, or any other event, it's important to be familiar with the different entrances, gates, and other key features that the arena has to offer.
One of the main entrances to the arena is the Chevrolet Northeast Entrance. This entrance is usually my go-to when I attend events, as it's easy to find and typically has a steady flow of visitors. Make sure you plan to arrive a little early, as there may be construction happening in The District Detroit and surrounding areas that could impact your travel time.
Before you head to the arena, it's important to know that Little Caesars Arena has a no-smoking policy and does not allow re-entry once you've left the building. An updated no-bag policy is also in place for the comfort and safety of all guests. Additionally, all persons and bags entering or exiting the arena are subject to inspection. This can impact how much time you need to get in, so be prepared for these safety measures.
As for event timings, the arena's doors generally open 1.5 hours before Red Wings and Pistons games. The timings for concerts and other events may vary, so it's a good idea to check with event details for more information. One more thing that I love about visiting the Little Caesars Arena is the Via concourse, which is open to the public during specific hours, even on non-event days. It's a great spot to explore before or after attending an event at the arena.
I hope this summary helps you make the most of your upcoming visit to Little Caesars Arena. Enjoy the event and all that this fantastic venue has to offer!