U.S. Bank Stadium is the home of the Minnesota Vikings. It is an enclosed stadium in downtown Minneapolis, Minnesota that opened its gates in 2016. Since then, Aramark has been the stadium's official hospitality and dining partner.
Minnesota's local, hearty, and heart-warming food is known around the U.S. Aramark has efficiently brought those flavors of the state to the stadium for all visitors. They have created an excellent food and beverage menu that brings Minnesota's cuisine and culture to the game enjoyers.
So, whether you are planning to visit for the Vikings game or just to explore the food at U.S. Bank Stadium, you are in for a treat. We have given some suggestions for the classics and new items at the stadium in this article.
Exploring the Food Choices at the U.S. Bank Stadium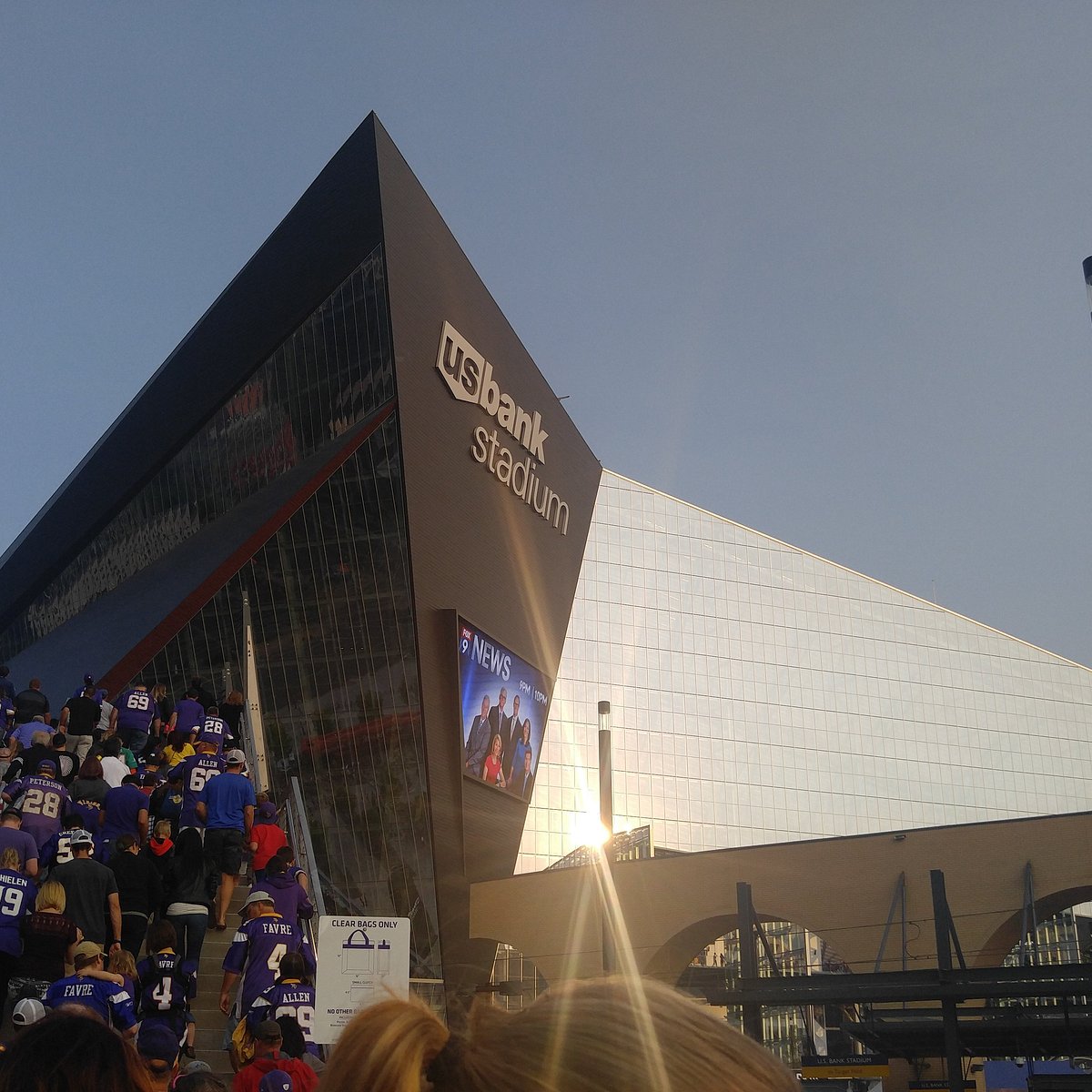 In this section, you can find all the classic savory and dessert items offered at the stadium, along with some of the newest additions to the food menu. So, if you enjoy good food and don't want to go on a search during the match, our list might help. Let's jump into it!
The Classics of the U.S. Bank Stadium
First, let's go through some classic savory items that can never go wrong.
Cheesesteak
What better day to enjoy a classic cheesesteak than the Minnesota Vikings' game day? You can grab yourself a Philly cheesesteak filled with peppers, pickled onions, meat, and cheese in sections F108, 122, 304, and 344.
Stadium Food
If you are not trying to eat anything fancy, then you can find the classic stadium food all around the stadium in concession stands. The concession stands offer hot dogs, burgers, fries, peanuts, pretzels, nachos, pizza, beer, water, soda, and more.
Nashville Coop
Nashville Coop, located in the FMP Club, offers their signature Nashville hot chicken sandwiches. These sandwiches are hearty and go great with chilled beer during a game.
The Classic Desserts of the U.S. Bank Stadium
Even if you don't have a sweet tooth and prefer savory items over dessert ones at the stadium, you can at least try one of these desserts once.
Dippin' Dots
Dippin' Dots in section 129A has the most adorable ice cream. They are adorable because these ice cream balls are small in size and come with various toppings.
AZ Canteen
AZ Canteen is a restaurant by Andrew Zimmern. One of the most popular items in his restaurant is frozen hot chocolate. He made this keeping in mind all the sub-par frozen hot chocolates at stadiums sold at a high price. 
AZ Canteen's frozen hot chocolates are made of a velvety frozen chocolate mousse covered in white chocolate-coated rice puffs. They serve it in a paper cup with a wooden spoon so that you can easily scoop it out. So, if you are craving something frozen at the game, you can get these in section 344.
T-rex Cookie
In section 366, you will find T-Rex Cookie, which serves delicious flavors of cookies to the stadium visitors. Don't miss it!
Love You Cookie
Love You Cookie brings visitors the Minnesota homey vibe at the U.S. Bank Stadium with their amazing cookies. Their cookies are entirely handmade with love and have a lot of flavor options to choose from.
Hockey Mom Brownie
Craving brownies at the stadium? Hockey Mom Brownie has got you covered! They offer raspberry cream cheese, smores, cookies and cream, salted caramel, and many other flavored brownies. You can find them in sections 111A and 359.
New Food Experiences of the U.S. Bank Stadium
Regular fans often get bored with the classic food items offered at the U.S. Bank Stadium. That is why the stadium management always tries to bring something new, so more visitors enjoy the game and the food. So, let's get to know some of the latest food additions.
Prairie Dog's Skol Dog
Prairie Dog's skol dog will remind you that you are in the North Star State. It is a delicious hot dog but not your classic one. It is made with beef, yellow mustard, smoky yet sweet bacon jam, and lots of crispy purple potato chips. The vibrant colors of the skol dog attract many visitors just for a taste.
However, if you aren't a fan of the bacon jam, you can get their namesake skol dog. It is made with beef, chopped onions, dill pickles, peppers, sliced red tomatoes, celery salt, and green relish. Prairie Dog is ready to serve you in section 122 on a game day.
Be Graceful Cafe
Be Graceful Cafe truly brings grace to some of the messiest food items. Their menu caters to both meat lovers and vegans. You can get yourself a falafel pita, portobello French dip, or an impossible sloppy joe during or after a game.
Twin Cities Foodies Stand
In section 101, you can fulfill your nachos or sandwich craving by visiting the Twin Cities Foodies Stand. Their incredible and juicy jerk bacon sammie and smoky chicken nachos are popular items on the menu. This sandwich is made with a spicy and salty pork belly, topped with sweet and cool coleslaw, and served on a soft bun.
On the other hand, the smoky chicken nachos consist of fried corn tortillas topped with aromatic chicken, pickled jalapenos, mouth-watering cheese sauce, and finely chopped cilantro. Moreover, these are very hearty meals and have a homey vibe as the best local chefs make them for you.
Ike's Carving Beef Tenderloin Sandwich
If you are craving some delicious tenderloin sandwiches, visit Ike's Carving in sections 119 and 329. Their beef tenderloin sandwich is made with juicy carved tenderloins, creamy horseradish sauce, and seasonings assembled in a soft onion-flavored bun. The bun is made fresh for this sandwich by Denny's 5th Avenue Bakery.
Revival's Tennessee Hot Fried Chicken Sandwich
Revival is a popular restaurant in the Twin Cities with various excellent food items. They are located in section 111 at the U.S. Bank Stadium. You can grab their famous Tennessee hot fried chicken sandwich on a cold game day or a plate of fried chicken to enjoy during the game. Either way, the food is absolutely mouth-watering.
AZ Canteen
AZ Canteen knows how to draw the Vikings' fans' attention. They offer some of the most delicious hoagies you have ever tasted and a very tasty sandwich. Their roasted pork hoagie is made with fennel-flavored porchetta hoagie, sliced meat, and provolone cheese, assembled neatly on a soft hot dog bun.
On the other hand, the lamb sandwich consists of slow-roasted, cumin-flavored lamb shoulder meat, sliced tomatoes, sliced onions, special cucumber-Greek yogurt, and a fresh butter-toasted bun. You can go to section 344 to get their roasted pork hoagie and the lamb sandwich.
Conclusion
U.S. Bank Stadium is a relatively new stadium, but it has so much to offer. Moreover, the food options it has is hard to beat by most other stadiums. So, if you plan to visit the stadium for the next Minnesota Vikings game, make sure to try these mentionable food items. Trust us; the food is delicious and worth it!