The Target Center is home to the basketball team Minnesota Timberwolves of the NBA and Minnesota Lynx of the WNBA. This is a multi-purpose arena that hosts a variety of events, such as concerts, family shows, graduations, sports matches, and private events. Millions of guests visit the entertainment venue annually, holding up to 20,500 people.
Target Center
Key facts 
Where Is the Target Center Located?
The Target Center is located in the heart of downtown Minneapolis, a major city in Minnesota. The arena is situated near First Avenue, the light rail station Warehouse District as well as the Pantages Theatre and the Skyway Theatre.
The Best Way to Get to Target Center
You can get to the Target Center by bus, light rail, train, car, and bicycle.
Bus 
Here are the bus lines near the arena:
Bus lines: 17/22/3/790/9/94/Metro D Line
North: 4/5/14/19/22
East: 3/61/94
West: 9/14
South: 4/5/6/14/22
Light rail
Light rail: Metro Blue Line/Metro Green Line
Hennepin Avenue Station
Train 
Bicycle
The busses and train stop in Minneapolis have free bicycle racks, so you can also get to the arena with a bicycle. 
Parking Near the Target Center
If you're going to the arena with your own transportation, you need to be familiar with the parking spots near the arena. This is because finding parking can be very challenging, especially during events when it's very crowded. Luckily, Minneapolis offers numerous parking spots, many of which provide easy access to the arena.
The Best Restaurants Near Target Center
If you are looking for an exquisite fine dining experience before or after an event at the Target Center, The Capital Grille might be what you are looking for. The Capital Grille offers a cozy and pleasant ambiance and a sophisticated dining space. The restaurant is known for its delicious hand-cut steaks, expertly prepared by the chefs.
However, you can also choose from a variety of gourmet dishes from the menu, such as filet mignon, boneless prime ribeye, sushi-grade sesame seared tuna, and more. The Capital Grille also offers a variety of appetizers and soups, tasty desserts, fascinating cocktails, and a wine list of more than 350 options.
The Butcher's Tale is an elegant restaurant providing a pleasant atmosphere. Aside from a cozy dining space, the restaurant features an expansive patio and a beer garden. It specializes in house-smoked meats and hand-cut steaks, as well as hand-crafted sausages and seafood.
The Butcher's Tale's extensive dinner menu offers appetizers such as chilled white gulf shrimp, crab and lobster cake, and smoked jalapenos, while their brunch menu includes french toast, pancakes, American breakfast, omelet, and sandwiches.
The restaurant also has an extensive menu of wines, beers, and cocktails to complement your dining experience. The Butcher's Tale offers something for every visitor's taste and budget, serving everything you need to spend a memorable time here with your loved ones.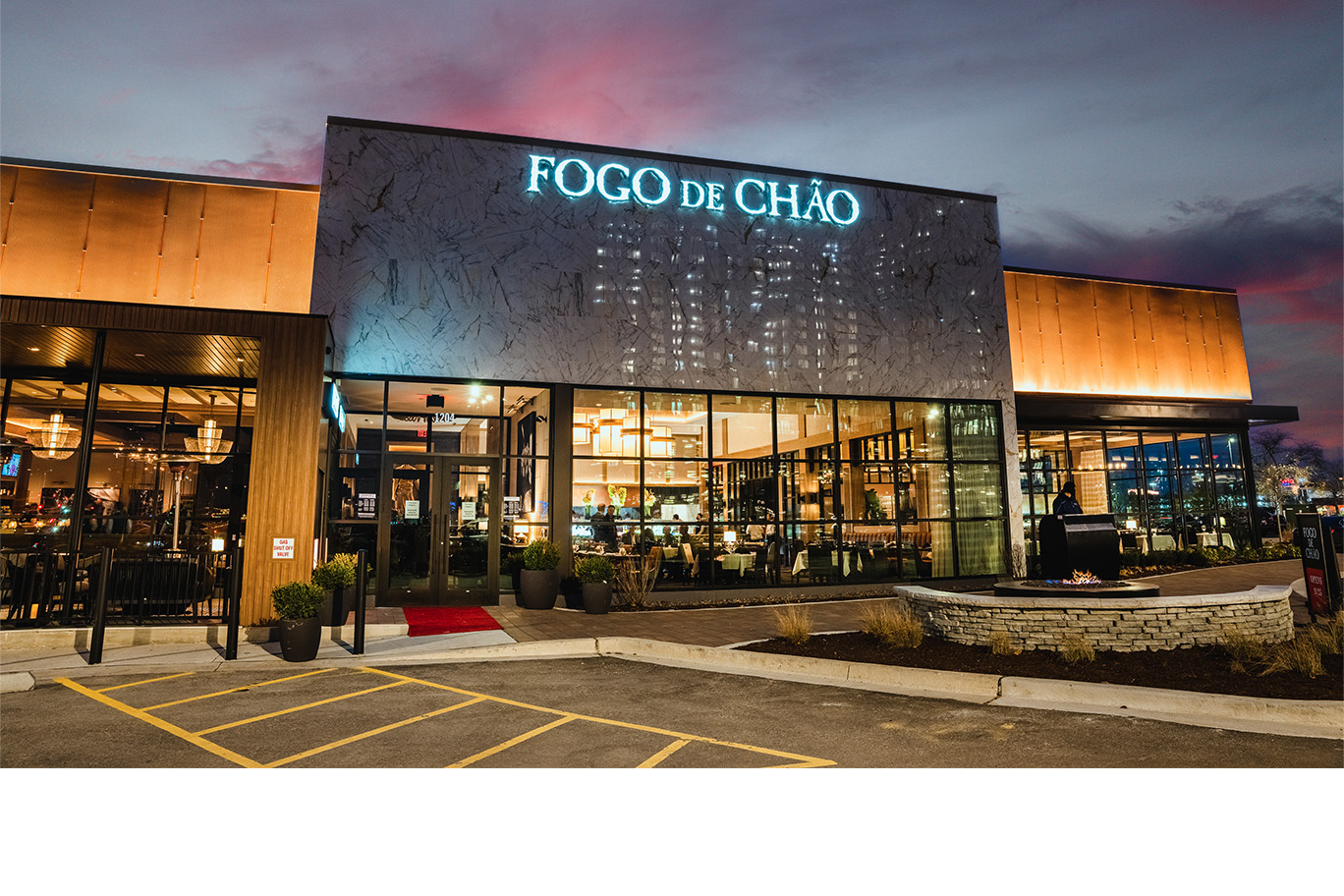 Fogo De Chão is an upscale Brazilian restaurant located in the Hennepin Theater District and within walking distance from the Target Center, hotels, and museums. The restaurant offers a spacious dining room, seating over 300 guests, as well as private dining rooms for up to 150 people.
Fogo De Chão offers brunch, lunch, and dinner options, happy hour plates, and appetizing South American cocktails, wines, and other beverages. The renowned steakhouse offers a variety of delicious options, including bacon-wrapped chicken and steak, spicy pork sausage, beef ribs, prime lamb steak, and chicken breasts. 
Nolo's Kitchen & Bar is a stylish restaurant serving modern American comfort food. Their professional chefs use fresh local ingredients to create familiar food with innovative takes.
The restaurant offers a charismatic atmosphere and warm service. The weekend brunch menu here includes soup and salads, tasty wood-fired pizza, sandwiches, and starters such as chicken wings, potato chips, and shaved beef tacos.
On the menu of Nolo's Kitchen & Bar, you can also find pasta, delicious entrees including crispy pork cutlet and coconut curry seafood stew, as well as specialties such as roasted beet salad, beef short rib skewers, and turkey wild rice meatloaf.
Murray's is the Minneapolis original restaurant for steak opened in 1946. The renowned restaurant has kept its classic look, with a cozy and pleasant ambiance, offering quality service and high-quality delicious food.
Murray's timeless menu includes lunch options like soups, salads, and delicious entrees such as pork schnitzel, pan-seared salmon, roasted chicken, and steak frites. Here you can also try Murray's original steak burger or opt for other options like Bacon Blue burger, Pat Murray's Peppercorn burger, and others.
Regarding Murray's dinner menu, the restaurant provides tasty appetizers, signature steaks, and classic steak cuts such as New York Strip sirloin, filet of beef, brie cheese filet, and other selections.
The Best Bars Near Target Center
The friendly staff from Kieran's Irish Pub gives a warm welcome to locals and tourists visiting Minneapolis, Minnesota. The bar has a pleasant atmosphere and often features live Irish music. 
The pub boasts a wide selection of beverages to try, including fine whiskey, draft beer, red and white wines, and specialty cocktails. Aside from drinking beverages, in Kieran's Irish Pub, you can also grab a bite to eat as they offer sandwiches and salads, desserts, and a variety of delicious dishes.
Constantine is an upscale bar with a gothic and dark-themed interior and a pleasant ambiance. The lounge is lit with candles and features incredible artwork.
Guests here can choose from Constantine's extensive cocktail menu, including the Salty Siren, Constantine Old-fashioned, the French Man, and Treasure Trail.
The elegant bar also offers non-alcoholic cocktails, beer, and wine options such as red, white, rose, and sparkling wine. Additionally, Constantine offers a happy hour and food menu featuring burgers, a tuna sandwich, a cheese plate, charcuterie, and more. 
Tom's Watch Bar has several locations across the US, including in Minneapolis near the Target Center. The bar offers a sports-watching entertainment experience, which means the guests can enjoy tasty beverages while watching professional and international sports events.
Tom's Watch Bar provides a wide array of craft, domestic, and imported beers, as well as white, red, rose, and sparkling wines. The bar also offers a variety of cocktails, including their signature Tom's Smash, Blue Crush, Mimosa, Lavender Lemon Drop, and others. 
On the Tom's Watch Bar menu, you will also find a variety of food, such as wings, mac and cheese, sandwiches and burgers, tacos, salads, starters and snacks, and delicious desserts. 
The Lyon's Pub is a reasonably priced English-style tavern located near the Target Center. Here, guests can make a selection out of the pub's extensive menu of beverages, which includes bottled and tap beers and classic cocktails, such as rye Manhattan, Cosmopolitan, and Cocotini.
Lyon's Pub boasts refreshing summer drinks along with white and red wines. The bar has a relaxing and cozy atmosphere, ideal for grabbing a drink before watching a sports match at the entertainment arena.
To go with the drinks, Lyon's Pub offers appetizers such as chicken strips, onion rings, and nachos, to name a few. Here you can also order soups and salads, burgers and sandwiches, and other specialties.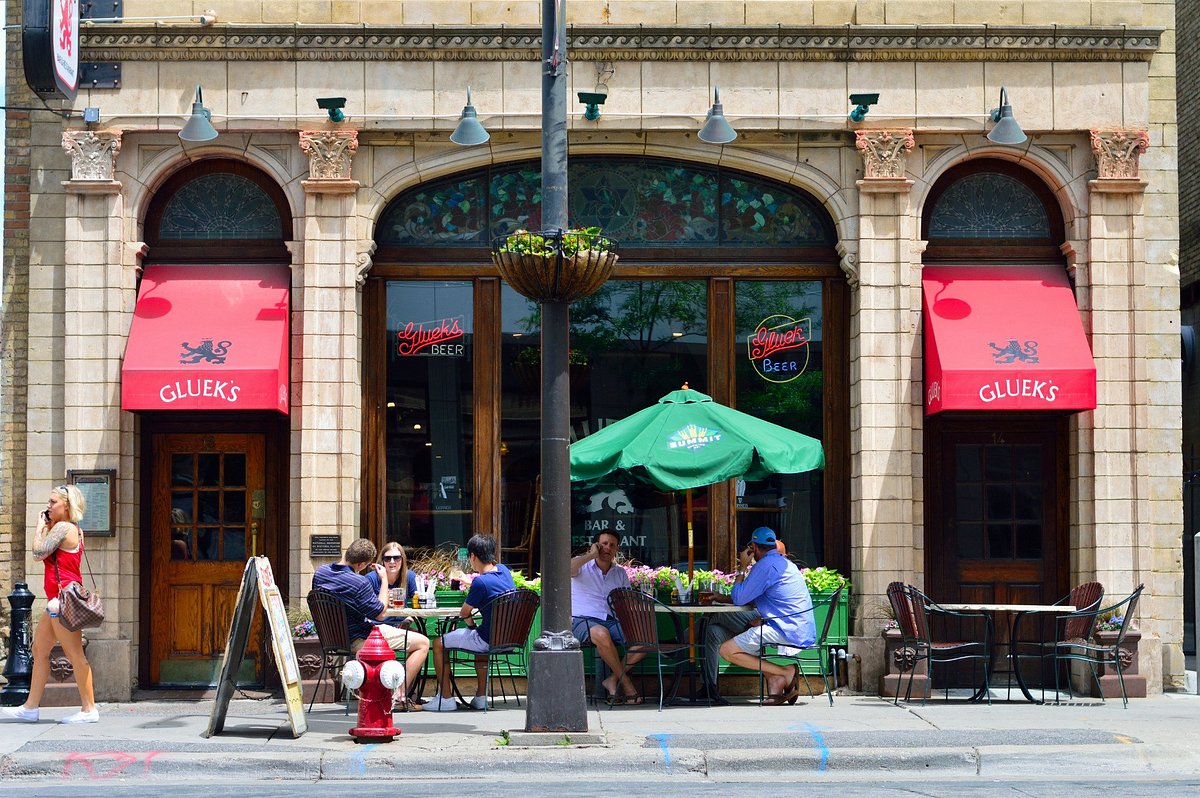 Gluek's Restaurant & Bar is only two minutes away from the Target Center. The bar and restaurant have a long history, as its origins can be traced to 1855. The pleasant ambiance, fast and friendly service, live music, and beverage options contribute to a comfortable dining experience at the Gleuk's restaurant and bar.
The guests here can choose from their selection of beverages, including tap and bottled beer, white and red wines, and house specialty cocktails such as Winter Mimosa, Strawberry Lemonade, and Salted Caramel Jitterbug. Gluek's Restaurant & Bar also offers soups, salads, desserts, burgers, sandwiches, and more. 
The Best Hotels Near Target Center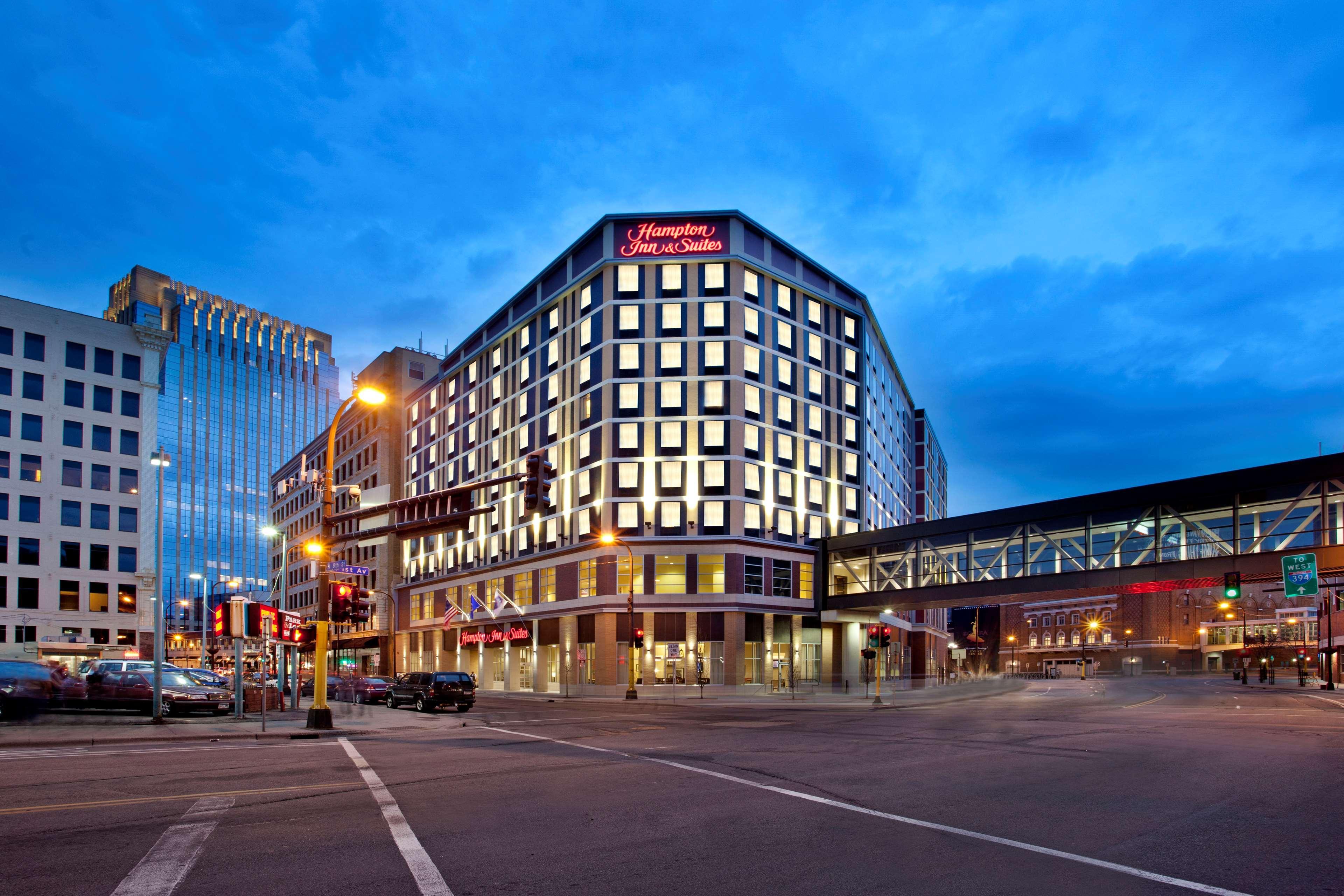 The Hampton Inn & Suites hotel is only a 3-minute walk from the Target Center. The hotel offers several types of rooms, including suites, family, non-smoking, meeting, pet-friendly, and rooms with a city view. 
During their stay, the guests get access to free Wi-Fi and breakfast. The hotel also boasts a fitness center that's open 24 hours and many other amenities, including bowling offsite, a nightclub, and a business center with Wi-Fi.
Each room at the hotel is stylish, clean, and equipped with air conditioning, satellite TV, bath/shower, and many other room features. 
The Loews Minneapolis hotel is located in close proximity to the Target Center. The hotel offers modern and luxurious rooms equipped with bedside reading lamps, coffee makers, flat-screen TVs, hair dryers, ironing sets, and many other features.
As a guest here, you also have access to the in-room dining service, dry-cleaning and laundry service, and wake-up calls. Pets are welcome in the Loews Minneapolis hotel. The hotel has a business and a fitness center open 24 hours a day and provides many services and amenities such as security, babysitting, and pet-walking services, as well as games and books for children.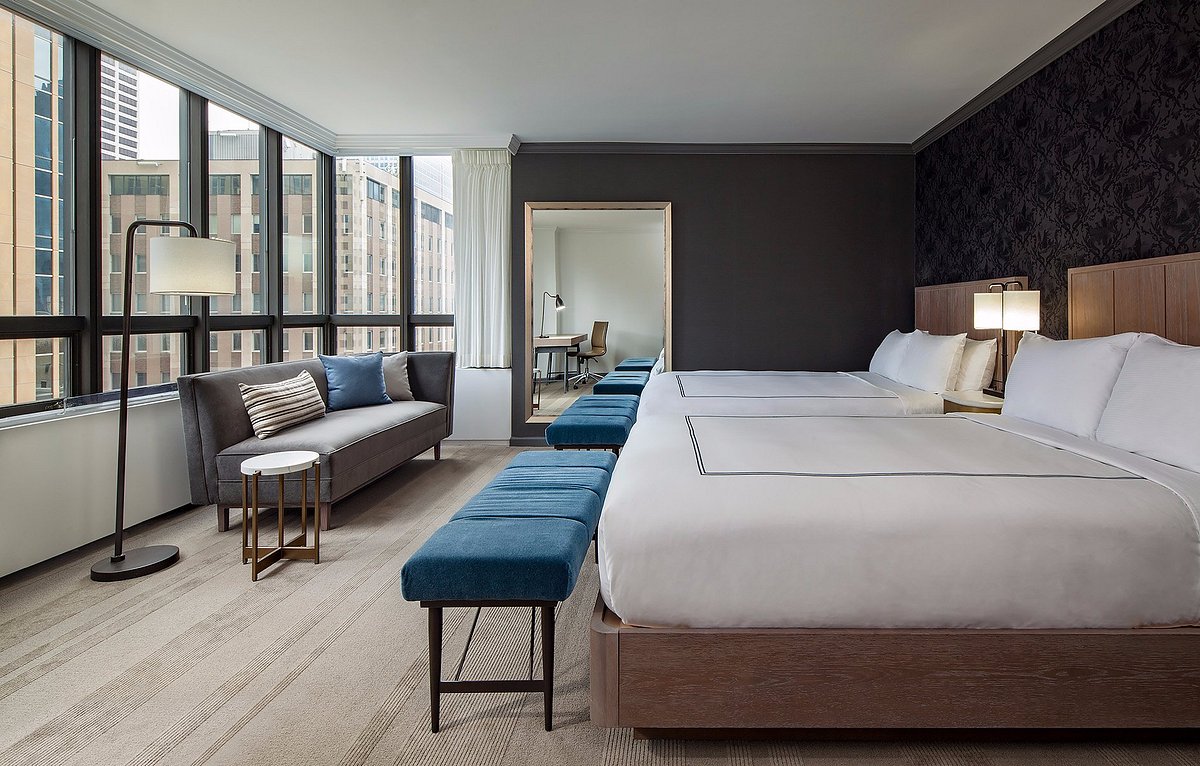 The Marquette is an elegant hotel located in the heart of downtown Minneapolis. The hotel has a historical significance and is named after the explorer Jacques Marquette, who voyaged down the Mississippi River in 1673.
This hotel values style and innovation and offers beautifully-designed aesthetic rooms with modern decor and spacious layouts that offer comfort for the guests.
During your stay at the hotel, you can also indulge in delicious brunch and dinner, as well as refreshing beverages at the Jolliet House and the Marquette cocktail lounge. The pet-friendly hotel offers plenty of amenities for guests, including free Wi-Fi, a fitness center, business meeting rooms, and many others.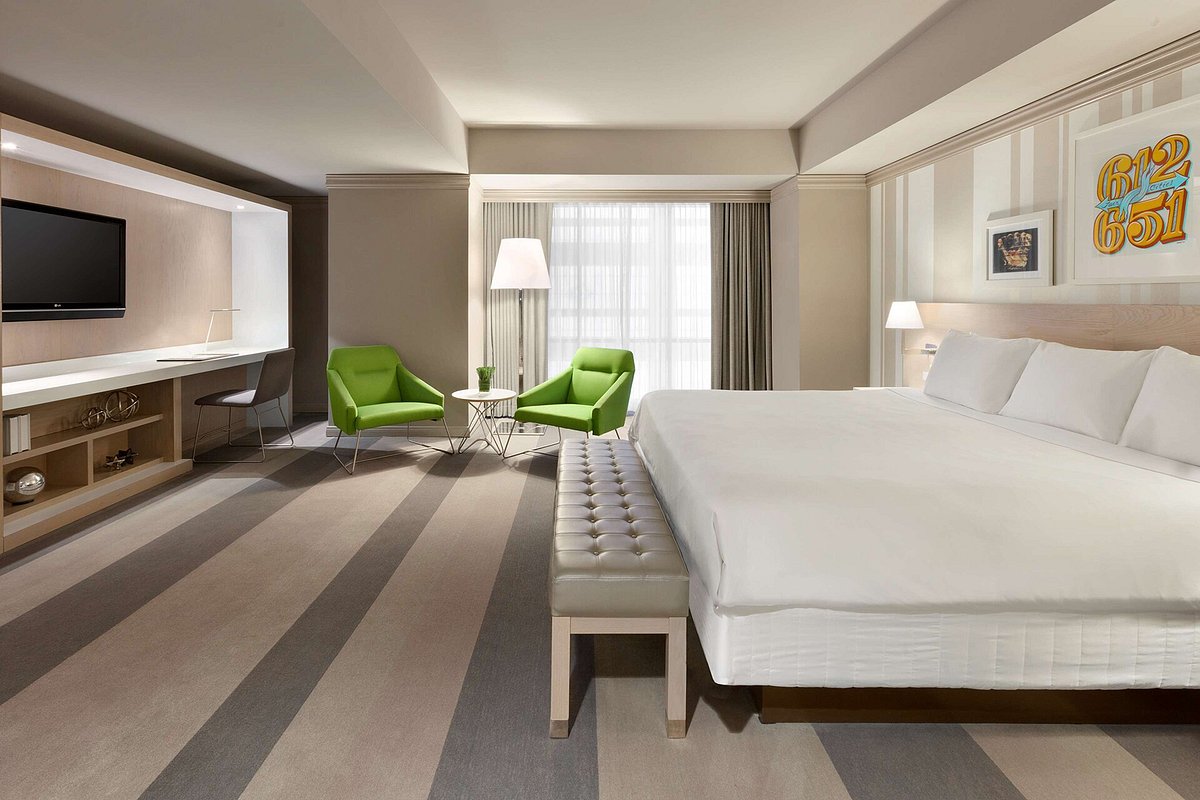 The Royal Sonesta Hotel offers an ideal combination of elegance and comfort. The hotel is conveniently located nearby the Target Center and many tourist attractions, such as the Minneapolis Convention Center and the Walker Art Center.
The hotel provides stylish rooms and suites, a business meeting space, and opulent dining on-site. The room features in this hotel include on-demand movies, housekeeping, Wi-Fi access, and a flat-screen TV. In terms of facility amenities, the Royal Sonesta Minneapolis Downtown offers a fitness center, a bar, baggage storage, conference facilities, and more. 
Located in the Hennepin Theatre District, the AC Hotel by Marriott gives the guest quick access to everything the Minneapolis Downtown offers, including sports and entertainment venues the Target Center.
The contemporary rooms of the hotel have high-end amenities such as smart TVs, high-speed free Wi-Fi access, and mini-fridges. There's an AC kitchen within the hotel where you can try European-inspired breakfast and an AC lounge where you can enjoy refreshing evening drinks.
This splendid hotel provides many amenities on-site, including a fitness center, meeting space, bicycle rental, convenience store, gift shop, free coffee or tea, and many more. 
The History of Target Center
The sports and entertainment venue known as Target Center was opened on October 13, 1990. The multipurpose arena is owned by the City of Minneapolis and is managed privately by the venue management company ASM Global. Since its opening, the facility has hosted more than 5,000 events and has greeted over 36 million guests.
During the first five years, the Target Center was operated by its original owners, Marv Wolfenson and Harvey Ratner. In 1995, the owners sold the arena to the City of Minneapolis and Ogden Entertainment.
Ogden Entertainment then managed the facility until 2000, when SFX Entertainment acclaimed the management rights. The following year, Clear Channel Entertainment bought SFX Entertainment and managed the venue until 2004.
On May 1st, 2004, the Minnesota Timberwolves organization joined forces with the Nederlander Concerts and created the Midwest Entertainment Group (MEG). Two years later, the joint partnership transformed into full ownership by the Minnesota Timberwolves organization.
In 2007, ASM Global acclaimed the management rights for the Target Center, and they manage its daily operation even today.
Where to Get Tickets for Target Center?
You can purchase tickets for any Target Center event online at the following websites: TargetCenter.com, AXS.com, and Ticketmaster.com.
Another way to get tickets is at the box office. Single-game tickets can also be purchased by phone at the following numbers:
Timberwolves – 612-673-1234
Lynx – 612-673-8400
An important thing to note is that there are no refunds or exchanges on any ticket purchased for a Target Center concert, game, or other types of events.
Does Target Center Offer Tours?
Target Center offers behind-the-scenes tours for everyone who would like to view the whole facility and experience the atmosphere at the multipurpose arena. Such tours are provided on non-event days and must be booked a minimum of 48 hours in advance.
Tour price: $10 per guest
Duration: 1-1.5 hours