No matter what reason brings you to the U.S. Bank Stadium, we are here to uncover all the tips you have to know when visiting.
This article will teach you how to cut traffic and arrive first at your game or show. We will also uncover the best and closest hotels where you can stay. On top of this, you will find out what bars have the most epic parties and where you must dine in Minneapolis!
Lastly, we know where to buy tickets for everyone who still didn't get them!
So, if you'd like to have the best night of your life at the upcoming Vikings game or Red Hot Chili Peppers concert, keep reading!
U.S. Bank Stadium: Key Facts
For anyone that doesn't understand the hype about this stadium, we have to break it down.
U.S. Bank Stadium was first opened in 2016 and is home to the Minnesota Vikings.
It has the capacity to welcome 66,860 guests for most of the events. However, the seating capacity can be extended up to 73,000 for soccer games, concerts, and special events, such as the Super Bowl.
Since the stadium's opening to the public, major events have occurred here. For example, Metallica, Guns N' Roses, Coldplay, Taylor Swift, and The Rolling Stones have had their concerts at this stadium. Additionally, even the Super Bowl LII occurred in the U.S. Bank Stadium in 2014.
The Minnesota Sports Facilities Authority (MSFA) is the authority that owns and operates this stadium.
Where Is U.S. Bank Stadium Located?
The stadium is located in Downtown East in Minneapolis, Minnesota.
For a more precise location, S 4th Street, 11th Avenue Street, South 6th Street, and Chicago Avenue are the streets that circle the stadium.
In the area close by, there is the U.S. Bank Stadium station, the Gold Medal Park, Mill City Museum, and St. Anthony Falls Visitor Center.
Considering the fact that this district is highly developed, there is a hospital within a three-minute drive. The closest police station is located within a six-minute drive.
The Best Way to Get to U.S. Bank Stadium
In our opinion, the best way to get to the U.S. Bank Stadium is by using public transport. To elaborate, we like to point out the main factors for giving you this advice.
Firstly, thousands of fans in this area will arrive at their event, just like you. The traffic will be crowded, and you might have to take longer than usual to get to the stadium. So, if you drive there, you will lose an extra hour just so you can enter the close radius of the stadium. Additionally, you will also lose time trying to get to your parking lot.
Next, if you arrive on foot, you will probably get tired before the event even starts. However, this is a good option if you take a cab to the closest point of the stadium without too much traffic. That way, you can move faster in the crowd and get even better seats.
The same applies to public transport. It will cut the cost of gas and parking, and it will allow you to be more punctual and get to an event on time.
The closest rail station is located only a minute's walk from the stadium.
Parking Near U.S. Bank Stadium
If you decide to come to the stadium by car, we recommend carefully choosing your parking spot.
It's common for people to get carried away by unrealistically cheap deals that are advertised online. However, remember that if something sounds too good to be true, then it's probably a scam.
For that reason, it's not only important for you to find affordable parking. You have to search for a secure lot where you know nothing will happen to your vehicle or belongings.
Because our main goal is to help you find the best parking options, we conducted some research. The following list contains three of the best parking spots where you can leave your car.
All of the listed parking lots are secure and under 24/7 surveillance. Moreover, they all have received positive reviews from people that parked there.
Each garage or parking lot that is listed here works 24/7. The lots available are average size.
The Best Bars Near U.S. Bank Stadium
Are you the type of person that likes to grab a drink right before or after a show? Then we are happy to inform you of the best three bars near the U.S. Bank Stadium.
Each bar on this list is located within a 10-minute drive from the stadium.
The bars are accessible to everyone, including disabled people. Some of them even have live music, a dance floor, and karaoke nights.
Lastly, they all accept cash and card payments. This means that you can use your debit or credit card to pay the bill.
So, make sure to swing by any of these bars if you're looking for a great time.
Prohibition Bar
Lyon's Pub
Crooked Pint Ale House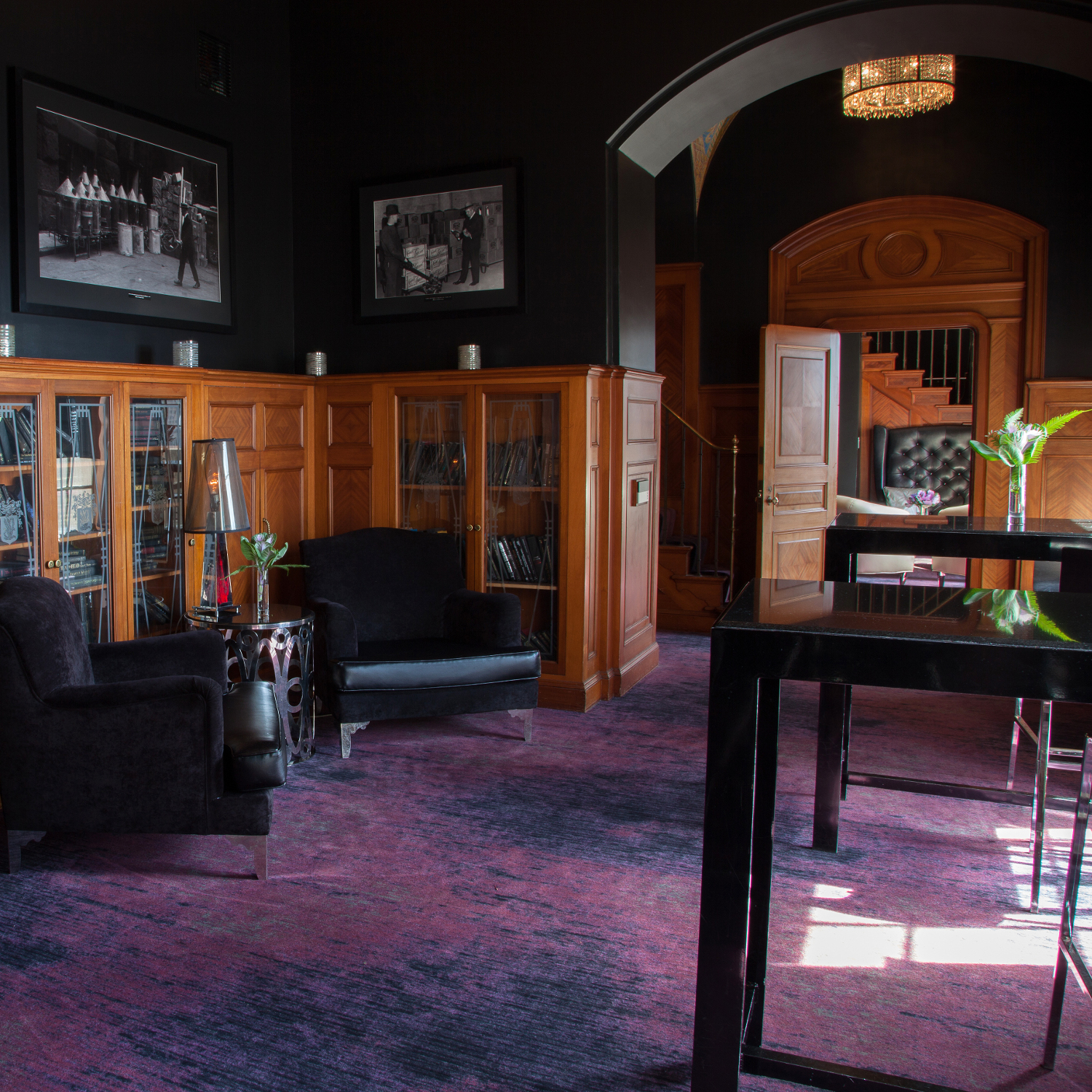 This is the perfect place to go for everyone who likes the great interior design and awesome parties.
This is a famous prohibition-themed speakeasy that offers amazing cocktails. It also has a special selection of fine wine and other alcoholic drinks you have to try!
The service is fast, and the staff is well-trained. Prohibition Bar might be a bit costly compared to a regular bar, but it is worth the money. This is a whole different experience that you must have in Minnesota. It also has epic and memorable views from the 27th floor of the W Hotel.
Lastly, we advise you to make a reservation in order to secure your place here.
This English-style pub has tap beers and all sorts of alcohol. In addition to this, they also have a weekend dance floor and great music.
The staff here is very welcoming and friendly. The service is fast and with no delays.
We recommend you try one of their cocktails or something from their big beer selection. If you are worried about not finding a free table, we recommend you make a reservation beforehand.
This modern and aesthetically pleasing bar is located within a two-minute drive from the stadium.
One of the best features of this bar is that it has fast service and friendly staff. It is suitable for a solo night out or a group gathering. Additionally, it also accepts reservations.
We recommend you try the crafted beers or the cocktails, as they are their specialty.
The Best Restaurants Near U.S. Bank Stadium
It's important to eat regularly and stay healthy. However, maintaining your diet and eating good food may be challenging in a new city.
For that reason, we found the best three restaurants that serve fresh and natural food. They prepare the dishes from scratch using the best possible ingredients.
The prices in these restaurants are regular and affordable. On average, you will have to pay $25 for a great lunch or dinner for one person. The price includes a main dish and a drink, however, it doesn't take into account any side dishes or desserts you may order.
The most important part is that all of these restaurants are diverse and open to everyone. That means that there is no discrimination towards LGBTQ+ members. Additionally, they are also accessible to people with disabilities. For that reason, they have a suitable entrance, toilet, and seating area.
Tavola Italian Kitchen
Trieste Cafe
EaTo
Tavola Italian Kitchen
Located within a 10-minute walk from the stadium, Tavola Italian Kitchen is one of the restaurants you must visit. 
They have amazing avocado toast and breakfast panino. Also, their coffee can teleport you to another dimension, especially in the morning.
The prices are affordable; on average, you will pay $16 for a single dish.
Additional information
Trieste Cafe
Trieste Cafe can be found a 16-minute walk from the U.S. Bank Stadium.
One of our favorite dishes is their traditional Greek pita gyro. If you go to this place, you must try it!
On average, you will pay $11 per meal, which is very affordable!
Additional information
| | |
| --- | --- |
| Location | Trieste Cafe |
| Phone number | +16123334658 |
| Website | https://www.facebook.com/Trieste-Cafe-261341535104 |
EaTo
Only a 10-minute walk from the stadium, you can enjoy the delicious food of EaTo.
Our favorite dish is their meatball. However, we also recommend the beet salad and the calamari.
The average price per dish is $16.
Additional information
| | |
| --- | --- |
| Location | Eato |
| Phone number | +16122081638 |
| Website | https://www.eatompls.com |
The Best Hotels Near U.S. Bank Stadium
Anyone that comes from a different city just to attend a football match or a concert needs to find suitable accommodation. For that reason, we found the best three hotels that are comfortable, affordable, and located close to the stadium.
They all are accessible to people with disabilities. For that reason, they have a suitable toilet, seating, entrance, lift, and parking space.
Additionally, all rooms can be booked via Booking.com or the hotel's official website.
Lastly, each hotel has its own parking where you can leave your car. The fees depend on the hotel's policy, so keep reading to find out what hotel suits you best.
Moxy Minneapolis Downtown
Canopy by Hilton Minneapolis Mill District
Elliot Park Hotel, Autograph Collection
Moxy Minneapolis Downtown
Moxy Minneapolis Downtown is within a one-minute drive or a three-minute walk from the U.S. Bank Stadium.
This is a modern, well-organized, and warm hotel. It has tons of natural lighting, which makes the space open and bright. The mellow tones used as decoration make the atmosphere calm and aesthetically pleasing.
When it comes to the rooms, they are wide and spacious. Upon making your reservation, you can choose the room type. The rooms with one bed have king-sized mattresses. On the other hand, the double rooms have queen-sized beds. Moreover, each room has a smart TV, a mini fridge, a private toilet, and air conditioning.
Guests of Moxy Minneapolis can enjoy themselves at the fitness center, lobby, or on-site bar.
The hotel is pet-friendly, meaning you can bring your dog or cat to the hotel with you.
On average, one night here costs $173. This price is for one room per night. The highest prices at this hotel are charged during the top season. Therefore, we advise you to avoid the summer period if you want to avoid high fees.
Additional information
Canopy by Hilton Minneapolis Mill District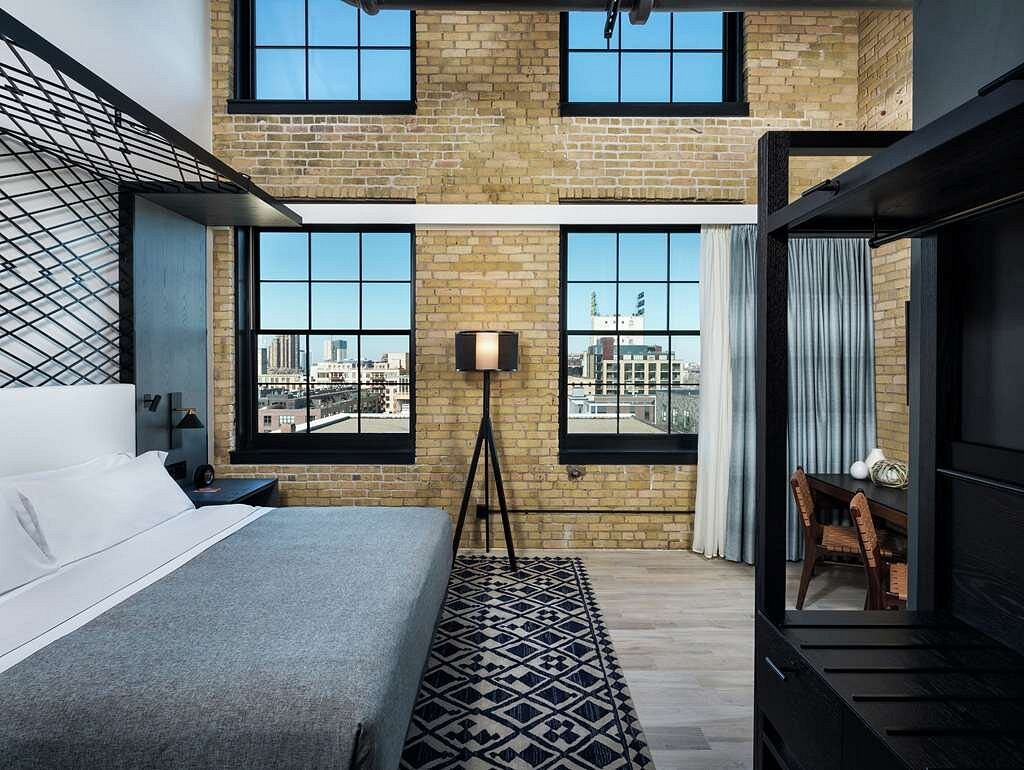 Canopy by Hilton is an aesthetic, artsy, and modern hotel. It is located within a two-minute drive or a four-minute walk to the U.S. Bank Stadium.
All rooms are fully equipped and well-organized. Additionally, the rooms are average size with incredible art decorations. The cleanliness at this hotel is on a very high level. There is natural light, a wardrobe, a mini fridge, a private toilet, and air conditioning in all of the rooms. Some of them even have a seating area!
On average, staying here for one night will cost you $200. With this price, you get ultimate comfort, daily housekeeping, a fitness center, amazing rooms, and free Wi-Fi.
Lastly, this hotel is a perfect fit for anyone that has a pet. Canopy allows its guests to bring their pets with them on their adventures.
Additional information
Elliot Park Hotel, Autograph Collection
Located within a three-minute drive or a seven-minute walk to the stadium, this hotel is perfect for anyone.
It has a homey and cozy atmosphere which makes the hotel calming and relaxing.
Each room has air conditioning, heating, a TV, a wardrobe, and an additional seating area. The rooms are bright and warm. Additionally, there is a private toilet in each room.
The average price to stay at this hotel for one night is $220. Furthermore, this is a pet-friendly hotel, so you can take your dog with you!
Additional information
The History of the U.S. Bank Stadium
The U.S. Bank Stadium was built to replace the old Hubert H. Humphrey Metrodome. The funds for building the U.S. Bank Stadium were approved in 2012. The design of the stadium, however, started in 2013.
The stadium was first opened in August 2016.
The first event that was hosted immediately after the opening was the 2016 International Champions Cup. On the other hand, the first concert at this stadium featured Luke Bryan.
In 2017, the U.S. Bank Stadium became the first NFL stadium to host ESPN's Summer X Games. In addition to this, the first Super Bowl at this stadium was hosted in 2018.
Finally, this stadium was awarded the bid to host the NCAA DI Wrestling Championships in March 2020.
Where to Get Tickets for U.S. Bank Stadium
Did you know that you can buy concert and football tickets directly from the stadium's website?
Each U.S. stadium has a platform where tickets are available for upcoming events. That is also the case with U.S. Bank Stadium. If you still don't have tickets for the Vikings season or the upcoming Taylor Swift concert, you can buy them now!
All tickets that are still not sold out are available on this link.
Does U.S. Bank Stadium Offer Tours?
We are very happy to inform you that U.S. Bank Stadium offers tours around the stadium.
Typically the tour is your backstage pass. You will have the chance to visit and see the field, locker rooms, dressing rooms, and all other secrets of this place.
The visit lasts differently depending on what type of tour you choose.
So far, U.S. Bank Stadium offers three types of tours:
Public tour,
Private tour,
Educational tour.
Additionally, the stadium has announced that in fall 2023, there will release Ultimate Touchdown Tour.
Tour tickets
All tour tickets can be purchased on this website. The prices mainly depend on the type of tour you have chosen.
A public tour lasts 90 minutes. It is guided, and it will allow you access to the home of the Minnesota Vikings. The ticket fee for an adult is $29. For students, seniors above 55 years old, active military members, and kids aged five to twelve, the price is $19. All prices come with an additional fee that is charged per ticket.
The private tour is usually exclusive and for smaller groups. It gives a more intimate approach, and it's also guided. They last 90 minutes, and it's advised to book the tour at least two weeks in advance. A private tour can be requested by filling out this form.
The educational tour, on the other hand, is also considered a private tour. You have to fill out the request form as well in order to book an educational tour. The students will have the opportunity to have a presentation on a certain topic of interest and a Q&A session.
The ticket price for the private tour depends on the group size. The price is usually known after the request form is filled out and approved by a staff member at the stadium.