Heading to a game or event at Enterprise Center in St. Louis, Missouri? Let me help you get familiar with the three main entrances and what to expect as you arrive. With various events taking place at this beloved venue, knowing the ins and outs can make your experience smoother and more enjoyable.
The three public entrances at Enterprise Center include the T-Mobile Entrance (Gate 1) on the west end of the arena, the Hall of Fame Plaza (Gate 2) on the south end of the arena, and the Ford Entrance (Gate 3) on the east end of the arena. The doors typically open 90 minutes before St. Louis Blues hockey games and non-hockey events, but keep an eye out for any specific instructions for the event you're attending.
In this gate and entrance guide, we'll dive deeper into the details of each entrance, as well as discuss accessibility options, security measures, and any other important information you may need to know. Our goal is to make sure you have all the information you need for a fantastic time at Enterprise Center.
Enterprise Center Overview
I recently visited the Enterprise Center and wanted to share my experience with you, as well as some helpful information that can make your visit smoother. The Enterprise Center is located at 1401 Clark Ave, St. Louis, MO 63103 and hosts a variety of events, such as concerts, sports games, and other live shows. The St. Louis Blues hockey team also calls this venue home.
There are three public entrances available at the Enterprise Center, making it easy to enter the arena depending on your chosen mode of transportation and parking. The T-Mobile Entrance (Gate 1) is situated on the west end of the arena, right next to level 1 of the Kiel Parking Garage, providing a smooth entry for those parking in the garage. On the south end of the arena, you'll find the Hall of Fame Plaza (Gate 2), while the Ford Entrance (Gate 3) is located on the east side of the building. Doors typically open one hour before most events.
When it comes to seating, the Enterprise Center offers a range of options, from lower-level seats to suites and club seating. Each level has its specific configuration and advantages based on your preference and budget. If you're interested in checking out the view from your seat, the Enterprise Center website has a seating locator tool that can help you visualize where you'd be sitting during the event.
In summary, my experience at the Enterprise Center was enjoyable and memorable. The arena's various entrances make it easy to navigate, while the seating choices accommodate different preferences and budgets. If you're planning to attend an event at the Enterprise Center, I hope this overview helps you with your visit.
Getting to the Enterprise Center
Driving Directions
To reach Enterprise Center, located at 1401 Clark Avenue in downtown St. Louis, follow these simple directions:
From I-64 (U.S. 40) Eastbound: Take the Chestnut at 20th Street Exit. Follow the exit to Chestnut Street to parking facilities on the left.
There are a variety of parking options available near the arena for your convenience.
Public Transport Options
When it comes to public transportation, there are a few options that can help you reach Enterprise Center with ease:
MetroLink: The St. Louis MetroLink is a light rail system that has two stations nearby – Union Station and Civic Center Station. Both are within a short walking distance from the arena.
MetroBus: A number of MetroBus routes conveniently stop near Enterprise Center. This allows for easy access to the venue from various parts of the city.
Remember, when attending an event at Enterprise Center, plan your trip in advance to ensure a stress-free experience.
Entrance Guide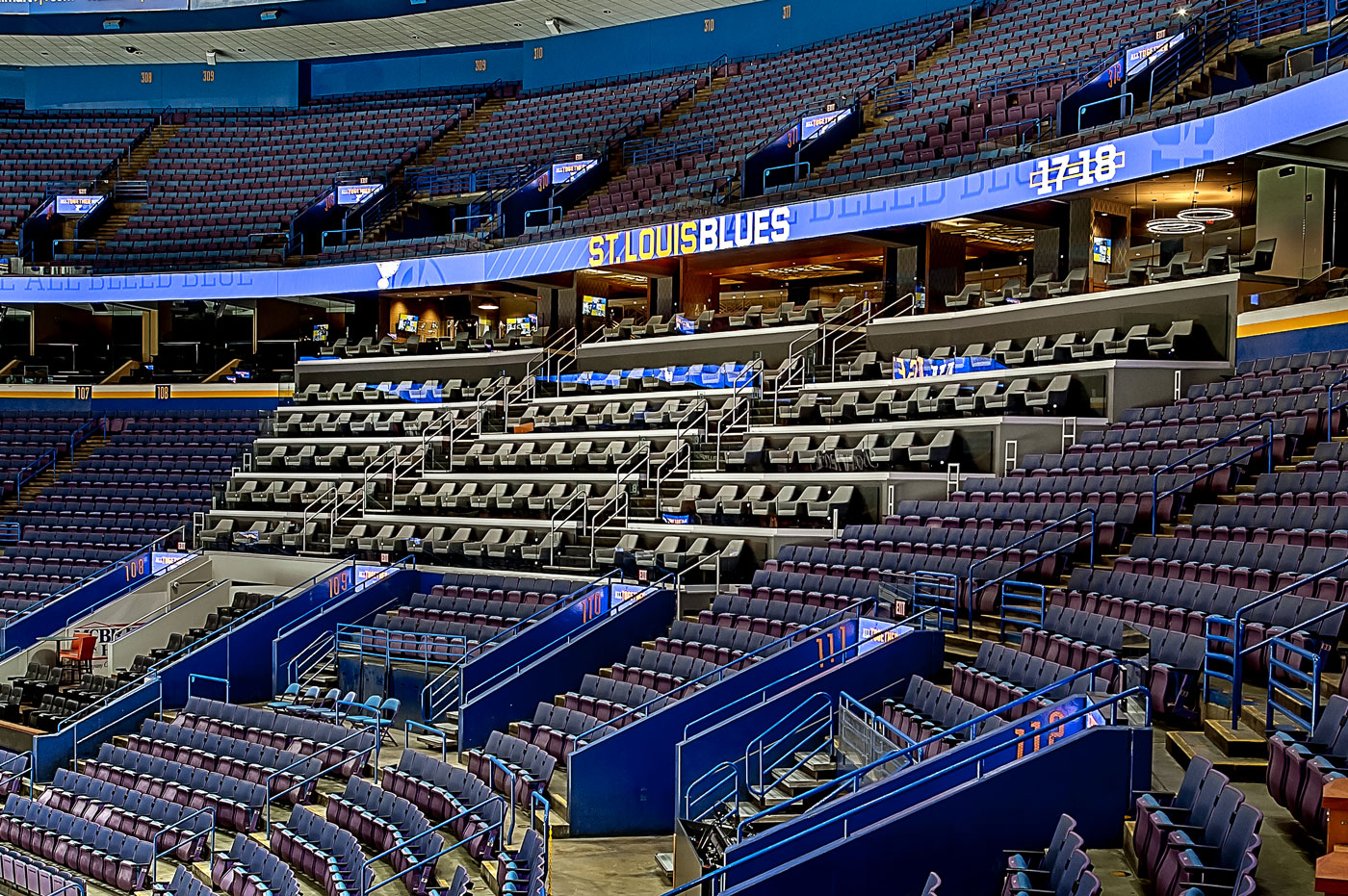 Entrance Options
With numerous events being hosted at Enterprise Center, I have gathered some useful information about entrances and gates to make your visit more convenient. As I found out, there are three major public entrances at Enterprise Center, all accessible from street level.
1. T-Mobile Entrance (Gate 1) – Located on the west end of the arena, this entrance is quite popular for quick access.
2. Hall of Fame Plaza (Gate 2) – For those who prefer going through the south end of the arena, this entrance is ideal.
3. Ford Entrance (Gate 3) – If you're coming from the east end of the arena, you may choose this entrance.
It's important to note that most entrances open 90 minutes prior to St. Louis Blues hockey games and non-hockey events unless specified otherwise. Now that I have given you an overview of the entrance options, it's time for some important details regarding accessibility.
Special Needs Access
For visitors attending an event at Enterprise Center who have special needs, most entrances are accessible and well-equipped to cater to your requirements. Enterprise Center is compliant with the Americans with Disabilities Act (ADA) and provides accessible seating, ramps, and elevators to ensure ease of movement within the venue.
If you have any questions or need specific information to plan your visit, I recommend contacting the MindsEye Arts and Culture Director, Magan Harms, at [email protected] or 618-394-6449. They're happy to assist and ensure your visit to the Enterprise Center is an enjoyable one!
Gate Information
Gate Locations
At the Enterprise Center, there are four main public entry points located around the exterior of the arena, making it accessible for guests from all directions. For those with suite tickets, there is a dedicated Enterprise Center Suite Entrance on the fourth level of the attached parking garage. This makes it convenient for guests attending special events and enjoying VIP privileges.
Gate Opening Times
To ensure a smooth entry and enjoyable experience, it's essential to know when the gates open. Generally, gates at the Enterprise Center open 1.5 hours before the scheduled event start time. Keep in mind that event-specific gate opening times may vary, so it's always a good idea to double-check for your specific event.
As a friendly reminder, be prepared to go through security measures such as bag checks and metal detectors upon entering the arena. This will ensure the safety and enjoyment of all guests attending events at the Enterprise Center.
By knowing the gate locations and opening times, you can plan your visit to the Enterprise Center with ease and truly enjoy your event experience. Remember, have fun and enjoy your time at the arena!
Security Measures
As someone responsible for ensuring the safety and security of an enterprise center, I'd like to share some important security measures that can be implemented at gates and on entrances. These measures are essential for maintaining a safe environment for all individuals within the facility. In this section, I'll discuss security screening and prohibited items.
Security Screening
One of the most important aspects of gate and entrance security is having a proper security screening process in place. I believe that implementing this will ensure that only authorized individuals gain access to the facility. Here's a brief overview of some effective screening measures:
Access control systems: Using access control systems, such as key cards, biometric scanners, or password-protected gates, can help in controlling and monitoring entrance and exit points.
Security personnel: Employing well-trained security personnel at entrances is crucial for keeping unauthorized individuals from entering the premises, and for detecting any potential threats.
Metal detectors: Installing metal detectors at entrances is helpful in identifying and preventing any weapons or hazardous items from being brought into the facility.
CCTV cameras: Having a comprehensive surveillance system in place, including cameras covering entrances and exits, can help monitor for any suspicious activity or unauthorized entry attempts.
Prohibited Items
Another key aspect of gate and entrance security is maintaining a clear list of prohibited items that are not allowed within the enterprise center. Banning these items will help in minimizing potential security risks and ensuring a safe environment for everyone. Here are some examples of items that may be prohibited:
Firearms and other weapons: Guns, knives, and other dangerous weapons should be strictly forbidden in order to prevent potential harm.
Explosive materials: These include items like fireworks, flares, or any material that could pose a risk to the safety of the premises.
Hazardous substances: Toxins, chemicals, and other hazardous materials should be banned unless they're essential for authorized purposes such as cleaning or maintenance.
Unauthorized electronic devices: Some facilities may choose to restrict certain electronic devices, like recording equipment or unauthorized communication devices, in order to protect sensitive information.
Implementing these security measures will go a long way in ensuring that an enterprise center remains safe and welcoming for all its users.
Additional Services
Customer Service Desk
At the Enterprise Center, I found a Customer Service Desk that's dedicated to assisting visitors with any questions or concerns. The staff was friendly and helpful, ensuring that my experience at the center was enjoyable. They were knowledgeable about the venue and could provide information on seating options, event schedules, and more.
Restrooms
As a visitor to the Enterprise Center, I appreciated the availability of clean and well-maintained restrooms throughout the venue. The restrooms were easily accessible and clearly marked, making it simple for me to find one when needed. It was a relief to know that these facilities were available during my visit, allowing me to have a comfortable and hassle-free experience.
Conclusion
As a frequent visitor to the Enterprise Center, I've come to appreciate the arena's numerous entrances and gates. These access points make it easy for fans like me to enter the venue and find our seats quickly, so we can enjoy the events that much sooner.
The four main public entry points situated around the exterior of the venue offer a variety of options. Depending on where my seat is, I usually plan my arrival through the most convenient entrance. For me, this makes a big difference—navigating through the crowds is a breeze, and I can even avoid some of the busiest areas.
I've also seen the dedicated Enterprise Center Suite Entrance on the fourth level of the attached parking garage. This is a great feature for those who have access to the suites since it provides a more exclusive and direct entryway.
In my experience, the arena's wayfinding system has made a huge difference in the way I find my seats. Knowing which portal is closest to my assigned location gives me a sense of direction and saves a lot of time.
I hope my experience and insights have helped you gain a better understanding of the Enterprise Center gates and entrances. Remember, planning your visit and knowing these entry points can ensure a smooth and enjoyable time at this wonderful venue. Happy event-going!