Kauffman Stadium stands proudly as the home of the Kansas City Royals, having played host to 86,029,382 fans since its opening in 1973.
The stadium, nicknamed "The K," is a true gem among Major League Baseball ballparks. In 2023, the Kansas City Royals will celebrate their 51st season at Kauffman Stadium, a testament to its enduring quality and appeal.
Originally opened as Royals Stadium, the venue was later renamed in honor of Royals founder Ewing Kauffman on July 2, 1993. Apart from baseball, The K is strategically located southeast of downtown Kansas City, adjacent to Arrowhead Stadium, home of the Kansas City Chiefs.
The stadium boasts a seating capacity of 37,903 after its most recent renovation in 2009. Fans visiting The K can expect a comfortable and delightful experience, enjoying America's favorite pastime in one of its most iconic venues.
With 51 seasons under its belt, Kauffman Stadium has surely stood the test of time. The ballpark offers not only a fantastic environment for enjoying baseball but also a sense of history and a legacy that Royals fans and sports enthusiasts alike can appreciate.
As the Kansas City Royals continue to make memories on the field, visitors to The K can look forward to many more thrilling moments in this storied stadium.
History of Kauffman Stadium
Construction and Opening
Kauffman Stadium, often called "The K," is a baseball stadium located in Kansas City, Missouri.
It is home to the Kansas City Royals of Major League Baseball. In 1967, voters in Jackson County approved the bonds for the Truman Sports Complex, which replaced the multipurpose Municipal Stadium and featured a football stadium for the Kansas City Chiefs and a baseball stadium for the Kansas City Athletics.
Kauffman Stadium was opened on April 10, 1973 with the Kansas City Royals taking the field for the first time.
Renovations and Upgrades
Throughout the years, Kauffman Stadium underwent multiple renovations and upgrades to maintain a modern and comfortable experience for fans.
Here are some highlights of those changes:
Dimensions: The ballpark's original dimensions in 1973 were 330 feet to left field, 397 feet to center field, and 330 feet to right field. As of now, the current dimensions are 330 feet to left field, 410 feet to center field, and 330 feet to right field.
Seating Capacity: The original seating capacity of Kauffman Stadium was 40,793 when it opened in 1973. After a major renovation project in 2009, the seating capacity was reduced to its current 37,903.
Fountain and Waterfall: One of the unique features of Kauffman Stadium is the iconic fountain and waterfall display located in the outfield. The 322-foot-long water feature was added to the stadium in 1990 and remains a focal point for fans during games.
Scoreboard: In 2007, a new high-definition video scoreboard was installed at Kauffman Stadium, measuring 84 feet wide by 104 feet tall. This replaced the original Crown Vision scoreboard, which was in place since 1990.
These renovations and improvements have helped to maintain Kauffman Stadium's status as a top-notch venue for MLB games and other events.
Stadium Features
Crown Vision Scoreboard
The Kauffman Stadium's Crown Vision Scoreboard is an iconic feature in the world of baseball, providing game information, entertainment, and more to fans during Kansas City Royals games.
This state-of-the-art scoreboard features a sleek design and high-resolution LED display that keeps fans informed and engaged throughout the game.
The Outfield Experience
One of the unique features of Kauffman Stadium is The Outfield Experience, a family-friendly area that offers several attractions for fans young and old.
This area includes interactive games, food, and drink concessions, as well as a carousel and mini golf course.
The Outfield Experience ensures that attendees can enjoy a variety of activities in addition to watching the game itself.
Fountain Zone
In keeping with the stadium's distinctive architectural design, the Fountain Zone is a must-see for visitors to Kauffman Stadium.
This impressive water feature is the largest privately funded fountain in the world, adding a touch of elegance and beauty to the ballpark. Spanning 322 feet wide near the left field corner, the cascading water fountain serves as a backdrop for pictures and fond memories of time spent at Kauffman Stadium.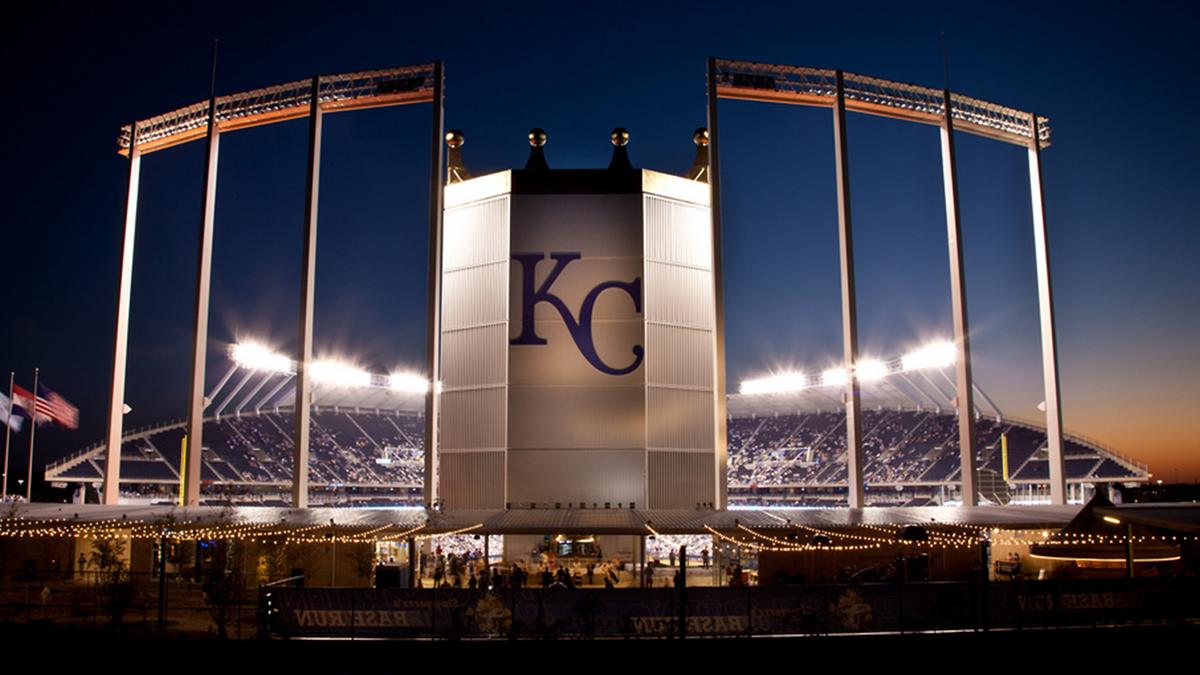 Memorable Moments
All-Star Game
The 2012 Major League Baseball All-Star Game was held at Kauffman Stadium, home of the Kansas City Royals.
This event brought together the best players from the American and National Leagues, showcasing their talents to the world. The National League emerged victorious with an impressive 8-0 win, led by MVP Melky Cabrera.
World Series
Kauffman Stadium has witnessed several unforgettable moments during the World Series. In 1985, the Royals won their first World Series championship against the St. Louis Cardinals.
The historic final out was caught by outfielder Darryl Motley, with the team converging on the field to celebrate their triumph.
Another iconic moment in Kauffman Stadium's World Series history took place in 2014, during the AL Wild Card Game.
The Royals, making their first playoff appearance in 29 years, fought back against the Oakland Athletics in a thrilling game that ended with Salvador Perez's walk-off single in the 12th inning. This victory propelled the Royals to the World Series, where they ultimately fell to the San Francisco Giants.
In 2015, the Royals claimed their second World Series championship, defeating the New York Mets in five games.
While the championship-clinching win took place in New York, the celebration and memories of that joyous season will forever be tied to Kauffman Stadium and the Kansas City faithful.
Accessibility and Services
Parking and Transportation
Kauffman Stadium provides convenient parking options for guests attending Kansas City Royals games. The stadium offers a guest assistance shuttle service, which operates during all 81 home games.
This service helps guests with disabilities or those needing physical assistance, shuttling them from the Truman Sports Complex parking lots to the stadium gates.
Food and Beverage Options
Kauffman Stadium offers a variety of food and beverage options to cater to different tastes and preferences.
While specific food choices may change from time to time, you can always expect to find traditional ballpark fare, including hot dogs, hamburgers, and popcorn. A range of beverages, such as soft drinks, beer, and water, is also available to keep guests refreshed during their visit.
Special Needs Accommodations
Kauffman Stadium is committed to ensuring that all guests have an enjoyable experience, including those with disabilities or requiring assistance.
Apart from the guest assistance shuttles for transport to and from the parking lots, the stadium also offers various special needs accommodations, such as wheelchair-accessible seating, restrooms, and ramps.
Stadium staff, known as Guest Ambassadors, are available to provide assistance and support when needed, making sure everyone can enjoy the game in comfort.
James is a big time NBA Golden State follower, who makes sure to catch games when he's in the area. He likes to follow International Soccer, with an interest in small town soccer club, Blackburn Rovers located in the North on the UK.