As a visitor to Las Vegas, you might have heard about the impressive Allegiant Stadium. In this article, I'll introduce you to the ins and outs of this global events destination, which is also the proud home of the Las Vegas Raiders. By providing a gate and entrance guide, I hope to make your next visit to Allegiant Stadium even more enjoyable and stress-free.
To kick things off, Allegiant Stadium is located at 3333 Al Davis Way, Las Vegas, NV 89118, and has several entry points designed for easy access. With over 35,000 parking spots within a mile of the stadium, there should be no concerns regarding parking your vehicle. From the various ticket entrances to the VIP gates, I'll cover each one in detail, so you know exactly where to go on game day or during special events.
Throughout this article, you can expect to learn about the different gates and entrances, when they open, and other important information to keep in mind during your visit. I'm confident that this guide will help you make the most of your Allegiant Stadium experience.
The Basics of Allegiant Stadium: Gate & Entrance Guide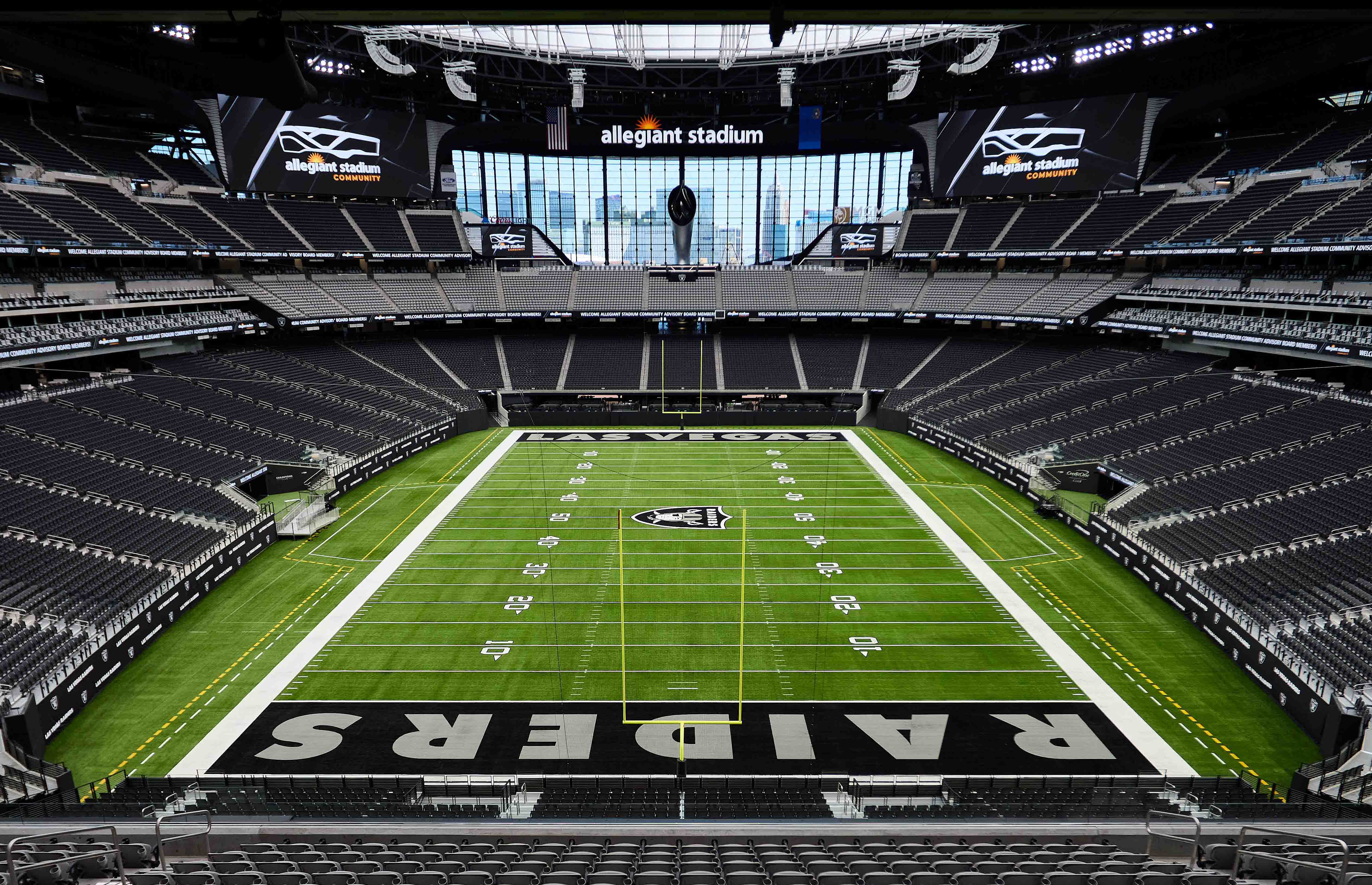 As I approach Allegiant Stadium, I notice that there are three main gates available for all fans to enter, as well as two VIP entrances on either side of the stadium. To make it easier for me and fellow fans to choose the right entrance, I'll briefly discuss the locations of these gates and when they usually open.
As I take a closer look at the Allegiant Stadium gates, I learn that they're labeled Gate 1, Gate 2, and so on, which makes it simple to navigate. Additionally, there are also specific gates, such as Gate 14, with designated parking lots that make it convenient for those who drive to the game. Fans attending an event should arrive early to make the most of their experience, as the gates usually open two hours before any scheduled event.
Moreover, the 100, 150, 200, and 300 levels inside Allegiant Stadium can be easily located, thanks to interactive maps and directions provided both online and inside the stadium. These maps are helpful to me as they not only show the layout of the stadium but also guide me directly to various amenities, including restrooms, concessions, and merchandise stores.
If I choose to use public transportation to reach the Allegiant Stadium, I'll find dedicated rideshare, taxi, and bus drop-off zones that make it more accessible while keeping traffic under control.
To sum it up, the gates and entrances at Allegiant Stadium are well-designed to ensure smooth crowd flow and easy navigation for everyone. With multiple gates, designated parking lots, and accessible transport options, Allegiant Stadium provides a seamless and enjoyable experience for fans like me.
Key Details
I recently did some research and found out important details about Allegiant Stadium. Here's everything you should know about the gates and entrances to this fantastic venue.
Allegiant Stadium is located at 3333 Al Davis Way, Las Vegas, NV 89118. It serves as the home to the Las Vegas Raiders and is a global events destination situated adjacent to the world-famous Las Vegas Strip.
When it comes to gates and entrances, there are several options to choose from. The North Entry Gate (Ford) is one of the main gates providing easy stadium access. Additionally, there are Southeast and Southwest Entry Gates for further convenience. VIP entrances are also available, such as the Allegiant Stadium Caesars VIP Entrance (East) for those with special access.
To give you a better understanding of the stadium layout, there are different levels including the 150 Level, 200 Level, and 300 Level. A walking map and gate entrances map can be found on the Allegiant Stadium website, along with an interactive concourse map for more specific details.
In terms of parking, there is no need to worry as there are more than 35,000 parking spots within a mile of the stadium. This ensures that attendees can find suitable parking options near the venue. Additionally, the Allegiant Stadium offers tour parking maps on their website to help attendees find the perfect spot.
So, when you visit Allegiant Stadium, you can be confident knowing you're well-prepared with these key details. And remember, always arrive early to avoid any delays and to ensure you have a great experience at this amazing venue.
Security Measures at Allegiant Stadium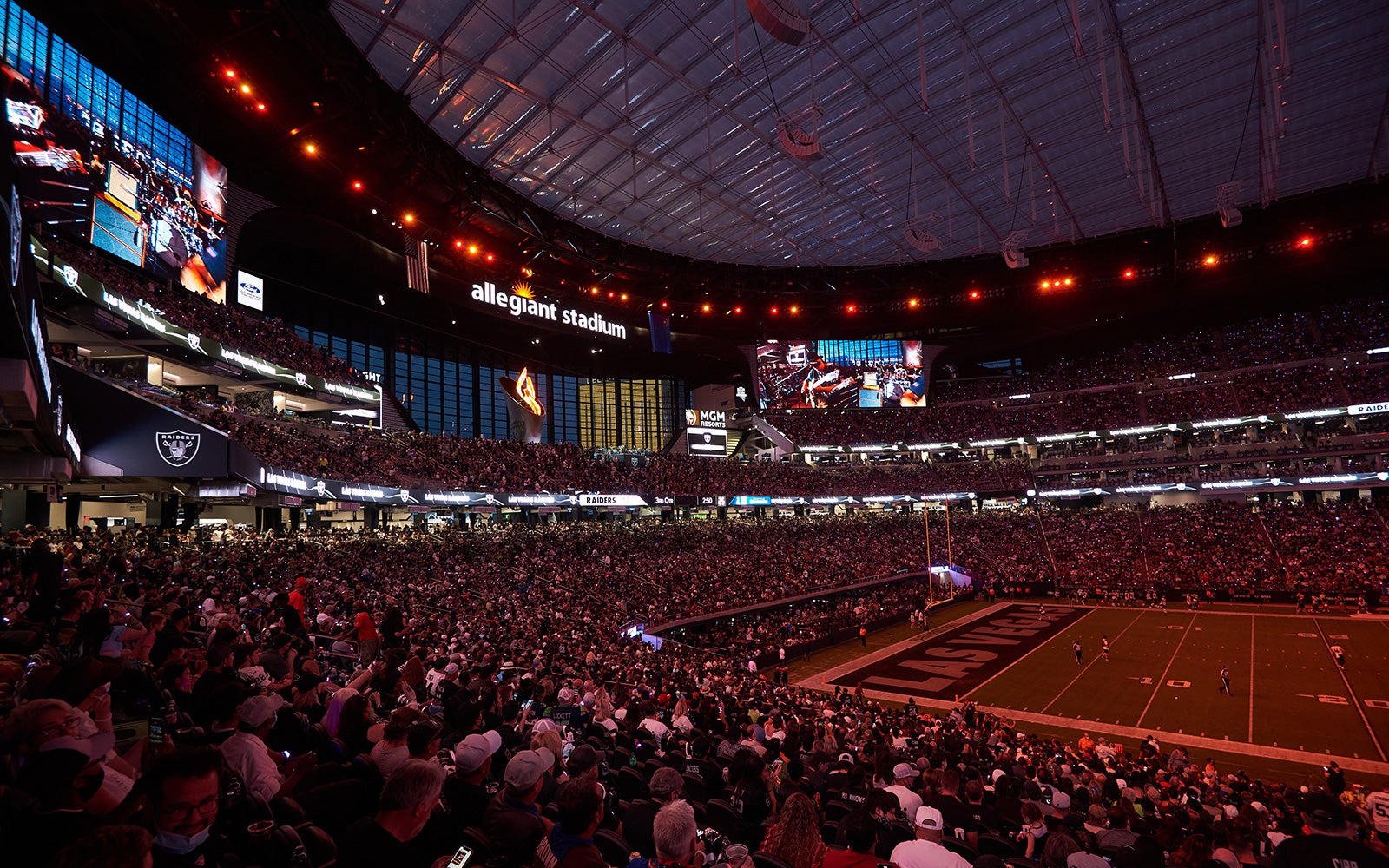 As I entered Allegiant Stadium, I noticed a few important security measures that are implemented to ensure a safe and enjoyable experience for everyone. One key policy is the bag check policy. Attendees are required to carry clear plastic, vinyl, or PVC bags that are not larger than 12″ x 6″ x 12″. Additionally, visitors can also bring in a small clutch bag measuring 4.5″ x 6.5″ x 2″. Keep in mind that purses larger than the mentioned size are not permitted. There are exceptions for medical items.
All bags are searched before entering the stadium, so I ensured that my bag met the specifications. I also noted that seat cushions, coolers, and some other items are not allowed inside the venue. It's essential to follow the directions of staff or law enforcement during security checks. They might request proof of ticket or valid event credential, and refusing to submit to these checks could result in a denied entrance or removal from the stadium.
Overall, I found the security measures in place to be reasonable and effective, ensuring a safe environment. So, prepare yourself accordingly when visiting Allegiant Stadium to have a hassle-free and enjoyable experience.
Specific Entrances
VIP Entrances
At Allegiant Stadium, there are exclusive VIP entrances for guests with special access. One of the most notable VIP entrances is the Caesars VIP Entrance located on the East side of the stadium. This entrance provides a streamlined entry experience for VIP guests, ensuring they can get to their seats or private box quickly and conveniently. As a VIP guest myself, I always appreciate the personalized attention and ease of access provided at this entrance. Keep in mind that access to VIP entrances typically requires specific VIP credentials or tickets, which should be arranged in advance.
General Entrances
For most visitors to Allegiant Stadium, the general entrances are where they will begin their experience. There are three main general entrances located around the stadium:
North Entry Gate (Ford): Positioned on the northern side of the stadium, this gate serves as a convenient access point for fans coming from the north.
Southeast Entry Gate: Located on the southeastern side of the facility, this entrance is perfect for those approaching Allegiant Stadium from the southeast.
Southwest Entry Gate: The southwest entry gate is another general entrance that provides easy access for guests arriving from the southwestern direction.
Remember that the gates open a few hours before the events, giving fans plenty of time to find their seats, purchase concessions, and explore the stadium before kick-off or showtime. Be sure to have your ticket handy for a smooth entry process!
Accessible Entrances
Allegiant Stadium is committed to ensuring that all guests have a comfortable and enjoyable experience, which includes providing accessible entrances for individuals with disabilities. Accessible entrances can be found at each of the general entrance locations listed above: North Entry Gate (Ford), Southeast Entry Gate, and Southwest Entry Gate. These entrances are equipped with ramps, elevators, and other accommodations to make it easier for guests with mobility impairments to navigate the stadium. As someone who has attended events with friends who require accessibility features, I truly value Allegiant Stadium's commitment to inclusivity and making every visitor feel welcome.
Special Services at Allegiant Stadium
Food and Beverage
At Allegiant Stadium, I found various food and beverage options to suit different tastes and preferences. The stadium offers a diverse mix of cuisines, ranging from traditional game day fare to gourmet eats. There are also plenty of drink options, including soft drinks, beers, and cocktails, making it easy for fans to stay refreshed throughout the event.
Lost and Found
In case I misplaced an item during my visit to Allegiant Stadium, there's a well-organized lost and found system in place. I can contact the Allegiant Stadium Guest Experience team at [email protected] or call 1-800-RAIDERS for assistance. They're dedicated to helping guests locate their lost belongings, and with their help, I can have ease of mind knowing that there's a good chance of recovering lost items.
First Aid
For any medical emergencies or first aid needs, Allegiant Stadium has several first aid stations located throughout the venue. I noticed trained medical staff members present and equipped to handle various situations, ensuring that guests receive prompt and professional care. By having these services readily available, I can enjoy my time at the stadium with the reassurance of knowing help is nearby if needed.
Frequently Asked Questions About Allegiant Stadium Entrances
When do Allegiant Stadium gates open?
I usually arrive at the stadium early to make sure I have plenty of time to find my seat and grab some snacks. Gates at Allegiant Stadium typically open two hours before the scheduled event, making it a great time to beat the rush and settle in.
What are the main gates to enter Allegiant Stadium?
At Allegiant Stadium, there are three main gates where fans like me can enter. To make it easier for everyone, I've listed them below:
Keep in mind that there are also two VIP entrances, one on each side of the stadium for those with VIP access.
Where can I find a stadium map with gate entrances?
I understand how essential it is to know your way around the stadium, so for your convenience, you can find stadium maps with gate entrances on the official Allegiant Stadium website.
How much does parking cost at Allegiant Stadium?
Parking at the stadium can be a little pricey, but MGM Resorts offers a parking program where you can purchase permits for parking at nearby structures like Mandalay Bay, Luxor, and Excalibur. The cost for parking usually starts at $25, and it might vary depending on the event and the proximity of the lot to the stadium.
I hope this information helps you navigate your way to Allegiant Stadium and enjoy all the exciting events it has to offer!
Tips for a Smooth Entry to Allegiant Stadium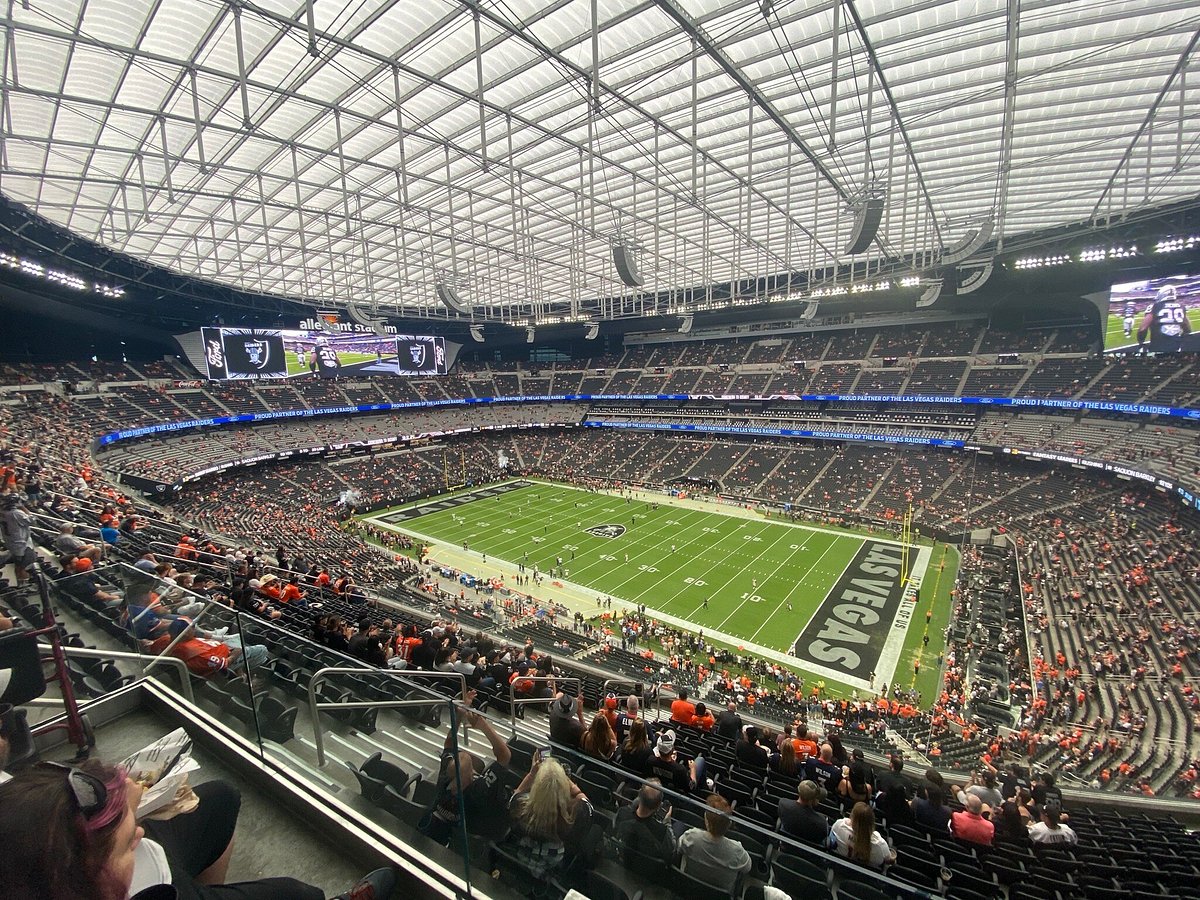 I recently attended a game at Allegiant Stadium and would like to share some tips to help make your entry process smooth and hassle-free.
First, it's important to note the Allegiant Stadium bag policy. You're allowed to bring only one clear plastic or vinyl bag no larger than 12″ x 6″ x 12″. The exceptions to this rule are bags for medical items. Keep in mind that all bags will be searched before entering the stadium, so having a clear bag can expedite the process.
I also noticed there are many food options inside Allegiant Stadium, so you might not need to bring as much food with you. Of course, you can still pack some snacks, but remember to eat a substantial meal before you come to avoid long lines at the food stands.
When purchasing tickets or parking passes, I found that websites like Vivid Seats are helpful as they show the view from your seat before you buy. This way, you can ensure you're getting the best possible experience for your money.
Make sure to arrive early, as the lines can get long at peak times. This will also give you plenty of time to wander around the stadium and familiarize yourself with the layout so that you don't miss a moment of the action.
If you need any assistance during your visit, feel free to reach out to Allegiant Stadium Guest Experience or call the Main Number at 1-800-RAIDERS. They were very helpful during my visit, and I'm confident they will assist you in any way possible.
By keeping these tips in mind and planning ahead, you're sure to have a smooth entry experience at Allegiant Stadium and enjoy an unforgettable game or event. Have a fantastic time!
Conclusion
As a frequent visitor to Allegiant Stadium, I want to share my final thoughts to help you have the best experience possible. First and foremost, remember the Allegiant Stadium bag policy restricts you to one clear plastic or vinyl bag, no larger than 12″ x 6″ x 12″, with exceptions only for medical items. Be prepared to have your bag searched upon entry.
Arrive early to ensure smooth entry, as gates open two hours before the event. It's a smart idea to add your mobile tickets to your digital wallet beforehand for faster access. For parking, consider purchasing a permit through MGM Resorts' parking program, which uses structures at Mandalay Bay, Luxor, Excalibur, and other nearby resorts. Prices may vary depending on the event and lot proximity, starting around $25.
Allegiant Stadium is the home of the Las Vegas Raiders, the University of Nevada-Las Vegas (UNLV) Rebels college football team, the Las Vegas Bowl, and the Vegas Kickoff Classic. So, whether you're a die-hard football fan or just looking to enjoy a fun-filled event, Allegiant Stadium has something for everyone.
I hope this information has been helpful to you as you plan your visit to Allegiant Stadium. Enjoy your time there and make the most of your experience!