Las Vegas has been the center of entertainment and fun in the United States. From clubs to casinos, this city is one of the most popular locations in Nevada. Apart from clubs, you can also attend sporting events at one of the arenas.
In comparison to the fancy hotels in Las Vegas, this city also offers some fast food options. There are many interesting restaurants near Allegiant Stadium. The reason for this is to provide sports fans and music lovers with a quick meal after attending a game or a concert.
The dining areas around the Allegiant Stadium in Las Vegas are warm and approachable. No one wants to go to a fancy restaurant after spending the entire day at a concert or a sporting event. Instead, it is easier to grab a bite to eat at some of the nearest bars and local joints.
About Allegiant Stadium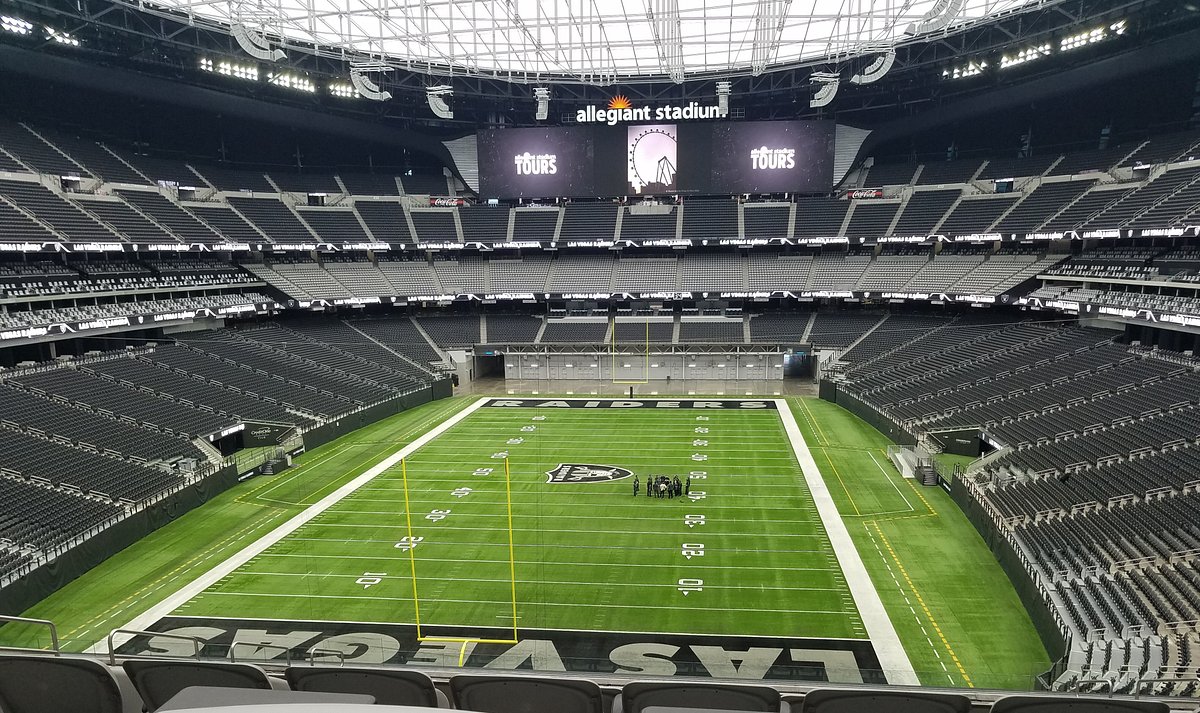 To complement the fun and excitement of Las Vegas, the Allegiant Stadium can accept around 65,000 guests. The construction process lasted for a long time because of its high acreage.
Apart from hosting sporting events, the Allegiant Stadium is also famous for promoting concerts and award ceremonies. These important events bring a sense of excitement to locals and tourists. The versatility of events is what makes people interested in visiting this place.
The Allegiant Stadium is known to make Las Vegas more fun than it already is. People who are not interested in gambling or visiting disco bars can come to the arena and enjoy a live performance or watch an athletic tournament.
Although this stadium has existed for only 6 years, it has been visited by millions of people from all over the world. The most attractive characteristic of the Allegiant Stadium is that its design is inspired by a modern sports car.
5 of the Best Restaurants Near Allegiant Stadium
Hop on a journey to Las Vegas, during which you can try specific types of Argentina cuisine. The restaurant Made In Argentina serves delicious comfort food. You can visit this place for breakfast, lunch, dinner, and brunch!
Overview
The blend of cultures in Las Vegas can be tasted at this unique restaurant located near the Allegiant Stadium.
The chef started this business because of his love for Argentina. Coming to the United States as an immigrant, this was the only way he could show his appreciation for his family.
Visitors love coming to the Made In Argentina restaurant. The reason for this is that it offers a comfortable environment in which everyone can feel welcomed and at home.
Menu
Empanadas, chicken sandwiches, and sausages are the most popular menu items at Made In Argentina. The flavors are unique, and each dish speaks for itself.
Apart from preparing Argentinian-inspired meals, this restaurant also serves pizza and pasta. This is done to satisfy the cravings of all visitors. The restaurant offers both delivery and takeout options.
Additional information
Location
Made In Argentina Cocina Argentina & Mediterranea
Phone number
+1 702-642-1111
Working hours
Monday-Thursday 10:30 AM – 6 PM
Friday – Saturday 10:30 AM – 10 PM
Sunday 11 AM – 4 PM
Customer rating
Excellent 4.7
Distance from Allegiant Stadium
0,8 miles
You can try some of the best Ethiopian food the next time you visit Las Vegas at Tigray Restaurant located near Allegiant Stadium.
Overview
Before or after attending a concert at the Allegiant Stadium, you might want to visit a unique restaurant known for serving delicious food.
One of those restaurants near Allegiant Stadium is the Tigray Restaurant. You can either choose to dine in or have your food prepared for a takeout order. Regardless of which option you choose, trying the food at this restaurant is worth it. The staff is very lovely, so your experience will be very pleasurable.
Menu
Although considered a fast-casual restaurant in Las Vegas, Tigray is all about including as many vegetables in the meals as possible. This brings freshness and acidity to their dishes.
A traditional Middle Eastern meal is one of the breakfast options at the Tigray Restaurant. This dish includes beans, tomatoes, and unique spices.
Fried fish and grilled chicken are most commonly served for lunch at this restaurant. Besides the classic lunch options, you can also try the Beef Tibsi and Lamb Tibsi.
Additional information
| | |
| --- | --- |
| Location | Tigray Restaurant |
| Phone number | +1 702-780-4651 |
| Customer rating | Very Good 4.2 |
| Distance from Allegiant Stadium | 1,7 miles |
Mexican food packed with flavor is available at Los Lupes 2 Mexican Restaurant in Las Vegas, Nevada near Allegiant Stadium.
Overview
The efficient and fast service at the Los Lupes 2 is what makes this place one of the best restaurants near Allegiant Stadium that you can visit.
The ambiance is pleasant and hospitable. The staff is trained to deliver every order on time without making any customer wait long. The restaurant also offers the possibility of ordering a delivery or a takeout.
Menu
Enchiladas, carnitas, and tamales are some of the menu staples provided by the Los Lupes 2 Restaurant in Las Vegas. Quesadillas and steak fajitas are customers' favorites.
This restaurant's popularity has grown because of the unique flavors they incorporate into its dishes. It is rare to find a Mexican restaurant that serves authentic food nowadays.
The menu items with chili are very famous at Los Lupes 2. People often come to this restaurant with doubts about the food quality, and they're always proven wrong.
Additional information
| | |
| --- | --- |
| Location | Los Lupes 2 Mexican Restaurant |
| Phone number | +1 702-545-0606 |
| Working hours | Monday – Sunday 9 AM – 9 PM |
| Customer rating | Very Good 4.4 |
| Distance from Allegiant Stadium | 1,8 miles |
If you are a big fan of fried chicken, definitely visit Raising Cane's Chicken Fingers. They have a new location in Las Vegas near the famous Allegiant Stadium.
Overview
Fried chicken meals from other fast-food joints may be costly. However, that is not the case with Raising Cane's Chicken Fingers.
The staff at this restaurant cooks every meal to order. The reason for this is to make sure that each customer gets their meal fast while it is still hot.
This restaurant was founded by a man who was chasing a dream – to deliver the best-tasting chicken fingers.
Menu
What gave this restaurant its reputation is the chicken fingers. They are tasty, crispy, and tender because they are marinated to absorb all flavors.
Apart from the chicken fingers, this restaurant also serves unique sauces that go along with every meal you order. The Cane's sauce is produced from a secret recipe which gives its unique taste.
The meal combos include chicken fingers with a drink as well as a chicken finger sandwich and a drink. You can also order plates with 25-100 chicken fingers and sauces for you and all your friends.
Additional information
Location
Raising Cane's Chicken Fingers
Phone number
+1 702-550-4395
Working hours
Sunday – Thursday 9:00 AM – 1:30 AM
Friday, Saturday 9:00 AM – 3:30 AM
Customer rating
Excellent 4.5
Distance from Allegiant Stadium
1,0 mile
One of the best restaurants near Allegiant Stadium is SkinnyFats. This restaurant has an aesthetically pleasing exterior design and a comfortable interior environment.
Overview
Starting a small business 10 years ago, the owner of SkinnyFats has gained national popularity. He couldn't have imagined that his business would grow so much from an idea and a tiny space.
Today, SkinnyFats is a restaurant that opens its doors to anyone visiting Las Vegas. People come to this place to enjoy delicious meals in peace after watching a game at the stadium.
The dedicated management team and the friendly staff at SkinnyFats always work together. Every request from customers is listened to and carried out successfully.
Menu
There is a breakfast menu as well as certain special offers at SkinnyFats.
The breakfast options include toast with avocado or bacon, depending on your preference. You can also choose sides such as hummus and mixed greens.
Chips and risotto balls are shared-meal options. Bowls, salads, and burgers are ideal for lunch. During game days at Allegiant Stadium, you can order a big plate of chicken tenders.
Additional information
| | |
| --- | --- |
| Location | SkinnyFATS |
| Phone number | +1 702-577-3232 |
| Working hours | Monday – Sunday 11 AM – 9 PM |
| Customer rating | Excellent 4.6 |
| Distance from Allegiant Stadium | 1,1 miles |
Conclusion
All five restaurants offer incredible food at reasonable prices, have incredible ambiance, excellent ratings by guests, and are super close to Allegiant Stadium. You can even book a table online or find a free one at the property. The choice is yours.
We hope our selection has helped you decide where to eat before or after watching a game.
Enjoy!