Allegiant Stadium is built on a 65-acre land in the heart of the glamorous Las Vegas, Nevada. This large NFL stadium is adjacent to the popular Las Vegas Strip, giving visitors and fans more reasons to enjoy their visit to the fullest. The stadium is also known to be the second most expensive stadium worldwide.
The large stadium is home to the Las Vegas Raiders and offers visitors a more homey vibe through its food options. It has included many local favorite dishes, about 30 local businesses, and famous chefs like Guy Fieri, Susan Feniger, Marc Marrone, etc., to make the stadium worth it.
So, aside from the fantastic view and beautiful structure, with a guarantee, we can say that the food at Allegiant Stadium is a note-worthy reason to visit.
What Are the Classic Foods of Allegiant Stadium?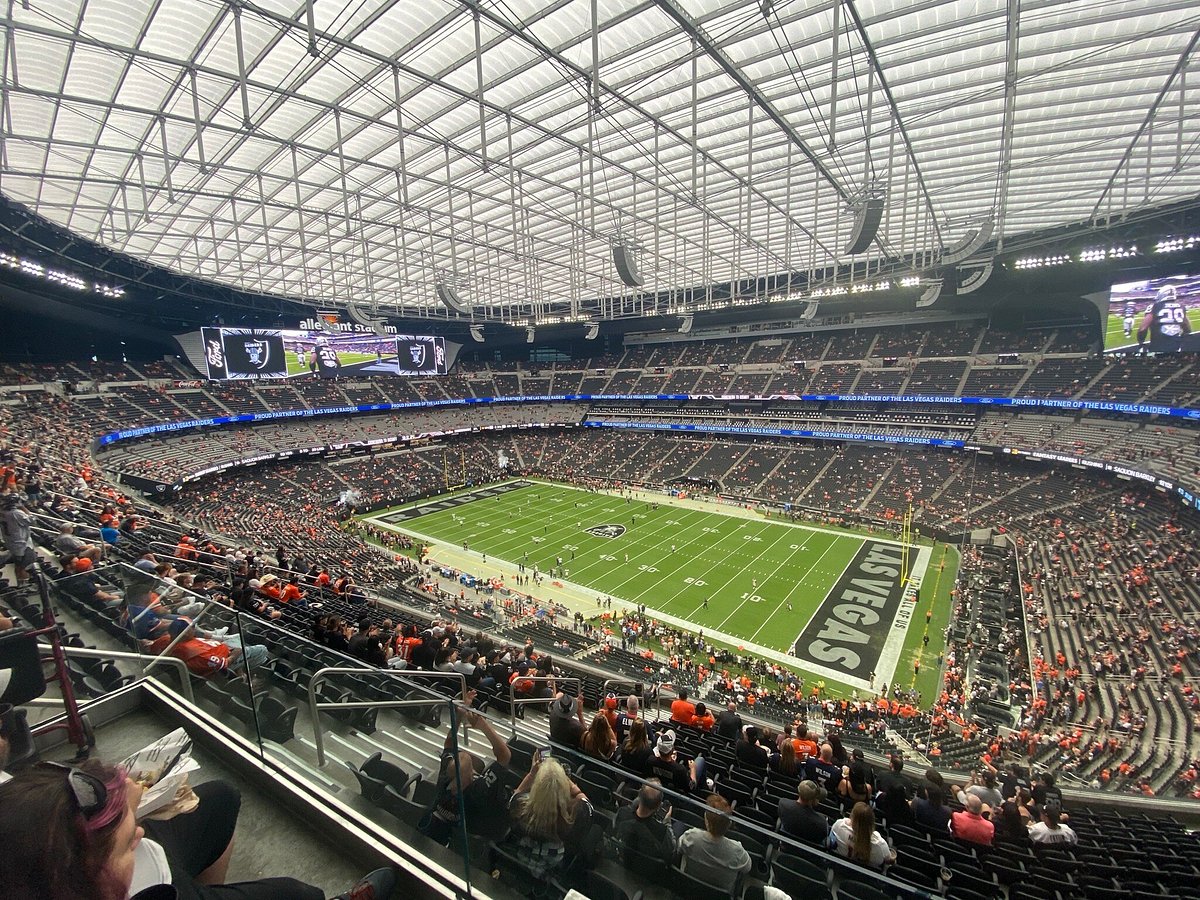 Did you know Allegiant Stadium is a totally cashless stadium? They accept debit and credit cards, and you can even convert your cash to debit through their "Cash to Card Kiosks." This sounds very convenient and amazing!
However, the more convenient thing in the stadium is their food. They have many items on their classic list, which you will definitely enjoy.
Classic Stadium Foods
What food can be more satisfying than classic stadium foods? There are various concession stands around the stadium where you will get hamburgers, hotdogs, nachos, peanuts, popcorn, etc.
Our Haus Sausage
In section 223, you can get sausages, bratwursts, and even beyond meat bratwursts.
Evel Pie
Section 315 is the Evel Pie, where you can buy pies and many other delicious items like their popular garlic fries, pepperoni pizza slices, and more.
Pizza Rock by Tony Gemignani
Tony Gemignani has two locations of Pizza Rock in Las Vegas, so his food is considered a local delicacy. You can easily find his stall in section 346 of Allegiant Stadium if you want a slice of heaven. They have his original Margherita, the New Yorkers Pizza, buffalo chicken wings, meatballs, veggie pizza, and more.
Lucy Link
If you want something refreshing, you can always visit Lucy Link in section 227. They have a variety of fresh and seasonal fruits to choose from.
What Are the Most Popular Foods & Beverages at Allegiant Stadium?
Although Allegiant Stadium is a fairly new stadium, its food items have become very popular among visitors and the Las Vegas Raiders' fans. Their variation in the menu and inclusion of many talented chefs' dishes bring a modern, homey, and exciting vibe to the game days.
Not only food but some of their beverages are all the craze among the stadium visitors. So, without further delay, let's get to know the popular foods and beverages at Allegiant Stadium.
Popular Foods
BBQ Mexicana
Through BBQ Mexicana, Mary Sue Milliken and Susan Feniger have spread their magic by bringing avocado chicken burritos, smoked brisket burritos, burnt-end burritos, BLTA wraps, etc. You can enjoy any of these mouth-watering burritos with Mexican cheese, crispy potatoes, coleslaw, or BBQ sauce. But you must try their BBQ-dusted pork skins because they are absolutely delicious. Find them in sections 122 and 314 when hungry.
FukuBurger
FukuBurger is a Japanese-inspired burger restaurant by Colin Fukunaga in section 128. They serve scrumptious chicken katsu, namesake burgers, Fuku fries, etc. Moreover, if you want something extra fancy, you must try their American cheese-infused silver and a black burger that comes with a side of miso-bacon slaw.
Holsteins
Billy Richardson has brought the Nom Nom Burger, the Gold Standard, veggie burger, fries, and more from his restaurant "The Cosmopolitan" to the stadium. Find them in section 106.
Guy Fieri's Tailgate Kitchen & Bar
If you have always wanted to taste Guy Fieri's burgers, now you can enjoy them at the Allegiant Stadium. The place serves his famous mac-n-cheese burger, Guy's fries, Motley Que pulled pork sandwiches, Real Cheezy burgers, Tailgater Trash Can Nachos, etc., in section 243.
Rollin' Smoke
Get yourself a pulled piggy sandwich, a smoked chicken sandwich, or a chopped brisket sandwich in section 124. Rollin' Smoke won't disappoint you because they are the locals' favorite BBQ joint.
Capriotti's
If you are looking for protein-filled vegan options, try Capriotti's Impossible Cheesesteak sandwich in section 219 of Allegiant Stadium. You can also get Italian subs, the Bobbie, and different cheesesteaks.
P2 Pizza
If you are craving some delicious pizza, head over to P2 Pizza, where they have a variety to choose from. You can easily find them in sections 118, 140, 206, 230, and 308.
Tastes of the Nation
Tastes of the Nation offers a good view of the game at Allegiant Stadium. So, drop by sections 117 and 141 for good food and a great view.
Popular Beverage
The 1960
The 1960 offers a variety of cocktails to enjoy during the game. You don't even have to search a lot because they are located in sections 106, 139, 327, and 343.
Area 41 Bar
In section 126, you can grab yourself a cool drink or a beer during the game.
Blue Moon Bar
Blue Moon Bar has all the drinks you can think of, so pay a visit to section 127.
Jack Daniel's Bar
As the name suggests, the bar has alcoholic drinks that you can enjoy during or after the game at section 120.
Corona Bar
Corona Bar offers Corona beer but also local and craft beers at section 322.
Hop Nation
You will get your favorite local drinks and craft beer at Hop Nation, located in section 103.
Conclusion
Foods at Allegiant Stadium are bound to be delicious because they have incorporated many popular chefs' dishes and restaurants into their stadium. The stadium is truly a paradise for food and beverages because it has everything you can think of.
The stadium's homey and local vibe also gives the visitors a reason to return to the Las Vegas Strip and enjoy another game. So, next time you visit the Allegiant Stadium to watch the Las Vegas Raiders, make sure to raid the food stalls and shops for some excellent and exquisite dishes.