Allegiant Stadium, located at 3333 Al Davis Way, Las Vegas, NV 89118, is the impressive new home of the Las Vegas Raiders and has quickly become a focal point for sports and entertainment events in the city. As an essential destination for both locals and visitors, knowing how to get there efficiently and effectively can make attending events at Allegiant Stadium a much more enjoyable experience.
There are various transportation options available when planning your trip to Allegiant Stadium. Whether it's by train, bus, taxi, or on foot, understanding the layout of the surrounding area, and knowing which method is most suitable to your needs, can help you navigate smoothly. As with any major event, ensuring you know the best travel tips, have a sense of the key locations, as well as safety and security measures, will make your visit to Allegiant Stadium a memorable one.
Key Takeaways
Numerous transportation options make accessing Allegiant Stadium convenient for all
Familiarize yourself with the surrounding area, including key locations, for smooth navigation
Preparation and awareness of travel tips and safety measures will enhance your overall experience
Transportation Options
Driving and Parking
If you plan to drive to Allegiant Stadium, there are limited parking spaces on the actual stadium footprint. However, the Raiders claim that there are approximately 35,000 parking spaces within a mile of the venue. Make sure to plan your route and arrive early to secure a parking spot.
Public Transportation
For those not wanting to drive, the Regional Transportation Commission (RTC) offers the Deuce bus as an alternative. Running 24/7, every 15 minutes, the Deuce bus stops at 57 locations along Las Vegas Blvd. The closest stop to Allegiant Stadium is near Hacienda Bridge at Mandalay Bay.
Another public transportation option is taking the train from Sahara Monorail Station to MGM Grand, which takes approximately 46 minutes and costs $0 – $5.
Ridesharing
For a more convenient experience, consider using ridesharing services such as Uber or Lyft. Pick-up and drop-off for rideshare options are available at Lot N, just north of Allegiant Stadium.
Walking and Biking
Stadium officials suggest that a short walk over the Hacienda Bridge from the Las Vegas Strip near the Mandalay Bay hotel-casino is among the best ways to get to Allegiant Stadium. This option allows you to avoid traffic and parking hassles while enjoying the sights and sounds of Las Vegas.
Travel Tips
Time Considerations
When planning your trip to Allegiant Stadium, it's essential to consider the time it takes to reach the stadium from various points in Las Vegas. Allow extra time for traffic and possible delays. If you're using the monorail, taking the train from Sahara Monorail Station to MGM Grand takes about 46 minutes. For those using rideshare options, Lot N is the designated pick-up and drop-off point near the stadium. To avoid traffic congestions, consider walking to the stadium via the Hacienda Bridge, which is closed to automobile traffic during select event-days.
Budget Tips
If you're on a budget, public transportation options like monorail or bus offer a more affordable way to get to Allegiant Stadium.
Consider looking for parking spaces within a mile of the stadium, as there are approximately 35,000 spaces available.
Before attending an event, look for discounts and deals at Las Vegas hotels and restaurants near the stadium. Research local venues to a cost-friendly experience.
Accessibility
Allegiant Stadium strives to be an accessible venue for all its guests, making it easier for visitors with disabilities to attend events. Here are some points to consider:
Ensure that your parking or transportation options can cater to accessibility needs.
When it is not an event day, the easiest walking option to access the stadium is via the Hacienda Bridge.
Ticketing and seating accommodations should be arranged prior to arriving at the stadium. Get in touch with the stadium's customer service to discuss accessible seating options, services, and any further accommodations.
Remember to plan ahead and take advantage of these travel tips to make your visit to Allegiant Stadium a pleasant, hassle-free experience.
Important Locations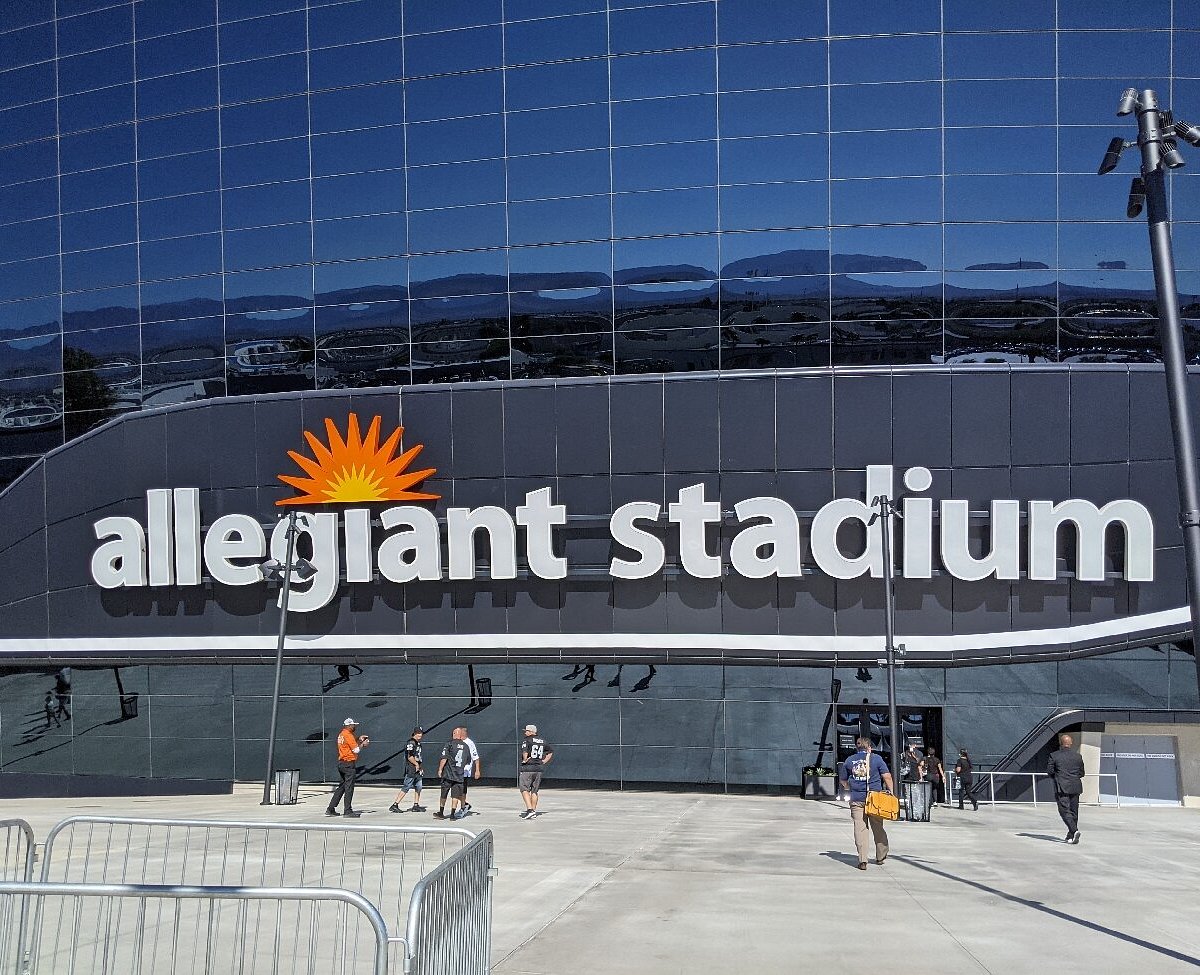 Entrances and Exits
Allegiant Stadium is located at 3333 Al Davis Way, Las Vegas, NV 89118. To ensure a smooth game-day experience, plan your trip in advance, keeping in mind that the parking lots do not allow re-entry. Once a guest has exited the parking lot, their parking pass will not be valid for entry again.
Box Office
For any inquiries regarding ticketing, you can contact the Allegiant Stadium Box Office at 725-780-2100. They will be able to assist you with purchasing tickets or addressing any concerns you may have.
Restrooms
At Allegiant Stadium, restrooms are strategically placed throughout the venue for your convenience. To find the nearest restroom during your visit, you can refer to stadium maps available on the official website. These maps also include information on concession stands, guest service kiosks, parking, and more to help enhance your visit.
Safety and Security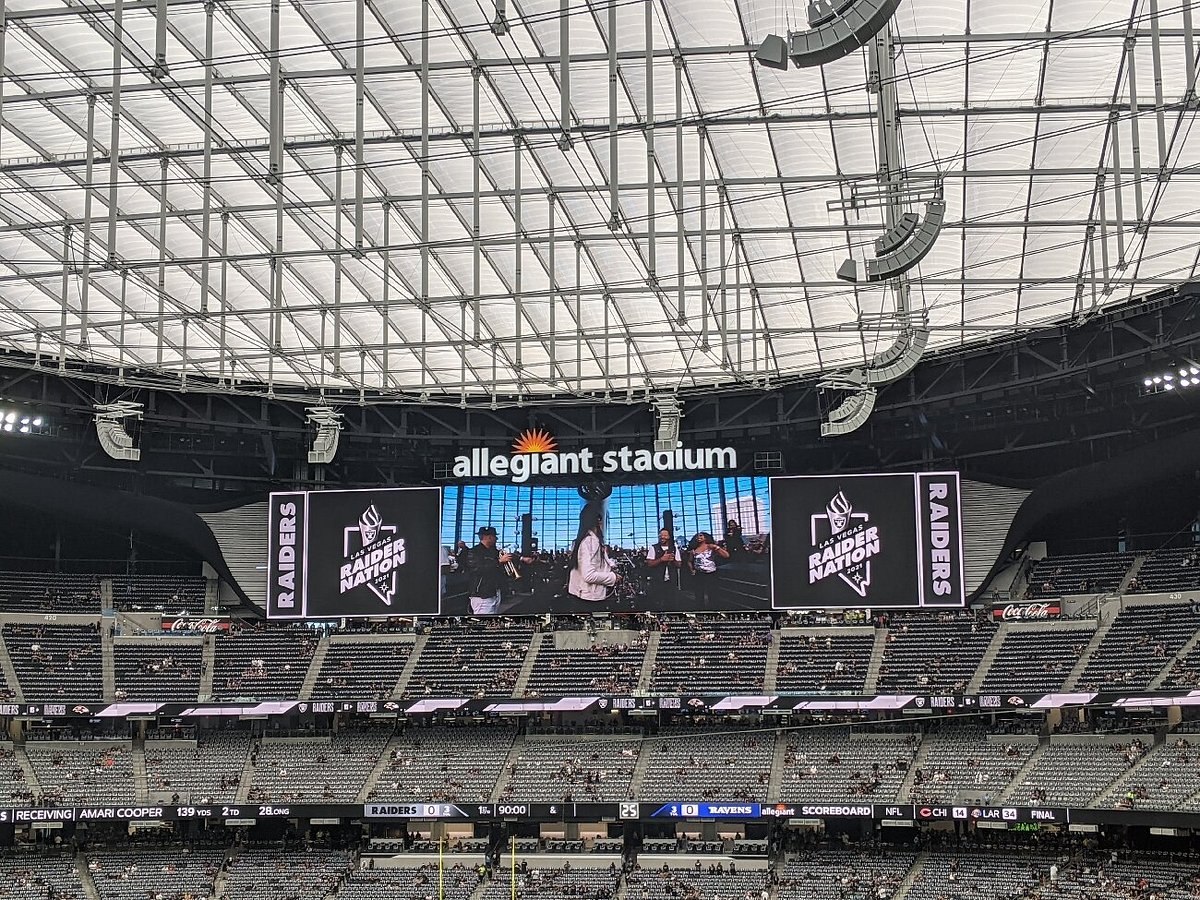 Prohibited Items
Weapons of any kind, including guns, knives, pepper spray, and stun guns
Fireworks or any other pyrotechnics
Drones or other remote-controlled devices
Outside food or beverages
Laser pointers
Large signs, banners, or flags
Professional cameras, tripods, or selfie sticks
Bags larger than 12″x 6″x 12″
Strollers
Umbrellas
Coolers or any other large containers
Pets (except for service animals)
Prohibited items are subject to change based on event-specific restrictions
For a more comprehensive list, please check Allegiant Stadium's official website
Health and Safety Protocols:
Follow face covering requirements, which may differ based on events and local regulations
Observe physical distancing guidelines, maintaining six feet of distance from others when possible
Utilize hand sanitizer stations and wash hands frequently
Use cashless payment methods to reduce contact
Abide by signs and instructions provided by stadium staff
Stay home if you are feeling unwell or have symptoms associated with COVID-19
Health and safety protocols may be subject to change based on local regulations and event-specific guidelines
For the most up-to-date information, consult Allegiant Stadium's official website
Nearby Attractions
When visiting Allegiant Stadium in Las Vegas, there are several nearby attractions that you may want to explore. Within close proximity, you can find bars, clubs, spas, and performances, with over 1,000 things to do in the area.
Allegiant Stadium Tours is a popular option for visitors. With 361 reviews, you can explore the stadium and learn about its history at 3333 Al Davis Way. Additionally, the Liberace Museum Collection is located nearby at 5115 Dean Martin Dr Suite 905, offering a unique experience for fans of the legendary entertainer.
The Las Vegas Strip is another must-see when in the area, and there are several ways to enjoy it. Consider the All Day GoCar Ultimate Las Vegas Day Tour, with rentals starting at $204.61 per adult, or the Deluxe GoCar Tour of The Las Vegas Strip, priced from $72.05 per adult.
For Marvel fans, the Marvel Avengers S.T.A.T.I.O.N at Treasure Island Hotel and Casino is an immersive attraction worth visiting. Tickets start at $44.95 per adult. Lastly, consider indulging in the Two-Hour Exotic Car Driving Experience Package in Las Vegas for an unforgettable driving experience.
Please note that walking from a hotel to the stadium may not be feasible on certain days. The Hacienda Bridge is the easiest and safest route for pedestrian access from Las Vegas Boulevard.