MetLife Stadium is situated in East Rutherford, New Jersey. The venue is famous for its cutting-edge technology and tasty food concessions.
The stadium is the headquarters of two NFL teams, the New York Giants and the New York Jets. In addition to being a game stadium, it is used for other events, like concerts, throughout the year.
Food at MetLife Stadium is just as memorable for fans as the games. Let's take a look at what food concessions they have to offer.
What Delicious Food Concession Items Can You Find in the MetLife Stadium?
Food is available across every floor of the enormous ballpark in the Meadowlands. The food choices can extend from straightforward options, including cheeseburgers, to more foreign cuisine, like Mexican favorites and Korean barbecue.
Keep reading to learn about the food at MetLife stadium that seasoned patrons love.
Stadium Gyro
Even though the MetLife Stadium is not known as a hub of Greek culture, it nevertheless managed to do an excellent job with its specialty sandwiches.
Don't you think that soccer shouts local Greek delicacies? Additionally, there is a chicken alternative. The veggies are crunchy, and the flatbread is bouncy and delicate.
The deal-breaker, though, is the meat. The beef in the sandwich is minced instead of the customary chunks of meat, which is the norm.
Found at: Section 314
Tacos Raqueros
Tacos Raqueros has to be the best bargain. Three big tacos for under ten dollars? Yes, please. They serve burritos too.
Found at: Sections 117, 217, 234, 313
DoughMazing!
Knowing that you shouldn't be snacking on raw cookie dough adds to the enjoyment. However, DoughMazing provides delicious edible cookie dough in various flavors.
Their most notable flavors are s'mores and mint chocolate chips. Both of them are tasty, although this imitation version is only partially up to the standards of the legitimate thing.
Found at: Section 126
The Fat Rooster
The trendiest fast snack right now could be chicken sandwiches. The peppery flavor adds a solid punch to the large chunk of chicken.
Although the honey mayonnaise and pickle coleslaw on this sandwich could be more memorable, the chicken is delicious and helps elevate this sandwich to new heights.
Found at: Sections 212, 240, 317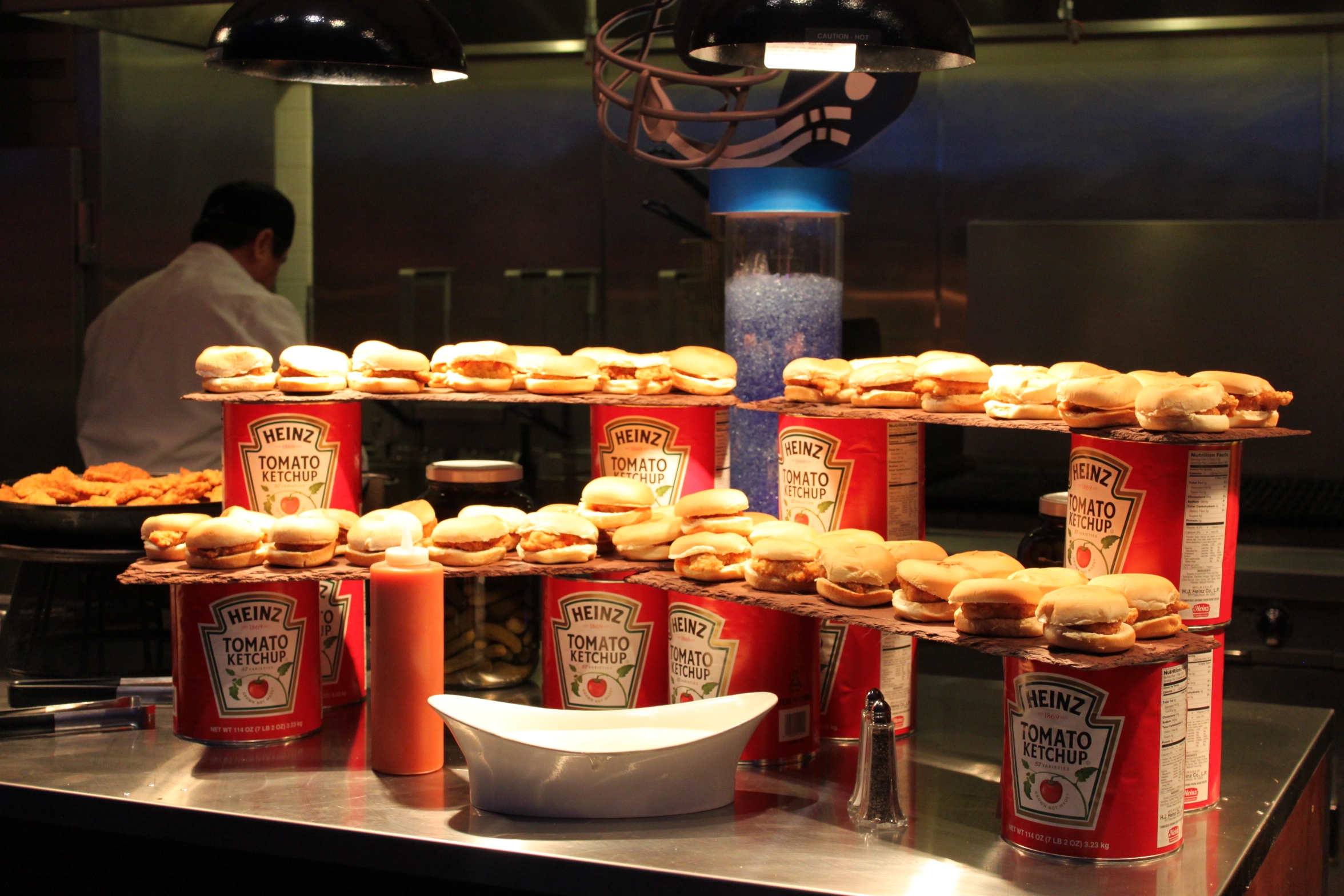 Bahnbekyu Korean BBQ
Since Korean food became popular, it has been consistently sold inside football stadiums. Amazing times. The restaurant Bahnbekyu serves pulled pork bao sliders in addition to Korean-inspired pork sandwiches.
Found at: MetLife Central
Petite Greens & Grains
Have you ever expected to find balanced healthy food at a sporting event? Then, your dream might've just come true.
Petite Greens and Grains serve broth, appetizers, fruits, quinoa platters, and other products. The chicken-topped quinoa dish is delicious and filling compared to a standard salad.
Such meals are perfect for those who are health conscious and want to steer clear of selections that are high in sugar, sodium, and fat.
Found at: Section 144
Cheetos Popcorn
Everyone loves Cheetos and popcorn is quite popular. So, why doesn't someone put them together in one sentence?
In the past, it was exclusively available at a single kiosk located on the top platform, which was quite a distance away. So if you are a Cheetos fan, come by section 329 and get a taste.
Found at: Section 329
Conclusion
Attending a match at MetLife Stadium is consistently a delight. As spectators are so invested in their squad, watching a game in person is more diverse than viewing it on television.
The food concessions within the premises provide some of the best dishes so that you can eat tasty food while enjoying the match.
FAQ
What are some of the most incredible options for dining at MetLife Stadium?
There is plenty of fantastic food to satisfy spectators in MetLife Stadium. Food is offered across every deck of the enormous arena, including traditional cuisines like hamburgers and fries to foreign options, including tacos and Korean barbecue.
Is there a particular dish that is typically synonymous with this stadium?
Every establishment contains a single dish that is so good that it deserves special attention.
The goal of every site is to satisfy the gastronomic desires of sports fans by offering a wide variety of delectable dishes and beverages.
If we must mention one particular dish loved by all, Pulled Pork Platter has to be one of the best.
James is a big time NBA Golden State follower, who makes sure to catch games when he's in the area. He likes to follow International Soccer, with an interest in small town soccer club, Blackburn Rovers located in the North on the UK.