Citi Field, the world-class event and hospitality venue in New York, serves as the home of the New York Mets Major League Baseball team.
This state-of-the-art stadium, located in Flushing, Queens, not only hosts thrilling baseball games, but also offers superb cuisine, five-star service, and a variety of entertaining events, making it an enjoyable destination for fans and visitors alike.
Built in 2009, Citi Field replaced Shea Stadium as the home turf for the Mets, and since then, it has garnered recognition for its upgraded facilities and unique features.
While Citi Field is primarily known as the home of the New York Mets, it is also a popular location for concerts and other special events.
Apart from its primary purpose as a sports venue, Citi Field's strategic location at the north end of Flushing Meadows Corona Park makes it easily accessible via public transit and adds to its attraction as an event destination.
As you explore Citi Field, you will discover many secrets and entertaining experiences that make each visit memorable.
From its array of dining options to the exclusive clubs and ticket options, there is something for everyone at this iconic stadium.
Whether you're a lifelong Mets fan or just visiting New York City, Citi Field offers an unforgettable experience that you won't want to miss.
History and Construction
Planning and Funding
In the early 2000s, the New York Mets sought a replacement for their previous home, Shea Stadium, which had opened in 1964.
The planning and funding process for the new ballpark, later named Citi Field, began.
The stadium was built as a public-private partnership, with the City of New York providing the land and infrastructure improvements, while the Mets organization funded the ballpark's construction.
Design
Citi Field was designed by Populous, a renowned architecture firm that specializes in sports facilities.
The stadium's design draws inspiration from iconic ballparks like Ebbets Field and the Polo Grounds, both of which are part of the Mets' history and legacy.
The open-air ballpark offers a modern fan experience and connects the Mets' National League heritage to the future and to the city through various unique design elements.
Opening
Citi Field officially opened in 2009, serving as the home field for Major League Baseball's New York Mets.
It is located in Flushing Meadows-Corona Park in New York City, adjacent to the site of the former Shea Stadium.
The state-of-the-art ballpark features a range of amenities, comforts, and tributes to the team's history, ensuring an enjoyable experience for Mets fans and visitors to the New York metropolitan area.
Features and Amenities
Seating and Views
Citi Field offers a variety of seating options for fans with different budgets and preferences.
The stadium has a capacity of 41,922 and features comfortable seats with excellent sightlines to the field. Some popular seating choices include:
Field Level Seats: Close to the action and provide the best views of the game.
Promenade Seats: Located in the upper deck, these seats offer an affordable option with good views.
Luxury Suites: Ideal for corporate events or large groups, these suites provide a private space with premium food and beverage options.
Food and Beverage
Citi Field offers a wide range of delicious food and beverage options, catering to various tastes and dietary restrictions. Some popular options include:
Shake Shack: Serving its famous burgers, shakes, and fries.
Blue Smoke: A popular BBQ joint offering smoked meats and delicious side dishes.
Two Boots Pizza: New York-style pizza with a variety of toppings.
Taqueria at Distrito: Offering authentic Mexican cuisine such as tacos, burritos, and nachos.
Mama's of Corona: Serving Italian-American classics like meatball subs and Italian sandwiches.
Fuku: A popular spot for fried chicken sandwiches and spicy chicken fingers.
Kids Activities
Citi Field provides a family-friendly environment with various kids' activities throughout the stadium.
Some popular attractions include:
Mr. Met's Kiddie Field: A mini baseball field where kids can practice their baseball skills.
Family Sunday Activities: Special events and activities for kids, such as mascot appearances, face painting, and kids' run the bases.
Fan Fest Area: Interactive games, giveaways, and music for the whole family to enjoy.
These amenities make Citi Field a top destination for fans of all ages and ensure an enjoyable experience for everyone attending a New York Mets game.
Events and Special Programs
Concerts and Non-Baseball Events
Citi Field, the home of the New York Mets, is a versatile event venue hosting not just baseball games but also concerts and other events.
The stadium has hosted famous bands and artists like Dead & Company, providing a unique experience for fans.
To learn more about hosting an event at Citi Field, interested parties may call 718-507-3663 or fill out a form to request information.
Community Outreach
The New York Mets are involved in various community outreach programs, which often take place at Citi Field.
They aim to give back to the local community and engage with fans on a deeper level. One such initiative is the Citi Community Home Runs Fan of the Game Sweepstakes.
Annual Promotions
Every season, the New York Mets offer a variety of promotions and giveaways for fans attending games at Citi Field.
This includes special theme nights, promotional items, and activities for fans of all ages.
Some of these promotions may be tied to specific games or series, so it is recommended that fans check the official schedule for updated information on upcoming promotions and giveaways.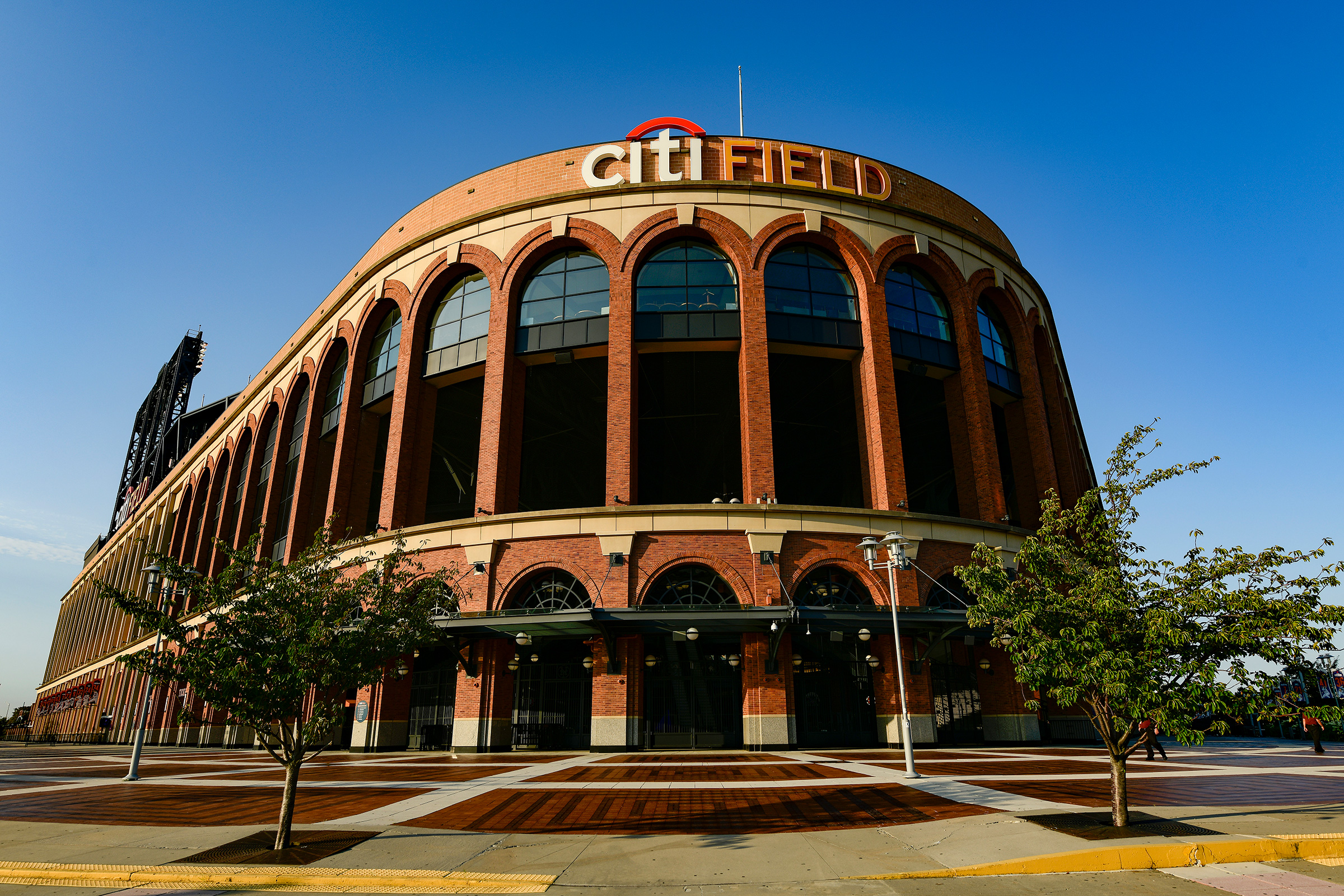 How to Get There and Parking
Public Transportation Options
One of the best ways to get to Citi Field is by using public transportation. Here are a few options you can consider:
Subway: The 7 subway line stops at Mets-Willets Point station, which is a short walk to Citi Field. Follow the signs within the station to reach the stadium. The fare is $2.75 for most riders.
Long Island Rail Road (LIRR): Take the Port Washington LIRR line to the Mets-Willets Point station. This option provides a comfortable and convenient ride to the stadium for those coming from Long Island or Manhattan.
Parking Facilities
If you prefer driving to Citi Field, there are several parking options available:
Marina East Flushing Meadows-Corona Park: This lot is used for events at Citi Field, and shuttle buses are available to transport guests to the Flushing Meadows passarelle, depending on the event type.
Bus/Sprinter/Oversized Parking: Located north of Citi Field on the west side of the Shea Road intersection, this lot is commonly referred to as "Pork Chop Hill." It is specifically designated for buses, sprinters, and other oversized vehicles.
To make your parking experience smooth and hassle-free, plan your arrival and consider purchasing parking passes in advance.
Keep in mind that the availability of these parking facilities may vary depending on the event and the time of your arrival.
James is a big time NBA Golden State follower, who makes sure to catch games when he's in the area. He likes to follow International Soccer, with an interest in small town soccer club, Blackburn Rovers located in the North on the UK.