The New York Rangers and the New York Knicks are both proud to call Madison Square Garden, which sits above Penn Station in the middle of New York City, their home arena.
Delicious dining options are abundant within the arena and the surrounding region and in this guide, we'll share our recommendations on the best concessions and food options at the venue, based on our experience!
Exploring the Food Options & Concessions at Madison Square Garden
The Garden serves as the primary playing venue for both the New York Knicks of the NBA and the New York Rangers of the NHL.
When you go to a game at The Garden, whether a Knicks or Rangers game, you won't have a hard time finding something to eat. Whether it's a sports venue staple like a hot dog, burger, fries, or sandwich, or a local favorite like a pepperoni pizza or something sweet, you have all you need.
In fact, Madison Square Garden offers over 100 different food and beverage items and proudly serves more than 3 million guests every single year.
Types of Food
Once you are at Madison Square Garden, you will have access to various types of cuisine. Among the available choices are the following:
● Modern Options
● Classic Options
● Vegan Options
● Dessert Options
Let's get through each of the options one by one.
Modern Food Options at Madison Square Garden
Binge-worthy snacks and multi-course dinners are both represented among modern culinary options. In addition, you may get all sorts of trendy dishes at Madison Square Garden. Some options include:
Tao Sushi
If you are a sushi lover, you should start your day at Madison Square Garden after stopping by Tao Sushi first. In section 118, the restaurant is offering some delicious sushi dinners.
Prime Rib
In section 106 of Madison Square Garden, the restaurant known as Prime Rib serves shaved prime rib atop a baguette with an abundance of toppings.
Mike's
Diners at Madison Square Garden are told that Mike's has a reputation for delivering the most incredible modern American food and snacks in the area. Their most popular items include hot honey fried chicken, buffalo wings, garlic wings, beer, and other beverages.
Avenue Cantina
Fried carinas with a selection of chicken, pork belly, steak, or beef brisket are available outside section 112 at Avenue Cantina.
Carnegie Deli
This place is famous for sandwiches and drinks. Especially sandwiches made with corned beef, turkey, and pastrami are best-selling at the Carnegie Deli.
Lavo Meatball
In section 112 of Madison Square Garden, there is Lavo Meatball. Here you'll find the classic meatball, the eggplant meatball, the chicken marsala meatball, Italian sausage, and more.
Abigael's Kosher Grill
If you or anyone in your party is Jewish and searching for a restaurant to eat at that complies with Jewish dietary laws, look no further! Providing kosher cuisine alternatives such as sandwiches, Abigael's Kosher Grill in Madison Square Garden is there to save you.
Sausage Boss by Andrew
Pork sausages, peppers, onions, and other ingredients can be found in sections 107 and 223 of Andrew Carmellini's Sausage Boss.
Fratelli Beretta
Sandwiches made with Italian meats and cheeses, including sausage, ham, salami, lettuce, cheese, tomatoes, and more, are available at Fratelli Beretta at Madison Square Garden.
Gluten-Free at the Garden
Taking a look at your weight? If you need assistance finding gluten-free food, see Gluten-Free at the Garden. In addition, section 112 is where guests may find gluten-free sandwich options.
Hill Country Barbecue Market
Located in MSG's section 107, Hill Country Barbecue Market serves prime rib, smoked brisket, and many more barbecue items.
Classic Food Options at Madison Square Garden
Classic food does not always mean eating something in fine dining. While visiting Madison Square Garden, you will find several grab-and-go items that are considered traditional.
Let's find out,
Paulie Gee's Slice Shop
Pizzas with toppings such as cheese, pepperoni, Freddy Price, Hellboy, Freddy Price, and Mootz are available at Paulie Gee's Slice Shop at Madison Square Garden.
Top Dog
Top Dog serves up its namesake sausage links named Top Dog and Coke and fries.
Garden Market
In the Garden Market, you may purchase classic stadium grab-and-go kinds such as popcorn, hot dogs, pretzels, sweets, soda, water, beer, and many more.
Fuku
Outside in section 119 of Madison Square Garden, you can get fried chicken sandwiches, French fries, Pepsi, and more. The spicy chicken dish is a crowd-pleaser; the mayo-based sauce is so loaded with gochugaru you can see red flakes of it. So if you enjoy the heat and crispy chicken, you'll enjoy this sandwich.
Vegan Food Option at Madison Square Garden
People who follow a vegan diet have the most difficulty traveling to new places because most restaurants do not provide plant-based foods.
There are some vegan-friendly options available at Madison Square Garden.
Simply Vegan
Plant-based smoothies, grilled bratwursts, sausage and peppers, Pommes fries, chili, Coke, and more are some of the many delicious options available to vegans.
Paulie Gee's Slice Shop
Though the place is not entirely vegan, the pizza shop serves pizza with plant-based toppings when asked.
Dessert Options at Madison Square Garden
You may pick up some candy, peanuts, crackers, and other snacks for dessert at most of the kiosks around the arena at Madison Square Garden. The area does not have a lot of specialty dessert businesses like that. If you must search for one, though, choose
Dunkin' Donuts
This flagship store is the most popular donut shop all over America. In Madison Square Garden, section 202 location of Dunkin' Donuts sells a variety of beverages, including hot chocolate, hot and iced coffee, and their special donuts.
Madison Square Garden's Top 4 Food Places
It's possible to get everything from a fried chicken sandwich to smoked brisket at one of the many stands operated by renowned chefs and restaurateurs spread out over Madison Square Garden. If you haven't visited The Garden yet, here is a shortlist of four must-try food items.
Mighty Quinn's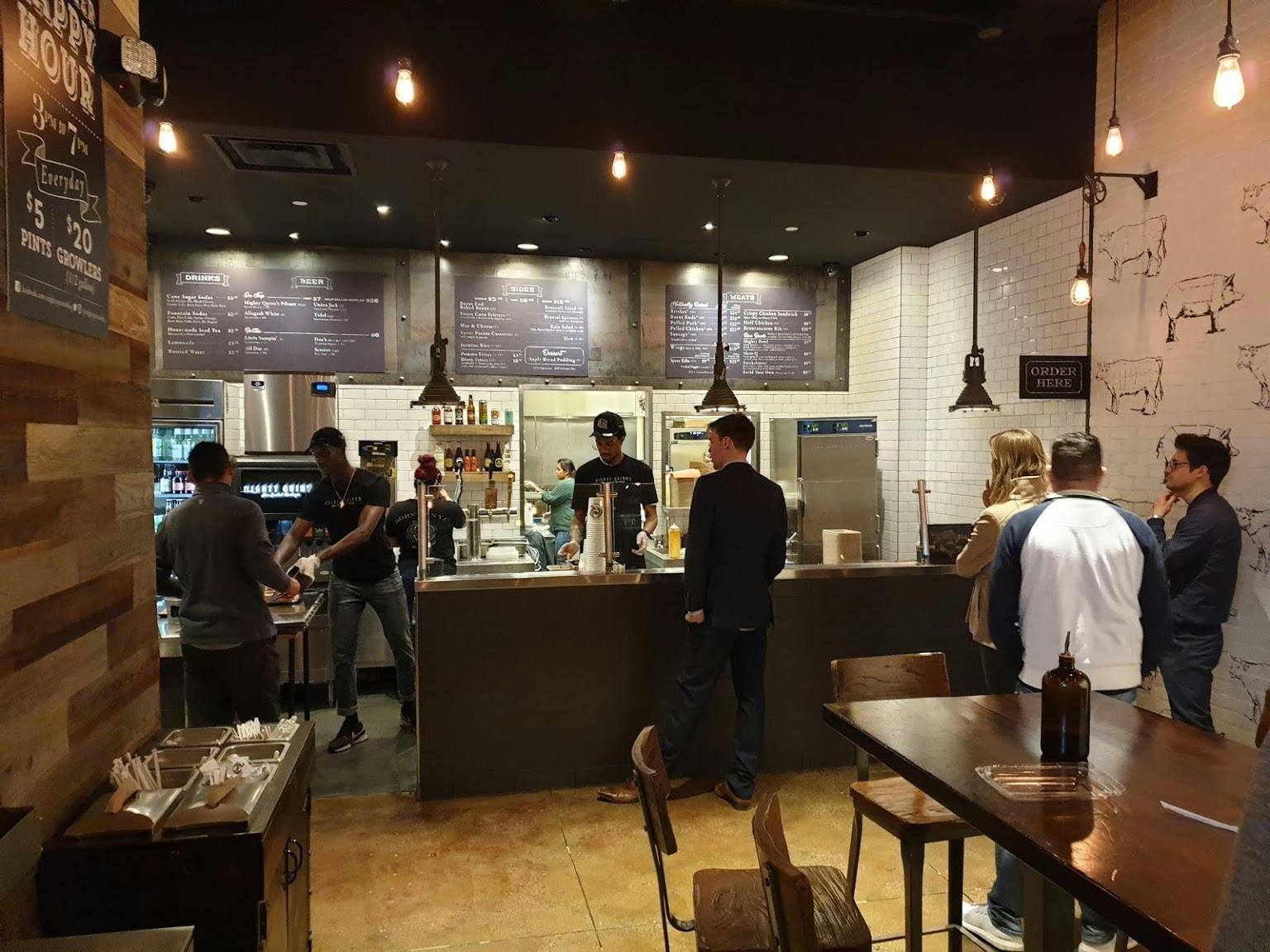 Mighty Quinn's may be found in several places across the city, including one conveniently located close to Madison Square Garden. If you can only order one dish from Mighty Quinn's restaurant, make it the burned ends sandwich. Although they have a variety of other tasty barbecue selections, this is the best one.
The cube's charred ends are smokey and soft, and there is a substantial quantity of pickled chilies to give the dish some kick. Cucumber slices are used to help chill down the dish.
Carnegie Deli
There is just one operating location of Carnegie Deli, and it is at Madison Square Garden. The recipes and techniques for acquiring ingredients are the same as those used at the original location. You should order a sandwich consisting of a mountain of lean pastrami layered across pieces of rye bread and served with a handful of crisp pickled dill on the side.
Because this item comes with the original Carnegie Deli flag, you won't have to worry about justifying its origin to the people sitting around you at the theater. Instead, you may relax and savor a delicious supper without anxiety.
Mike's Hot Honey Chicken
We can't imagine watching a game without wanting to eat a whole bucket of chicken tenders. Unlike traditional chicken tenders, these MSG-laced nuggets are served with Mike's Hot Honey. If you're craving something traditional, this is the perfect order: crisp, sweet, and finishing with a hint of heat at Mike's.
Kobeyaki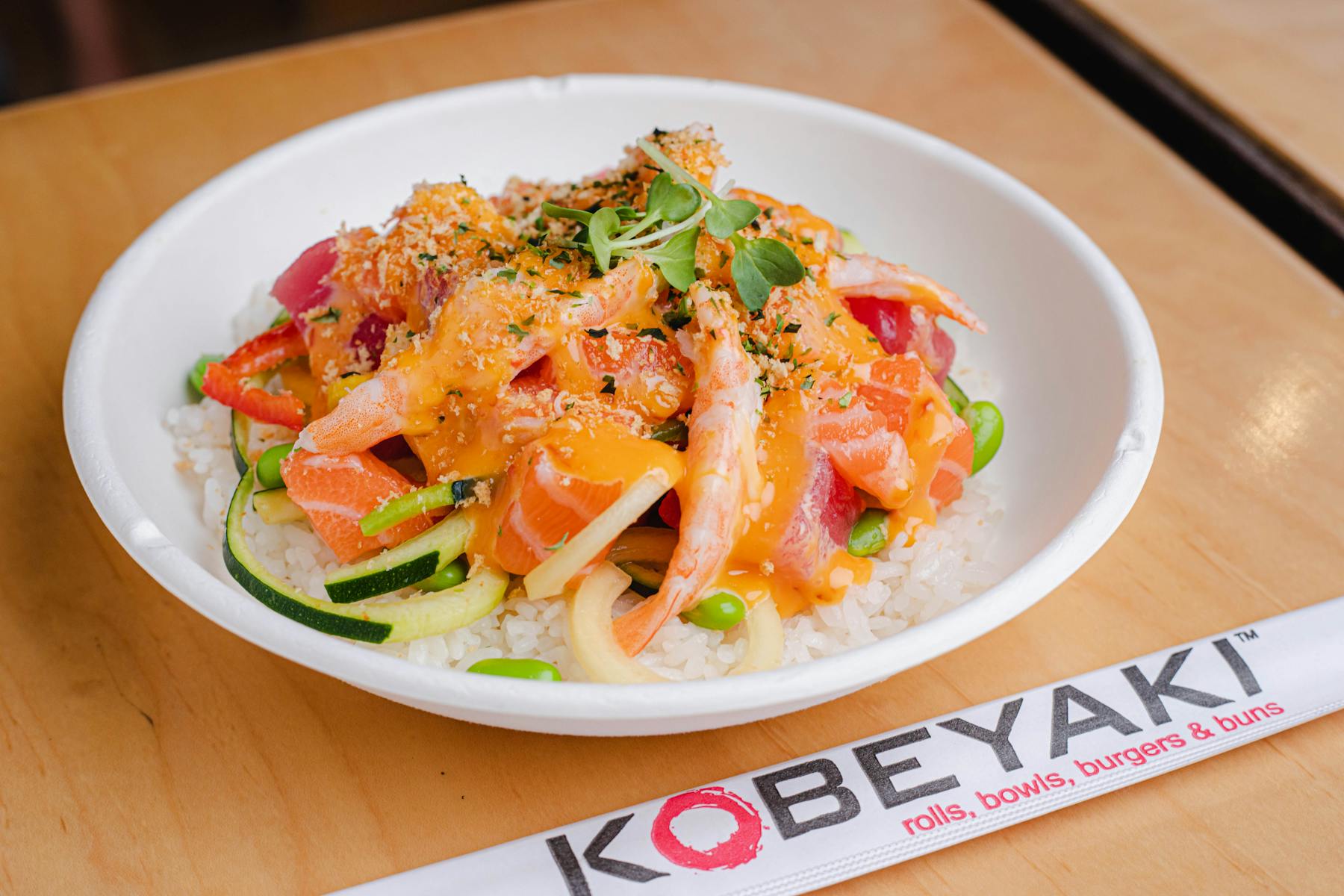 There is no sensation like biting into a tempura batter that is crisp and golden. The sweet potato fries become crisp at every edge, creating a chewy texture in the center while maintaining a brittle, crunchy exterior. If you keep your sweet potato crispy fries out for a while, you won't return with wilted potato sticks. The sweet potato tempura fry at Kobeyaki keeps amazingly fresh for a longer time.
Additionally, teriyaki ketchup and spicy mayonnaise come standard with every order. To get the most out of both tastes, we recommend double-dip and combining them. You can call them fries. But, of course, you are the one who decides what constitutes double dipping.
FAQ
Q.1. Is Outside Food Allowed at the Madison Square Garden?
Answer: Bringing in outside food is not permitted in Madison Square Garden. In no way, shape, or form is this allowed. However, there is no need to worry about hunger because the location offers unexpectedly high-quality catering.
Q.2. Is Smoking Allowed Inside the Madison Square Garden?
Answer: Smoking is strictly prohibited inside Madison Square Garden.
Conclusion
We all think of food, drinks, and desserts when we picture ourselves watching a game at Madison Square Garden. There you may choose various food and drink options to satisfy your tastebuds.
So, if you're going to the MSG, follow the suggestions from the article to get your hands on the cuisine you want without any hassle!
James is a big time NBA Golden State follower, who makes sure to catch games when he's in the area. He likes to follow International Soccer, with an interest in small town soccer club, Blackburn Rovers located in the North on the UK.