Visiting Orchard Park, New York, doesn't come without planning your stay and activities. Before attending a sporting event or concert at Highmark Stadium, it is best to inform yourself about nearby hotels, bars, and restaurants.
That is why we want to help you with the preparations and give you all the needed information about this place.
So, continue reading the article to discover all there is to know about Orchard Park, New York, and its famous Highmark Stadium.
Highmark Stadium: Key Facts
Highmark Stadium, situated in Orchard Park, New York, is home to the Buffalo Bills of the NFL. The stadium was originally named after the Pro Football Hall of Famer, Ralph Willson, the founder and current owner of the Buffalo Bills.
It used to be known as Rich Stadium from 1973 to 1997, which then changed to Ralph Wilson Stadium (1998 – 2015), New Era Field (2016 – 2019), and Bills Stadium (2020 – 2021).
While undergoing countless renovations, the seating capacity has drastically changed over the years. After construction, the capacity was over 80,000 seats; however, in 1998, it dropped down to 74,000 due to installing larger premium seating. Throughout the reconstruction, 40 exclusive suites were created, and over 500 premium seats were added.
Music lovers are in for a real treat since this stadium hosts big-time artists and exciting concerts. Some of the musicians who have performed at the stadium are the Rolling Stones, the Who, Michael Jackson and family, George Strait, Bob Dylan, Beyoncé and Jay-Z, U2, the Grateful Dead, Billy Joel, and many more.
So, whether it is for music or sports, your experience at the stadium will undoubtedly be exhilarating.
Where Is Highmark Stadium Located?
It is located at 1 Bills Drive, Orchard Park, NY, United States. Since it is based 10 miles south of the Buffalo city center, you can find multiple tourist attractions nearby.
While staying in Orchard Park, there are countless activities to do with friends and family other than catching a game. From bike and pedal tours to luxurious lady cruises, your vacation here will most definitely be an exciting adventure.
Furthermore, numerous parks, museums, gaming, and shopping centers are available for your entertainment.
The Best Way to Get to Highmark Stadium
If you are not a local, getting your way around the city may be challenging. That is why we have provided you with these detailed instructions on how to reach the venue.
Here are the different travel options for getting to Highmark Stadium.
By car
If you are traveling by car, there are a few ways to get to the Highmark Stadium, depending on your location.
The stadium is close to Interstate-90, which cuts through the city, and Route-219, from which you can exit at Milestrip Road. If traveling from Buffalo Airport, there's a shortcut you can take by exiting Route-219 and Milestrip Road. Next, continue heading east, and make two right turns on Mid County Drive and Southwestern Boulevard.
You can consider grabbing a cab or calling an Uber if you don't have a car. However, be aware that the taxi service from downtown Buffalo has a rather expensive cab fare. As for Uber, just south of New Era Field, there is a designated Uber Zone where you can find a ride.
By bus
For those who need public transportation, there is a specifically designed schedule for game days at Highmark Stadium. These four routes will take you to your game and depart from the following locations. Keep in mind that the buses will not stop at regular bus stops but only at designed transit centers.
Route 251: From Black Rock Riverside Transit Hub and with a stop at Utica Station and Athol Springs Park and Ride.
Route 252: Starts at University Station and ends at Thruway Mall Transit Center.
Route 253: Begins at Metropolitan Transportation Center and stops at McKinley Mall.
Route 254: Eastern Hills Mall, which stops near JCPenney.
Parking Near Highmark Stadium
Finding a parking spot on game days can be stressful, so we will inform you all about where to park and how much it costs.
Highmark Stadium is surrounded by parking lots and on-site parking facilities where you can reserve a spot before the game. The on-site charge is currently $40 per parking space, and you can reserve it at the following number: (585) 230-0632.
Even though most outer lots are open to the public, you might have difficulty finding a spot. That is why you should check out Lot 1, which is located right next to the stadium and costs $10 per space.
Moreover, some additional parking lots outside the venue are Lot 2 ADA, Yellow Brick Parking, and Lot 6 ADA.
The Best Restaurants Near Highmark Stadium
There's nothing better than a tasty meal after an exciting game at the stadium. Even though countless great restaurants are nearby, only a select few offer the quality you want.
Therefore, we have compiled all the needed information about the best venues to help you with dining.
O'Neill's Stadium Inn
O'Neill's Stadium Inn is a cozy American Irish place just around the corner from Highmark Stadium. When looking for a place to get excellent food at an affordable price, make sure to stop by this restaurant.
Since they pride themselves on serving fresh, homemade, high-quality food, you can expect nothing but premium service.
Menu
The menu is separated into several sections, from sandwiches and sides to salads, wraps, and soups.
For starters, you can enjoy the $7.95 O'Neill's Basket or the $5.95 Quesadilla, which everyone seems to love. Depending on your choice, you can also taste a nice hot homemade soup that comes in a cup or a bowl.
Furthermore, you don't want to miss out on their specialty burgers that come with their house-cut potato chip. We recommend the $9.95 Ben's BBQ Burger and the $8.50 O'Neill's Classic Cheese Burger.
Additional information
| | |
| --- | --- |
| Location | 3847 Abbott Rd, Orchard Park, NY 14127 |
| Contact | (716) 646-4674 |
| Price Range | $$ |
Prohibition 2020
Thanks to their professional, friendly staff, you will feel more than welcome at Prohibition 2020. Just three minutes from the Highmark Stadium, this restaurant has a fun atmosphere with an outdoor bar and fire pits for your enjoyment.
They offer a diverse menu that includes daily and weekly specials that can satisfy everyone's taste.
Menu
On the menu, you can find anything from appetizers, sandwiches, burgers, soups, and salads. Prohibition 2020 always tends to use fresh ingredients from the best locations available. You can enjoy over 20 different wing flavors that are served with fresh carrots, celery, and house-made blue cheese.
If you are lucky enough to catch them on a Tuesday, you get the chance to try their Taco Tuesday specialties. We highly recommend trying the $7.95 Chicken Quesadillas and the $4 Prohibition Burrito since they are locals' favorites.
For late-night dining in the restaurant, be sure to try the Rustic French Fries, Pizza Logs, and Tater Tots. As for liquor enthusiasts, don't miss out on their full selection of craft beer and craft cocktails.
Additional information
| | |
| --- | --- |
| Location | 3847 Southwestern Blvd, Orchard Park, NY 14127 |
| Contact | (716) 202-4016 |
| Price Range | $$ |
Tim Hortons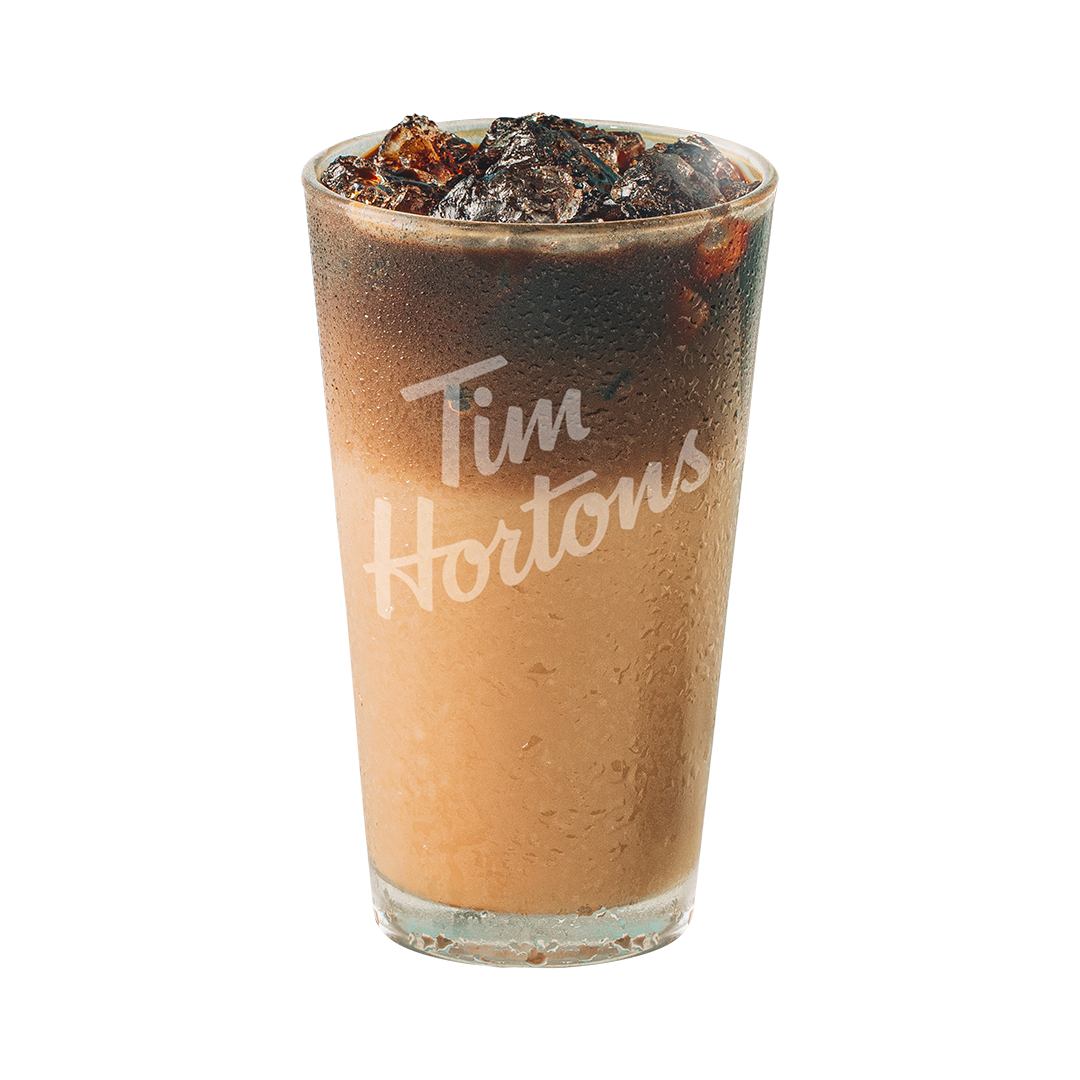 Tim Hortons Inc is a multinational Canadian coffee house and restaurant chain. You can enjoy some tasty food after a game since it is located just six minutes from Highmark Stadium.
Menu
You will find hot and cold beverages, meals, and fast food on the menu. The breakfast includes delicious wraps, sandwiches, bagels, and different flavored pancakes. Locals' favorites are the Bacon & Egg Muffin Stack and the famous Original Breakfast Wrap, so we highly recommend you try these tasty dishes.
In the meal sections, you will find specialty burgers, chicken tenders, and lettuce fries to fill you up for the big game.
As for dessert, Tim Hortons is most famous for its absolute game-changing donuts. The donuts come in various shapes and sizes, with various flavorings, and can satisfy everyone's taste.
However, their most famous and loved donut is the Boston Cream Donut, so when stopping by, be sure to try it out.
Additional information
| | |
| --- | --- |
| Location | 3878 Southwestern Blvd, Orchard Park, NY 14127, United States |
| Contact | (716) 312-0124 |
| Price Range | $ |
The Best Bars Near Highmark Stadium
After a great delicious meal, you are ready to go for a drink and enjoy the night. There are several great bars near Highmark Stadium that you can visit. Whether you want a calm family night or some quality time with friends, Orchard Park has a place for everyone.
Big Tree Inn is excellent for some pre-game excitement to get you pumped up for the game. It has relaxing outdoor seating, where you can enjoy a cold beer and some fish fries.
On the other hand, Black Smoke Bourbon Bar can offer you some premium whiskey and signature craft cocktails.
Moreover, if you are looking for a place to dance and have a wild time, 67 West and Dancin Inc are here to satisfy your needs. Although they are a 20-minute drive from the stadium, your experience there will be unforgettable.
The Best Hotels Near Highmark Stadium
After a night out in the city, you are ready to book a stay at some of the best hotels near Highmark Stadium. Since there aren't many hotels nearby, we have included some transportation options.
Red Carpet Inn Orchard Park, NY
Red Carpet Inn Orchard Park, NY, is a 2-star motel that is within a nine-minute walking distance from Highmark Stadium. The accommodation offers cozy rooms featuring air-conditioning and a complimentary parking area for visitors traveling by car.
Stay connected while you are away with their free internet access, and let your mind rest at their on-site hot tubs. Those interested in exploring the area can check out The Eternal Flame Falls and some nearby hiking trails and parks.
The hotel offers many fun activities during your stay, including an off-site bowling alley, golf course, and tennis court.
Additional information
| | |
| --- | --- |
| Location | Rte 20, 3940 Southwestern Blvd, Orchard Park, NY 14127 |
| Contact | (716) 649-5890 |
| Price Range | $ |
| Rating | 3.1 guest rating (Google.com) |
Econo Lodge Buffalo South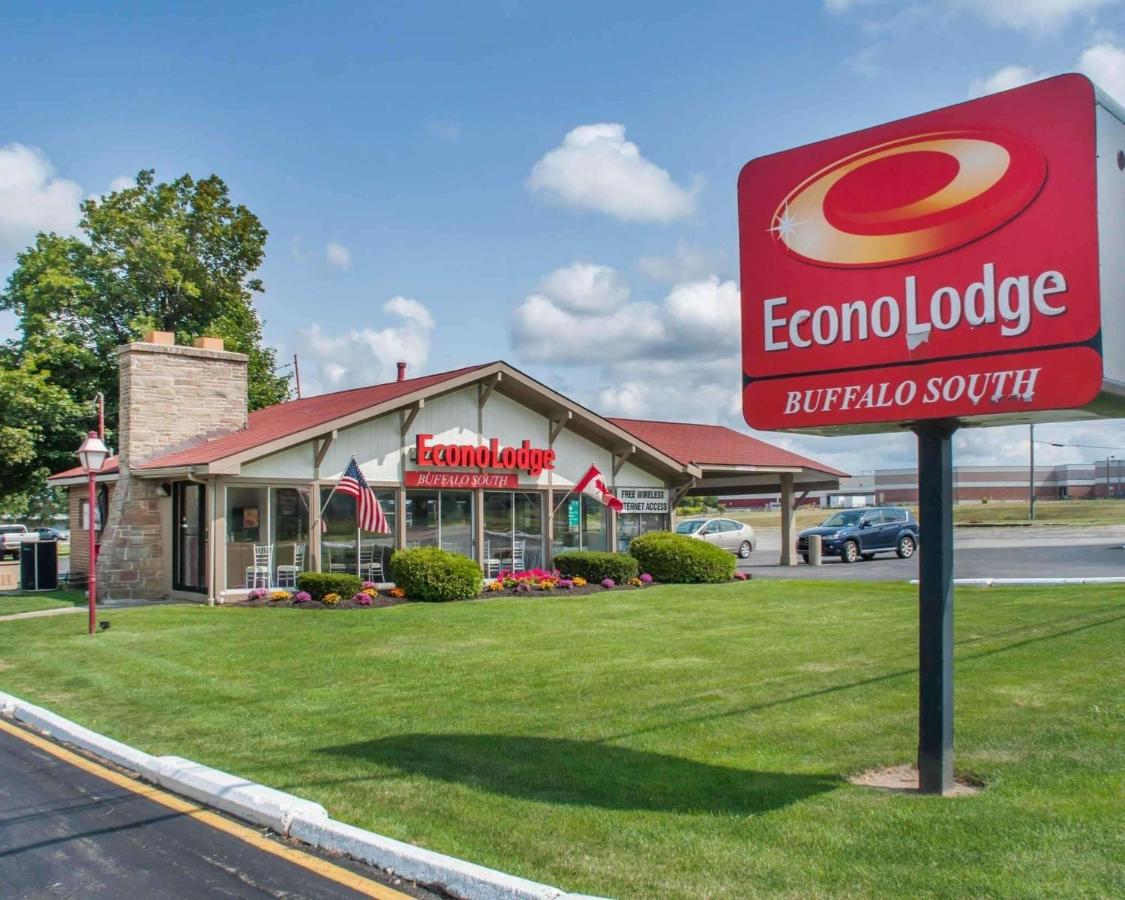 Econo Lodge Buffalo South is a 2-star hotel well-known for its budget-friendly environment and excellent surroundings. Even though this venue is 2.4 miles from the Highmark Stadium, public transport is available. You can catch a bus (14) on McKinley Parkway & Milestrip Rd and get off at Abbott Rd & Southwestern Blvd.
This accommodation features a picnic area where you can enjoy the on-site complimentary breakfast. If you are traveling by car, the hotel provides you with access to a free parking area.
Furthermore, this pet-friendly hotel will happily accommodate your furry family. Taking a walk in their nearby parks is a great way to spend some quality time with your pets. This includes Larkin Square, Buffalo Harbor State Park, and Cazenovia Park.
The rooms feature flat-screen TVs for daily entertainment, comfortable sofas and bedding, and bathrooms and kitchens with all necessary equipment.
Additional information
| | |
| --- | --- |
| Location | 4344 Milestrip Rd, Buffalo, NY 14219 |
| Contact | (716) 825-7530 |
| Price Range | $ |
| Rating | 3.5 guest rating (Google.com) |
Lakecrest Estate Bed & Breakfast
Lakecrest Estate Bed & Breakfast is a beautiful Renaissance accommodation decorated with Italian marble that will give you a cozy and peaceful ambiance. Located by the shores of Lake Erie, you can enjoy the spectacular view from the balcony.
The rooms feature comfortable bedding, luxury linens, and 24k gold-plated fixtures. You will find cozy robes, towels for guests' use, and an attached bathroom with an oversized shower. The kitchen has all the necessary kitchenware, and the living rooms are supplied with cable TVs for your amusement.
This pet-friendly accommodation allows you and your furry friend to spend quality time exploring Buffalo-Niagara's region together.
Even though this venue is a bit far from the stadium, public transport is available. You can catch a bus (14) from Lake Shore Rd & Camp Rd S and get off at Abbott Rd & Southwestern Blvd, leaving you five minutes away from the Highmark Stadium.
Additional information
| | |
| --- | --- |
| Location | 4261 Lake Shore Rd, Hamburg, NY 14075 |
| Contact | (716) 807-9646 |
| Price Range | $200 |
| Rating | 5 guest rating (Google.com) |
The History of Highmark Stadium
Rich Stadium started construction in April 1972 and was finished in record time, as the official opening took place in August 1973.
The Buffalo Bills played at the Buffalo War Memorial Stadium for the first 13 years of existence. While suitable for an American Football League, Highmark Stadium was deemed undersized for a National Football League team.
After the NFL-AFL merger dictated that an NFL-suitable venue had to have a minimum of 50,000 seats, Buffalo Bills needed a more extensive facility.
Initially, the construction of Highmark Stadium could accommodate just over 80,000 visitors on three levels over the stand. The arena's structure hasn't changed much over the years since it opened. However, the arena's capacity began reducing due to installing new, larger seats for a better experience.
The first-ever game at the stadium was a playoff between the Bills and Houston Oilers on January 1, 1989. The Buffalo Bills continued being victorious until December 28, 1996, when the Jacksonville Jaguars defeated them.
Even though playing other sporting events is extremely difficult since the arena is designed explicitly for the NFL, the venue has hosted numerous concerts and special events.
Where to Get Tickets for Highmark Stadium
Nowadays, the easiest way to buy tickets for upcoming events is online through their website, on box office ticket sales, or on Ticketmaster. Ensure you have the ticket ready before your favorite team or artist takes the field.
As the stadium has a huge seating capacity, find the best seats for yourself with their easy-to-use chart. The ticket prices will vary depending on the event and your choice of seating.
On average, attending a live event at Highmark Stadium can cost you around $661. However, seats located in the back of the arena are always the cheapest way to see your favorites and will cost you $65.
Does Highmark Stadium Offer Tours?
If you are interested in touring the Highmark Stadium, such an option is available. You can book a private tour based on schedule availability, but it will cost you at least $500.
Conclusion
Countless activities can be found in and around the Highmark Stadium since Orchard Park has something for everyone's taste.
Now that we have covered all the best restaurants, bars, and places to spend the night, you can easily make your way around the city. The stadium's marvelous design and history by itself can be a significant enough reason to visit it.
While attending an event at the venue, you now know where to find great parking spots or how to get there with public transport.
Lastly, we hope you have the best time filled with exciting memories during your stay at Highmark Stadium!