Welcome to our comprehensive guide to UBS Arena, the spectacular new home of the New York Islanders.
Whether you're a die-hard fan or a first-time visitor, this guide has you covered with all the essential information you'll need to make your game day experience as enjoyable as possible.
From the arena's location and transportation options to the best nearby restaurants, bars, and hotels, we've got all the insider tips to help you make the most of your visit.
So, lace up your skates and get ready to explore UBS Arena, where the excitement of NHL action meets state-of-the-art facilities and unforgettable fan experiences.
UBS Arena: Key Facts
Capacity: 17,113 (for hockey)
Opened: November 20, 2021
Architect: Populous
Location: Elmont, New York
Where is UBS Arena Located?
UBS Arena is located in Elmont, New York, adjacent to the iconic Belmont Park. The arena's address is 2400 Hempstead Turnpike, Elmont, NY 11003. Situated near the border of Queens and Nassau County, it is a convenient destination for New York Islanders fans from both Long Island and the five boroughs of New York City.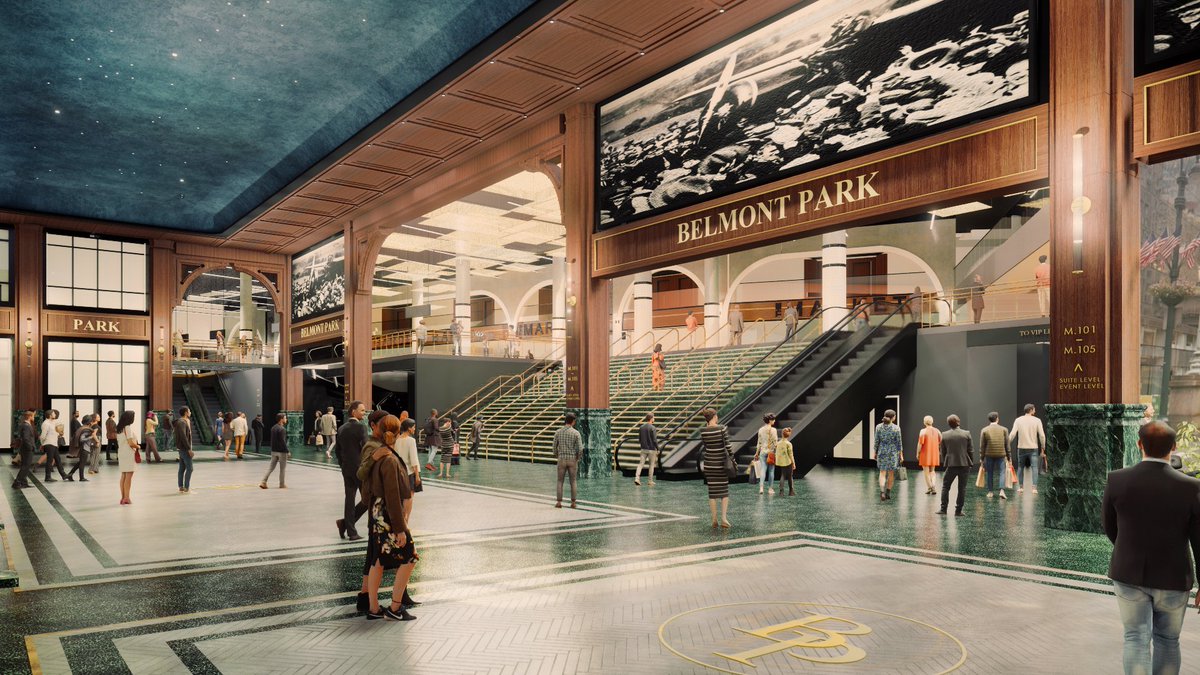 The Best Way to Get to UBS Arena
There are several ways to get to UBS Arena, including by car, public transportation, and rideshare services.
By car: The arena is easily accessible via the Cross Island Parkway, Southern State Parkway, and Meadowbrook State Parkway. Keep in mind that traffic can be heavy on game nights, so plan your travel accordingly.
By public transportation: The Long Island Rail Road (LIRR) offers service to Belmont Park Station, which is located just a short walk from UBS Arena. The LIRR has increased service on game days, making this an easy and stress-free option for fans. You can also use the N6, N6X, and Q2 bus routes, which have stops near the arena.
By rideshare services: Uber, Lyft, and other rideshare services are available to drop you off near UBS Arena. Be prepared for higher fares during peak times, such as before and after games.
Parking near UBS Arena
There are several parking options available for fans attending games and events at UBS Arena. On-site parking is available at the arena, with multiple lots and garages to choose from. Prices for parking typically range from $20 to $40, depending on the event and location of the lot. It's recommended to pre-purchase parking passes online to guarantee your spot and save time on game day.
Off-site parking is also available at nearby businesses, such as Belmont Park Racetrack. Although these options may be more affordable, keep in mind that they may require a longer walk to the arena.
The Best Restaurants near UBS Arena
There are plenty of dining options near UBS Arena, ranging from fast-food joints to sit-down restaurants. Here are some fan-favorite spots:
King Umberto: A popular Italian restaurant located about two miles from the arena, King Umberto is known for its delicious pizza, pasta dishes, and seafood.
The Greene Turtle Sports Bar & Grille: Just a short drive from UBS Arena, this sports bar offers a variety of appetizers, burgers, sandwiches, and more. It's a great spot for fans to grab a bite before or after the game.
Park Place Restaurant & Bar: Located about three miles from the arena, Park Place offers American fare, including steaks, seafood, and pasta, in a cozy atmosphere.
Gyro Spot: If you're in the mood for Greek cuisine, check out the Gyro Spot. They offer gyros, souvlaki, and other delicious dishes just a few miles from UBS Arena.
Pollos Mario: This Colombian restaurant is known for its rotisserie chicken and authentic Latin American dishes. It's a great choice for fans looking for something different before the game.
The Best Bars near UBS Arena
Looking for a place to grab a drink before or after a game? Check
out these popular bars near UBS Arena:
Plattduetsche Park Biergarten: This German-style beer garden is a perfect spot for fans to enjoy a cold brew and some traditional German fare. Located just a short drive from the arena, the biergarten offers both indoor and outdoor seating.
Mulcahy's Pub & Concert Hall: This lively Irish pub is a favorite among Islanders fans, featuring live music and a wide selection of beers on tap. Just a few miles from UBS Arena, it's a great spot to keep the party going after the game.
Croxley's Ale House: Known for its extensive beer list and delicious wings, Croxley's Ale House is an excellent place to grab a drink and a bite before heading to the game. With multiple locations in the area, you're sure to find one convenient for you.
Effin Gruven: This cozy, dimly lit bar offers a diverse selection of craft beers, as well as creative cocktails. It's an ideal spot for fans looking for a more laid-back atmosphere before or after the game.
The Clubhouse: With plenty of TVs to catch the game, a full bar, and a menu featuring classic pub fare, The Clubhouse is a popular hangout for Islanders fans. Located just a short drive from UBS Arena, it's a great option for those looking to watch the game with fellow fans.
The Best Hotels near UBS Arena
If you're traveling from out of town or simply want to make a weekend of your visit to UBS Arena, there are several hotels nearby to choose from:
The Garden City Hotel: This elegant, upscale hotel is located just a few miles from the arena and offers luxurious accommodations, a spa, and a fine dining restaurant on-site.
Courtyard by Marriott Westbury Long Island: Located a short drive from UBS Arena, this modern hotel offers comfortable rooms, an indoor pool, and an on-site bistro.
Hampton Inn & Suites by Hilton Rockville Centre: Just a few miles from the arena, this hotel offers clean and comfortable rooms, free breakfast, and an indoor pool.
SpringHill Suites by Marriott Carle Place Garden City: This all-suite hotel offers spacious accommodations with separate living and sleeping areas, making it a great option for families or larger groups. It's located just a few miles from UBS Arena.
Homewood Suites by Hilton Carle Place – Garden City: This extended-stay hotel offers studio and one-bedroom suites with full kitchens, making it an excellent option for longer visits. It's located just a short drive from the arena.
The History of UBS Arena
UBS Arena officially opened on November 20, 2021, and serves as the new home for the New York Islanders. The state-of-the-art arena was designed by renowned architectural firm Populous and cost approximately $1.1 billion to construct.
The arena was built with the fan experience in mind, featuring modern amenities, excellent sightlines, and a variety of food and beverage options.
The arena is also designed with sustainability in mind, boasting a green roof, LED lighting, and efficient water fixtures. UBS Arena
also holds the distinction of being the first arena in New York State to achieve WELL Health-Safety certification, which recognizes the arena's commitment to maintaining a healthy and safe environment for fans, staff, and players.
Before the construction of UBS Arena, the New York Islanders called Nassau Coliseum and later, Barclays Center, their home. The move to UBS Arena marks a new chapter in the team's history, providing a dedicated, state-of-the-art venue for their loyal fan base.
Where to Get Tickets for UBS Arena
Tickets for New York Islanders games and other events at UBS Arena can be purchased through the following channels:
Official team website: Visit the New York Islanders' official website for the most up-to-date information on ticket availability, pricing, and promotions. You can purchase single-game tickets or explore season ticket and group ticket packages.
Ticketmaster: As the official ticketing partner for UBS Arena, Ticketmaster offers a secure platform for purchasing tickets to games and events.
Third-party ticket marketplaces: Websites like StubHub, SeatGeek, and Vivid Seats offer a secondary market for fans looking to buy or sell tickets. Prices may vary based on demand and availability, so it's essential to research multiple platforms to find the best deal.
Box office: The UBS Arena box office is another option for purchasing tickets on game days or during regular business hours. It's located at the main entrance of the arena.
Please note that ticket prices can vary based on the opponent, day of the week, and seat location. It's recommended to purchase tickets in advance, as popular games and events can sell out quickly.
Does UBS Arena Offer Tours?
As a state-of-the-art facility, UBS Arena is an exciting destination for hockey fans and visitors alike. While guided tours of the arena are not available at this time, fans are encouraged to visit the arena during games and events to experience the unique features and amenities that UBS Arena has to offer.
In conclusion, UBS Arena provides New York Islanders fans with a first-class game day experience, from convenient transportation options to an array of dining and entertainment choices nearby. With its modern design, fan-friendly amenities, and commitment to sustainability, UBS Arena is a premier destination for hockey enthusiasts and visitors to the New York City area.
James is a big time NBA Golden State follower, who makes sure to catch games when he's in the area. He likes to follow International Soccer, with an interest in small town soccer club, Blackburn Rovers located in the North on the UK.