Yankee Stadium, located in the Bronx, is an iconic piece of American sports history. Even for those who aren't necessarily baseball fans, the stadium holds a special place in the hearts of many. Today, as the home of the New York Yankees, it continues to draw thousands of fans to its gates every game day. As someone planning to visit this legendary venue, it's essential to become familiar with its gate locations and entrances to ensure a smooth and enjoyable experience.
Upon approaching the stadium, you'll quickly notice that there are four gate locations available for both entry and exit. These include Gate 2 near left field, Gate 4 behind home plate, Gate 6 close to right field, and Gate 8 by the center field bleachers. Each gate has its own unique entrance point, making it easy for fans to access the area of the stadium they'd like to visit.
Whether you're a die-hard Yankees fan or simply looking to experience a game at this renowned ballpark, having a solid understanding of the gate locations and entrances will help you navigate Yankee Stadium with ease. Enjoy the game, and don't forget to take in the incredible atmosphere of this historic baseball destination.
History of Yankee Stadium
As a baseball fan, I always find it exciting to discuss the history of Yankee Stadium, an iconic stadium in the world of sports. My journey begins with the original Yankee Stadium that opened its doors in 1923 and became home to the New York Yankees. Over the years, this remarkable venue hosted some of the most memorable moments in baseball history.
When I think about the legacy of Yankee Stadium, it's hard to forget the legends who graced its field, like Babe Ruth, Lou Gehrig, and Joe DiMaggio. Fast forward to 1974, the stadium underwent extensive renovations, modernizing the facilities and giving fans an even better experience.
However, in 2009, a new era of Yankee Stadium began. The current stadium, built at an eye-popping cost of over $2 billion, serves as a state-of-the-art arena for baseball fans like you and me. Not only does it offer cutting-edge technology, but it also provides more luxury seats for fans who desire a premium experience.
I must mention that along with the New York Yankees, Yankee Stadium also hosts another professional sports team – the New York City FC, which is part of Major League Soccer. This versatility showcases the stadium's ability to accommodate different sports and events beyond baseball.
So there you have it – a brief look through the rich history of Yankee Stadium, a testament to the love for sports in the United States and the legendary club that calls it home. As a fan and visitor, it's always a pleasure to learn more about this incredible venue and appreciate everything it has brought to the world of baseball.
How to Get There
If you're planning to visit Yankee Stadium, getting there is quite easy whether you choose to drive or take public transportation. I'll share a few tips on how to reach this iconic destination in the most convenient way possible.
Taking the subway is one of the most efficient ways to travel to Yankee Stadium. You can catch the No. 4 train (East Side) or the B and D trains (West Side) that will make stops at 161st Street/Yankee Stadium. From Midtown Manhattan, the subway ride should take approximately 25 minutes.
For those who prefer to drive, Yankee Stadium is located at One East 161st Street in the Bronx and is accessible from the Major Deegan Expressway (Interstate 87) at these exits:
Northbound I-87: Exit 4 (East 149th Street/145th Street Bridge) and Exit 5 (East 161st Street/Macombs Dam Bridge)
Southbound I-87: Exit 5 (East 161st Street/Macombs Dam Bridge)
Once you arrive at the stadium, there are four gate locations for entry and exit:
Gate 2: Adjacent to left-field, enter via Jerome Avenue and East 164th Street
Gate 4: Behind home plate, enter via East 161st Street and Macombs Dam Bridge
Gate 6: Adjacent to right-field, enter via East 161st Street and River Avenue
I hope these directions help you navigate your way to Yankee Stadium with ease. Have a fantastic time at the game!
Main Entrances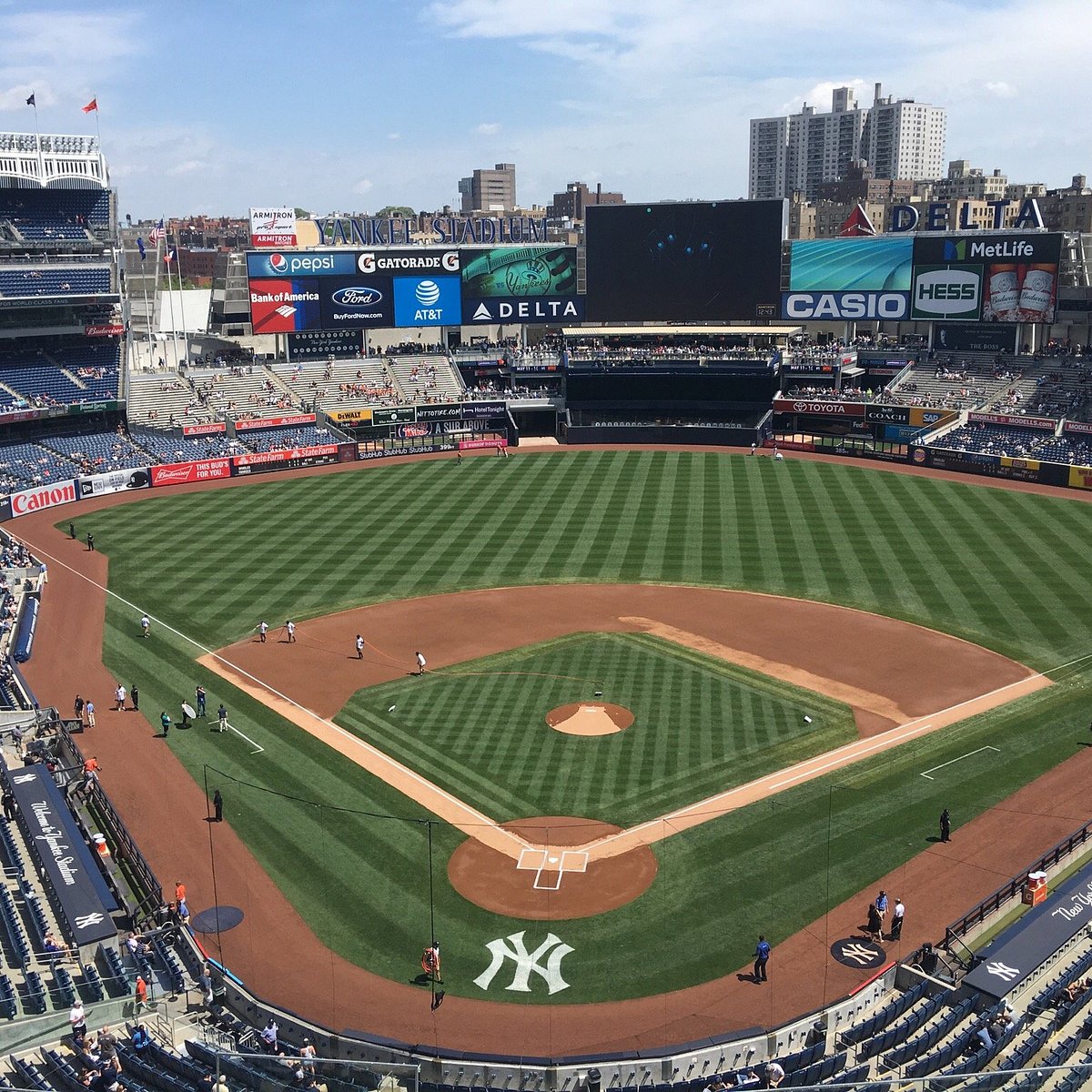 At Yankee Stadium, there are four main entrances that you can use to enter the ballpark. Each gate is conveniently located to cater to different areas of the stadium. Let me share with you the details of each gate for your convenience.
Gate 2
Gate 2 is adjacent to left field and can be accessed through Jerome Avenue and East 164th Street. It's an ideal entrance if your seats are located near the left field area. Upon entering, you'll find a welcoming atmosphere with staff ready to assist you.
Gate 4
Gate 4 is situated behind home plate and can be entered via East 161st Street and Macombs Dam Bridge. This entrance puts you right in the center of the action, leading you directly behind home plate. If you're looking for a more central location when entering the stadium, Gate 4 is perfect for you.
Gate 6
If your seats are near the right field, Gate 6 might be the best choice for you. It's located adjacent to right field and can be accessed through East 161st Street and River Avenue. This entrance also leads you into the Great Hall, which offers a lively and engaging atmosphere.
Gate 8
Lastly, Gate 8 is positioned near center field and close to the bleachers. You can find this entrance by going to the outskirts of the stadium. This entrance is perfect for those who are looking to get a panoramic view of the ballpark as soon as they enter.
No matter which gate you choose, friendly staff and a welcoming atmosphere will greet you. These gates make it easy for you to enter the stadium, find your seat, and enjoy the game. Simply check your ticket for the most suitable gate based on your seat location, and you'll be all set!
Accessible Entrances
As I visited Yankee Stadium, I noticed their efforts to provide an accessible environment for all guests. There are four gate locations for entry and exit, each offering various accessibility options.
At Gate 2, which is adjacent to left field, I found it easy to enter via Jerome Avenue and East 164th Street. The spacious entrance area ensures smoother access for individuals with mobility devices or needing assistance.
Gate 4 is located behind home plate, and I found it convenient to enter via East 161st Street and Macombs Dam Bridge. Similar to Gate 2, ample space is provided to accommodate all guests, including those with accessibility needs.
Gate 6 is adjacent to right field, and can be accessed via East 161st Street and River Avenue. Like the other gates, this entrance is designed to meet the needs of guests with various accessibility requirements.
I also discovered that wheelchair accessible and designated aisle-transfer seats are available throughout Yankee Stadium at various price points and locations. In addition, enhanced accessibility options are provided for guests with hearing loss or low vision, as well as for those who are deaf or blind. These features highlight how Yankee Stadium strives to create an inclusive experience for everyone.
Security Procedures
As I visit Yankee Stadium, I make sure to be familiar with the security procedures to ensure a smooth and enjoyable experience at the ballpark. Since safety is a top priority, everyone entering Yankee Stadium is required to pass through metal detectors, which means you should expect to spend some time in line before entering the gates.
Before going through the metal detectors, it's essential for me to make sure that my belongings are compliant with the stadium's rules. For example, Yankee Stadium allows a bag no larger than 16 inches by 16 inches by 8 inches—and it should be soft-sided. This is important to remember, as carrying a larger or hard-sided bag will prevent my entrance into the venue.
It's also worth noting that certain items are not permitted inside Yankee Stadium. Some of these prohibited items include:
Hard-sided bags or containers of any size
Glass bottles
Cans
Laser pens
Selfie sticks
Mono/tripods
Professional camera equipment
I always double-check my belongings to ensure that I don't bring any prohibited items with me to the stadium, as they might delay my entry or even lead to denied access.
Alcohol consumption is another aspect that is carefully regulated inside the venue. The purchase and consumption of alcohol are only allowed for guests who are 21 years of age or older. A proper identification, regardless of age, must be presented in order to purchase any alcoholic beverages during the game.
In conclusion, by staying informed about the security procedures at Yankee Stadium, I can focus on enjoying the game and creating long-lasting memories with friends and family.
Tips and Tricks for Entry
I always recommend arriving at Yankee Stadium early to avoid long lines at the gates. The gates often open 2 hours before the game starts, providing ample time to get settled in your seat and explore the stadium before the game begins.
When it comes to bringing bags into the stadium, I would suggest using a bag that doesn't exceed 16″ x 16″ x 8″ and has soft sides. Remember, you're also allowed to bring one small personal item. Security personnel may exercise discretion in admitting or rejecting your items, so it's best to adhere to the guidelines.
Contactless technology is widely employed throughout the stadium, so having your mobile ticket handy is essential. Make sure your smartphone is sufficiently charged and you're familiar with the mobile ticketing process.
Another tip is to familiarize yourself with the different gate locations at Yankee Stadium. Knowing the nearest entrance to your seating area is a timesaver, helping you get into the stadium in a streamlined fashion.
Finally, I suggest taking public transportation or using parking apps to find a parking spot if you're driving. Navigating the busy streets and finding a spot can be stressful. Using these alternatives can make your experience even more enjoyable.
Emergency Exits
Yankee Stadium has several emergency exits for the safety and convenience of all visitors. I want to share some crucial information on these exits so you can have a safe and enjoyable experience at the stadium.
First, it's important to mention that Yankee Stadium has four main gate locations for entry and exit: Gate 2 near left field, Gate 4 behind home plate, and Gate 6 adjacent to the right field. These gates can be accessed through different streets such as Jerome Avenue, East 164th Street, East 161st Street, Macombs Dam Bridge, and River Avenue.
In case of an emergency during your visit to Yankee Stadium, make sure to follow the directions provided by the stadium staff and public address announcer. The stadium crew is trained to ensure a quick and orderly evacuation of the premises if necessary, and they will guide you to the nearest emergency exit.
As a friendly reminder, while attending a game or event at Yankee Stadium, please take a moment to familiarize yourself with the emergency exit signs posted throughout the stadium. These signs typically feature a green running man symbol and arrows indicating the direction of the nearest emergency exit. Knowing the locations of these exits can save valuable time in the event of an emergency.
To sum it up, being aware and prepared while visiting Yankee Stadium can make your experience more safe and enjoyable. So, remember to locate the emergency exits and follow the guidance of the stadium staff in case of an emergency situation. Stay safe and have fun!