Yankee Stadium, located in the heart of the Bronx, New York City, holds a significant place in the world of professional baseball.
Serving as the home field for the iconic New York Yankees, this state-of-the-art ballpark has welcomed countless fans and players alike since its opening in 2009. With a rich history and a bright future, Yankee Stadium stands as a testament to the enduring spirit of America's favorite pastime.
The original Yankee Stadium, often referred to as "the cathedral of baseball," opened its doors in 1923 and was the first ballpark to be referred to as a stadium.
Over the years, it witnessed countless memorable moments, legendary players, and record-breaking achievements. The current Yankee Stadium was designed to carry forward the essence and grandeur of its predecessor while adding modern amenities and features to enhance the fan experience.
From its iconic facade to the Monument Park within its grounds, the stadium exudes a sense of tradition and pride that resonates with fans and players alike.
With its ability to accommodate over 47,000 spectators, Yankee Stadium remains an unparalleled venue for enjoying the excitement and thrills of professional baseball. Steeped in history and marked by success, this storied venue stands as a symbol of excellence and a lasting tribute to the rich legacy of the New York Yankees.
Yankee Stadium History
Original Stadium
The original Yankee Stadium, also known as "The House That Ruth Built," opened on April 18, 1923. It was built upon the purchase of ten acres of property in the west Bronx from the estate of William Waldorf Astor, for $675,000.
The stadium served as the home for the New York Yankees from 1923 to 2008. The original stadium was known for its three-deck structure, a first in baseball, and hosted numerous important games and events, including the seventh All-Star Game in 1939.
New Stadium
The current Yankee Stadium was inaugurated in April 2009, replacing the original stadium that operated for 85 years.

Constructed on a 24-acre site, one block north of the original stadium's location, this new ballpark continues to be the home for the New York Yankees of Major League Baseball, as well as the New York City FC of Major League Soccer.
The new stadium retains several features reminiscent of the original stadium, such as the iconic frieze, while adding modern amenities to enhance the fan experience.
These include the New York Yankees Museum and various dining options, such as Lobel's, to offer a unique experience for all visitors.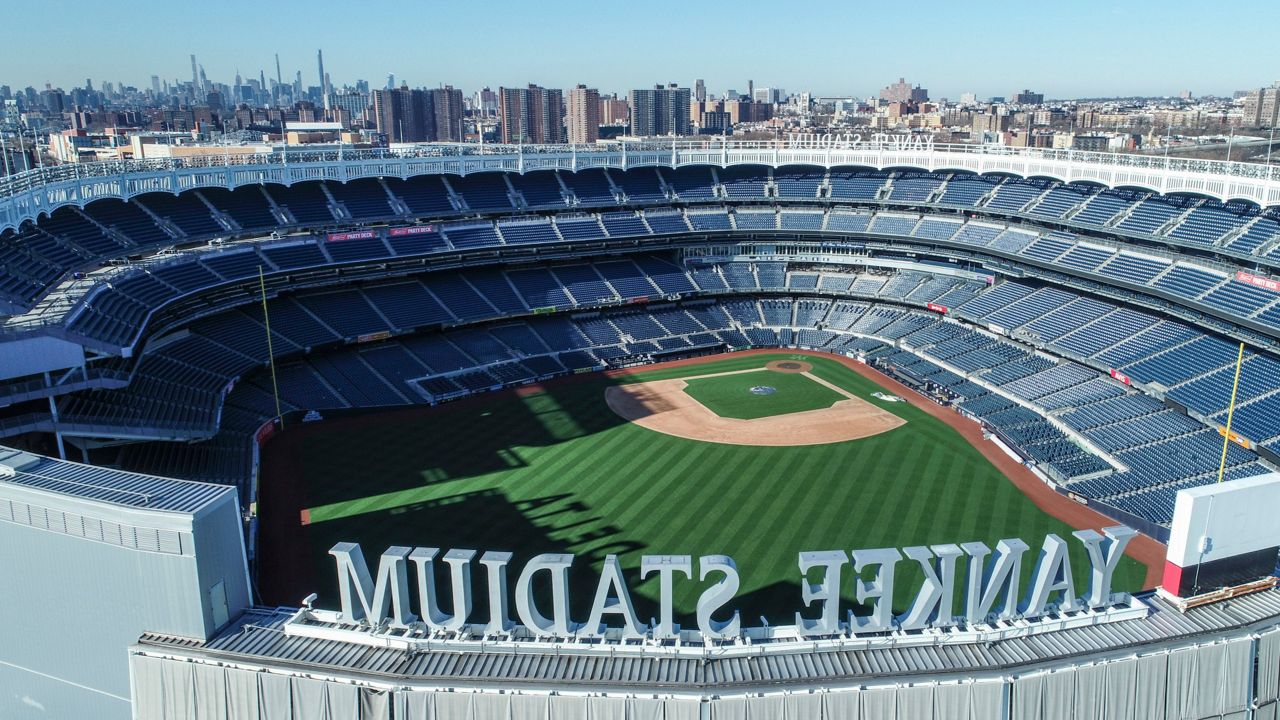 Stadium Features
Seating Capacity
Yankee Stadium, home of the New York Yankees, has a seating capacity of 47,309.
The stadium offers a comfortable seating arrangement for its fans, with extra legroom ranging between 33 and 39 inches compared to the 29.5 inches at the old stadium.
Amenities
The ballpark is filled with a variety of amenities for its visitors:
The concourse has an average width of 32 feet and almost the entire stadium has an open view, allowing fans to easily navigate and enjoy the environment.
The MLB Ballpark app is a perfect companion for your visit, personalizing and enhancing your experience with digital features.
Yankee Stadium is home to the New York Yankees Museum, showcasing the history and achievements of this legendary baseball team.
For a unique dining experience during the game, guests can try Lobel's, a popular food option available at the stadium.
Monument Park
One of the most iconic features of Yankee Stadium is Monument Park, an open-air museum dedicated to honoring the greatest players and contributors in the history of the New York Yankees.
Fans can explore Monument Park before games and pay homage to some of the most renowned names in baseball history.
The park includes memorials, plaques, and retired numbers of baseball legends who have represented the New York Yankees.
Famous Moments
World Series Championships
The New York Yankees are known for their World Series success, with 27 championship titles. Some of their most memorable championships include:
1923: The first ever World Series title for the Yankees, playing at the old Yankee Stadium.
1950s: The Yankees dominated, winning five consecutive titles from 1949-1953, led by legends like Joe DiMaggio and Mickey Mantle.
1996: Marking the beginning of a new dynasty, the Yankees won their 23rd title led by Derek Jeter, Mariano Rivera, and Andy Pettitte.
2009: The Yankees opened the new Yankee Stadium with a bang, capturing their 27th title against the Philadelphia Phillies.
Perfect Games and No-Hitters
Yankee Stadium has witnessed some of baseball's most historic pitching performances:
Don Larsen: October 8, 1956 – Threw a perfect game during the World Series, the only perfect game in World Series history.
David Wells: May 17, 1998 – Threw the second perfect game in Yankee Stadium history against the Minnesota Twins.
David Cone: July 18, 1999 – As a tribute to Don Larsen, Cone threw a perfect game on Yogi Berra Day, making it the third perfect game in Yankee Stadium history.
Retired Numbers
The Yankees have retired many jersey numbers to honor their legendary players. A few notable retired numbers include:
3: Babe Ruth, one of the greatest baseball players of all time, whose 714 home runs were a record for nearly four decades.
4: Lou Gehrig, whose moving speech "The Luckiest Man" took place at Yankee Stadium on July 4, 1939.
5: Joe DiMaggio, a 13-time All-Star and winner of nine World Series championships.
7: Mickey Mantle, a seven-time World Series champion and one of the most beloved Yankees of all time.
42: Mariano Rivera, the greatest closer in MLB history, with a record 652 saves.
These are just a few examples of the countless historic moments that have taken place at Yankee Stadium, making it a beloved location for baseball fans across generations.
Getting There
Public Transportation
Taking public transportation is a convenient way to get to Yankee Stadium. You can use the NYC Subway, Metro-North Railroad, or even city buses to get there. Here's what you need to know:
Subway: The 4 and D trains stop at 161 St-Yankee Stadium. This subway station is located right outside the stadium. B train service is also available on weekdays only. The subway fare is $2.75 for most people.
Metro-North Railroad: The Yankees-E 153rd Street station is on Metro-North's Hudson Line. For more information and schedules, please visit the MTA website or call the MTA at 511.
Bus: Several New York City bus lines provide service to the stadium, including the Bx6 and Bx13 buses. For bus schedules and route information, please visit the MTA website or call the MTA at 511.
Parking
Parking at Yankee Stadium can be a bit challenging due to limited availability. However, there are several parking garages and lots located around the stadium to accommodate fans.
It is recommended to arrive early, as parking spaces can fill up quickly during game days. Some options for parking near Yankee Stadium include:
Official Yankee Stadium Parking: There are multiple lots and garages operated by the New York Yankees. For rates, availability, and to pre-purchase parking passes, please visit the Yankee Stadium Parking website.
Private Garages and Lots: Several privately-owned lots and garages are located in the surrounding area. Prices and availability may vary depending on the day and demand.
Keep in mind that prices can be high, and it is always best to double-check specific parking areas before your visit.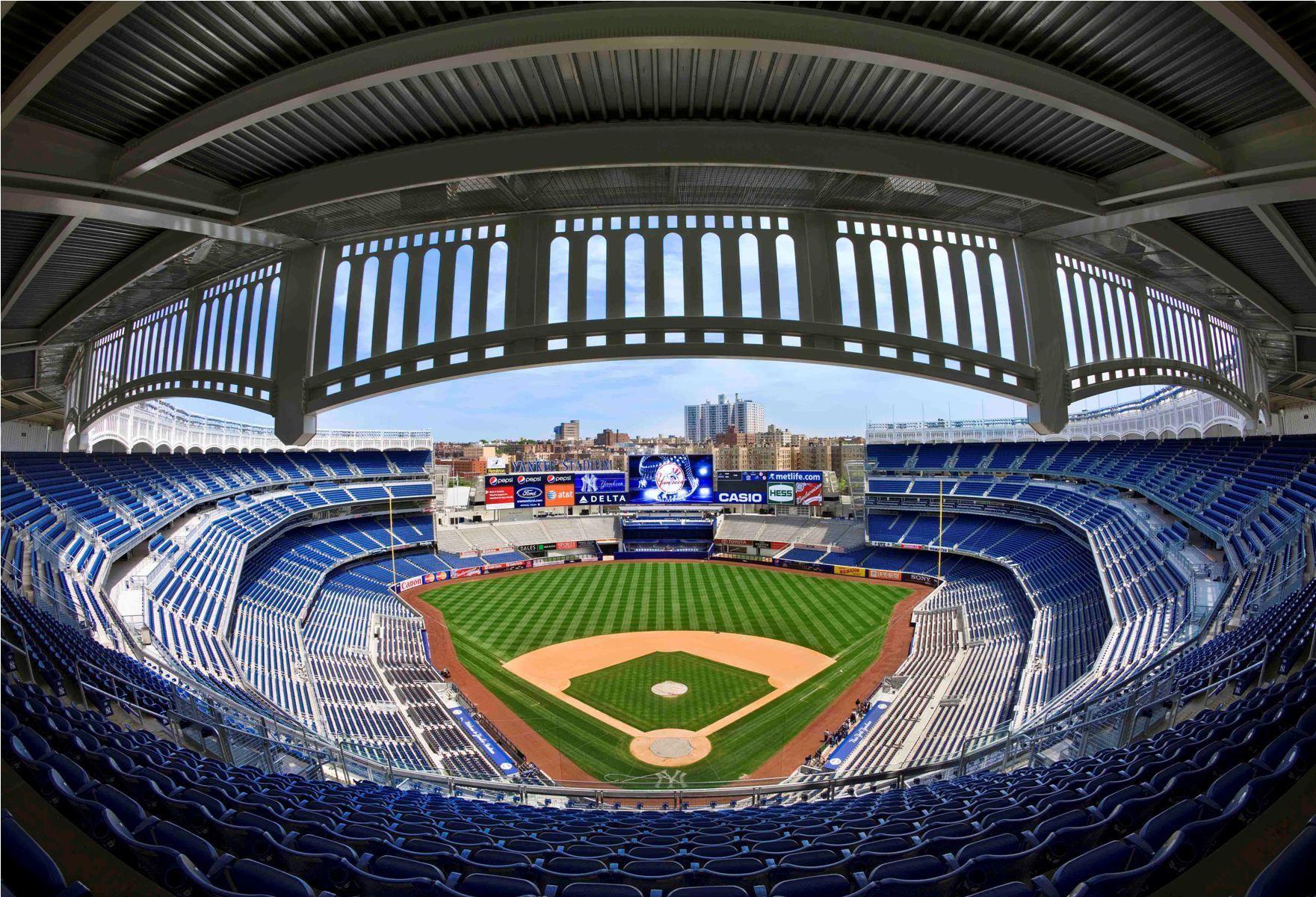 Visitor Information
Food and Drinks
Yankee Stadium offers a wide variety of food and beverage options for visitors to enjoy. Here are some popular choices available at the stadium:
Yankee Lobel's: Known for their high-quality steak sandwiches.
Bareburger: Offers delicious organic, all-natural burgers.
Parm: Serves Italian-American classics, including their famous chicken parm sandwich.
Mighty Quinn's BBQ: Features tasty slow-smoked barbecue options.
There are also various concession stands around the stadium selling hot dogs, nachos, pizza, pretzels, and more.
For drinks, there are numerous bars and beverage carts serving beers, sodas, and other beverages.
Souvenirs
Yankee Stadium offers several opportunities for fans to purchase souvenirs and memorabilia. Here are some key locations:
Yankees Clubhouse Store: The largest souvenir store in the stadium, offering a wide range of merchandise, including jerseys, caps, t-shirts, and collectibles.
New Era Flagship Store: Located near Gate 6, this store specializes in Yankees caps in various styles and sizes.
Majestic Team Store: Offers official on-field Yankees apparel and merchandise.
In addition to these stores, there are numerous kiosks and vendors throughout the stadium where visitors can find souvenirs to remember their visit to Yankee Stadium.
James is a big time NBA Golden State follower, who makes sure to catch games when he's in the area. He likes to follow International Soccer, with an interest in small town soccer club, Blackburn Rovers located in the North on the UK.