Since 1996, the iconic Bank of America stadium draws huge crowds of football fans from the state of North Carolina and beyond. The arena is located in Charlotte, in the downtown area known for being the focal point for business and high-end lifestyle.
Whether it's for a Panthers game, a tour, or a concert, the Bank of America Stadium is one of the biggest attractions you can experience in the state of California. The epic NFL battleground has a capacity of 74.867 and a roaring atmosphere on matchday.
The area is packed with places that will complement your whole experience of Charlotte. We have searched for the best places of leisure, cuisine, and entertainment so you will be more prepared for your trip.
In the article below, you will read about the best hotels, restaurants, and bars near Bank of America Stadium, as well as some crucial information that will help you to a wholesome experience.
Bank of America Stadium: Key Facts
Where Is Bank of America Stadium Located?

The Bank of America Stadium is located in the city's central area known as Uptown Charlotte. It borders West Morehead St to the north, South Mint St to the east, West Stonewall St to the south, and South Graham St to the west.
Football is not the only thing the district is known for. It is also home to many corporate headquarters, skyscrapers, museums, restaurants, and entertainment venues.
The stadium's address is 800 S Mint St, Charlotte, NC 28202.
The Best Way to Get to Bank of America Stadium
Finding the best route to the Bank of America Stadium will depend on your starting point as well as your means of transportation.
By car
I-85 from the south: Look for signs to exit at Billy Graham Pathway, Brookshire Freeway, or Freedom Drive.
I-85 from the north: Look for signs to exit at Sugar Creek Road, Graham Street, or Statesville Avenue.
I-77 from the south: Look for signs to exit at John Belk Freeway or Trade St.
I-77 from the north: Look for signs to exit at I-277 East, Fifth St, Trade St, Morehead St, or I-277.
Wilkinson Boulevard from the west: Follow signs toward John Belk Freeway and look for signs to exit at Carson Boulevard, College St, South Boulevard, or Brevard St.
Independence Boulevard from the east: Follow signs toward John Belk Freeway and look for signs to exit at Sixth St, Fourth St, Stonewall St, or South Boulevard.
Brookshire Freeway from the west: Look for signs to exit at I-77 South, Graham St, Church St, or Brevard St.
Airport: Follow Josh Birmingham Parkway 1.5 miles to Billy Graham Parkway South. Continue on Billy Graham to I-77 North and then exit at either John Belk Freeway or Trade St.
Rideshare
Uber, Lyft, Juno, and Wingz are all available in Charlotte. The designated spot for pick up and drop off is at the corner of Third and Church St, next to Romare Bearden Park.
LYNX
The LYNX is Charlotte's light rail system which serves the metropolitan area. It is an affordable way to get to the Bank of America Stadium, especially if you want to avoid the hassle of looking for parking.
The system consists of two lines, Gold and Blue. You will need to catch the Blue Line and get off at Stonewall Station on West Stonewall Street.
Parking Near Bank of America Stadium
If you're going to the Bank of America Stadium with your vehicle, you should be prepared to face some adversity when it comes to finding a spot nearby.
If you have tickets with assigned parking, you will receive an email with parking information, whereas if you have regular tickets, you will have to find your parking.
There are over 30.000 parking spots within 15 minutes of walking distance from the stadium. Parking operators lease places on a game-by-game basis, and you can call to pre-pay and have a spot reserved.
If you're going with a recreational vehicle, there are specially designated parking spots on-site, which you must reserve beforehand.
The Best Restaurants Near Bank of America Stadium
Don't let the name fool you. This place doesn't serve French cuisine but delicious American food with many appetizers, salads, burgers, and sandwiches. They have a special menu for game days and they serve breakfast, lunch, and dinner on regular days.
Mimosa Grill is classy yet warm and a great place to get something to eat regardless of whether it's game day or not. They serve tasty, Southern-inspired food with fresh ingredients picked up from local farmers.
They have a brunch, lunch, and dinner menu, with a special menu every Saturday. The place has a nice patio to bask in the good weather and is great for private dining.
This is another joint serving Southern-inspired food, but with a twist. The profits that this restaurant makes are donated to charity to help the local community.
But that's not all, The King's Kitchen is a great place to eat high-end food, courtesy of Chef Jim Noble. The food is fresh from local farmers, and that's why the menu is seasonal. They serve lunch and dinner, with a special menu for kids and desserts.
Nefelie's is a Greek restaurant that serves traditional Greek dishes like pita gyros and souvlaki, however, it also serves American food. It's a great place for people who are adhering to a diet as it has designated keto Mediterranean offers, and it's also great for grabbing a hamburger before or after a game.
Pie in the Sky Pizza is a well-established Italian restaurant in the district, with great pizza and other Italian dishes made from fresh and local ingredients. The restaurant has a universal menu.
The Best Bars Near Bank of America Stadium
Courtyard Hooligans is a sports bar primarily designed for soccer fans, but its location, as well as the atmosphere, will get you in the mood for any sports event.
It is a Southern-inspired bar with a very nice choice of whiskey and a crafty bartender who makes amazing cocktails. If you're lucky with the timing, you can go there when they have their monthly whiskey-tasting events.
Although there's plenty of food on offer at the Valhalla Pub & Eatery, we've categorized it among the bars for the atmosphere, the great choice of craft beer, and frequent cocktail parties.
This is a simple and classic Irish pub and a great option to get a beer in the district. The Belfast Mill has a selection of over 30 Irish whiskeys and a plethora of beers.
This bar is nearest to the Bank of America Stadium, and visiting here is a very enjoyable experience.
A particularly vibrant place on match day, the Graham Street Pub & Patio is another bar that lives and breathes football. Apart from drinks, you can treat yourself to the tasty food they serve and enjoy the atmosphere before or after a game.
The Best Hotels Near Bank of America Stadium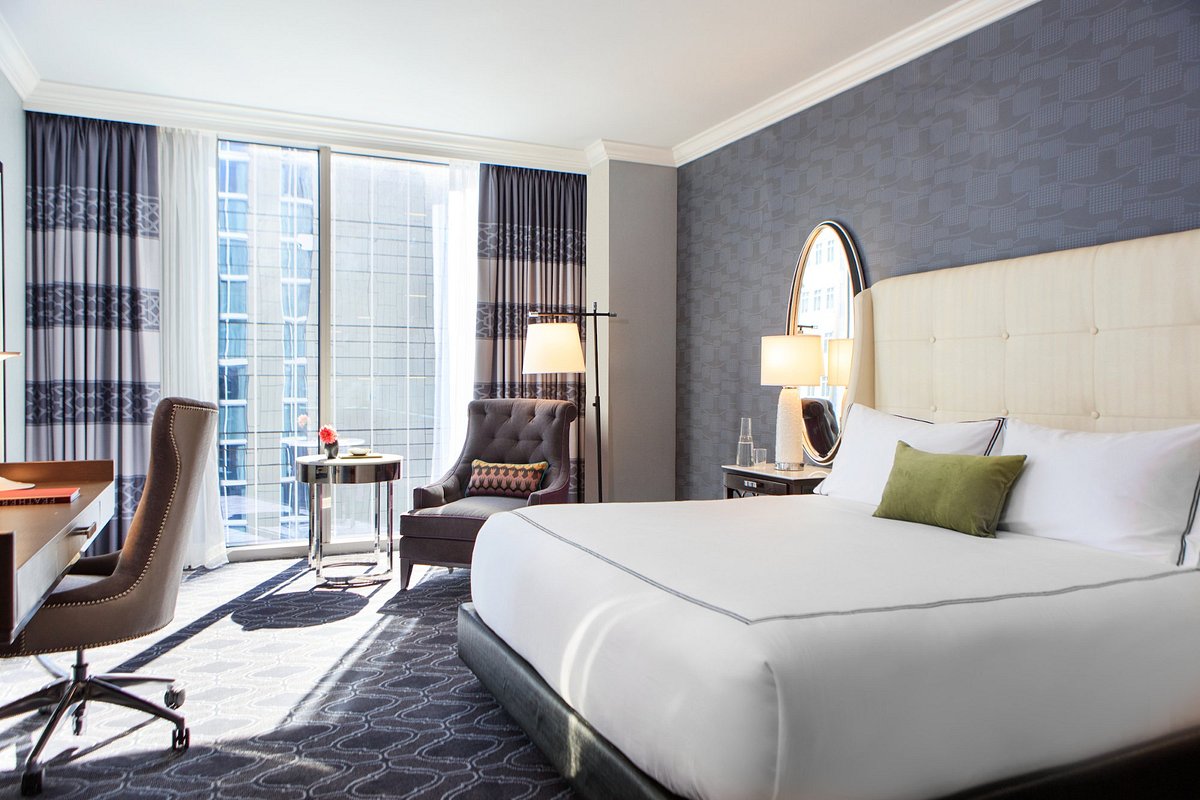 This is a luxurious hotel with lots of interesting things in its surroundings like the Bechtler Museum of Modern Art, Mint Museum, and the Levine Museum of the New South. The Kimpton Tryon Park Hotel is located perfectly for maneuvering around the district and still being close to the stadium on game day.
It's located near Romare Bearden Park, which is where most of the bars and restaurants we've discussed are located.
This is a great place to have an authentic experience in Uptown Charlotte. The Ivey's Hotel is in an iconic city building, the former J.B. Ivey & Company Department Store. It was converted into a luxury hotel in 2016.
The hotel has an on-site restaurant and a bar called The Library.
Another high-end hotel that provides a luxurious experience for visitors is the JW Marriott. This hotel has rooms that overlook the Bank of America Stadium in all of its glory.
The hotel has a gym, an outdoor pool with a patio, and some unique restaurants on-site.
The Westin Charlotte is s great hotel with a fantastic location if you're planning on visiting the Bank of America Stadium. With 700 rooms, it is the largest hotel in all of Charlotte. All rooms feature the signature Westin Heavenly Beds and Heavenly Showers.
Other amenities include on-site parking, a fitness center, and complimentary breakfast.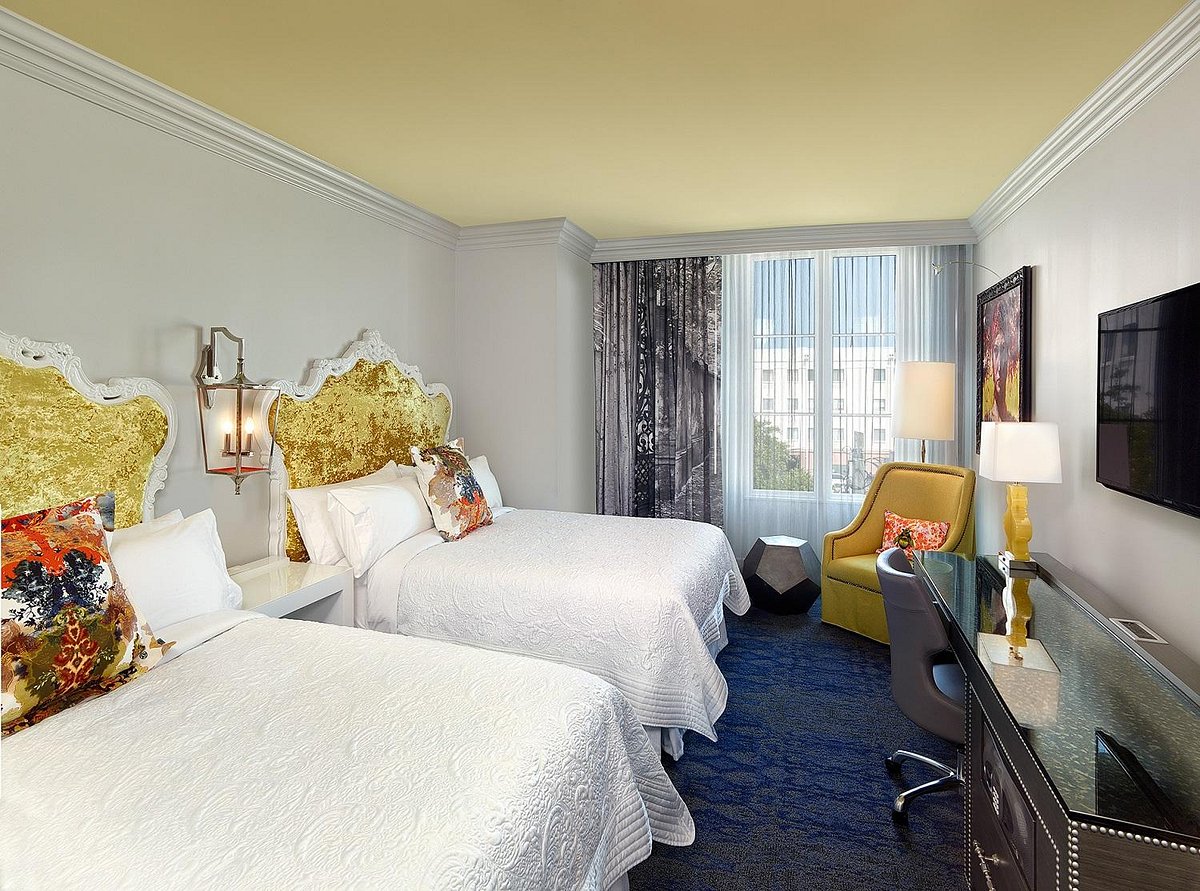 Grand Bohemian is a luxurious boutique hotel that is part of the Autograph Collection by Marriott. The hotel has a wonderful interior design that is a mix of modern and classic.
It is located just 10 minutes away from Bank of America Stadium. Amenities include a premium spa experience, an on-site restaurant, and a gym.
This is a fancy hotel with a very good location and amenities such as a fully equipped fitness center, valet parking, 24-hour room service, and dry cleaning.
It has a rooftop pool with a spectacular view of the city.
The History of Bank of America Stadium
The Bank of America Stadium was built after the demolition of its predecessor, the Charlotte Memorial Stadium. The location was picked for the convenience of being in the central area and because it provided access to major highways.
While the former stadium was mostly used for hosting baseball and basketball games, the Bank of America Stadium was built primarily for football and as a home to the Carolina Panthers.
It has gone by its current name since 2004, and the fans often refer to it as "BOA" or "The Bank". It has gone through four major renovations and five major expansions to get to the current capacity of seats.
The construction cost $248M at the time, and the design was made by HOK Sport (now known as Wagner Murray Architects Populous), a company that also designed famous stadiums such as the Yankee Stadium in New York and Wembley in London.
Outside of football, the stadium is the home to the Major League Soccer franchise Charlotte FC.
Where to Get Tickets for Bank of America Stadium
Season tickets are acquired by applying on the franchise's official website. The average price for a ticket is $239, with the cheapest ones in the upper level costing around $50 and the most expensive ones going for over $1000.
Here are some ways to secure tickets:
Online – Tickets can be purchased online via the official website or platforms like Ticketmaster.
Phone – You can also call the ticket office on the number +1 800 515 2171.
In-person – You can go to the stadium's ticket office or any Ticketmaster outlet in Charlotte.
Resellers. You can buy tickets from resellers, but be prepared to pay extra.
Does Bank of America Stadium Offer Tours?
Currently, all of the Bank of America Stadium tours are private and by request. To apply for a tour, you need to fill out a form on the Panthers page but keep in mind that not all tour requests will be accepted.
A tour typically includes visiting some exclusive areas of the stadium and having behind-the-scenes access to the locker room, press box, and field.