Bank of America Stadium is a big attraction for fans from all around the country. It is the home of the Carolina Panthers of the NFL and Charlotte FC in the MLS. Its 74,867 capacity is often full, especially when the Panthers are playing.
There have also been as many as seven big concerts in 2022 alone, with Elton John, Red Hot Chili Peppers, and Beyonce among the performers.
Finding a good place to stay is crucial to the whole experience, and it can become tricky since there are so many service providers in the area.
In order to help you choose the best accommodation, we have selected six of the best hotels near Bank of America Stadium.
Discover Charlotte, North Carolina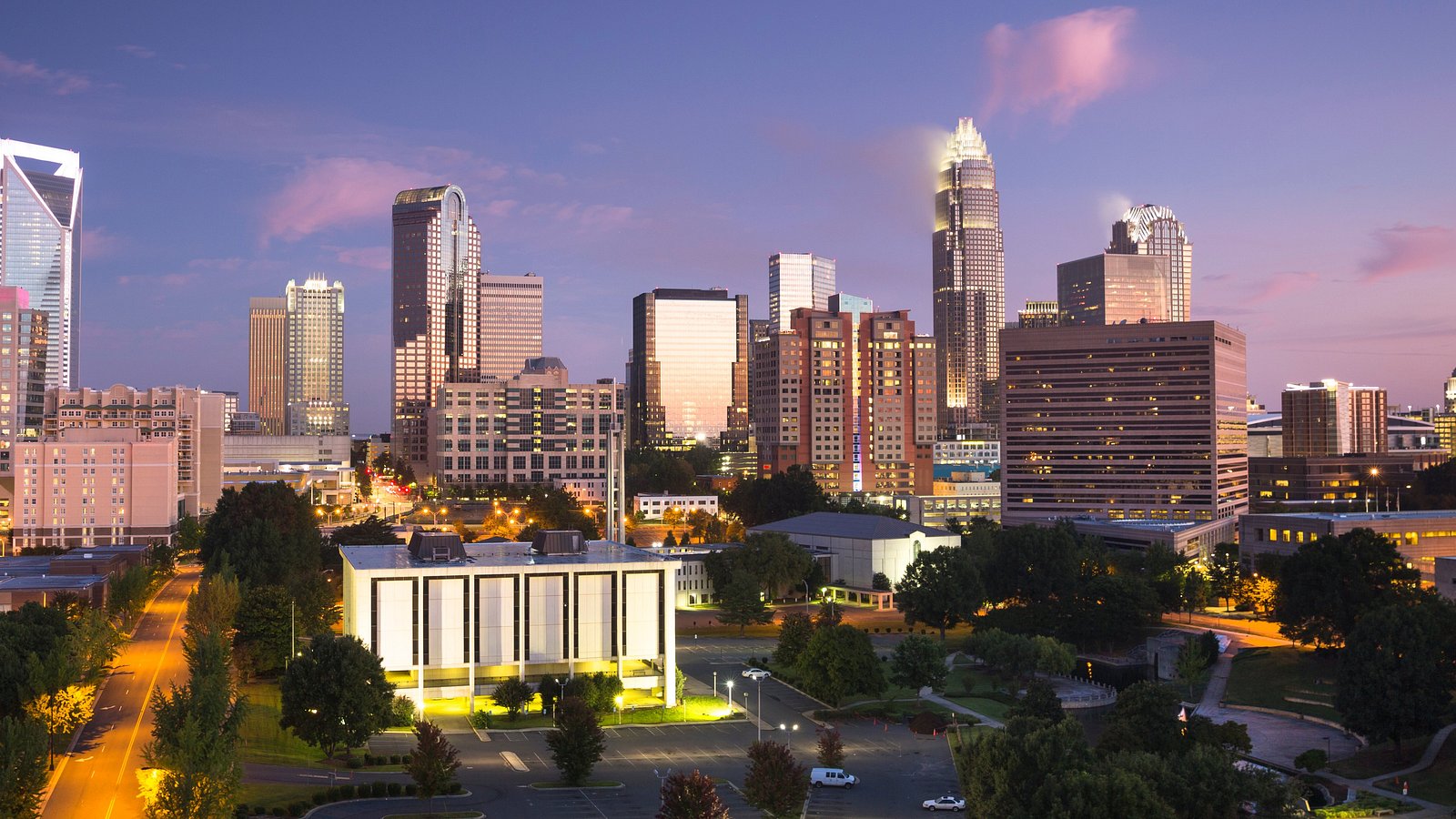 The area where the stadium is situated is normally referred to as Uptown Charlotte. It is primarily known as the business district of the city. Still, it is also a place of great cultural riches, spirited nightlife, delicious cuisine, and a mecca for sports fans.
The area has several world-famous sports teams like the Charlotte Hornets, Charlotte FC, and perhaps the most famous of all – the Carolina Panthers. Charlotte is also home to the motorsport complex called the Charlotte Motor Speedway, but that's located on the other side of town.
It is fair to say that Uptown Charlotte is a pretty busy area because of its attractions. Not researching the best places to stay would be naive and may lead to unnecessary adversities.
Below, you can learn all about six of the best hotels near Bank of America Stadium and make a more informed choice for where you would be spending your money and time.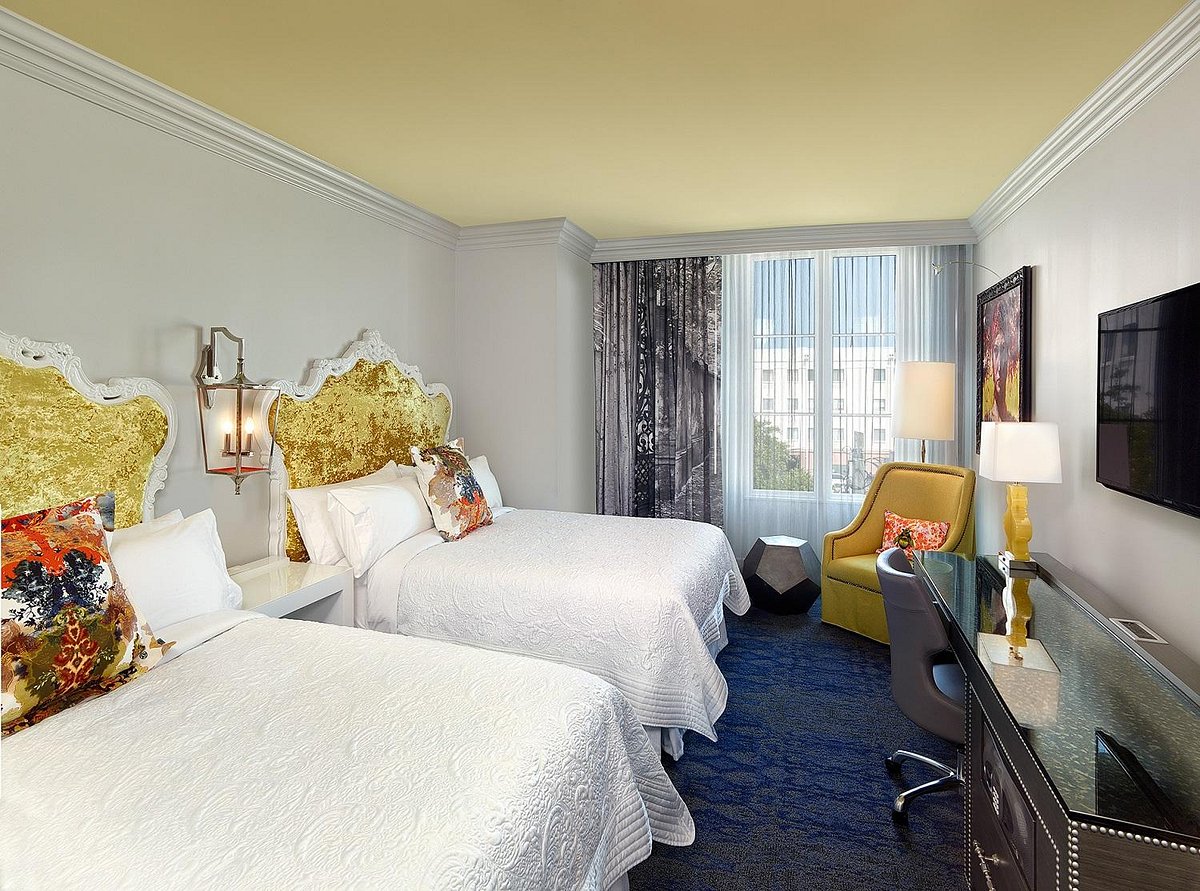 A well-equipped resort where you don't have to leave for anything other than attending a sports game or a concert during your staycation.
The Grand Bohemian is a luxurious boutique hotel. The interior is artistic, and the staff will eagerly explain the Argentinian-influenced room design. The rooms aren't too big but luxurious, with a pleasant view.
Located near the Nascar Hall of Fame and the Daniel Stowe Botanical Garden, you won't be short of exploration options during your free time. Bank of America Stadium is a little over 10 minutes away, and Spectrum Center is only a half mile away.
Furthermore, the hotel offers valet parking at the cost of $45 per day, while bringing your pet dog with you will cost you $150 for the entirety of your stay. However, no cats are allowed. Additionally, it has a premium spa offering massages and therapies.
Other amenities
Gym, meeting space, and fitness center
Bar, restaurant, and coffee house
Daily housekeeping and dry cleaning service
Dining options
Mico is an on-site restaurant that offers an upscale dining experience. They use locally grown and seasonal ingredients; the menu goes through regular changes to reflect the supply at the given time. The interior is very luxurious but still very comfortable.
Moreover, there is a Starbucks nearby and a Thai restaurant called Basil Thai Cuisine. A pizza place called Mellow Mushroom is also just down the road.
Additional information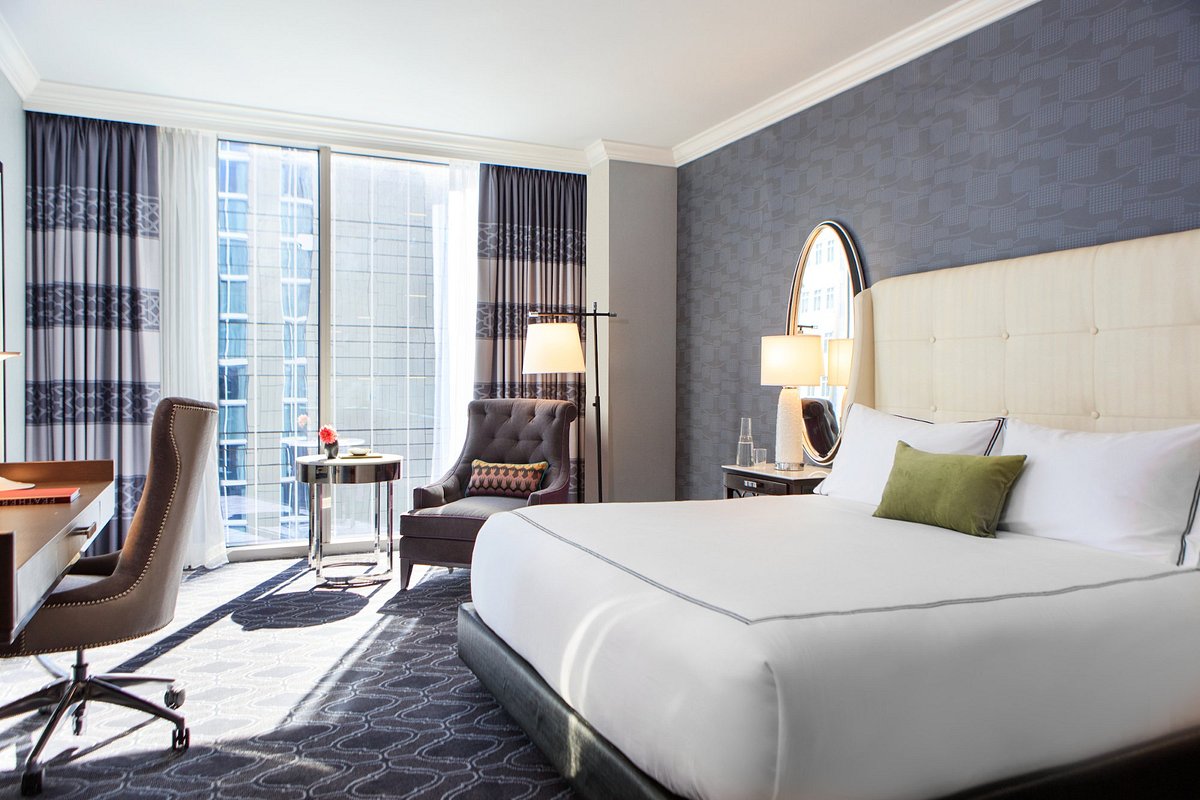 Every square foot at Kimpton Tryon Park is designed to make you feel comfortable and relaxed. A 24-hour room service, a rooftop bar, great views from the rooms, and quite possibly the best-looking bathrooms you have ever seen.
The Bank of America Stadium is nine minutes away on foot, and even closer are the Bechtler Museum, Mint Museum, and the Levine Museum of the New South.
The Kimpton Tryon Park Hotel is extremely pet-friendly, with pets of all sizes allowed to reside with their owners. You only have to tell the staff one day in advance that you will be arriving with your furry friend. There is no extra charge.
Other amenities
Gym, meeting rooms, and business center
Free Wi-Fi
Valet parking
Concierge
Dining options
An Italian restaurant named Angeline's is on the premises with fantastic options for breakfast, brunch, lunch, and dinner. There is also a special, Late-Night menu after 10 PM.
Merchant and Trade is the name of the aforementioned rooftop bar. The views are great, and it is a great place for grabbing a bite with some tasty entrees and desserts.
Outside the hotel, there are many restaurants; the only dilemma would be to choose where to sit. Valhalla Pub and Eatery, French Quarter Restaurant, Queen City Bites, Crafts, and many more are all down the street.
Additional information
It is one of the closest hotels to the Bank of America Stadium, with only four minutes of walking distance which makes it a very appealing accommodation for people who travel for football.
The rooms are clean and spacious. You can choose between a buffet or an American breakfast, and you can't go wrong with either. The hotel has a well-equipped fitness room, and pets are allowed for a fee.
Moreover, the on-site parking costs up to three times less than other hotels.
Other amenities
Free Wi-Fi
Pet-friendly
Complimentary breakfast
Laundry
Bar
Dining options
There are many dining options nearby the hotel. If you want a steak, there are three places in the neighborhood: The Capital Grille Steakhouse, Ruth's Chris Steakhouse, and McCormick & Schmick's Seafood & Steaks.
Moreover, Blue Restaurant and Bar have great Mediterranean food, and there's a Japanese restaurant called Nikko Restaurant and Sushi Bar.
Additional information
If you happen to get a room facing southwest, you will be able to have the Bank of America Stadium as your view. Even if you don't, you will still get to enjoy many of the upscale amenities this hotel offers.
The high-quality service and the location's proximity to the arena make it a great value for money. Staying at the JW Marriott, you will be able to effectively explore this area of Charlotte as there are many parks, museums, bars, and restaurants within a mile's radius.
This hotel has an outdoor swimming pool and a terrace where you can bask in the sun, a gym that works 24/7, a spa center, and authentic on-site restaurants and bars.
Other amenities
Private parking
Free Wi-Fi
Room and dry cleaning service
Dining options
You can start the day with a delicious breakfast, coffee, and bagel, devour a steak for lunch, and later have a classy dinner without leaving the premises. Dean's Italian Steakhouse and Caroline's Oyster Bar are phenomenal restaurants.
If you want to go outside for something simpler, there's a Starbucks nearby and a Buffalo Wild Wings in the neighborhood.
Additional information
Not to be confused with the other hotel they have by the Airport, Home2 Suites by Hilton in uptown Charlotte is less than a 10-minute walk from Bank of America Stadium.
The location is more than decent for having a great experience of Charlotte, with many attractions like the Bechtler and Mint museums nearby, as well as many bars, restaurants, and other attractions.
The hotel has an indoor pool, and there is also a nice patio for enjoying the sun. The hygiene is kept to a good standard, and the rooms are equipped with a coffee-making machine as well as other kitchen equipment.
Other amenities
Self-parking
Fitness center
Free Wi-Fi
Laundry
Pet-friendly
Dining options
Queen City Quarter (previously known as Charlotte Epicenter) is somewhat of a hub for dining spots, with as many as seven places within the object. It is located 15 minutes away, near the Charlotte City Rail. Fuji Hibachi and Teriyaki, Nuvole Rooftop, and Redeye Dinner are the best choices if you are in the Queen City Quarter.
There is also a Starbucks nearby, as well as a Bojangles.
Additional information
The last pick of the best hotels near Bank of America Stadium is Omni Charlotte Hotel. Whether you are going for leisure or business, the Omni Charlotte Hotel can satisfy your needs and demands.
This luxurious hotel is located 16 minutes away from Bank of America Stadium and is a popular choice for weddings, conventions, romantic travels, and sports travel.
It has a very impressive, oasis-like rooftop pool with a bar that serves cocktails. The patio is great for sunbathing, and an enormous screen is installed especially for improving the viewing experience of Panthers games, should you decide to watch it from the comfort of the pool.
Other amenities
Valet parking
Free or paid Wi-Fi
Gym
Complimentary breakfast
Dining options
Trade Restaurant and Bar is a great place to get breakfast, lunch, or dinner, and it is within the premises of the hotel. You can order room service and enjoy a meal in the comfort of your room.
Outside, JP Charlotte is perhaps the most must-visit place. They serve great comfort food which captures the real taste of Charlotte. It is made from locally sourced ingredients and is detectable in taste.
Moreover, Burger King is two minutes away, and a very nice place called MOA Korean BBQ is just down the street.
Additional information