Visiting Charlotte for an event at the famous Spectrum Center will make a fantastic journey. Whether with family or friends, this kind of trip can be enjoyable. 
Whether you are planning to watch the Hornets play in their home arena or go to a concert or event, you will want to devour some delectable food while in Charlotte.
There are multiple restaurants near the Spectrum Center, but the question is, which ones prepare the tastiest food in the area? Well, we are here to apprise you.
In this article, we have listed five of the best restaurants near Spectrum Center, which can please you with their atmosphere and, most importantly, delicious food.
If you have everything prepared for your trip, it's time to discover where you and your fellow travelers can eat!
The best restaurants near Spectrum Center offer different cuisine, primarily American and Italian. However, some are also vegetarian-friendly.
We did our best to make a list more diverse so that anyone can pick a spot according to their unique food fondness.
Rooster Wood-Fired Kitchen is three minutes from Spectrum Arena or 0.1 miles. The exact location of this restaurant is 150 N College St.
This restaurant is excellent for lunch or dinner, and you can make a reservation beforehand.
Furthermore, its working hours are Monday to Friday from 11 AM to 10 PM. On Saturday the restaurant works from 4 PM till 10 PM, while on Sunday it's closed.
The menu
The menu at Rooster Wood-Fired Kitchen is seasonally inspired, and there are respective lunch and dinner alternatives.
The food is sourced locally; some crops are grown primarily for their restaurants. Therefore, the green side of the menu is a must-try.
You can pick from salads made with mixed greens, kale, spinach, Brussels sprouts, cucumbers, tomatoes, and other locally farmed vegetables. Salads are further made with carefully selected cheeses, meats, or eggs.
When it comes to the mains, you can decide on a pantry, pizza, pasture, or seafood. There are also some appetizing signature side dishes. For dinner, Rooster even offers market sides, which we recommend trying.
Rooster's Wood Fired Kitchen is a vegetarian-friendly restaurant and has gluten-free alternatives.
Drinks and desserts
We like that Rooster's Wood Fired Kitchen has a vast choice of beers, most locally crafted and from microbrews. However, if you aren't in the mood for sampling, you can pick from the "Usual Suspects" such as Stella, Bud Light, or Miller.
Finally, everything would only be complete with desserts such as cake, gelato, buttermilk pie, and others, coupled with coffee or tea.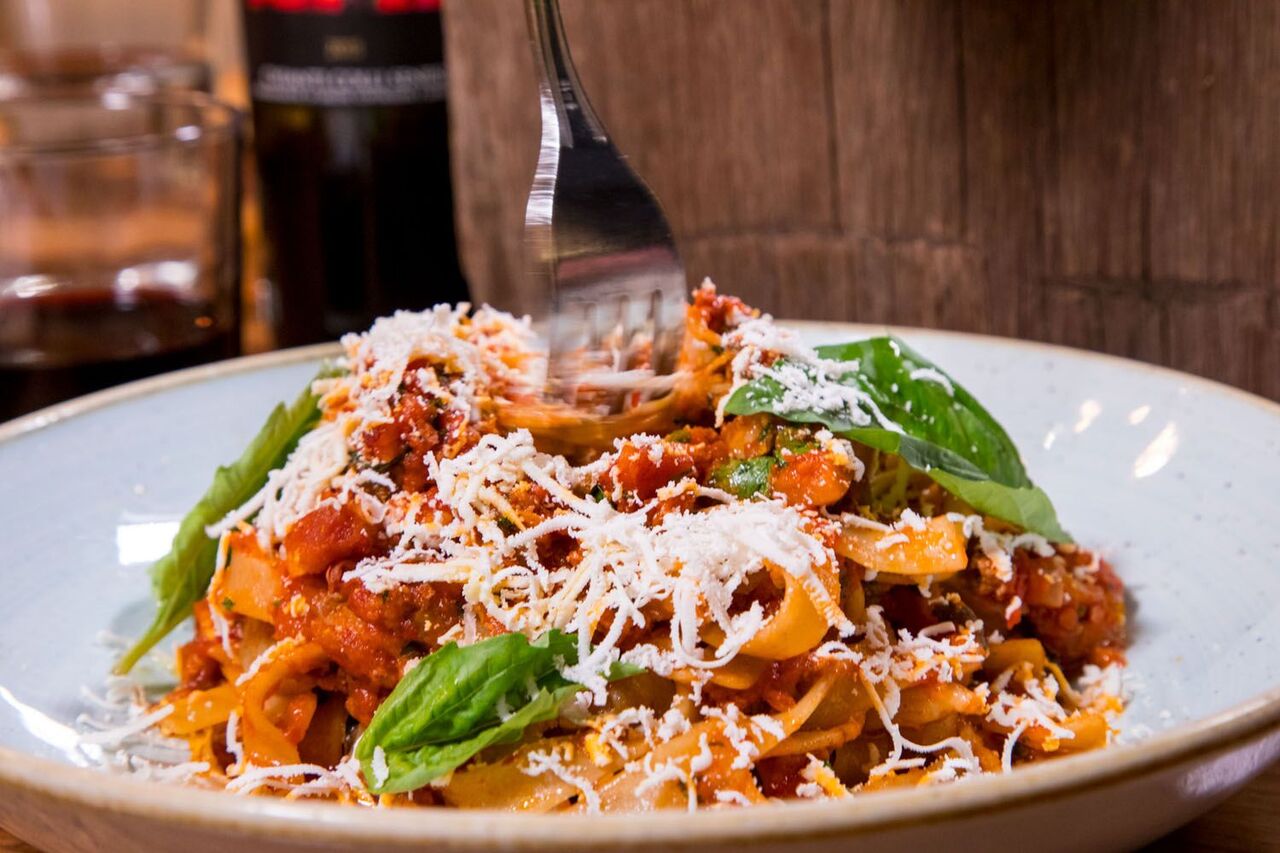 Another restaurant, which is Italian and located just 0.2 miles from Spectrum Center, is Aria Tuscan Grill.
This comfy place brings the best of Italy to Charlotte. You can find it on Trade Street, between College and Tryon Streets, across from the Omni Hotel.
Furthermore, Aria Tuscan Grill welcomes guests from Tuesday to Saturday from 5 PM to 10 PM.
The menu
The menu in Aria Tuscan Grill is full of mouthwatering Italian specialties, and just one look at it can make you hungry. When you dine here, you can first try some antipasti and salads.
You can order everything you have ever imagined, from mozzarella, burrata, focaccia, and prosciutto, to prawns, mussels, clams, and calamari.
Moreover, there are two types of pizzas, Rosso and Bianca, and numerous pasta varieties: gnocchi Bolognese, duck ravioli, Grandma B's Lasagna, and Cacio e Pepe Carbonara, among others.
When you are up for a prominent meat plate, you can choose lamb, filet mignon, duck, chicken, or fish.
Desserts
If you love desserts, you must try some of them here. You can crown your dinner with Italian tiramisu, Cassata cake, or Seasonal Fruit Crostata.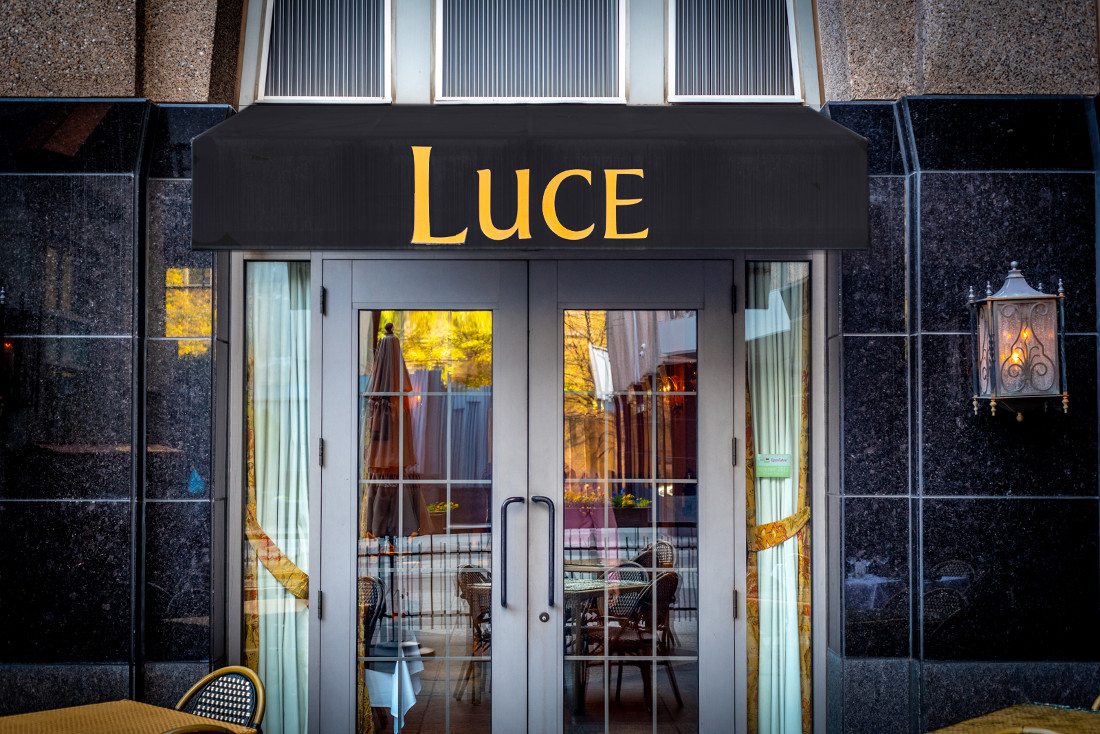 Luce is the second Italian place that made our list of the five best restaurants near Spectrum Center.
This elegant place is at 214 N Tryon Street J or 0.7 miles from Spectrum Center. You will need around five minutes to reach it on foot from the arena.
Furthermore, for a modern Northern Italian atmosphere, you can eat at Luce from Monday to Thursday from 5:00 PM to 10:00 PM and Friday and Saturday from 5:00 PM to 11:00 PM.
The menu
Luce is for dinner only because of its timetable. Accordingly, it has its dinner and dessert menus.
The Northern Italian antipasti are alluring, and you can find starters such as carpaccio, polpettine, parmigiana, bruschetta, mozzarella and prosciutto from Parma.
Luce further proposes Arugula, Caesar, Spinach with Pear, and their signature Luce salad made with mixed greens and other delicious nibbles.
Their pasta menu is distinct; they even offer gluten-free pasta imported from Italy. If you are hungry for pasta, you can try Bolognese, Pomodoro, Buttera, Carbonara, Del mare, or Lasagna, among others.
In distinction, the main dinners include salmon, filet mignon, veal, chicken, or fresh fish for the day.
Drinks and desserts
A glass of wine or Italian limoncello can top your food, or, if you aren't drinking alcohol, you can have a hot Italian coffee.
Let's not forget those with a sweet tooth who can pick from desserts such as Creme brulee, tiramisu, Ricotta cheesecake, and more.
Another lavish restaurant in Charlotte is Fleming's Prime Steakhouse & Wine Bar. Its exact address is 210 East Trade Street, Suite C-110.
The distance between Spectrum Center and Fleming's Steakhouse is 0.4 miles or around five minutes on foot.
Furthermore, the main dining room works Monday to Saturday from 4 PM to 10 PM. On Sundays, the steakhouse closes one hour earlier, at 9 PM.
The menu
You can begin your feast with starters at Fleming's Steakhouse. Seafood such as calamari, tuna, shrimp cocktail, seafood tower, or cарbs is just some of them.
Fleming's will also suggest soups and salads: Wedges, Caesar, or their signature salad, and hot soups, such as lobster bisque or french onion.
What makes Fleming's Steakhouse one of the best restaurants near Spectrum Center are the signature steaks divided between Classic or Specialty Cuts and Over the top.
Therefore, you are at the right place if you relish ribs, filet mignon, a tomahawk, lobster, shrimp, or crab meat. These dishes are made with signature butter: bearnaise smoked chili or herbed horseradish.
Beyond Steaks' part of the menu will further present you with specialties like sea bass, chicken breast, and salmon. You can combine the main meals with sides-some of the tastiest vegetables possible.
Drinks and Desserts
Of course, there is a dessert and coffee menu. Carrot cake, New York Cheesecake, Key Lime Pie, and Lava Cake are some of the sweetest desserts available.
For drinks, you will be offered a special wine card full of indulgence wines that go amazing with the food.
You can pick from sparkling wines, white wines, blends, Cabernet, Merlot, or Pinot Noir, to mention a few. Plus, there are worth trying hand-crafted cocktails.
Special menu
At Fleming's Steakhouse, you have an offer for already-arranged menus for different weekdays. These menus go by A Taste for Twosday, Surf & Turf Sunday, and Valentine's Day Three Course.
The combinations are with salads, entrees, sides, and desserts. They also offer featured wines, which pair with the selected dishes.
At last, something for the lovers of burgers and fierce whiskey.
Cowbell Burger & Whiskey Bar is located at 201 N Tryon Street, Unit 1010, 0.2 miles from Spectrum Center. In other words, you can reach it in five minutes from the arena.
Furthermore, the place works Monday to Sunday. The working hours for weekdays and Sundays are from 11 AM to 12 PM, while on Saturdays and Sundays, the bar is open until 02 AM.
The menu
First, we noticed tasty appetizers, salads, chicken twiggy, and wings. Furthermore, many salad dressings are combined with BBQ chicken salad, CB House, or Corleone salad.
The Burger menu includes 16 distinct burgers with the most flavorful ingredients. Most are with beef patties, but there's also turkey, salmon, and a vegetarian burger.
Furthermore, there are sandwiches and wraps with grilled chicken breasts. All of these are served with parmesan french fries. If you are gluten-free, there's an option for a gluten-free bun.
The Late Night menu offers late-night snacks such as french fries, sweet potato tots, pretzel bites, and some burgers. Lastly, a kids' menu is available for children aged 12 years and under.
Drinks
For the fans of whiskey, Cowbell's Burger is a whiskey paradise. The whiskey card is enormous, and you can pick from scotch, American, Irish, Canadian, or Japanese whiskey-divided into Business, First, and Private Class.
However, whiskey isn't the only possibility. You can sip draught and craft beers, mules, cocktails, wine by the glass, and spiked milkshakes. It's good to know that milkshakes can also be made virgin.
Conclusion
We hope we did a good job and chose different types of restaurants near Spectrum Center so that everyone can find something that will gladden their taste buds.
Customers love today's picks, and all of these restaurants have high ratings, with people commenting that they can't wait to come back and eat there.
Overall, many factors such as the atmosphere, prices, food, customer reviews, and location make these spots five of the best restaurants near Spectrum Center.
Therefore, after reading this article, once you are in Charlotte, you will know what to look for. We can only wish you an exquisite time in Charlotte and a Bon appétit!